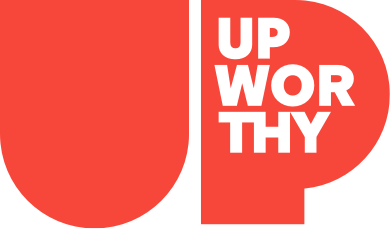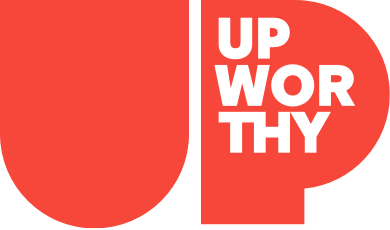 Stories Worth Sharing.

For People Who Give a Damn.
Sign up for the Upworthy newsletter:
(c) GOOD Inc. All Rights Reserved.
PS. You are doing great. Keep it up :<)
This website uses cookies in order to enhance your experience. Please review our Privacy Policy to learn how we may use cookies and how you can change your browser settings to disable cookies. By continuing to use this website without changing your settings, you consent to our use of cookies.
Alie Ward
Your dinner plate shouldn't shame you for eating off of it. But that's exactly what a set being sold at Macy's did.
The retailer has since removed the dinnerware from their concept shop, Story, after facing social media backlash for the "toxic message" they were sending.
The plates, made by Pourtions, have circles on them to indicate what a proper portion should look like, along with "helpful — and hilarious — visual cues" to keep people from "overindulging."
There are serval different styles, with one version labeling the largest portion as "mom jeans," the medium portion as "favorite jeans," and the smallest portion as "skinny jeans."
Well Being
Get stories worth sharing delivered to your inbox
In today's installment of the perils of being a woman, a 21-year-old woman shared her experience being "slut-shamed" by her nurse practitioner during a visit to urgent care for an STD check.
The woman recently had sex with someone she had only just met, and it was her first time hooking up with someone she had not "developed deep connections with."
Well Being
Youtube
Should a man lose his home because the grass in his yard grew higher than 10 inches? The city of Dunedin, Florida seems to think so.
According to the Institute of Justice, which is representing Jim Ficken, he had a very good reason for not mowing his lawn – and tried to rectify the situation as best he could.
In 2014, Jim's mom became ill and he visited her often in South Carolina to help her out. When he was away, his grass grew too long and he was cited by a code office; he cut the grass and wasn't fined.
But several years later, this one infraction would come back to haunt him after he left to take care of him's mom's affairs after she died. The arrangements he made to have his grass cut fell through (his friend who he asked to help him out passed away unexpectedly) and that set off a chain reaction that may result in him losing his home.
The 69-year-old retiree now faces a $29,833.50 fine plus interest. Watch the video to find out just what Jim is having to deal with.
Mow Your Lawn or Lose Your House! www.youtube.com
Cities
The world can't get enough Michelle.
The world officially loves Michelle Obama.
The former first lady has overtaken the number one spot in a poll of the world's most admired women. Conducted by online research firm YouGov, the study uses international polling tools to survey people in countries around the world about who they most admire.

In the men's category, Bill Gates took the top spot, followed by Barack Obama and Jackie Chan.
In the women's category, Michelle Obama came first, followed by Oprah Winfrey and Angelina Jolie. Obama pushed Jolie out of the number one spot she claimed last year.
Unsurprising, really, because what's not to love about Michelle Obama? She is smart, kind, funny, accomplished, a great dancer, a devoted wife and mother, and an all-around, genuinely good person.
She has remained dignified and strong in the face of rabid masses of so-called Americans who spent eight years and beyond insisting that she's a man disguised as a woman. She's endured non-stop racist memes and terrifying threats to her family. She has received far more than her fair share of cruelty, and always takes the high road. She's the one who coined, "When they go low, we go high," after all.
She came from humble beginnings and remains down to earth despite becoming a familiar face around the world. She's not much older than me, but I still want to be like Michelle Obama when I grow up.
Her memoir, Becoming, may end up being the best-selling memoir of all time, having already sold 10 million copies—a clear sign that people can't get enough Michelle, because there's no such thing as too much Michelle.

Most Shared
Get stories worth sharing delivered to your inbox