More
The boy who became a hero for egging an Islamophobic politician is doing something beautiful with his newfound fame.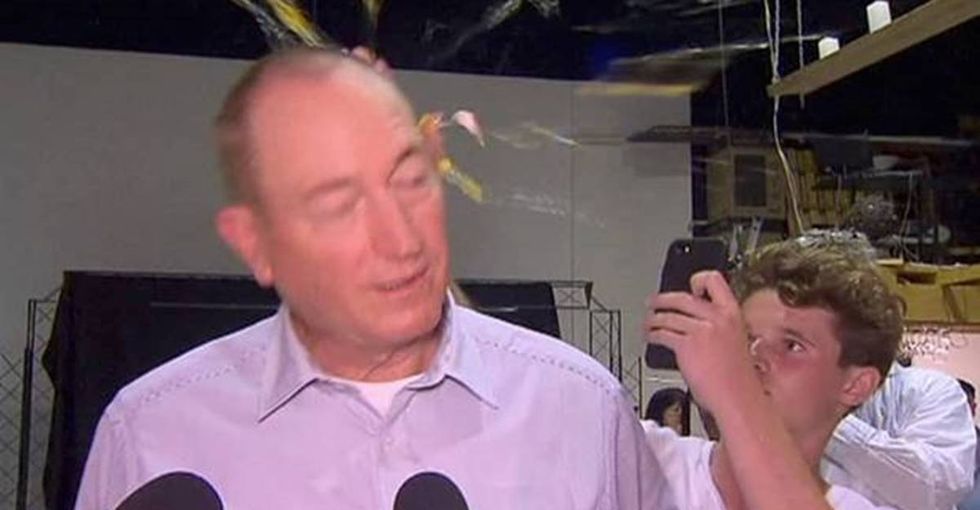 Seventeen-year-old Will Connolly of Melbourne, Australia will forever be known as "Egg Boy" after a daring piece of political anarchy he pulled off on Saturday, March 16.
The day after the horrific shooting at two mosques in Christchurch, New Zealand that left 50 dead, Connolly stopped by the Conservative National Party meeting in Melbourne to catch a glimpse of right-wing senator Fraser Anning.
The day of the shooting, Anning released an alarming statement where he blamed the attack on New Zealand's decision to admit Muslims into the country. "The real cause of the bloodshed on New Zealand streets today is the immigration program which allowed Muslim fanatics to migrate to New Zealand in the first place," he said in a statement.
---
He also blamed the victims saying Muslims "may have been the victims today; usually they are the perpetrators."
Australian Senator Blames Mosque Massacre on Muslims! ''Let us be clear, while Muslims may have been the victims to… https://t.co/acIhHPYrW6

— UHIM English (@UHIM English) 1552719547.0
The senator from Queensland is known for his extreme right-wing immigration views. He's notorious for quoting Adolf Hitler in suggesting there should be a "final solution" to Muslim immigration.
While Anning spoke, Connolly approached him from behind and slammed a raw egg into the back of his bald skull. Anning responded by whirling around and punching Connolly in the face.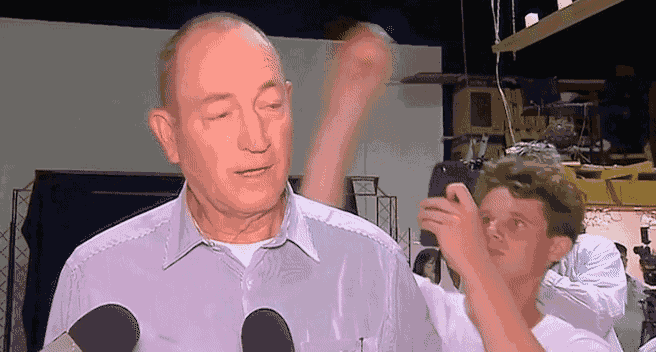 Connolly was then restrained by bystanders and arrested. He was released without charges as the Victoria Police investigate the incident "in its entirety."
Absolutely no freedom of speech in 2019. such a disappointmentq #eggboy https://t.co/7b54MeCxYh

— Egg Boy (@Egg Boy) 1552892528.0
While it's debatable whether Connolly's act of cartoonish violence was appropriate, he soon became an international cult hero for taking direct action against the type of Islamophobic attitudes that caused the mosque shooting in the first place.
wow. will connoly! #eggboy https://t.co/QWYB2903nL

— shirahoshi (@shirahoshi) 1552910755.0
#willconnolly #eggboy The hero and you deserve a medal https://t.co/ziHwW8340U

— Goatbeast9000 (@Goatbeast9000) 1552902685.0
We are all f supports, of Eggboy don't feel alone 🥚🥚🥚 Racism must be resisted ⚔️ #eggboy https://t.co/dCCZ7NGITr

— Egg Boy (@Egg Boy) 1552889360.0
After the incident, Connolly sent out a tweet outlining the reasons for his actions.
#eggboy thanks for standing up when the world is showing double standards. https://t.co/w8FpBtFo1G

— Areeba Suri (@Areeba Suri) 1552880885.0
After Connolly was arrested, a GoFundMe page was established to raise money for legals fees and "more eggs." In just four days, the campaign has already exceeded its $50,000 goal.
However, the money may not be going to its intended use. According to the campaign organizers, Connolly has decided to pay it forward by sending "a majority of the money to the victims of the Christchurch terrorist attack."
The egging has also had another positive, albeit unintended consequence, it's helped bring worldwide attention to Anning's bigotry. After the incident, Sydney doctor Kate Ahmad and Melbourne author Harris Sultan both started petitions at Change.org calling for Anning's removal from office.
The petitions, which have since been merged, have been signed by over 1.3 million people.  
"Senator Fraser Anning's views have no place in the government of our democratic and multicultural country," the petition reads. "We request that he be pushed to resign from his position as Senator, and if appropriate, be investigated by law enforcement agencies for supporting right wing terrorism."
Connolly had received some criticism in right-wing circles for what looked like a smart-ass prank. But after its positive repercussions, it's clear that Connolly should be listed among the heroes who've emerged in the aftermath of this tragic event.