Education
The school assignment was intended to spark debate and discussion — but isn't that part of the problem?
It's not uncommon for parents to puzzle over their kids' homework.
Sometimes, it's just been too long since they've done long division for them to be of any help. Or teaching methods have just changed too dramatically since they were in school.
And other times, kids bring home something truly inexplicable.
Trameka Brown-Berry was looking over her 4th-grade son Jerome's homework when her jaw hit the floor.

"Give 3 'good' reasons for slavery and 3 bad reasons," the prompt began.
You read that right. Good reasons ... FOR SLAVERY.
Lest anyone think there's no way a school would actually give an assignment like this, Brown-Berry posted photo proof to Facebook.


In the section reserved for "good reasons," (again, for slavery), Jerome wrote, "I feel there is no good reason for slavery thats why I did not write."
Yep. That about covers it.
The school assignment was intended to spark debate and discussion — but isn't that part of the problem?
The assignment was real. In the year 2018. Unbelievable.

The shockingly offensive assignment deserved to be thrown in the trash. But young Jerome dutifully filled it out anyway.
His response was pretty much perfect.
We're a country founded on freedom of speech and debating ideas, which often leads us into situations where "both sides" are represented. But it can only go so far.
There's no meaningful dialogue to be had about the perceived merits of stripping human beings of their basic living rights. No one is required to make an effort to "understand the other side," when the other side is bigoted and hateful.
In a follow-up post, Brown-Berry writes that the school has since apologized for the assignment and committed to offering better diversity and sensitivity training for its teachers.
But what's done is done, and the incident illuminates the remarkable racial inequalities that still exist in our country. After all, Brown-Berry told the Chicago Tribune, "You wouldn't ask someone to list three good reasons for rape or three good reasons for the Holocaust."
At the very end of the assignment, Jerome brought it home with a bang: "I am proud to be black because we are strong and brave ... "
Good for Jerome for shutting down the thoughtless assignment with strength and amazing eloquence.
This article originally appeared on 01.12.18
True
Making new friends as an adult is challenging. While people crave meaningful IRL connections, it can be hard to know where to find them. But thanks to one Facebook Group, meeting your new best friends is easier than ever.
Founded in 281, NYC Brunch Squad brings together hundreds of people who come as strangers and leave as friends through its in-person events.
"Witnessing the transformative impact our community has on the lives of our members is truly remarkable. We provide the essential support and connections needed to thrive amid the city's chaos," shares Liza Rubin, the group's founder.
Despite its name, the group doesn't just do brunch. Members also hold book clubs, seasonal parties, and picnics, among other activities.
NYC Brunch Squad curates up to 10 monthly events tailored to the specific interests of its members. Group organizers handle all the details, taking into account different budgets and event sizes – all people have to do is show up.
"We have members who met at our events and became friends and went on to embark on international journeys to celebrate birthdays together. We have had members get married with bridesmaids by their sides who were women they first connected with at our events. We've had members decide to live together and become roommates," Liza says.
Members also bond over their passion for giving back to their community. The group has hosted many impact-driven events, including a "Picnic with Purpose" to create self-care packages for homeless shelters and recently participated in the #SquadSpreadsJoy challenge. Each day, the 100 members participating receive random acts of kindness to complete. They can also share their stories on the group page to earn extra points. The member with the most points at the end wins a free seat at the group's Friendsgiving event.

If you want to meet the group in person, NYC Brunch Squad, along with many other locally-based New York groups, is participating in the upcoming Facebook IRL event on December 2. This pop-up experience in New York City's West Village will provide a space to discover new hobbies, find new friends, and connect with others around the things they love.
Learn more about the event and sign up to attend here.
Not in the New York area but still want to get involved? As a result of NYC Brunch Squad's popularity, the group is expanding across the country.
"With a robust community established in NYC, we're now excited to announce our expansion with pop-up events in the works in 15 additional cities. What's more, we're launching a travel club, extending our mission to foster connections beyond the city limits and to help people build life-changing friendships in new and exciting places," Liza says.
If you're ready to make new meaningful connections, join NYC Brunch Squad! You might just meet your new best friends.
Humor
"Concerts need to be at a reasonable hour like 5pm."
Get stories worth sharing delivered to your inbox
Family
People got a huge kick out his response.
Teacher Bret Turner thought he'd kick off the morning with his first-grade students using a little riddle.

On the whiteboard in the front of the class, he scrawled it out in black marker:
"I am the beginning of everything, the end of everywhere. I'm the beginning of eternity, the end of time & space."
One student raised their hand, the first to venture a guess.
Now, the answer, of course, is the letter "E." (Get it!?) But the student had a different idea.
"Death?"
Turner later described the incident on Twitter in a post that's now gone massively viral. "Such an awed, somber, reflective hush fell over the class that I didn't want to tell them that actually the answer is the letter 'E', which just seemed so banal in the moment," he wrote.
\u201cThe first guess from one of my 1st graders was \u201cdeath\u201d and such an awed, somber, reflective hush fell over the class that I didn\u2019t want to tell them that actually the answer is the letter e, which just seemed so banal in the moment\u201d

— Bret Turner (@Bret Turner) 1514935897
People on Twitter got a huge kick out of the somewhat dark, existential moment. But there might just be an important lesson buried in this story somewhere about how to process "the end."
Many users who replied to the Tweet were impressed by the unnamed kid's thoughtfulness and ability to understand the concept of death at such a young age. (How many first graders would peg death as "the beginning of eternity?")
But it turns out that kids are much more perceptive than we give them credit for.
An article in National Geographic breaks down the three key truths that children must eventually learn about death. First, that it's irreversible (people who die aren't just on vacation). Second, it makes your body non-functional (people who are dead aren't just asleep). And third, it's universal (everything and everybody dies eventually).
Some studies have shown that kids start to understand the concept as young as 3 years old and gradually learn to accept the many layers of it in the years that follow.
It takes time for anyone to fully grasp the gravity and foreverness of death. But we ought to learn to appreciate the whimsical, partial understanding that young children have.
Some Twitter users who read Turner's account of the riddle accused the student in question of having a morbid personality or an unusual fascination with the macabre. After all, few adults would be brave enough to blurt out something so dark.
It's a lot more likely the kid just hasn't been conditioned to fear death yet, to speak about it in hushed tones — if at all. This might be the same kind of kid who finds out his grandma has died and says, casually, "Oh, OK. Bye, grandma! See you soon!"
When you think about it, that's actually a pretty sweet and remarkably peaceful way of thinking about death. So let's stop rushing kids into having adult-sized worries about the world and let them discover it at their own pace.
As long as it gives us funny moments like this one, anyway.
This article originally appeared on 01.12.18
Parenting
"[Because] she has a figure she was told she had to change."
Photo from Facebook page.
A Lawton, Oklahoma, student who goes by the Facebook user name Rose Lynn had the last laugh after being sent home from school for wearing an outfit deemed "distracting." Rose Lynn believes her outfit attracted the attention of school officials because of her figure.

She proved it by posting a photo on Facebook of her modest outfit, which consisted of black leggings, a t-shirt, long cardigan, and boots. In her post, she wrote that she was sent home "because I'm developed farther than the average girl my age," and because she's a "CURVY woman." Rose Lynn also thinks the appropriate response shouldn't have been to tell her to cover up, but to teach boys to "to respect the boundaries of young ladies."
Her father, Lance Miles, agrees with her. "If she was built like a board or as round as a ball she wouldn't have been sent home but [since] she has a figure she was told she had to change," he said in the comments of her Facebook post.
"This is 100 percent on [Lawton Public Schools] because they have left the rule up to interpretation. She has been taught that if you believe in something, do what you must and be prepared for the consequences. She has done that," he continued.
Rose Lynn's post:
"So today I was sent home from class, after being in school for two hours, for my outfit. Because I'm developed farther than the average girl my age, I am required to go home and change... Because I look like a CURVY woman and may distract young boys, I have to miss class and change my outfit.

So once again, society has failed to advocate young ladies, by confining them in a box, where they are stripped from their sense of self respect and self expression, rather than teaching young men to respect the boundaries of young ladies. My response: #Feminism #YoullDistractTheBoys #SocietyIsFailing"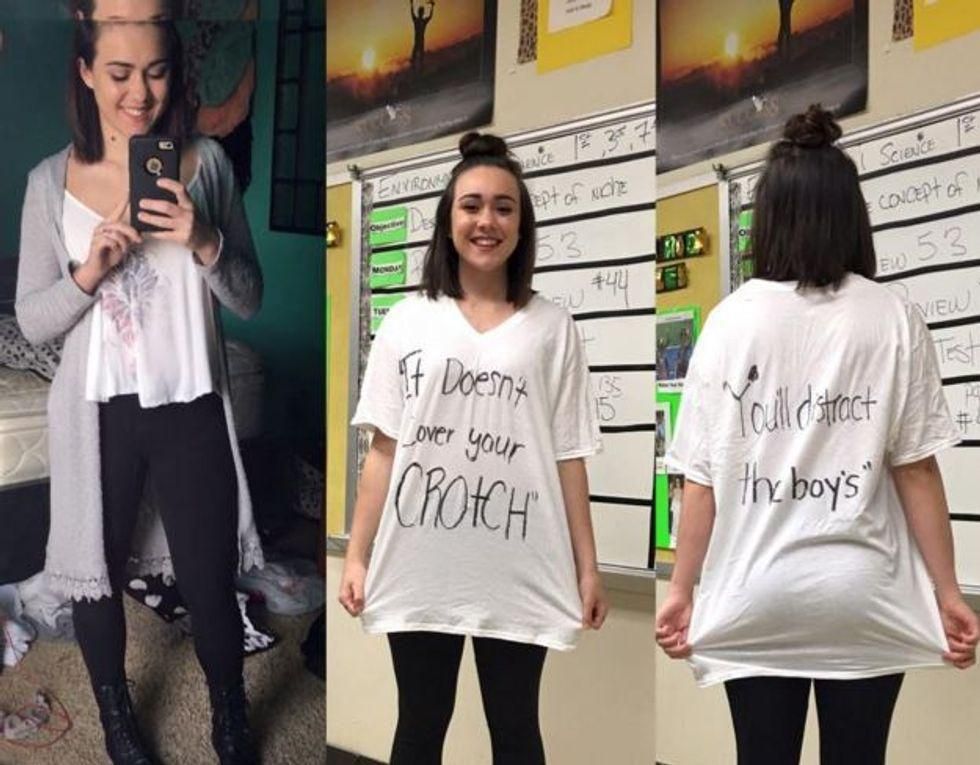 The before and after images for following a dress code.
Photo from Facebook page.

On the day Rose Lynn was sent home, she was due to take a 20-minute algebra exam. She asked school officials if she could take the test before changing her outfit, but her request was denied. So the next day, she got her revenge.
Rose Lynn returned to school wearing an oversize t-shirt. On the front she scribbled a quote from school officials in black Sharpie, "It doesn't cover your crotch"; on the back, "You'll distract the boys." That day, Rose Lynn was called to the office and sent home again. This time it wasn't for her outfit but for not wearing her student I.D., which she had left in the classroom after being called to the office.
This article originally appeared on 05.17.19
Science
This incredible medical tattoo technology is giving renewed hope to burn victims.
All images via the CBS/YouTube
Meet Samira Omar.
The 17-year-old was the victim of a horrific bullying incident.
A group of girls threw boiling water on her, leaving her badly burned and covered in scars and discoloration.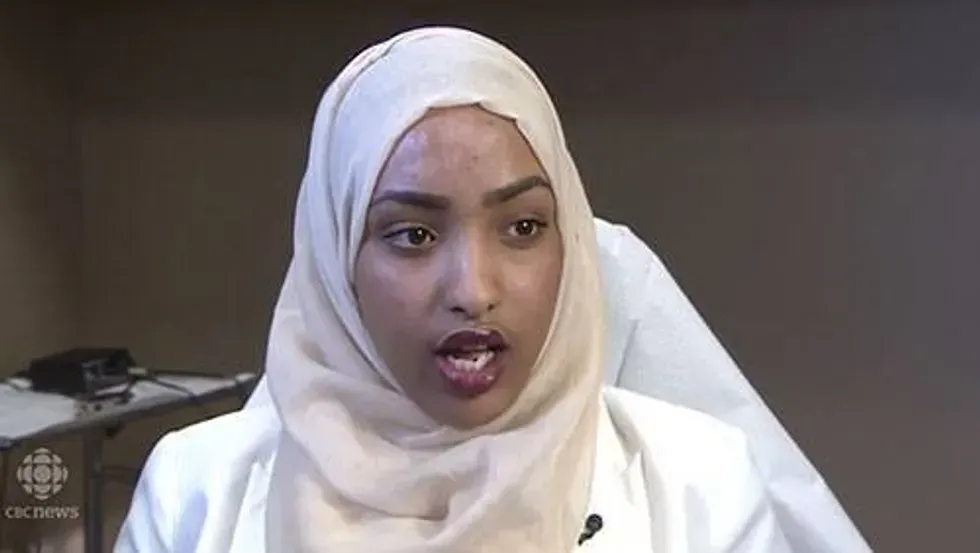 17-year-old Samira Omar
All images by CBC News/YouTube
She thought the physical scars would be with her forever — until she met Basma Hameed. Basma Hameed runs a tattoo shop, of sorts — but her tattoo artistry doesn't look like you'd expect. Basma is a paramedical tattoo specialist. Instead of tattooing vibrant, colorful designs, she uses special pigments that match the skin in order to conceal scars.
It looks like this: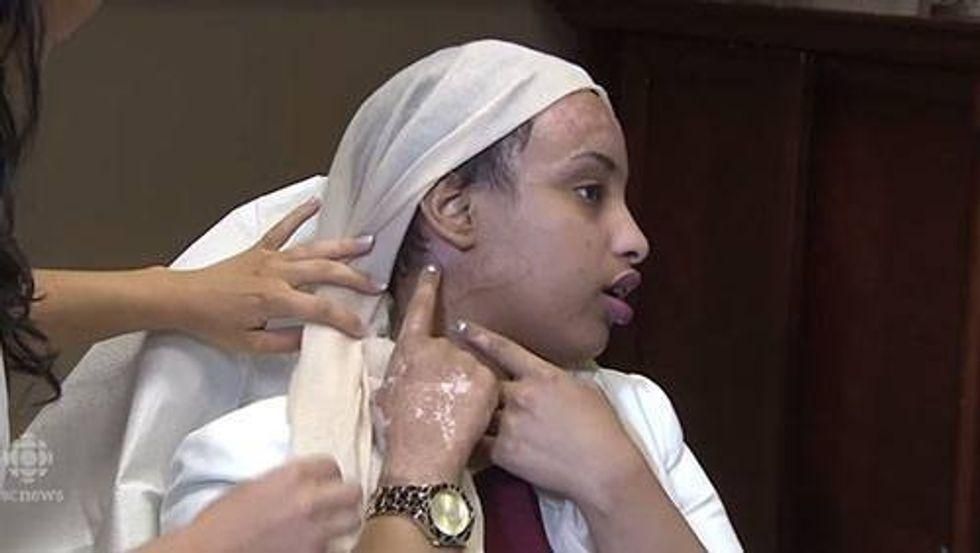 Basma looking at Samira's facial scarring.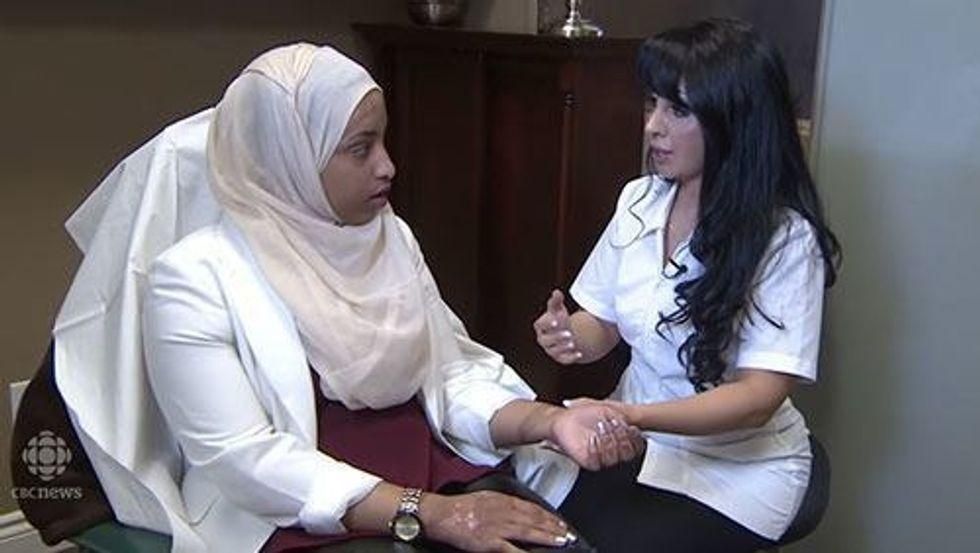 Basma talking over the procedure.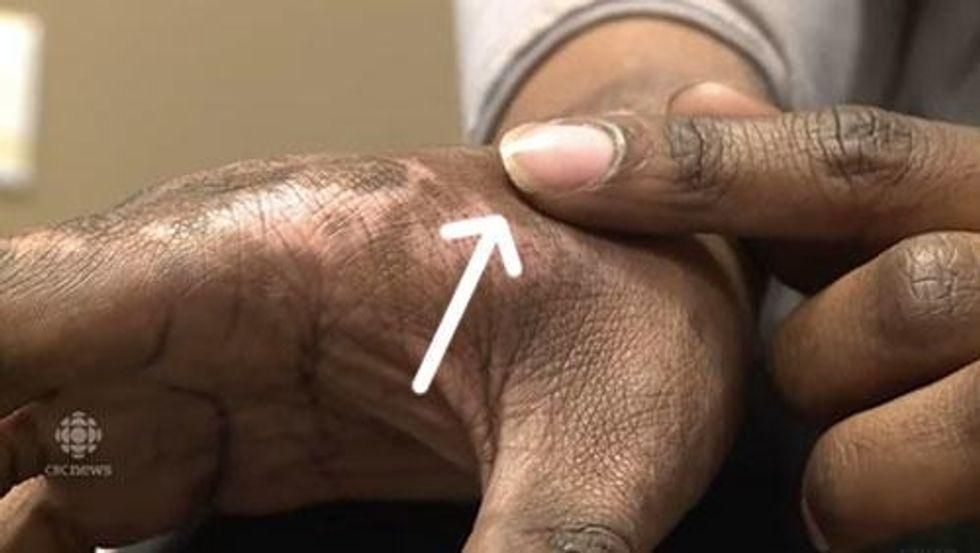 Visible scars and discoloration of the skin.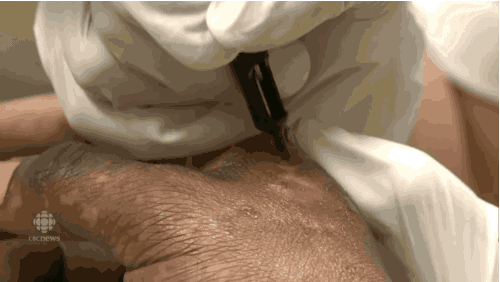 Tattooing the visible scarring on her hand
With Basma's help, patients like Samira can see a dramatic decrease in their scar visibility and discoloration after a few treatments. She even offers free procedures for patients who are unable to afford treatment. That's because Basma knows firsthand just how life-changing her work can be for those coping with painful scars left behind.
Check out the video below to find out more about Basma's practice, including how she became her very first patient.
This article originally appeared on 01.12.15
Get stories worth sharing delivered to your inbox