Andy Murray had just lost in the quarterfinals at Wimbledon.
Murray, the #1-ranked player in the world, was battling an injury and suffered an unexpected defeat to American Sam Querrey in a grueling match lasting nearly three hours.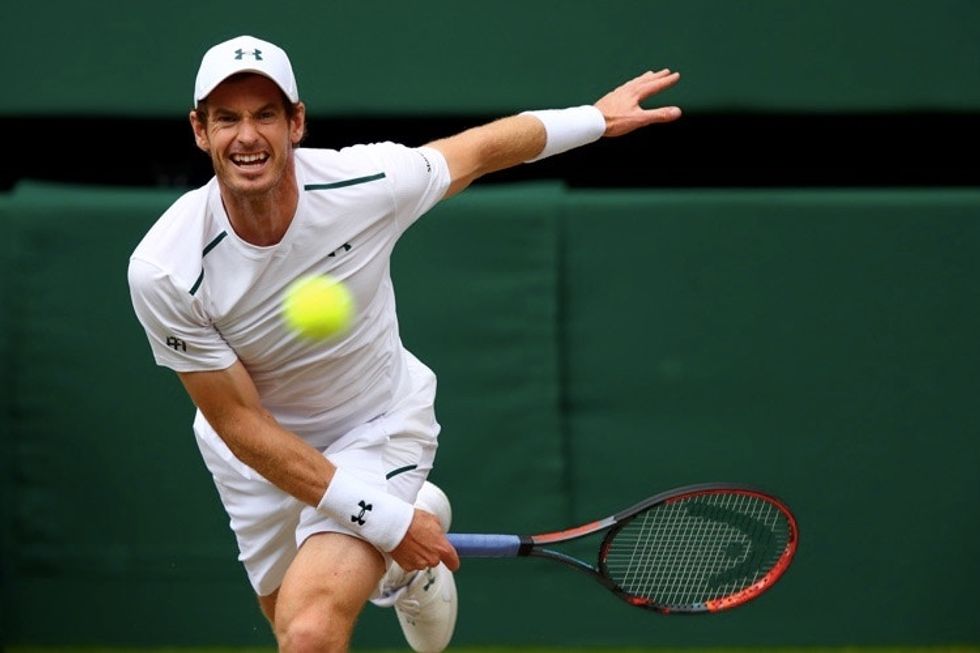 Murray during the singles quarterfinal match against Querrey. Photo by Clive Brunskill/Getty Images.
<h2>Despite the tough loss, Murray is winning fans and praise for what happened off the court. </h2><p>During the post-match press conference, Murray swiftly corrected a reporter who overlooked the success of American tennis players. </p><div id="0e239" class="rm-shortcode" data-rm-shortcode-id="SCJCXL1559350196"><blockquote class="twitter-tweet twitter-custom-tweet" data-twitter-tweet-id="885160905927000065" data-partner="rebelmouse"><div style="margin:1em 0">Q: "Andy, Sam is the first American player to reach the semi-final of a Slam since 2009..." Murray: "Male player."</div> — Svenja Mastroberardi (@Svenja Mastroberardi)<a href="https://twitter.com/svenja_mastro/statuses/885160905927000065">1499873780.0</a></blockquote></div><p><strong>Murray is correct. </strong>While Querrey may be the first American male to reach the semifinals, American women have held court. </p><p>Venus Williams, who just reached the semifinals at this very Wimbledon on Tuesday, has won five times. Her sister Serena Williams has won Wimbledon seven times in the last 15 years. To say nothing of other greats like Lindsay Davenport and Madison Keys. </p><p class="shortcode-media shortcode-media-rebelmouse-image"><img type="lazy-image" data-runner-src="https://assets.rebelmouse.io/eyJhbGciOiJIUzI1NiIsInR5cCI6IkpXVCJ9.eyJpbWFnZSI6Imh0dHBzOi8vYXNzZXRzLnJibC5tcy8xOTUzMDg2My9vcmlnaW4uanBnIiwiZXhwaXJlc19hdCI6MTY1MzAxMzYzOH0.2mzz_qtblo77PM1OzopjL4zURKJd9jOQ4-gDwaUdVu8/img.jpg?width=980" id="9f462" class="rm-shortcode" data-rm-shortcode-id="7b5e21f9d452ebca8e4339f085d9b94f" data-rm-shortcode-name="rebelmouse-image"><small class="image-media media-caption" placeholder="add caption...">Venus Williams serves during a singles second-round match against Qiang Wang of China. Photo by Shaun Botterill/Getty Images.</small></p><h2>This isn't the first time Murray has checked sports journalists on their casual sexism either. </h2><p>He recently called for women to get <a href="https://www.theguardian.com/sport/shortcuts/2017/jul/11/andy-murray-the-feminist-that-tennis-needs" target="_blank">equal billing on Wimbledon's "show courts."</a> And after his win at the Rio Olympics last year, the BBC's John Inverdale congratulated Murray on being the first person to earn two gold medals for tennis. Murray quickly reminded Inverdale that women — specifically, the Williams sisters — exist. </p><p class="shortcode-media shortcode-media-rebelmouse-image"><img type="lazy-image" data-runner-src="https://assets.rebelmouse.io/eyJhbGciOiJIUzI1NiIsInR5cCI6IkpXVCJ9.eyJpbWFnZSI6Imh0dHBzOi8vYXNzZXRzLnJibC5tcy8xOTUzMDg2NC9vcmlnaW4uZ2lmIiwiZXhwaXJlc19hdCI6MTY2MjM0OTI2OH0.NLsnUy3zlIVTYUtjU_EBibD0xemquYdQcz4lDEY3H1Y/img.gif?width=980" id="58b3e" class="rm-shortcode" data-rm-shortcode-id="36266a2fd23b882afcf781f4546597fb" data-rm-shortcode-name="rebelmouse-image"><small class="image-media media-caption" placeholder="add caption...">GIFs via BBC News/YouTube.</small></p><p class="shortcode-media shortcode-media-rebelmouse-image"><img type="lazy-image" data-runner-src="https://assets.rebelmouse.io/eyJhbGciOiJIUzI1NiIsInR5cCI6IkpXVCJ9.eyJpbWFnZSI6Imh0dHBzOi8vYXNzZXRzLnJibC5tcy8xOTUzMDg2NS9vcmlnaW4uZ2lmIiwiZXhwaXJlc19hdCI6MTY0NzMwNDM3OX0.9aCg5kK7hhqt3XAHqZDQN6gFazr9sHJd0phQHKz7PXs/img.gif?width=980" id="9e19b" class="rm-shortcode" data-rm-shortcode-id="bcb8f0440f98b7abf726044a5bc32603" data-rm-shortcode-name="rebelmouse-image"><small class="image-media media-caption" placeholder="add caption..."></small></p><h2>These corrections may seem small, but they don't go unnoticed. </h2><p>Sexism and misogyny don't always occur in extremes. It's snide comments, unfunny "jokes," or simply being overlooked. Women can't be the only ones calling for an end to it. This is <em>everyone's</em> issue. </p><p>When we let these small things or "honest mistakes" go unnoticed, they can turn into bigger issues. Questioning, correcting, and challenging sexism isn't always easy, but if we hope to help the next generation of girls achieve even more than the women before them, it's absolutely vital. </p><p><strong>Thank you, Andy. Keep it up. </strong></p>