Unthinkable tragedy struck the Clemens family of Texas in April.
On April 7, 2018, Jim and Karisa Clemens — along with their 2-month-old, Julieanna — were killed driving home from a family outing.

A vehicle crossed the highway median and struck the Clemens' Suburban, killing the parents and baby, according to San Angelo Live. Jim and Karisa's four other children, who'd all been in the car too — Angela, Zachary, Wyatt, and Nicholas — survived the crash with varying degrees of injury.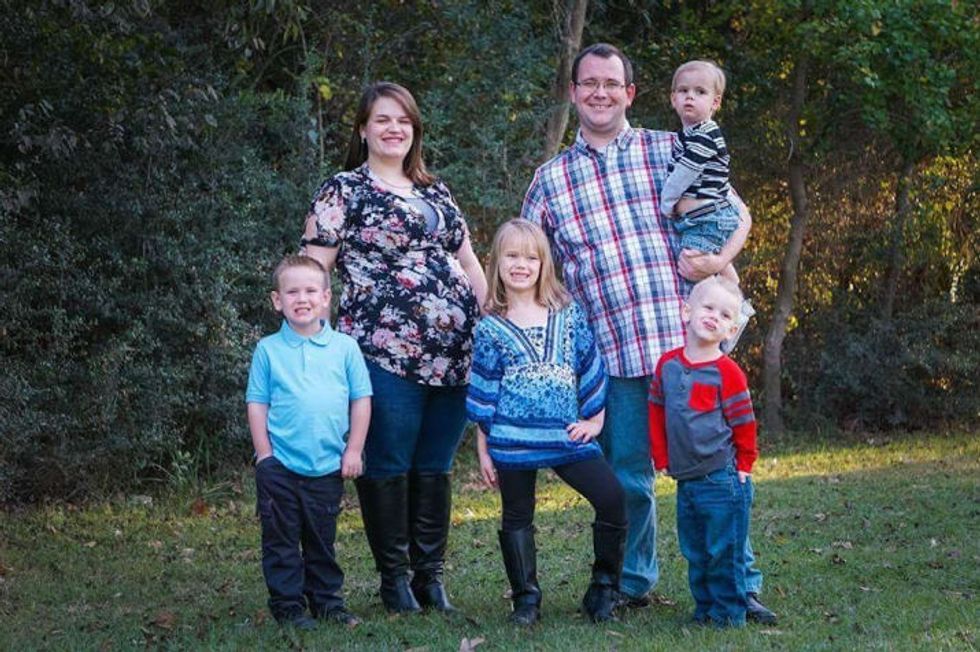 The Clemens family months before the accident. Left to right: Zachary, Karisa (pregnant with Julieanna), Angela, Jim, Wyatt, and Nicholas (in his dad's arms). Photo via Teresa Burrell, used with permission.
<h2>There are no words to describe what Angela, Zachary, Wyatt, and Nicholas are going through after that. </h2><p>The emotional and physical toll they've endured the past few weeks — recovery from a multitude of injuries and the devastation of losing both parents — is unfathomable.</p><p><strong>Nicholas, 2, </strong>was released from the hospital a few days after the accident, the children's great-aunt Teresa Burrell confirms. He's doing well. <strong>Wyatt, 4,</strong> experienced brain trauma and strokes in the aftermath of the crash, leaving him with paralysis on his left side.</p><p><strong>Zachary, 5,</strong> suffered significant setbacks, including bruised lungs and a broken back. And<strong> 8-year-old Angela</strong> sustained broken legs from the crash and severe head trauma. She was in a coma the first week after the crash, and the family still isn't sure how much brain damage has occurred, Burrell says. </p><p>The physical and emotional healing is just beginning for the Clemens kids. But they're "<a href="https://www.buzzfeed.com/juliareinstein/siblings-clemens-car-crash-parents-hospital-reunited-photo?utm_term=.mtd28XkYA#.lfp3Jbr1x" target="_blank">very resilient</a>," according to their great-aunt. And, crucially, they have each other. </p><h2>A few days ago, Angela and Zachary were reunited for the first time after the wreck. </h2><p>A physical therapist at the hospital caught the heartbreaking yet hopeful moment <a href="https://www.facebook.com/donate/2080396888872076/2088153571429741/" target="_blank">in a photo</a> as the brother and sister laid side by side, hand in hand. </p><p>The image has tugged on the heartstrings of many.</p><p class="shortcode-media shortcode-media-rebelmouse-image"><img type="lazy-image" data-runner-src="https://assets.rebelmouse.io/eyJhbGciOiJIUzI1NiIsInR5cCI6IkpXVCJ9.eyJpbWFnZSI6Imh0dHBzOi8vYXNzZXRzLnJibC5tcy8xOTUzMjgzOC9vcmlnaW4uanBnIiwiZXhwaXJlc19hdCI6MTY0OTIwNTUxNH0.kxC_vohIJPW48K6xGMX7DSLoem_o2hWhGeWzbP4pmHE/img.jpg?width=980" id="ee962" class="rm-shortcode" data-rm-shortcode-id="08cd4a1d948eb8d45e7878e3f28dc571" data-rm-shortcode-name="rebelmouse-image"><small class="image-media media-caption" placeholder="add caption...">Angela and Zachary. Photo courtesy of Teresa Burrell, used with permission.</small></p><p>"My heart is bursting!" someone <a href="https://www.facebook.com/donate/2080396888872076/2088153571429741/" target="_blank">commented on the photo</a>, which was shared with a note describing each child's progress and the challenges that lie ahead. "They are such special spirits." </p><p>"I'm so glad these beautiful kids are surrounded by their loved ones and improving every day," someone else chimed in. </p><p>"Omg," another wrote. "This picture has a million feelings running through me."</p><h2>Through an <a href="https://www.facebook.com/donate/2080396888872076/2091753591069739/" target="_blank">online fundraiser</a>, Burrell is keeping family and friends — and now big-hearted supporters from around the world — updated on the kids' recoveries.</h2><p>The family <a href="https://www.facebook.com/donate/2080396888872076/2091753591069739/" target="_blank">launched the page</a> to help with the massive financial burdens associated with the tragedy. "The children will need extensive care for many months," Burrell wrote. "We are seeking funds to help with the funeral arrangements and for medical care [for] these sweet little children."</p><p class="shortcode-media shortcode-media-rebelmouse-image"><img type="lazy-image" data-runner-src="https://assets.rebelmouse.io/eyJhbGciOiJIUzI1NiIsInR5cCI6IkpXVCJ9.eyJpbWFnZSI6Imh0dHBzOi8vYXNzZXRzLnJibC5tcy8xOTUzMjgzOS9vcmlnaW4uanBnIiwiZXhwaXJlc19hdCI6MTU5OTY3ODgyMX0.-Tmyi7mTQ290JTCqsy5deVFcWaaHNu5E3OEyGbPlTAY/img.jpg?width=980" id="fc967" class="rm-shortcode" data-rm-shortcode-id="3cb5a716f9ba968e0d67d4406ed3496e" data-rm-shortcode-name="rebelmouse-image"><small class="image-media media-caption" placeholder="add caption...">Zachary, Wyatt, and Angela. Photo courtesy of Teresa Burrell, used with permission.</small></p><p>Faith has always been important to the Clemens family. So the outpouring of positive thoughts and prayers from people near and far — from <a href="https://www.facebook.com/photo.php?fbid=10155125614930388&amp;set=gm.2092168477694917&amp;type=3&amp;theater" target="_blank">Germany and New York</a> to Taiwan and California — has made a big difference. </p><p>"We have been upheld from people of many different faiths and beliefs who have prayed for us and the children," she says. "It is humbling and brings peace in a very difficult time."</p><h2>Fortunately, there have been many milestones worth celebrating since Angela, Zachary, Wyatt, and Nicholas entered care.</h2><p>While the extent of Angela's brain damage has yet to be determined, <strong>the improvement she's shown has been encouraging</strong>, Burrell says. In a matter of days, the 8-year-old went from speaking just one word to reading and singing along with her siblings. </p><p><strong>Wyatt, too, has made remarkable progress</strong>. Working with a physical therapist, he took his first steps after the accident. He's able to lift his left arm above his head and throw a ball. "Now they have to make sure he doesn't try to run away from them because he doesn't have his balance yet," Burrell says. </p><p class="shortcode-media shortcode-media-rebelmouse-image"><img type="lazy-image" data-runner-src="https://assets.rebelmouse.io/eyJhbGciOiJIUzI1NiIsInR5cCI6IkpXVCJ9.eyJpbWFnZSI6Imh0dHBzOi8vYXNzZXRzLnJibC5tcy8xOTUzMjg0MS9vcmlnaW4uanBnIiwiZXhwaXJlc19hdCI6MTYwNzc0NTIxOX0.4ymmmXlJOXULF0h2IfIjweK3iHllooJMO38r77QfuNk/img.jpg?width=980" id="323a2" class="rm-shortcode" data-rm-shortcode-id="f3746f9dbb72dfcb2a23b65373097836" data-rm-shortcode-name="rebelmouse-image"><small class="image-media media-caption" placeholder="add caption...">Wyatt. Photo courtesy of Teresa Burrell, used with permission.</small></p><p><strong>Zachary has a particularly tough road ahead though.</strong> "We are asking for prayers for our little Zachary," Burrell requests, noting he's still fighting through respiratory issues and will have many more surgeries down the road. "He is really having a hard time with his internal injuries."</p><h2>But the Clemens kids have "<a href="https://www.buzzfeed.com/juliareinstein/siblings-clemens-car-crash-parents-hospital-reunited-photo?utm_term=.mtd28XkYA#.lfp3Jbr1x" target="_blank">astounded</a>" doctors with their recoveries thus far. And there's plenty of reason to hope that progress will continue in the weeks and months ahead.</h2><p>It won't be easy. But these kids have an incredible support system to rely on — and lots of fun sibling time to sustain the smiles when times get tough.</p><p class="shortcode-media shortcode-media-rebelmouse-image"><img type="lazy-image" data-runner-src="https://assets.rebelmouse.io/eyJhbGciOiJIUzI1NiIsInR5cCI6IkpXVCJ9.eyJpbWFnZSI6Imh0dHBzOi8vYXNzZXRzLnJibC5tcy8xOTUzMjg0Mi9vcmlnaW4uanBnIiwiZXhwaXJlc19hdCI6MTYxODE3MDQxOX0.0eKO-b6scjRMRA_PaPrBT-GbJlF8YIrJcV8muyIcO_I/img.jpg?width=980" id="08219" class="rm-shortcode" data-rm-shortcode-id="5289730802caf3717c7155326f4b0712" data-rm-shortcode-name="rebelmouse-image"><small class="image-media media-caption" placeholder="add caption...">Photo courtesy of Teresa Burrell, used with permission.</small></p><p>"We have all been moved by [the kids'] faith, courage, and support [for] one another," Burrell <a href="https://www.facebook.com/donate/2080396888872076/2091753591069739/" target="_blank">wrote in a Facebook post</a>. "It is a testament of their wonderful parents."</p><p><em>To stay updated on the Clemens' recoveries and support the family's fundraiser, visit Burrell's page on <a href="https://www.facebook.com/donate/2080396888872076/2091753591069739/" target="_blank">Facebook</a>.</em></p>