Oregon's Kate Brown is the nation's first (and only) openly LGBTQ person to be elected governor.
After being involuntarily outed by the local newspaper in a story about LGBTQ legislators in the early 1990s, Brown came out as bisexual to her family (who told her it would be easier if she were a lesbian); her gay and straight friends (who called her "half-queer" and "indecisive" respectfully); and her colleagues in the state legislature (one of whom took the news as an opportunity to hit on her).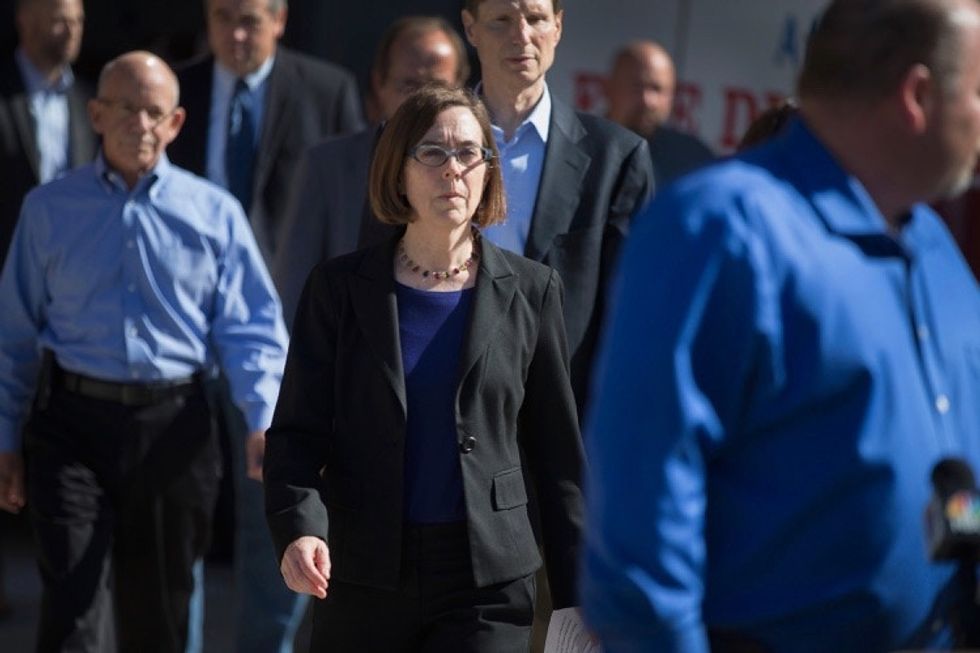 Photo by Scott Olson/Getty Images.
<p>The responses Brown received after coming out are disappointing but sadly unsurprising considering that bisexuality is often a source of jokes, confusion, needless ridicule, and — worst — <a href="https://www.glaad.org/accordionview/bisexual-erasure" target="_blank">complete erasure</a>.</p><p>Bisexuality deserves a place in the conversation when it comes to the greater needs, challenges, and resources of the LGBTQ community. Bisexual+ Awareness Week — the plus includes people who identify as queer, pansexual, fluid, or without labels at all — aims to do just that with articles, events, hashtags (#biweek), and conversations that celebrate and center bisexual+ people.</p><h2>Brown joined Texas Rep. <a href="http://www.maryegonzalez.com/" target="_blank">Mary Gonzalez</a> and Wisconsin Rep. <a href="http://legis.wisconsin.gov/assembly/zamarripa/Pages/default.aspx" target="_blank">JoCasta Zamarripa</a> for a conversation on Twitter about legislating while bisexual+. </h2><p>Hosted by <a href="https://www.glaad.org/" target="_blank">GLAAD </a>and the <a href="https://victoryinstitute.org/" target="_blank">Victory Institute</a>, the hourlong event featured questions on topics ranging from role models to policy. It's clear these three leaders work hard for their state and districts while pushing back against bisexual erasure and discrimination.</p><p>Here are seven of their many thoughtful responses and advice for bisexual people (or frankly anyone in an underrepresented group) thinking about running for office:</p><h2>1. When it comes to building community, it starts with representation. </h2><div id="bf1b0" class="rm-shortcode" data-rm-shortcode-id="U8NSEL1559350253"><blockquote class="twitter-tweet twitter-custom-tweet" data-twitter-tweet-id="910933094777024512" data-partner="rebelmouse"><div style="margin:1em 0">@VictoryInst @glaad @KateBrownForOR @repjocasta Stereotypes are dangerous. WE need to increase the visibility of… https://t.co/ysQlNHtGwL</div> — Mary E. Gonzalez (@Mary E. Gonzalez)<a href="https://twitter.com/RepMaryGonzalez/statuses/910933094777024512">1506018348.0</a></blockquote></div><p><a href="https://williamsinstitute.law.ucla.edu/wp-content/uploads/Gates-How-Many-People-LGBT-Apr-2011.pdf" target="_blank">Recent studies</a> show that people who identify as bisexual may make up as much as half the LGBTQ community, but less than 30% are out to those closest to them. To dismantle stereotypes and to help others feel safe enough to live openly, increased visibility of those who are out is vital. </p><h2>2. Having the support of the LGBTQ community and allies remains important, particularly with President Donald Trump's threatening policy decisions. </h2><div id="5a93b" class="rm-shortcode" data-rm-shortcode-id="3ERWUA1559350253"><blockquote class="twitter-tweet twitter-custom-tweet" data-twitter-tweet-id="910927532161163266" data-partner="rebelmouse"><div style="margin:1em 0">@glaad @VictoryInst @KateBrownForOR @RepMaryGonzalez As a #bisexual POC, the political climate under… https://t.co/hCXrCKMk5x</div> — JoCasta Zamarripa (@JoCasta Zamarripa)<a href="https://twitter.com/repjocasta/statuses/910927532161163266">1506017022.0</a></blockquote></div><p>Bisexual people can be black, white, disabled, cis, trans, or nonbinary too. Recognizing and honoring that intersectionality is vital. </p><h2>3. More bisexual people should consider running for public office.</h2><div id="c00a4" class="rm-shortcode" data-rm-shortcode-id="NN8J3Q1559350253"><blockquote class="twitter-tweet twitter-custom-tweet" data-twitter-tweet-id="910933613419618304" data-partner="rebelmouse"><div style="margin:1em 0">@glaad @KateBrownForOR @RepMaryGonzalez @VictoryInst No more "bi-erasure." We are here. We are #proud. #BiWeek https://t.co/10PDICJsAl</div> — JoCasta Zamarripa (@JoCasta Zamarripa)<a href="https://twitter.com/repjocasta/statuses/910933613419618304">1506018472.0</a></blockquote></div><p>"No more 'bi-erasure.' We are here. We are proud," Zamarripa tweeted with an additional message:</p><blockquote>"It is important for bi people to run for office, so we can advocate for policies that will help bisexual people survive and thrive. We also need to run for office so we are visible. No more bi-erasure. We are here. We exist. We are proud. And, in doing so, we lift up other bisexual folks, especially youth, so they know they can not only survive but thrive." </blockquote><p>If the rights and liberties of the LGBTQ community are at risk, then LGBTQ people and our allies must be in the conversation to speak up and preserve them. </p><h2>4. While making the decision to be a leader — political or otherwise — can be scary, there are plenty of organizations and political leaders available to help get you started. </h2><p>Consider reaching out to the <a href="https://victoryinstitute.org/" target="_blank">Victory Institute</a>, <a href="http://www.emilyslist.org/" target="_blank">Emily's List</a>, or <a href="http://www.sheshouldrun.org/" target="_blank">She Should Run</a> for resources in your community. </p><div id="6a3de" class="rm-shortcode" data-rm-shortcode-id="UTB7J61559350253"><blockquote class="twitter-tweet twitter-custom-tweet" data-twitter-tweet-id="910931408176144385" data-partner="rebelmouse"><div style="margin:1em 0">@glaad @RepMaryGonzalez @repjocasta Mentors and role models are critical, find yours and get to work. #BiWeek</div> — Kate Brown (@Kate Brown)<a href="https://twitter.com/KateBrownForOR/statuses/910931408176144385">1506017946.0</a></blockquote></div><h2>5. Need a little encouragement? Gonzalez recommended some books to get folks started.</h2><div id="a9217" class="rm-shortcode" data-rm-shortcode-id="GG16YX1559350254"><blockquote class="twitter-tweet twitter-custom-tweet" data-twitter-tweet-id="910937834105667584" data-partner="rebelmouse"><div style="margin:1em 0">@pulpologist @VictoryInst @KateBrownForOR @repjocasta @glaad For me, I am inspired by reading Queer women of color.… https://t.co/Uuu5EZhPcs</div> — Mary E. Gonzalez (@Mary E. Gonzalez)<a href="https://twitter.com/RepMaryGonzalez/statuses/910937834105667584">1506019478.0</a></blockquote></div><p>Gonzalez looks to queer women of color for inspiration. Here are <a href="https://www.theroot.com/5-queer-black-female-authors-who-will-blow-your-mind-wi-1790856613" target="_blank">five more to keep your nightstand crowded</a>.</p><h2>6. Gonzalez also had a few words of inspiration. </h2><div id="1d97c" class="rm-shortcode" data-rm-shortcode-id="AW48BE1559350254"><blockquote class="twitter-tweet twitter-custom-tweet" data-twitter-tweet-id="910936031695798272" data-partner="rebelmouse"><div style="margin:1em 0">@glaad @KateBrownForOR @repjocasta Be fearless and keep fighting! Your struggle and your journey matter, and you ar… https://t.co/JbGXLGXmjY</div> — Mary E. Gonzalez (@Mary E. Gonzalez)<a href="https://twitter.com/RepMaryGonzalez/statuses/910936031695798272">1506019048.0</a></blockquote></div><h2>7. But get out there and leave your mark. Because the world needs your voice now more than ever. </h2><p>You never know who's admiring your work or looking up to you. In a series of tweets after the chat, Brown wrote (emphasis added):</p><blockquote>"After I got sworn in as the nation's first openly LGBTQ governor, I got a letter from a young bisexual person. They felt like my coming out gave them a reason to live, like they weren't alone. That stuck with me. <strong>If I can be a role model for one young person, and make a difference in their life, it's all worth it.</strong>"<strong> </strong></blockquote><p class="shortcode-media shortcode-media-rebelmouse-image"><img type="lazy-image" data-runner-src="https://assets.rebelmouse.io/eyJhbGciOiJIUzI1NiIsInR5cCI6IkpXVCJ9.eyJpbWFnZSI6Imh0dHBzOi8vYXNzZXRzLnJibC5tcy8xOTUzMTY2My9vcmlnaW4uanBnIiwiZXhwaXJlc19hdCI6MTYwNDIyMTE2Nn0.BlgBlP9fFlPD86Y7IQ_Q628Mr5jA8-TNxb2e04JWA78/img.jpg?width=980" id="a09d0" class="rm-shortcode" data-rm-shortcode-id="d55ef98d9d57ad3ff34a3335c991934f" data-rm-shortcode-name="rebelmouse-image"><small class="image-media media-caption" placeholder="add caption...">Brown, then an Oregon senator, hugs former state Rep. George Eighmey after Gov. Ted Kulongoski signed two bills protecting gay rights into law. Photo by Craig Mitchelldyer/Getty Images.</small></p>