More
An 8-year-old transgender girl has big plans for a house in Topeka.
We've all heard of the Westboro Baptist Church, right?
They're the people who show up to protest just about every event imaginable (concerts, funerals — you name it) with their over-the-top homophobic signs and shouts. They're basically a YouTube comments section come to life.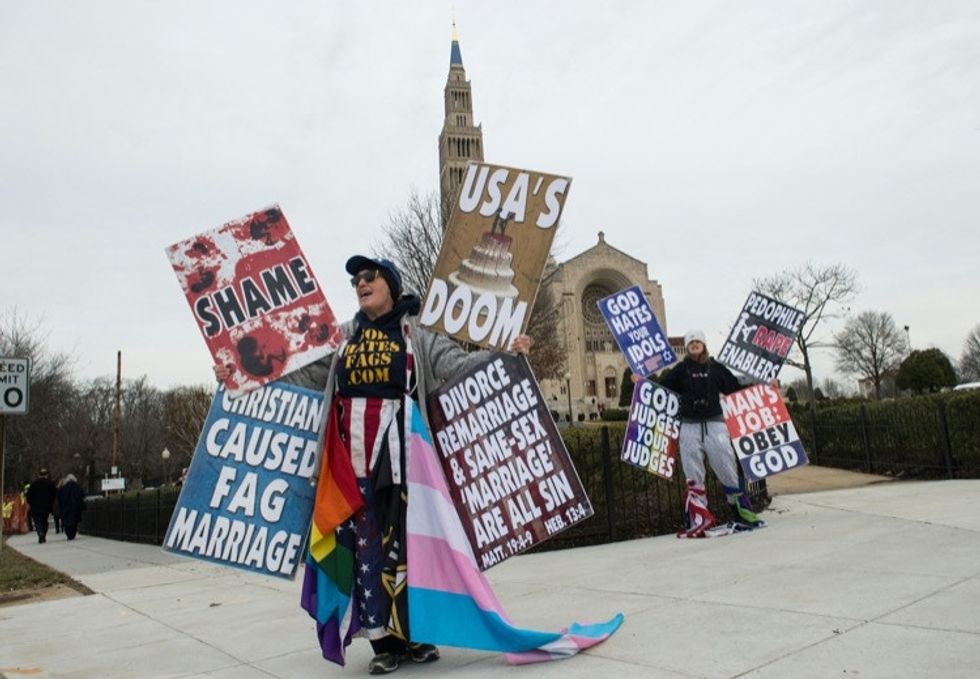 <p class="image-caption">Here they are protesting before the funeral service for Justice Antonin Scalia (who wasn't exactly a fan of gay people, anyway). Photo by Nicholas Kamm/AFP/Getty Images.<br></p><h2>So, since 2013, a group called Planting Peace has been trolling WBC with <a href="http://www.plantingpeace.org/equality/" target="_blank">Equality House</a>, located across the street from WBC's home in Topeka, Kansas.</h2><p>Decked out in rainbows, the Planting Peace house stands for pretty much the polar opposite of WBC. It's the organization's resource center for human rights and bully prevention initiatives.</p><p><img type="lazy-image" data-runner-src="https://assets.rebelmouse.io/eyJhbGciOiJIUzI1NiIsInR5cCI6IkpXVCJ9.eyJpbWFnZSI6Imh0dHBzOi8vYXNzZXRzLnJibC5tcy8xOTUxNDMzOS9vcmlnaW4uanBnIiwiZXhwaXJlc19hdCI6MTYwMzc5NDcxM30.S5DZnqaho1MZhgJUBCcVYtNRTbeDCxnyBjLA4yqpt1o/img.jpg?width=980" id="61015" class="rm-shortcode" data-rm-shortcode-id="76bc4f72ecbe74a0e69a079b1ddfcdf8" data-rm-shortcode-name="rebelmouse-image"></p><p class="image-caption">Image via <a href="https://www.youtube.com/watch?v=xP9aIKqg5qw" target="_blank">Planting Peace/YouTube</a>.</p><h2>A year ago, 8-year-old transgender girl Avery Jackson visited Equality House after it had been painted the colors of the transgender pride flag, and it gave her an idea.</h2><p>While Equality House was only temporarily painted those colors (for one week in honor of transgender day of remembrance), Avery thought it was a really cool idea. </p><p><strong>And she thought it'd be <em>even cooler</em> to do something a little more ... permanent.</strong></p><blockquote class="pull">"The purpose of Planting Peace's Equality House is to counter the actions of hate groups like the Westboro Baptist Church with love and compassion<span class="redactor-invisible-space">."</span></blockquote><p><strong>"I loved the Rainbow House when it was painted like the transgender flag," <a href="https://www.crowdrise.com/transgenderhouse" target="_blank">she says</a>. "I felt so happy and proud to be transgender."</strong><br></p><p><img type="lazy-image" data-runner-src="https://assets.rebelmouse.io/eyJhbGciOiJIUzI1NiIsInR5cCI6IkpXVCJ9.eyJpbWFnZSI6Imh0dHBzOi8vYXNzZXRzLnJibC5tcy8xOTUxNDM0MC9vcmlnaW4uanBnIiwiZXhwaXJlc19hdCI6MTY1MjM1NDI1Nn0.S3JwQimQuiZhfMFuSuDJM6sr2OEqBbrpzB0ySORehn4/img.jpg?width=980" id="047a6" class="rm-shortcode" data-rm-shortcode-id="33ae9c73d8481ff851a89bc512681b50" data-rm-shortcode-name="rebelmouse-image"><br></p><p class="image-caption">Image via <a href="https://www.youtube.com/watch?v=CJC0kPCJPMY" target="_blank">Debi Jackson/YouTube</a>.</p><h2>Avery set her sights on a house located right next to Equality House and planned to raise money to buy it and paint it the trans pride colors year-round.</h2><p>Planting Peace joined forces with Avery, and together they're <a href="https://www.crowdrise.com/transgenderhouse" target="_blank">trying to raise $70,000</a> to buy the home next door and deck it out in trans pride colors permanently. How cool would that be?</p><p><img type="lazy-image" data-runner-src="https://assets.rebelmouse.io/eyJhbGciOiJIUzI1NiIsInR5cCI6IkpXVCJ9.eyJpbWFnZSI6Imh0dHBzOi8vYXNzZXRzLnJibC5tcy8xOTUxNDM0MS9vcmlnaW4uanBnIiwiZXhwaXJlc19hdCI6MTU5NzYxODM2N30.Is_Kfy7n9yHM5B7avI1C3OmuIdAuPYOgWquVAmgBbho/img.jpg?width=980" id="40c3d" class="rm-shortcode" data-rm-shortcode-id="27ff4b1bdba0b379c6abb60ffd06a0cc" data-rm-shortcode-name="rebelmouse-image"></p><p class="image-caption">If Avery and Equality House raise the funds needed, soon this house will be decked out in the colors of the trans pride flag. Image via <a href="https://www.youtube.com/watch?v=CJC0kPCJPMY" target="_blank">Debi Jackson/YouTube</a>.</p><p>"The purpose of Planting Peace's Equality House is to counter the actions of hate groups like the Westboro Baptist Church with love and compassion, and serve as a symbol to the LGBT community that they are not alone, that they have support from so many people," Planting Peace President Aaron Jackson tells Upworthy by email.</p><p>"I was deeply touched when Avery visited us and said it brought her joy and gave her confidence," he adds. "She inspired us to partner with her to create a symbol of support for the transgender community by expanding the Equality House and permanently painting our neighboring house the colors of the transgender flag."<br></p><h2>Learn more about the plans for Transgender House at the video below.</h2><span style="display:block;position:relative;padding-top:56.25%;" class="rm-shortcode" data-rm-shortcode-id="a2cf6ad338f73b435a6513df891bc555"><iframe type="lazy-iframe" data-runner-src="https://www.youtube.com/embed/CJC0kPCJPMY?rel=0" width="100%" height="auto" frameborder="0" scrolling="no" style="position:absolute;top:0;left:0;width:100%;height:100%;"></iframe></span>