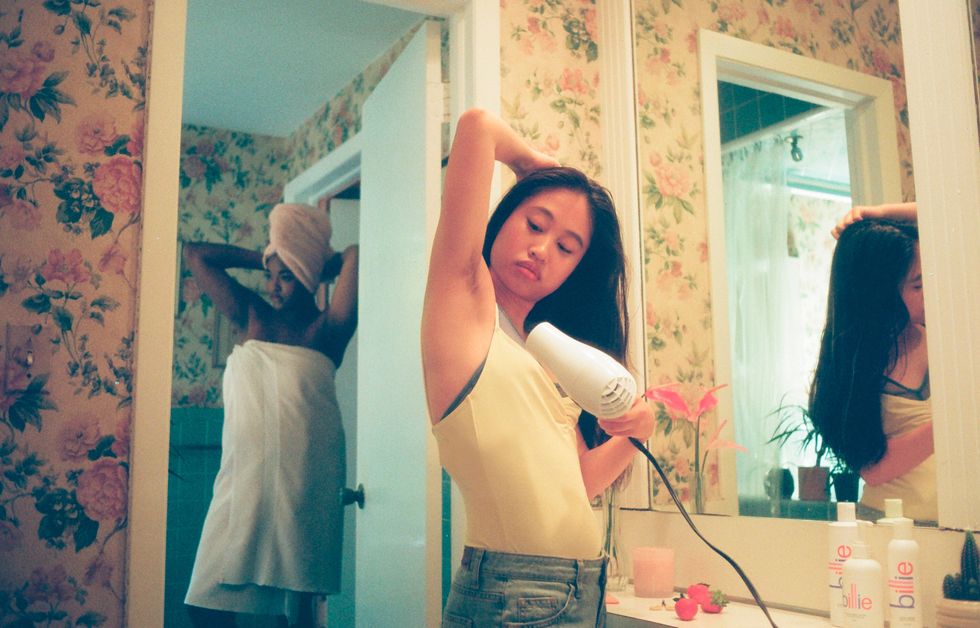 Photo from Billie Body Brand/Unsplash.
There's something odd about razor commercials.
Razor companies seem to like to pretend that hairy women do not exist while simultaneously trying to sell them products. In most of these commercials, bikini-clad women are featured shaving their already hairless legs. But Billie, a razor brand, thinks it's time to finally break the status quo around body hair.
<h2>In June, Billie launched the "Project Body Hair" campaign to celebrate body hair positivity. </h2><p>The message of the campaign is simple: Everyone has body hair — even women — and it's time for us to accept that. </p><p>According to their <a href="https://mybillie.com/pages/projectbodyhair" target="_blank">website</a>, this campaign was largely motivated by the women's razor brand industry's failure to acknowledge female body hair in their advertisement in the last 100 years. In response, the startup made a <a href="https://www.youtube.com/watch?v=P4DDpS685iI" target="_blank">video commercial</a> featuring women from different body sizes and ethnic backgrounds showing off their hairy legs, underarms, stomachs, and unibrows. In addition, they also uploaded free stock photos of hairy women on <a href="https://unsplash.com/@billiebodybrand/collections" target="_blank">Unsplash</a> to counter the lack of images online of female body hair. </p><div><div data-card="youtube" data-reactroot=""><div><span style="display:block;position:relative;padding-top:56.25%;" class="rm-shortcode" data-rm-shortcode-id="45ef5e0d4a0f100ca60b3b79f7bf76ac"><iframe type="lazy-iframe" data-runner-src="https://www.youtube.com/embed/P4DDpS685iI?rel=0" width="100%" height="auto" frameborder="0" scrolling="no" style="position:absolute;top:0;left:0;width:100%;height:100%;"></iframe></span></div></div></div><p><strong>But you're probably wondering: </strong>If Billie is celebrating female body hair, then why are they selling razors? </p><p>The answer is quite simple. Billie believes whether or not a woman chooses to remove her body hair is up to her and shouldn't be up to what society finds acceptable. </p><h2>This isn't the first time Billie has fought back against sexism in the razor brand industry.</h2><div><div class="push-wrapper--mobile" data-card="image" data-reactroot=""><img class="lazyload" data-ix-params='{ "auto": "format" }' data-ix-path="/nugget/5b3a6f94b2fbc900176e2220/attachments/billie-715529-unsplash-8c739eac845d64a880f99632cd34e777.jpg" sizes="auto"><div class="image-caption"><p>Photo from <a href="https://unsplash.com/photos/mjTH1BHDNCA">Billie Body Brand/Unsplash</a>.</p></div></div></div><p>Billie's sole purpose is to serve as an alternative option in a world where the so-called "pink tax" marginalizes female consumers. The <a href="https://www.listenmoneymatters.com/the-pink-tax/" target="_blank">pink tax</a> refers to the trend of companies charging women more for products and services. It's a ridiculous trend that disadvantages women consumers.</p><p>To fight against the pink tax, Billie sells razors at an affordable price through a subscription service. </p><h2>Billie is not alone in the body hair positivity movement.</h2><p>Over time, more and more women are speaking out in celebration of their body hair. Julia Roberts was one of the first Hollywood actress <a href="https://www.telegraph.co.uk/women/life/11-celebrity-women-ditched-razor-dont-shave-underarms/julia-roberts-famously-showed-underarm-hair-notting-hill-premiere/" target="_blank">to show off her underarm hair </a>on the red carpet in her 1999 premiere of "Notting Hill." Nearly four years ago, Madonna posted an <a href="https://instagram.com/p/lyd1r7GEQu/?utm_source=ig_embed" target="_blank">Instagram pic</a> featuring the fuzzies under her arm. And last year, Bella Thorne posted a <a href="https://www.refinery29.com/2017/06/157802/bella-thorne-leg-hair-snapchat-photo" target="_blank">Snapchat photo</a> of her unshaven legs. </p><div><div data-card="instagram" data-reactroot=""><div><blockquote class="instagram-media" data-instgrm-captioned="" data-instgrm-permalink="https://www.instagram.com/p/lyd1r7GEQu/" data-instgrm-version="8" style=" background:#FFF; border:0; border-radius:3px; box-shadow:0 0 1px 0 rgba(0,0,0,0.5),0 1px 10px 0 rgba(0,0,0,0.15); margin: 1px; max-width:658px; padding:0; width:99.375%; width:-webkit-calc(100% - 2px); width:calc(100% - 2px);"><div style="padding:8px;"> <div style=" background:#F8F8F8; line-height:0; margin-top:40px; padding:50% 0; text-align:center; width:100%;"> </div> <p style=" margin:8px 0 0 0; padding:0 4px;"> <a href="https://www.instagram.com/p/lyd1r7GEQu/" style=" color:#000; font-family:Arial,sans-serif; font-size:14px; font-style:normal; font-weight:normal; line-height:17px; text-decoration:none; word-wrap:break-word;" target="_blank">Long hair...... Don't Care!!!!!! #artforfreedom #rebelheart #revolutionoflove</a></p> <p style=" color:#c9c8cd; font-family:Arial,sans-serif; font-size:14px; line-height:17px; margin-bottom:0; margin-top:8px; overflow:hidden; padding:8px 0 7px; text-align:center; text-overflow:ellipsis; white-space:nowrap;">A post shared by <a href="https://www.instagram.com/madonna/" style=" color:#c9c8cd; font-family:Arial,sans-serif; font-size:14px; font-style:normal; font-weight:normal; line-height:17px;" target="_blank"> Madonna</a> (@madonna) on <time datetime="2014-03-21T02:51:22+00:00" style=" font-family:Arial,sans-serif; font-size:14px; line-height:17px;">Mar 20, 2014 at 7:51pm PDT</time></p></div></blockquote></div></div></div><p>It's not just celebrities either. Women diagnosed with polycystic ovarian syndrome (PCOS) deal with symptoms that include excessive body hair growth. In this <a href="https://www.allure.com/story/women-with-pcos-facial-hair-beard-interviews" target="_blank">Allure</a> story, 15 women with PCOS explained their decision to show off their body hair instead of removing it. Harnaam Kaur, who also has PCOS, <a href="https://www.thesun.co.uk/living/2926728/harnaam-kaur-bearded-lady-facial-hair/" target="_blank">decided to grow out her beard</a> after many unsuccessful years of attempting to remove it. She now is a model and and anti-bullying activist. </p><p>Hopefully, Billie's Project Body Hair campaign will not only inspire more women to feel confident in their own bodies, but encourage other razor companies to follow suit. </p>