More
Watch Channing Tatum get interviewed by Carly Fleischmann.
Channing Tatum is no stranger to talk shows.
The star of the "Magic Mike" franchise certainly knows a thing or two about turning on the charm for the cameras while making stops at places like "The Tonight Show," "Jimmy Kimmel Live," and "Ellen." It's kind of his thing, and he's really good at it.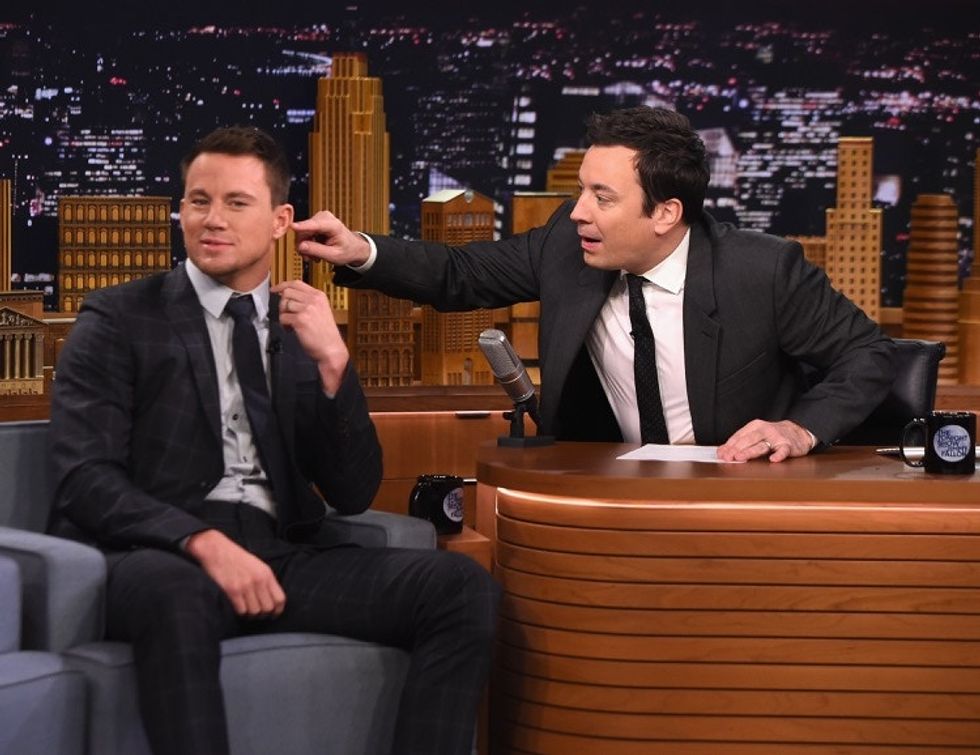 <p class="image-caption">Photo by Theo Wargo/NBC/Getty Images for "The Tonight Show Starring Jimmy Fallon."<br></p><h2>But earlier this week, Tatum appeared on a type of talk show he's never done before: one hosted by Carly Fleischmann, a nonverbal woman with autism.</h2><p>It's a new web series called "<a href="https://www.youtube.com/channel/UCeKKQlMB1NeOLN31_CSJFRQ" target="_blank">Speechless with Carly Fleischmann</a>," and so long as you're a fan of witty banter mixed with earnest questions, it's about to be your new favorite YouTube channel.</p><p><strong>Fleischmann is a nonverbal woman with autism who didn't start communicating with her family until she was 11 years old.</strong> Then, <a href="http://www.upworthy.com/so-if-her-parents-had-given-up-they-never-would-have-seen-this" target="_blank">one day, she typed two words onto her family's computer</a>: "Hurt" and "Help." Stunned, her family worked with her to hone the skill of typing out her thoughts and feelings. A decade later, and <a href="http://carlysvoice.com/home/" target="_blank">she's a successful blogger and author</a>. <strong>Now, she wants to be a talk-show host.</strong></p><h2>To conduct interviews, Fleischmann writes out questions on her iPad, which are then read aloud by Siri. </h2><p>She's a really funny, sharp interviewer, too. </p><p>Check out this example:</p><p><img type="lazy-image" data-runner-src="https://assets.rebelmouse.io/eyJhbGciOiJIUzI1NiIsInR5cCI6IkpXVCJ9.eyJpbWFnZSI6Imh0dHBzOi8vYXNzZXRzLnJibC5tcy8xOTUxNDk0Ny9vcmlnaW4uZ2lmIiwiZXhwaXJlc19hdCI6MTYwOTk1MjAyNX0.Q457EhK1Z5hwAjboh2ncwRdpP1c_BslGAR_q_m_A_88/img.gif?width=980" id="b1b97" class="rm-shortcode" data-rm-shortcode-id="3ff91a1cc746fae7e8c93c1f7fe4ce52" data-rm-shortcode-name="rebelmouse-image"></p><p><img type="lazy-image" data-runner-src="https://assets.rebelmouse.io/eyJhbGciOiJIUzI1NiIsInR5cCI6IkpXVCJ9.eyJpbWFnZSI6Imh0dHBzOi8vYXNzZXRzLnJibC5tcy8xOTUxNDk0OC9vcmlnaW4uZ2lmIiwiZXhwaXJlc19hdCI6MTY1MzUzNDU2OH0.1h6U-BI4fY3O26eU0JdSEKrJ9ocA4OIPptvzEKgiAF0/img.gif?width=980" id="2083a" class="rm-shortcode" data-rm-shortcode-id="77722ebafdd20e20c39cd0397926f27e" data-rm-shortcode-name="rebelmouse-image"></p><p><img type="lazy-image" data-runner-src="https://assets.rebelmouse.io/eyJhbGciOiJIUzI1NiIsInR5cCI6IkpXVCJ9.eyJpbWFnZSI6Imh0dHBzOi8vYXNzZXRzLnJibC5tcy8xOTUxNDk0OS9vcmlnaW4uZ2lmIiwiZXhwaXJlc19hdCI6MTY1MjU5MTM2N30.L0kRqCslx1M-zQV8S5r2UCiYRTKQnK7f6SWIDTojuMo/img.gif?width=980" id="c5758" class="rm-shortcode" data-rm-shortcode-id="83da1b707859698a15ebdb8595c93c2f" data-rm-shortcode-name="rebelmouse-image"></p><p class="image-caption">All GIFs from "Speechless with Carly Fleischmann."</p><h2>Around <a href="http://nationalautismassociation.org/resources/autism-fact-sheet/" target="_blank">1 in 68 children live with autism, and 40% of them are nonverbal</a>. With this web series, Fleischmann is helping provide some much-needed representation.</h2><p>And did I mention she's really funny?<br></p><p><img type="lazy-image" data-runner-src="https://assets.rebelmouse.io/eyJhbGciOiJIUzI1NiIsInR5cCI6IkpXVCJ9.eyJpbWFnZSI6Imh0dHBzOi8vYXNzZXRzLnJibC5tcy8xOTUxNDk1MC9vcmlnaW4uZ2lmIiwiZXhwaXJlc19hdCI6MTY0ODAzMzU1NX0.ogiCnArVMe4gSxfFfeOoiaRm_wuNn2bOdym9aHgJ39I/img.gif?width=980" id="42db7" class="rm-shortcode" data-rm-shortcode-id="ccee4022c268596fb2dccad75c6744e7" data-rm-shortcode-name="rebelmouse-image"></p><h2>"Speechless" is helping redefine what a celebrity interview looks like by proving that you don't need be able to speak in order to host a talk show.</h2><p>Fleischmann isn't just pursuing her dream by hosting the show, she's also facing one of her greatest fears:</p><p><img type="lazy-image" data-runner-src="https://assets.rebelmouse.io/eyJhbGciOiJIUzI1NiIsInR5cCI6IkpXVCJ9.eyJpbWFnZSI6Imh0dHBzOi8vYXNzZXRzLnJibC5tcy8xOTUxNDk1MS9vcmlnaW4uZ2lmIiwiZXhwaXJlc19hdCI6MTU5MDcyMTY2MH0.m7WnmHLP8tG52ORGrNG6bOGeWuH6XGWqejbVpskc8dM/img.gif?width=980" id="f8e0e" class="rm-shortcode" data-rm-shortcode-id="c58b6d7a0c3c91a329ea0faa5cde51f9" data-rm-shortcode-name="rebelmouse-image"></p><h2>Of course, she crushed the interview, and Channing Tatum was an excellent first guest. </h2><p>Here's hoping the next are just as awesome. With Carly behind the iPad, they're bound to be.</p><p><img type="lazy-image" data-runner-src="https://assets.rebelmouse.io/eyJhbGciOiJIUzI1NiIsInR5cCI6IkpXVCJ9.eyJpbWFnZSI6Imh0dHBzOi8vYXNzZXRzLnJibC5tcy8xOTUxNDk1Mi9vcmlnaW4uZ2lmIiwiZXhwaXJlc19hdCI6MTYzNTE5MzQ4NH0.7RGAbyE03y40BzY3h7IFKHczLnzplQgOip6oR9j1XYA/img.gif?width=980" id="d6e36" class="rm-shortcode" data-rm-shortcode-id="da4f415400389d9ac3f051c669553c9a" data-rm-shortcode-name="rebelmouse-image"></p><h2>Check out episode one of "Speechless with Carly Fleischmann" below.</h2><p><span style="display:block;position:relative;padding-top:56.25%;" class="rm-shortcode" data-rm-shortcode-id="4b83c7aa87c19ad41c246dd34d9c27d9"><iframe type="lazy-iframe" data-runner-src="https://www.youtube.com/embed/a34qMg0aF6w?rel=0" width="100%" height="auto" frameborder="0" scrolling="no" style="position:absolute;top:0;left:0;width:100%;height:100%;"></iframe></span><br></p>