Most Shared
This triangle-shaped food allergen tester is half the size of an iPhone and can detect gluten in any meal.
True
Cheerios
During her studies at MIT, Shireen Yates felt sick all the time. She couldn't figure out why.
She assumed her problem was stress until her doctor informed her it was gluten — plus dairy, soy, and eggs. Suddenly, Shireen had food allergies.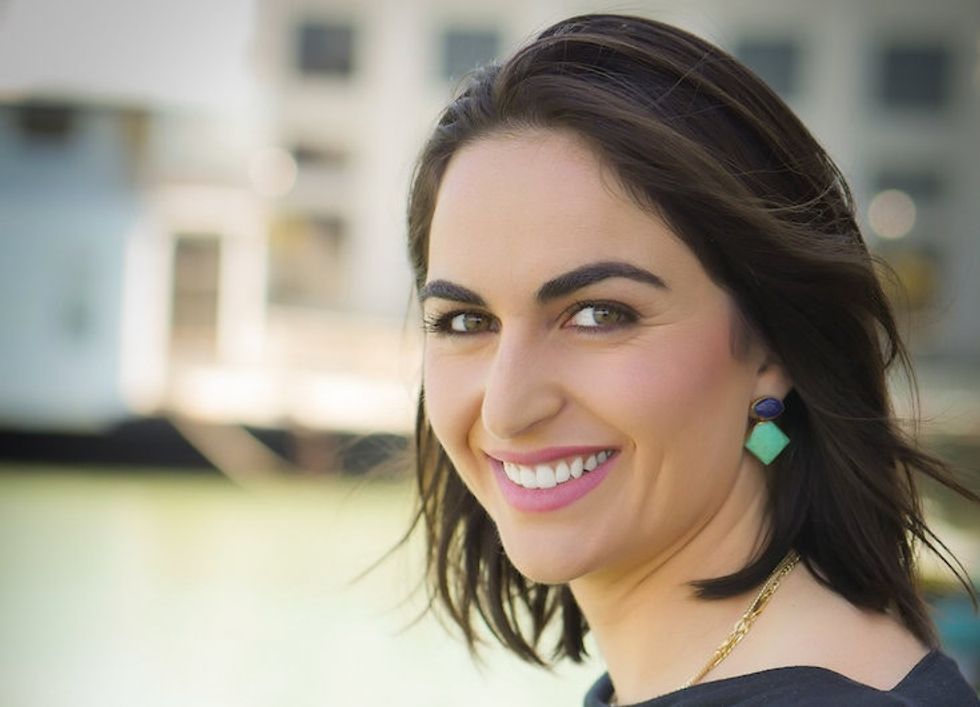 <p class="image-caption">Meet Shireen Yates, co-founder and creator of 6SensorLabs. Hi, Shireen! Photo by 6SensorLabs, used with permission.</p><p> Around the same time as her diagnosis, Shireen met Scott Sundvor, a fellow MIT student with food sensitivities of his own. The rest is history: Fed up with the lack of practical ways to test their food for gluten, Shireen and Scott co-founded 6SensorLabs, a lab where they planned to invent a food allergy tool for the masses. Their colleague Jingqing Zhang, an MIT Ph.D. candidate whose husband has celiac disease, became the company's lead scientist.</p><h2>Nothing brings people together for the holidays like a festive family dinner. But Shireen knew that for food allergy sufferers, there could be danger lurking in every entrée.</h2><p> Gluten is found in anything containing wheat, rye, or barley. And for most people, it's a <a href="http://www.webmd.com/diet/healthy-kitchen-11/truth-about-gluten"><u>normal part of a healthy diet</u></a>.</p><p> <strong>But about 1% of Americans suffer from celiac disease, an immune response to gluten that harms the intestines. And <a href="http://health.usnews.com/health-news/blogs/eat-run/2015/06/11/think-youre-sensitive-to-gluten-think-again" target="_blank">six times</a> as many people have <a href="http://www.celiaccentral.org/non-celiac-gluten-sensitivity/">non-celiac gluten sensitivities</a>.</strong></p><p> <img type="lazy-image" data-runner-src="https://assets.rebelmouse.io/eyJhbGciOiJIUzI1NiIsInR5cCI6IkpXVCJ9.eyJpbWFnZSI6Imh0dHBzOi8vYXNzZXRzLnJibC5tcy8xOTUxMjQ5MS9vcmlnaW4uanBnIiwiZXhwaXJlc19hdCI6MTY1OTk3NzIwM30.X4rT0viXiWs7QxVoBYFwde9pJ3XjlQAx8OaBHBDmkA4/img.jpg?width=980" id="852ea" class="rm-shortcode" data-rm-shortcode-id="245a19d10a2a89abc5f74ef54d9cfaf7" data-rm-shortcode-name="rebelmouse-image"></p><p class="image-caption">Yum, gluten. Photo by iStock.</p><p> "It definitely affects the person who's afflicted, but certainly everyone's social circle too," says Shireen. <br></p><h2>So as much as you want to trust that Grandma remembered to make gluten-free pecan pie for the holiday meal, how can you be sure before taking a bite?</h2><p> <strong>You could always whip out your pocket-sized chemistry set and run some tests. No, really.</strong></p><p> Shireen and her 6SensorLabs team just announced their new tool, called Nima. It's a triangle-shaped food allergen tester that's half the size of an iPhone and will be available in mid-2016.</p><p> <img type="lazy-image" data-runner-src="https://assets.rebelmouse.io/eyJhbGciOiJIUzI1NiIsInR5cCI6IkpXVCJ9.eyJpbWFnZSI6Imh0dHBzOi8vYXNzZXRzLnJibC5tcy8xOTUxMjQ5Mi9vcmlnaW4uanBnIiwiZXhwaXJlc19hdCI6MTYxMDg1Njk2M30.TywQFcMzmQqEq9RNQwLMJtluxXxyxbCGRBEC8G1Ey3g/img.jpg?width=980" id="c4715" class="rm-shortcode" data-rm-shortcode-id="105f0304adb1dfcfc475d25f6d2a1ad1" data-rm-shortcode-name="rebelmouse-image"></p><p class="image-caption"> Nima didn't find gluten in this meal — happy face! Photo by 6SensorLabs, used with permission.</p><p> <strong>Here's how it works:</strong> Before you help yourself to that pie, you slip a sample from your plate into one of the device's disposable capsules. Then, you put the capsule into the electronic sensor. Nima extracts the protein, binds it with an antibody, and reads the concentration through the sensor.</p><p> Two minutes later, boom — it lights up with your answer! You get a smiley face for gluten levels under the FDA gluten-free threshold, and a frowny face for higher concentrations.</p><h2>Right now, Nima can only test for gluten, but the company is on track to release models for people with peanut and dairy allergies in 2017. </h2><p> It could be a total game-changer.</p><p> Nima will also sync with an iPhone app, which will record the foods you test and where you test them, ultimately letting you view data from other users all over the map.</p><p> "Really, the whole inspiration is around helping people enjoy mealtime and being able to be social and celebrate eating without being super stressed-out," says Shireen.</p><p> <strong>This simple access to data could be powerful enough to make mealtime cheerier for people with food allergies — during the holiday season and throughout the year. Fingers crossed!</strong></p>