If Mayor Sadiq Khan could take President Donald Trump anywhere in his city to see London's best, where would it be?
Khan, the city's first Muslim mayor, was recently asked the question by Time Out ahead of Trump's visit to the U.K. and NATO Summit. And it would have been easy for the 47-year-old politician to seize the opportunity and lambast Trump with a snarky comment or witty clapback.

The two have had a tumultuous relationship, after all.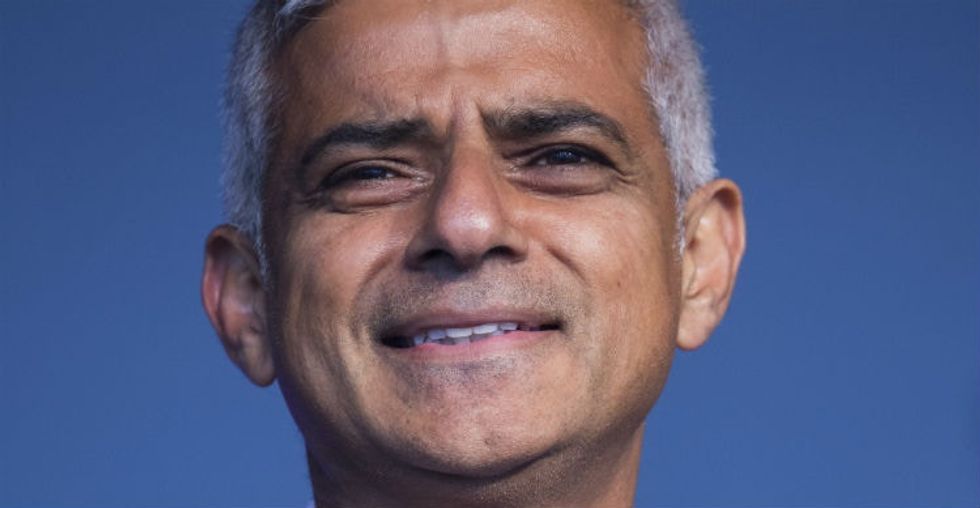 Photo by John Phillips/Getty Images.
<p>Last summer, Trump <a href="https://www.cnn.com/2017/06/03/politics/donald-trump-london-travel-ban/index.html" target="_blank">mischaracterized a statement</a> by Khan after a terrorist attack in London, suggesting the mayor wasn't properly addressing security threats. In January, Khan applauded local efforts by those planning to peacefully protest Trump's visit in early 2018 — a trip the president ended up <a href="https://twitter.com/realDonaldTrump/status/951679619341737986" target="_blank">canceling</a>. "Londoners have made it clear that Donald Trump is not welcome here while he is pursuing such a divisive agenda," the mayor <a href="https://twitter.com/SadiqKhan/status/951739702394150912" target="_blank">tweeted</a>. </p><p>So it's more than feasible to assume Khan wouldn't care to give Trump a pleasant tour of his city's finest — but that's exactly what he'd aim to do.</p><h2>"I'd take him to the most diverse parts of London," Khan <a href="https://www.timeout.com/london/news/watch-sadiq-khan-on-donald-trumps-visit-to-london-071018" target="_blank">responded</a>. "I'd take him to parts of London where you can be who you are — be not just tolerated, but respected, celebrated, and embraced."</h2><p>He continued (emphasis added):</p><blockquote>"I'd want him to meet some of our<strong> wonderful LGBT+ community</strong> in London. I'd want him to meet <strong>women in positions of power</strong> and influence who aren't fetishized and treated poorly. I'd want him to meet <strong>people who are Muslims</strong> but who are proud Londoners; people who have been successful in London but not embarrassed to be Muslim as well. <strong>I'd want him to meet the very best of our city.</strong>" </blockquote><p>That's not a bad idea, Mr. Mayor. </p><p class="shortcode-media shortcode-media-rebelmouse-image"><img type="lazy-image" data-runner-src="https://assets.rebelmouse.io/eyJhbGciOiJIUzI1NiIsInR5cCI6IkpXVCJ9.eyJpbWFnZSI6Imh0dHBzOi8vYXNzZXRzLnJibC5tcy8xOTUzNDEwMC9vcmlnaW4uanBnIiwiZXhwaXJlc19hdCI6MTY0NDM5MzYwOH0.LshBAISvkCqIG-wCcNqRvVYCZNh_KIUHXqrMigtj-3Y/img.jpg?width=980" id="b3eab" class="rm-shortcode" data-rm-shortcode-id="daa4385ab544e998cdaa2b990db81d51" data-rm-shortcode-name="rebelmouse-image"><small class="image-media media-caption" placeholder="add caption...">Khan attends the 2018 Pride in London Parade. Photo by Tristan Fewings/Getty Images for Pride In London.</small></p><h2>Research suggests engaging people who are different from yourself boosts empathy and builds bridges. </h2><p>If you actually know a Muslim, for instance, you're <a href="https://fivethirtyeight.com/features/americans-are-more-likely-to-like-muslims-if-they-know-one/" target="_blank">more likely</a> to have a favorable view of Muslims. If you know <a href="https://www.indy100.com/article/pride-sadiq-khan-condemns-anti-trans-feminists-leaflets-london-8437336" target="_blank">an LGBTQ person</a>, you're <a href="https://news.gallup.com/poll/118931/knowing-someone-gay-lesbian-affects-views-gay-issues.aspx" target="_blank">more likely</a> to support their rights. Contrarily, if you surround yourself with people who look, think, and believe like you do, it's <a href="https://www.vox.com/2018/3/13/17053886/trump-rural-america-populism-racial-resentment" target="_blank">easier to blame your problems</a> on those who <em>don't</em> look, think, and believe like you do.</p><p>Spot the correlation? </p><p>"My concern about some of the things Donald Trump has said in the past is, he gives the impression that being different is a bad thing," Khan explained to Time Out. "So, I'd want him to see the best of London, and hopefully that would lead to him changing some of his views."</p><h2>Watch Khan's interview with Time Out below:</h2><div><div data-card="youtube" data-reactroot=""><div><span style="display:block;position:relative;padding-top:56.25%;" class="rm-shortcode" data-rm-shortcode-id="456fd6c81f46e65c370fd74b85cf1586"><iframe type="lazy-iframe" data-runner-src="https://www.youtube.com/embed/u3uWs8ulDcI?rel=0" width="100%" height="auto" frameborder="0" scrolling="no" style="position:absolute;top:0;left:0;width:100%;height:100%;"></iframe></span></div></div></div><em><strong>Wear your values</strong> with products from <a href="https://psasupply.co/" target="_blank">PSA Supply Co.</a>, an independent site owned by our parent company, GOOD Worldwide Inc. GOOD makes money when you buy these products, and 10% of profits go to <a href="https://psasupply.co/pages/current-nfp-partner" target="_blank">The Center for Community Change Action</a>. Use discount code <a href="https://psasupply.co/discount/UPWORTHY" target="_blank">UPWORTHY</a> to get 15% off your first order!</em><div><div data-card="html" data-reactroot=""></div></div>