True
DICK'S Sporting Goods
The beginning of the end of Cold War tensions between the United States and China came from the unlikeliest of places: a game of table tennis.
The 1971 event would come to be known as "Ping-Pong Diplomacy" and is credited with starting the process of thawing the long-frozen relations between the two countries.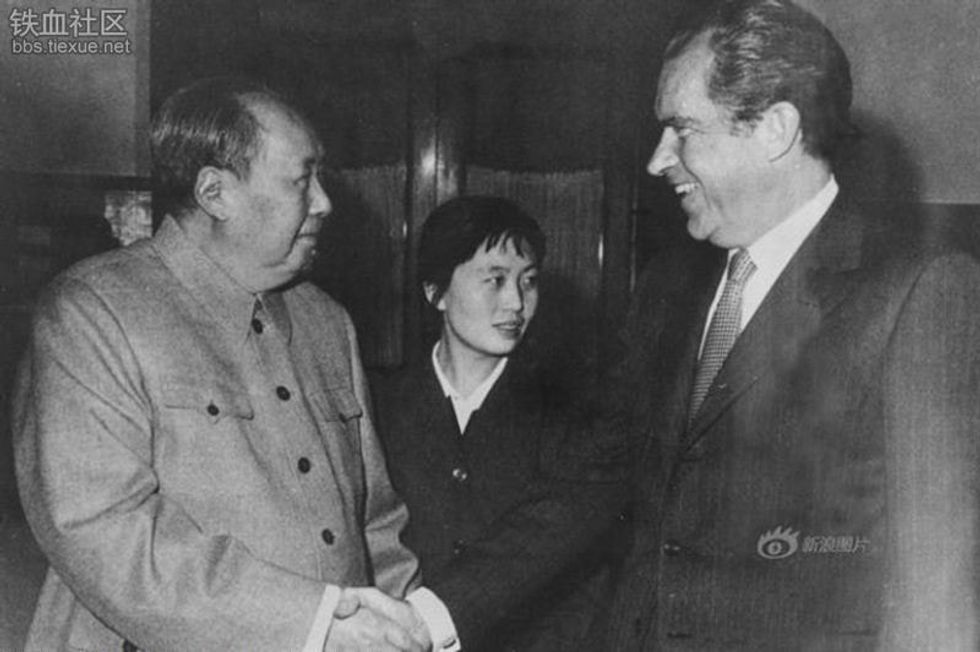 Photo by White House Photo Office/Wikimedia Commons.
<p>Diplomatic relations between the U.S. and China had been chilly since 1949, when communist leader Mao Zedong <a href="http://www.history.com/this-day-in-history/mao-zedong-proclaims-peoples-republic-of-china" target="_blank">declared the creation</a> of the People's Republic of China. After all, the Red Scare was in full swing back home, so this communist revolution was considered by the U.S. to be the "fall" of mainland China to communism. Over the years, Cold War propaganda and trade embargoes had only made things worse. </p><p>The estrangement took its toll on both countries, but <a href="http://afe.easia.columbia.edu/special/china_1950_us_china.htm" target="_blank">by the 1970s</a>, the stage had been set for someone to extend the first hand. The Chinese alliance with Russia was also<a href="https://www.reuters.com/article/us-russia-medvedev-foreign-timeline/timeline-russia-china-relations-idUSL1912530020080519" target="_blank"> strained by then</a>, so President Richard Nixon considered it one of his top priorities to mend the U.S. relationship with the Asian giant.</p><p><strong>That's when, at the <a href="http://www.history.com/news/ping-pong-diplomacy" target="_blank">1971 World Table Tennis Championships</a> in Japan, the Chinese national team invited the U.S. team to play some games of ping-pong in Beijing. </strong></p><p>And when the U.S. accepted, those 15 Americans became the first Americans to visit the People's Republic of China in 22 years, doing what even politicians and diplomats had failed to do. </p><h2>While the invitation to play table tennis appeared seemingly random, it was anything but. </h2><p class="shortcode-media shortcode-media-rebelmouse-image"><img type="lazy-image" data-runner-src="https://assets.rebelmouse.io/eyJhbGciOiJIUzI1NiIsInR5cCI6IkpXVCJ9.eyJpbWFnZSI6Imh0dHBzOi8vYXNzZXRzLnJibC5tcy8xOTM5NzMyNC9vcmlnaW4uanBnIiwiZXhwaXJlc19hdCI6MTY0MjY0NDMwMH0.DmdVcEz-IMOuAn-1zL-LJu9JwjsrxlMGj4KnKCSg1Fg/img.jpg?width=980" id="21334" class="rm-shortcode" data-rm-shortcode-id="d370ed26f398365185b1b1cbc98e5769" data-rm-shortcode-name="rebelmouse-image"><small class="image-media media-caption" placeholder="add caption...">Chinese and U.S. teams prepare to play table tennis in 1971. Photo via <a href="https://commons.wikimedia.org/wiki/File:Nixon_at_an_athletic_exhibition_in_Peking_-_NARA_-_194757.tif#/media/File:Nixon_at_an_athletic_exhibition_in_Peking_-_NARA_-_194757.tif">U.S. National Archives and Records Administration/Wikimedia Commons</a>.</small></p><p>It was <a href="http://www.history.com/news/ping-pong-diplomacy" target="_blank">actually orchestrated</a> by the Chinese government. At the time, an invitation from the Chinese team to American table tennis player Glenn Cowan to board their bus was interpreted as a gesture of goodwill, but the offer to catch a ride to the tournament was a deliberate action. </p><p>The Chinese team's star player, <a href="https://en.wikipedia.org/wiki/Zhuang_Zedong#Ping-pong_diplomacy" target="_blank">Zhuang Zedong</a>, gave Cowan a gift — a silk-screened picture of the Huangshan mountain range. Cowan returned the favor the following day, giving Zhuang a shirt bearing a peace sign and the Beatles' lyrics "Let it be."</p><p>The Chinese government had decided to use ping-pong as the "perfect instrument of Communist propaganda," writes historian Nicholas Griffin in <a href="https://www.washingtonpost.com/opinions/ping-pong-diplomacy-the-secret-history-behind-the-game-that-changed-the-world-by-nicholas-griffin/2014/01/24/03e10536-794f-11e3-af7f-13bf0e9965f6_story.html?utm_term=.8d698c9b456d" target="_blank">his book</a>, "Ping-Pong Diplomacy: The Secret History Behind the Game That Changed the World."</p><p>This image — countries who had long been enemies coming together over a game of ping-pong — was the first sign that the tide might be turning. </p><p>Along with the Americans, the Chinese also invited select press to cover the table tennis games. </p><p>For Nixon, who wanted to end the war in Vietnam and was shortly up for re-election, it was the perfect opportunity to build on the Chinese government's gesture and try to reframe the relationship between the two countries. </p><p>"I was as surprised as I was pleased," Nixon <a href="http://www.history.com/news/ping-pong-diplomacy" target="_blank">later wrote in his memoirs</a><strong>. "I had never expected that the China initiative would come to fruition in the form of a ping-pong team."</strong></p><p class="shortcode-media shortcode-media-rebelmouse-image"><img type="lazy-image" data-runner-src="https://assets.rebelmouse.io/eyJhbGciOiJIUzI1NiIsInR5cCI6IkpXVCJ9.eyJpbWFnZSI6Imh0dHBzOi8vYXNzZXRzLnJibC5tcy8xOTM5NzMyNS9vcmlnaW4uanBnIiwiZXhwaXJlc19hdCI6MTYxMjc4Nzc0N30.4FZLQGTM39ZU6Pirnfwcb27mhNbPnYch-LEMQzbXwHQ/img.jpg?width=980" id="afd49" class="rm-shortcode" data-rm-shortcode-id="b04616a8b1a2c4d1bfee3cbcb70e748f" data-rm-shortcode-name="rebelmouse-image"><small class="image-media media-caption" placeholder="add caption...">Cartoon of Nixon and Mao Zedong playing ping-pong. Photo via <a href="https://www.flickr.com/photos/bootbearwdc/219607185">dbking/Flickr.</a></small></p><p>The U.S. players were not actually all that great at table tennis. The Chinese team, on the other hand, was <a href="https://www.politico.com/magazine/story/2014/01/nixon-china-ping-pong-102928" target="_blank">one of the best in the world</a>. But instead of crushing their competition during the exhibition games played during the trip, the Chinese team embodied the stated slogan of the tournament: "Friendship First, Competition Second."</p><p><strong>In line with that theme, the Chinese players even let the Americans win a few games. You know, for sportsmanship.</strong></p><h2>Those games of table tennis helped change U.S. perceptions of the Chinese and made Nixon's historic visit to China the following year possible. </h2><p>Even before the American table tennis players had finished their China trip, Nixon announced he planned to <a href="http://www.history.com/news/ping-pong-diplomacy" target="_blank">ease travel bans</a> and trade embargoes with the country. And when he flew to China in February of 1972, Nixon became the first U.S. president in history to step foot on the Chinese mainland. While there, he met with Zhou Enlai, premier of the People's Republic, and Chairman Mao.</p><p>Years later, Nixon recalled the meeting, <a href="http://www.history.com/news/ping-pong-diplomacy" target="_blank">writing</a> that the Chinese leaders "took particular delight in reminding me that an exchange of ping-pong teams had initiated a breakthrough in our relations. They seemed to enjoy the method used to achieve the result almost as much as the result itself."</p><p class="shortcode-media shortcode-media-rebelmouse-image"><img type="lazy-image" data-runner-src="https://assets.rebelmouse.io/eyJhbGciOiJIUzI1NiIsInR5cCI6IkpXVCJ9.eyJpbWFnZSI6Imh0dHBzOi8vYXNzZXRzLnJibC5tcy8xOTM5NzMyNi9vcmlnaW4uanBnIiwiZXhwaXJlc19hdCI6MTU5OTE4MTAxMX0.nihoT8p87PCu-VAO54sRW4kcubKJ-vTt1oAswfajiIs/img.jpg?width=980" id="e2132" class="rm-shortcode" data-rm-shortcode-id="9b99e9761a458a61d735d0d81f9f3ed7" data-rm-shortcode-name="rebelmouse-image"><small class="image-media media-caption" placeholder="add caption...">US and China ping-pong players mark the 30th anniversary of the 1971 Beijing match. Photo via <a href="https://2001-2009.state.gov/r/pa/ei/pix/c27340.htm">U.S. Department of State Archive</a>.</small></p><p>Sometimes an olive branch can come from the unlikeliest of places.</p><p>No one could have predicted that something as simple as ping-pong would play a role in ending a decades-long war. <strong>But sports have the power to connect people and help them overcome rifts that are seemingly impossible to breach.</strong></p><p>That's evident during this year's Winter Olympics, too. North Korea and South Korea, two countries with a very strained relationship, have agreed to march united under one flag during the Opening Ceremonies on Feb. 9, as well as field a joint women's hockey team.</p><p>It's still <a href="http://time.com/5124373/north-korea-cancel-south-olympics-event/" target="_blank">a delicate balance</a> and time will only tell how this cooperation will affect the overall relations between the countries. But it's yet another example of the way sports can help people connect when nothing else can.</p><p><em>This story was produced as part of a campaign called "17 Days" with DICK'S Sporting Goods. These stories aim to shine a light on real occurrences of sports bringing people together.</em></p>