More
There are a galaxy's worth of stories to tell. Maybe it's time to hear some new voices.
People are really hyped about the new Star Wars movie, and based on early reviews, it seems like they're in for a treat.
"The Last Jedi" marks the ninth film in the Star Wars franchise, and it comes complete with all the hallmarks of its predecessors — whirring lightsabers, laser blasters, adorable robots, and wise old dudes with magical powers. By most accounts, it's a must-see.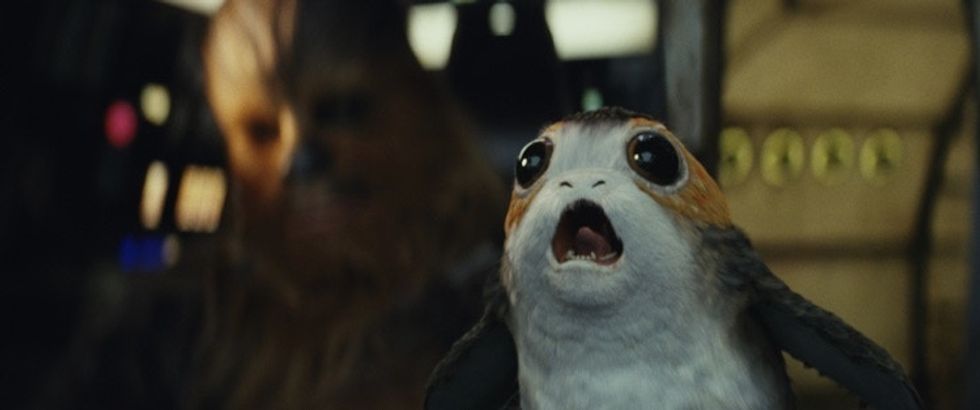 This is me being excited about "The Last Jedi." Image from Star Wars/Disney.
<h2>However, there is one thing that's been the same across every film — the kind of thing you'd hope would be different for a film franchise in its fourth decade — and it's pretty noticeable when you look at all the directors it's had so far.</h2><p>As you can see here, they all look pretty simil — oh wait, wrong photo.</p><p class="shortcode-media shortcode-media-rebelmouse-image"><img type="lazy-image" data-runner-src="https://assets.rebelmouse.io/eyJhbGciOiJIUzI1NiIsInR5cCI6IkpXVCJ9.eyJpbWFnZSI6Imh0dHBzOi8vYXNzZXRzLnJibC5tcy8xOTUzMjkzNi9vcmlnaW4uanBnIiwiZXhwaXJlc19hdCI6MTYzNTY0MDQxOH0.TWI8uggXOWk9wXdJytYRp02RgGcpgZgK8G6mQMcCkMs/img.jpg?width=980" id="8ec7f" class="rm-shortcode" data-rm-shortcode-id="636ad7275f890fd9e390acb237ae8774" data-rm-shortcode-name="rebelmouse-image"><small class="image-media media-caption" placeholder="add caption...">Photo by Chris Jackson/Getty Images.</small></p><p>Ah! Here. Sorry about that. Where was I? Ah, right, so if you take a look at the film's directors, you'll notice a clear trend. They've all been white men.</p><p class="shortcode-media shortcode-media-rebelmouse-image"><img type="lazy-image" data-runner-src="https://assets.rebelmouse.io/eyJhbGciOiJIUzI1NiIsInR5cCI6IkpXVCJ9.eyJpbWFnZSI6Imh0dHBzOi8vYXNzZXRzLnJibC5tcy8xOTUzMjkzNy9vcmlnaW4uanBnIiwiZXhwaXJlc19hdCI6MTYyMDU2MDY1M30.xZh6lKDizluZC9Zbga0dL3JIUd4J64E3hhMkwT_tpus/img.jpg?width=980" id="a3d92" class="rm-shortcode" data-rm-shortcode-id="3cd541ff01704e5536447669ebd33c44" data-rm-shortcode-name="rebelmouse-image"><small class="image-media media-caption" placeholder="add caption...">Clockwise from top left: Star Wars creator George Lucas, "The Force Awakens" director J.J. Abrams, "The Empire Strikes Back" director Irvin Kershner, "The Last Jedi" director Rian Johnson, and "Rogue One" director Gareth Edwards.</small></p><p>Now, of course, there's absolutely nothing wrong with being a white man. Some of <em>my best friends</em> are white men. My <em>dad</em> is a white man, even. Nearly into double digits, however, you'd think that an epic film franchise like Star Wars would want to branch out a bit to see some fresh new perspectives. For instance, imagine what an Ava DuVernay ("Selma") or Ryan Coogler ("Black Panther") Star Wars film could look like, or maybe Patti Jenkins ("Wonder Woman") or Jordan Peele ("Get Out"). How cool would that be?</p><h2>One person who thinks the franchise could use a bit of diversity in the director's chair is "The Last Jedi" director Rian Johnson.</h2><p>When asked by <a href="https://uk.movies.yahoo.com/last-jedis-rian-johnson-says-time-female-poc-directors-make-star-wars-film-164134453.html" target="_blank">Yahoo Movies U.K</a>. whether it's time to diversify the Star Wars director's chair, Johnson responded with an enthusiastic, "Hell, yes, it's time!"</p><p>"There are so many incredibly talented female directors, directors of color out there, and so many I would love to see play in this universe," he added. "Yes, please. I would love it to happen."</p><p class="shortcode-media shortcode-media-rebelmouse-image"><img type="lazy-image" data-runner-src="https://assets.rebelmouse.io/eyJhbGciOiJIUzI1NiIsInR5cCI6IkpXVCJ9.eyJpbWFnZSI6Imh0dHBzOi8vYXNzZXRzLnJibC5tcy8xOTUzMjkzOC9vcmlnaW4uanBnIiwiZXhwaXJlc19hdCI6MTY0NzEyMzgzNn0.QJh_NZIimz9U0bP94su7ci_y_zGYqAMPSEZYMuK42ZI/img.jpg?width=980" id="e2ea1" class="rm-shortcode" data-rm-shortcode-id="2d50fc63647f934ba2817c9ac8945d6c" data-rm-shortcode-name="rebelmouse-image"><small class="image-media media-caption" placeholder="add caption...">Johnson speaking at a press conference. Photo by Charley Gallay/Getty Images for Disney.</small></p><p>Unfortunately, that's not a decision Johnson gets to make. It doesn't look like there are going to be any big changes to the white, male director lineup in the near term. <a href="https://www.hollywoodreporter.com/heat-vision/jj-abrams-replace-colin-trevorrow-as-star-wars-episode-ix-writer-director-1037933" target="_blank">J.J. Abrams is set to return as director for Episode IX</a>, <a href="https://www.hollywoodreporter.com/heat-vision/star-wars-han-solo-movie-ron-howard-steps-direct-1015674" target="_blank">Ron Howard is slated to take helm of 2018's "Solo: A Star Wars Story</a>," and <a href="https://www.reuters.com/article/us-film-starwars-trilogy/rian-johnson-expanding-star-wars-for-new-trilogy-idUSKBN1E104O" target="_blank">Johnson is getting his own trilogy</a>. While things are set for a bit, the fact that the Star Wars universe keeps expanding could be cause for <em>a new hope </em>(Get it? Like the name of one of the movies? Get it?) when it comes to seeing some off-camera diversity.</p><h2>The Star Wars franchise has done a phenomenal job when it comes to boosting on-screen diversity in recent films, and it's paid off in a big way.</h2><p>Both 2015's "The Force Awakens" and 2016's "Rogue One" had female leads with a racially and gender diverse supporting cast. They both were massively successful at the box office ("<a href="http://www.boxofficemojo.com/movies/?id=starwars7.htm" target="_blank">The Force Awakens" made more than $2 billion</a>, and "<a href="http://www.boxofficemojo.com/movies/?id=starwars2016.htm" target="_blank">Rogue One" made more than $1 billion</a>) and impressed critics as well ("<a href="https://www.rottentomatoes.com/m/star_wars_episode_vii_the_force_awakens" target="_blank">The Force Awakens" nabbed a 93% Rotten Tomatoes ranking</a>, and "<a href="https://www.rottentomatoes.com/m/rogue_one_a_star_wars_story/" target="_blank">Rogue One" got an 85%</a>).</p><p class="shortcode-media shortcode-media-rebelmouse-image"><img type="lazy-image" data-runner-src="https://assets.rebelmouse.io/eyJhbGciOiJIUzI1NiIsInR5cCI6IkpXVCJ9.eyJpbWFnZSI6Imh0dHBzOi8vYXNzZXRzLnJibC5tcy8xOTUzMjkzOS9vcmlnaW4uanBnIiwiZXhwaXJlc19hdCI6MTYwODU3MjE3OX0.YKVb7FUQ8ck9u2LwkviU19SZhalHyvfKSMq2-3aa0Q0/img.jpg?width=980" id="bd0e5" class="rm-shortcode" data-rm-shortcode-id="05d8f0557d7dbe225ee3ddb3f4410d24" data-rm-shortcode-name="rebelmouse-image"><small class="image-media media-caption" placeholder="add caption...">Lupita Nyong'o, John Boyega, Daisy Ridley, and Oscar Isaac starred in "The Force Awakens." Photo by Alberto E. Rodriguez/Getty Images for Disney.</small></p><p>So while the franchise definitely deserves major kudos for its casting in recent films (<a href="https://www.rottentomatoes.com/m/star_wars_episode_i_the_phantom_menace" target="_blank">perhaps they learned a lesson after the disasters that were the prequels</a>), it'd be pretty great if the next time out, they gave someone different a try behind the camera to tell brand-new stories with a fresh perspective in that galaxy a long time ago and far, far away.</p>