More
Want to help but don't know where to start?
As large swaths of Texas reel from Hurricane Harvey, people around the country are looking for ways to help with what will undoubtedly be a long and expensive recovery process.
If you're someone who wants to help but don't know what organization to support beyond the Red Cross, we've compiled a list of other organizations that will also need support in the coming weeks and months.

More than anything, many of these groups need financial help, but some are also accepting supplies from local donors.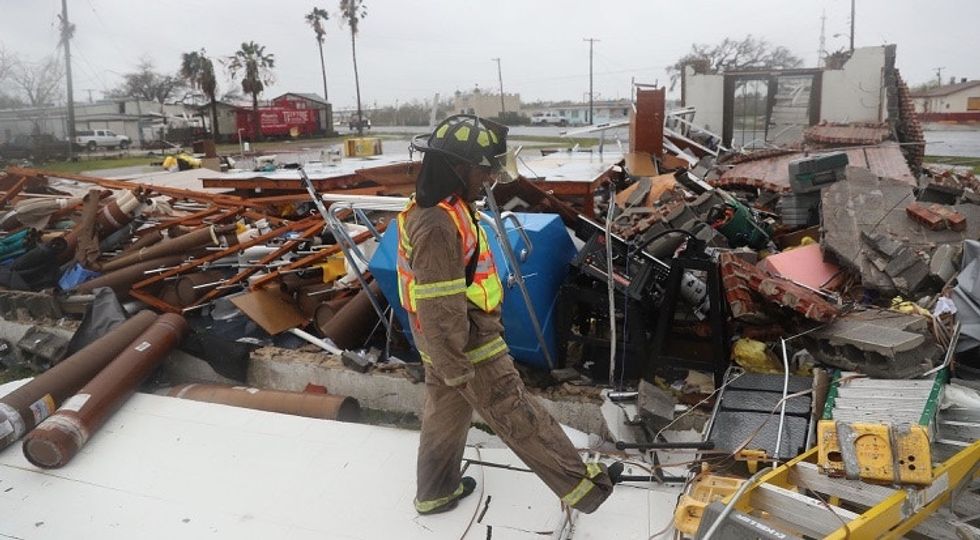 A Rockport, Texas, firefighter goes door-to-door looking for people in need of help after Hurricane Harvey. Photo by Joe Raedle/Getty Images.
<p><em>Here are 26 organizations that need support in the wake of Hurricane Harvey:  </em></p><h2><a href="https://www.globalgiving.org/projects/hurricane-harvey-relief-fund/" target="_blank">1. Global Giving is trying to raise $2 million for Hurricane Harvey relief.</a></h2><p>In addition to providing emergency supplies such as food, water, and medicine, it will also help support the rebuilding and recovery period to follow.</p><div id="bc887" class="rm-shortcode" data-rm-shortcode-id="OV6PBR1559350210"><blockquote class="twitter-tweet twitter-custom-tweet" data-twitter-tweet-id="901285218740568064" data-partner="rebelmouse"><div style="margin:1em 0">Families affected by #HurricaneHarvey need your help. Give today + support vetted nonprofits ready to deliver aid. https://t.co/JoUu7dMRwW</div> — GlobalGiving (@GlobalGiving)<a href="https://twitter.com/GlobalGiving/statuses/901285218740568064">1503718115.0</a></blockquote></div><h2><a href="https://www.convoyofhope.org/" target="_blank">2. Convoy of Hope made the trip down to Texas with truckloads of food and medical supplies in tow.</a></h2><div id="dc372" class="rm-shortcode" data-rm-shortcode-id="J8BRAF1559350210"><blockquote class="twitter-tweet twitter-custom-tweet" data-twitter-tweet-id="901812073587462144" data-partner="rebelmouse"><div style="margin:1em 0">Thousands of residents have evacuated and flood waters are rising due to #HurricaneHarvey. Today, our team provides… https://t.co/rtKIE6CRIn</div> — Convoy of Hope (@Convoy of Hope)<a href="https://twitter.com/ConvoyofHope/statuses/901812073587462144">1503843727.0</a></blockquote></div><h2><a href="https://secure.americares.org/site/Donation2?idb=1763282368&amp;df_id=22188&amp;mfc_pref=T&amp;22188.donation=form1" target="_blank">3. Americares is working to get medical supplies to evacuees and first responders.</a></h2><div id="4ae41" class="rm-shortcode" data-rm-shortcode-id="4U9D0L1559350210"><blockquote class="twitter-tweet twitter-custom-tweet" data-twitter-tweet-id="902070639661531140" data-partner="rebelmouse"><div style="margin:1em 0">#HurricaneHarvey #Americares focus is #health 38 yr expertise 🌎 30 emergency responses yrly ✮✮✮✮4star @CharityNav https://t.co/hKkDdkchCa</div> — Americares: #Partner4Health (@Americares: #Partner4Health)<a href="https://twitter.com/Americares/statuses/902070639661531140">1503905374.0</a></blockquote></div><h2><a href="https://www.directrelief.org/2017/08/direct-relief-100-million-medical-hurricane-harvey/" target="_blank">4. Direct Relief has made its medical inventory available to help in the wake of Harvey.</a></h2><p>The group is sending Hurricane Preparedness Packs to people on the ground in Texas and has committed $200,000 to local response efforts.</p><div id="0fe50" class="rm-shortcode" data-rm-shortcode-id="5GHBV41559350210"><blockquote class="twitter-tweet twitter-custom-tweet" data-twitter-tweet-id="901963223586422784" data-partner="rebelmouse"><div style="margin:1em 0">.@DirectRelief Makes $100 Million in Medical Inventories Available to Assist Texas in Aftermath of Hurricane #Harvey https://t.co/mxa9EM6OEW</div> — Direct Relief (@Direct Relief)<a href="https://twitter.com/DirectRelief/statuses/901963223586422784">1503879764.0</a></blockquote></div><h2><a href="https://southtexasblood.org/" target="_blank">5. The South Texas Blood and Tissue Center is taking online financial donations as well as in-person blood donations.</a></h2><div id="7ee67" class="rm-shortcode" data-rm-shortcode-id="KSURAE1559350211"><blockquote class="twitter-tweet twitter-custom-tweet" data-twitter-tweet-id="901157108963520512" data-partner="rebelmouse"><div style="margin:1em 0">ALL BLOOD TYPES NEEDED - We need your help to prep South TX hospitals for #HurricaneHarvey. 210-731-5590 or visit… https://t.co/7Hshvb2k1o</div> — BioBridge Global (@BioBridge Global)<a href="https://twitter.com/connectforlife/statuses/901157108963520512">1503687572.0</a></blockquote></div><h2><a href="http://www.hearttoheart.org/ways-to-give/" target="_blank">6. Heart to Heart International is on the ground delivering medical supplies to evacuees and responders.</a></h2><div id="e7448" class="rm-shortcode" data-rm-shortcode-id="OEFIBE1559350211"><blockquote class="twitter-tweet twitter-custom-tweet" data-twitter-tweet-id="901594081482203136" data-partner="rebelmouse"><div style="margin:1em 0">HHI update in Round Rock Texas. #HurricaneHarvey Help now: https://t.co/0ZHmexFsLJ https://t.co/xJbiql0Oml</div> — Heart to Heart Int'l (@Heart to Heart Int'l)<a href="https://twitter.com/Heart_to_Heart/statuses/901594081482203136">1503791754.0</a></blockquote></div><h2><a href="https://www.amazon.com/gp/registry/wishlist/2LDINE5V8J9PW" target="_blank">7. The Homeless Period Project of Austin is delivering tampons, pads, and other period-related products to people displaced by the storm.</a></h2><h2><a href="https://www.airbnb.com/disaster/hurricaneharveyevacuees" target="_blank">8. Nearby Airbnb hosts can help out by listing their places for free.</a></h2><p>The company is waiving all administrative costs while still providing the Host Guarantee insurance coverage.</p><div id="5e53a" class="rm-shortcode" data-rm-shortcode-id="PWK33U1559350211"><blockquote class="twitter-tweet twitter-custom-tweet" data-twitter-tweet-id="900878463124598784" data-partner="rebelmouse"><div style="margin:1em 0">Airbnb has activated our host community to open their homes for $0 for those evacuating for Hurricane Harvey. https://t.co/bSXZPgh1HE</div> — Airbnb Help (@Airbnb Help)<a href="https://twitter.com/AirbnbHelp/statuses/900878463124598784">1503621137.0</a></blockquote></div><h2>9. The George R. Brown Convention Center in Houston has opened its doors to those in need of shelter.</h2><p>They're in need of supplies such as baby formula, diapers, hand sanitizer, nonperishable food, sweatsuits, socks, towels, bottles of water, soap, shampoo, toothpaste, blankets, and pillows. More information can be found on the <a href="http://www.grbhouston.com/george-r-brown-emergency-center/" target="_blank">George R. Brown website</a>.</p><div id="29028" class="rm-shortcode" data-rm-shortcode-id="AE20Q71559350211"><blockquote class="twitter-tweet twitter-custom-tweet" data-twitter-tweet-id="901916397521047554" data-partner="rebelmouse"><div style="margin:1em 0">The @GRBCC is currently an Emergency Center for Hurricane Harvey. Donations and volunteers needed. 713.853.8001 (1/4)</div> — Visit Houston (@Visit Houston)<a href="https://twitter.com/VisitHouston/statuses/901916397521047554">1503868600.0</a></blockquote></div><h2><a href="http://www.texasdiaperbank.org/" target="_blank">10. The Texas Diaper Bank is providing baby supplies to families in need.</a></h2><div><div data-card="facebook" data-reactroot=""><div class="fb-post" data-href="https://www.facebook.com/texasdiaperbank/posts/1657016781036133" data-width="552" id="1657016781036133"><blockquote cite="https://www.facebook.com/texasdiaperbank/posts/1657016781036133" class="fb-xfbml-parse-ignore"><p>To ensure our staff is safe through the storm, we will be reopening on Monday morning at 8am to collect diapers and any...</p>Posted by <a href="https://www.facebook.com/texasdiaperbank/">Texas Diaper Bank</a> on <a href="https://www.facebook.com/texasdiaperbank/posts/1657016781036133">Friday, August 25, 2017</a></blockquote></div></div></div><h2><a href="http://www.houstonhumane.org/" target="_blank">11. Local Humane Society locations are doing what they can to help lost or abandoned pets.</a></h2><div><div data-card="facebook" data-reactroot=""><div class="fb-post" data-href="https://www.facebook.com/HoustonHumaneSociety/posts/10155525737098971" data-width="552" id="10155525737098971"><blockquote cite="https://www.facebook.com/HoustonHumaneSociety/posts/10155525737098971" class="fb-xfbml-parse-ignore"><p>We want to update everyone on conditions at HHS today. We are fortunate our buildings are not under water. The far...</p>Posted by <a href="https://www.facebook.com/HoustonHumaneSociety/">Houston Humane Society</a> on <a href="https://www.facebook.com/HoustonHumaneSociety/posts/10155525737098971">Sunday, August 27, 2017</a></blockquote></div></div></div><h2><a href="https://www.austinpetsalive.org/hurricane-harvey-evacuations/" target="_blank">12. Austin Pets Alive has taken in more than 200 animals since the storm hit.</a></h2><p>The group's website lists a number of ways to help out financially, by volunteering, or by fostering pets.</p><div id="fed20" class="rm-shortcode" data-rm-shortcode-id="R1B8SQ1559350211"><blockquote class="twitter-tweet twitter-custom-tweet" data-twitter-tweet-id="900858427190034432" data-partner="rebelmouse"><div style="margin:1em 0">Austin Pets Alive! is helping shelters in the direct line of #HurricaneHarvey. Please find out how you can help:… https://t.co/n22P3xyqyF</div> — Austin Pets Alive! (@Austin Pets Alive!)<a href="https://twitter.com/austinpetsalive/statuses/900858427190034432">1503616360.0</a></blockquote></div><h2><a href="https://www.spca.org/news_hurricane-harvey" target="_blank">13. The SPCA of Texas is taking in pets from animal shelters that have been hit by the storm.</a></h2><div id="f4c99" class="rm-shortcode" data-rm-shortcode-id="MZP7R81559350211"><blockquote class="twitter-tweet twitter-custom-tweet" data-twitter-tweet-id="901487518469828608" data-partner="rebelmouse"><div style="margin:1em 0">UPDATE:#HurricaneHarvey: Please visit https://t.co/Vi0rtmZWBb for a list of pet-friendly hotels as well as boarding… https://t.co/spYTVn8Rgh</div> — SPCA of Texas (@SPCA of Texas)<a href="https://twitter.com/spcaoftexas/statuses/901487518469828608">1503766347.0</a></blockquote></div><h2><a href="http://www.portlight.org/" target="_blank">14. Portlight is assisting people with disabilities during the storm and its aftermath.</a></h2><div><div data-card="facebook" data-reactroot=""><div class="fb-post" data-href="https://www.facebook.com/paul.timmons2/posts/10155608558577403?pnref=story" data-width="552" id="undefined"><blockquote cite="https://www.facebook.com/paul.timmons2/posts/10155608558577403" class="fb-xfbml-parse-ignore"><p>Your generous contributions to Portlight are making this possible:We are now working with the Cajun Navy...a wonderful...</p>Posted by <a href="#" role="button">Paul Timmons</a> on <a href="https://www.facebook.com/paul.timmons2/posts/10155608558577403">Monday, August 28, 2017</a></blockquote></div></div></div><h2>15. Local food banks will be essential in the coming weeks.</h2><p>Houston Press put together <a href="http://www.houstonpress.com/restaurants/texas-food-banks-mobilize-for-hurricane-harvey-how-you-can-help-9735249" target="_blank">a list of food banks</a> serving areas affected by the storm. Contact those locations individually or visit <a href="https://www.feedingtexas.org/" target="_blank">the Feeding Texas website</a> for more information on how to help.</p><div id="84b2f" class="rm-shortcode" data-rm-shortcode-id="DE67K41559350211"><blockquote class="twitter-tweet twitter-custom-tweet" data-twitter-tweet-id="901115741403066368" data-partner="rebelmouse"><div style="margin:1em 0">Read about how we're mobilizing for #HurricaneHarvey relief and how you can help! https://t.co/YKpjHfQvkR https://t.co/f5uhzc9iB8</div> — Feeding Texas (@Feeding Texas)<a href="https://twitter.com/FeedingTexas/statuses/901115741403066368">1503677709.0</a></blockquote></div><h2><a href="https://www.covenanthouse.org/donation-options/donate-now" target="_blank">16. Covenant House is providing shelter to homeless youth, currently caring for 79 children in Houston.</a></h2><div id="3728a" class="rm-shortcode" data-rm-shortcode-id="93DW551559350211"><blockquote class="twitter-tweet twitter-custom-tweet" data-twitter-tweet-id="902132459227291648" data-partner="rebelmouse"><div style="margin:1em 0">More #Harvey rain and flooding today. We are now sheltering 79 kids in Houston &amp; looking for more. Donate by Textin… https://t.co/GOv9Xw2Y7X</div> — Covenant House International (@Covenant House International)<a href="https://twitter.com/CovenantHouse/statuses/902132459227291648">1503920113.0</a></blockquote></div><h2><a href="https://secure.savethechildren.org/site/c.8rKLIXMGIpI4E/b.9534757/k.CB79/Hurricane_Harvey_Relief_Fund/apps/ka/sd/donor.asp" target="_blank">17. Save the Children set up a Harvey Children's Relief Fund to get aid to kids and families in need.</a></h2><div id="2748b" class="rm-shortcode" data-rm-shortcode-id="CARSSR1559350211"><blockquote class="twitter-tweet twitter-custom-tweet" data-twitter-tweet-id="901483776664109056" data-partner="rebelmouse"><div style="margin:1em 0">#HurricaneHarvey has made landfall and is affecting children and families in Texas. Donate now:… https://t.co/KsyNDwakZS</div> — Save the Children US (@Save the Children US)<a href="https://twitter.com/SavetheChildren/statuses/901483776664109056">1503765455.0</a></blockquote></div><h2><a href="https://teamrubiconusa.org/donate/" target="_blank">18. Team Rubicon is deploying veterans and first responders to areas affected by the storm.</a></h2><div id="4f61a" class="rm-shortcode" data-rm-shortcode-id="XKBN3M1559350212"><blockquote class="twitter-tweet twitter-custom-tweet" data-twitter-tweet-id="901932937842540544" data-partner="rebelmouse"><div style="margin:1em 0">Your support is critical. Help us serve those affected by #HurricaneHarvey. Donate and share:… https://t.co/zRBgyLN3VU</div> — Team Rubicon (@Team Rubicon)<a href="https://twitter.com/TeamRubicon/statuses/901932937842540544">1503872544.0</a></blockquote></div><h2><a href="https://www.raicestexas.org/pages/donate" target="_blank">19. Immigrant and refugee nonprofit RAICES is providing support for undocumented immigrants who were abandoned by ICE before the storm hit.</a></h2><div><div data-card="facebook" data-reactroot=""><div class="fb-post" data-href="https://www.facebook.com/raicestexas/posts/10155246772454678" data-width="552" id="10155246772454678"><blockquote cite="https://www.facebook.com/raicestexas/posts/10155246772454678" class="fb-xfbml-parse-ignore"><p>This is what keeping communities safe looks like to #ICE: abandoning 50 asylum seeking mothers and children at a bus station in San Antonio before a hurricane. #DefundHate #HurricaneHarvey</p>Posted by <a href="https://www.facebook.com/raicestexas/">RAICES</a> on <a href="https://www.facebook.com/raicestexas/posts/10155246772454678">Saturday, August 26, 2017</a></blockquote></div></div></div><h2><a href="https://catholiccharities.org/what-you-can-do/donate/donate-online-now-and-help-families-in-need/" target="_blank">20. Similarly, Catholic Charities is providing support to undocumented immigrants in the storm's path.</a></h2><div id="26601" class="rm-shortcode" data-rm-shortcode-id="6L3QVN1559350212"><blockquote class="twitter-tweet twitter-custom-tweet" data-twitter-tweet-id="901240182036283397" data-partner="rebelmouse"><div style="margin:1em 0">Support our disaster relief efforts for #HurricaneHarvey &amp; related floods. Text CCUSADISASTER to 71777 to donate. https://t.co/mJFbsTC1BJ</div> — CatholicCharitiesUSA (@CatholicCharitiesUSA)<a href="https://twitter.com/CCharitiesUSA/statuses/901240182036283397">1503707378.0</a></blockquote></div><h2><a href="http://transadvocate.com/help-the-trans-community-overcome-hurricanetropical-storm-harvey_n_20619.htm" target="_blank">21. The Transgender Foundation of America launched a relief fund to help Houston-area trans and intersex individuals during and after the storm.</a></h2><p>Trans individuals have a history of being turned away from shelters during disasters, making the relief fund necessary for survival.</p><div id="5fe08" class="rm-shortcode" data-rm-shortcode-id="Y6411V1559350212"><blockquote class="twitter-tweet twitter-custom-tweet" data-twitter-tweet-id="901983625851404290" data-partner="rebelmouse"><div style="margin:1em 0">Help the #trans community overcome Hurricane/Tropical Storm #Harvey! https://t.co/7okbNqqhrI https://t.co/WlrHXYsfMp</div> — transadvocate (@transadvocate)<a href="https://twitter.com/transadvocate/statuses/901983625851404290">1503884629.0</a></blockquote></div><h2><a href="http://lionsclubs.org/blog/2017/08/27/lions-and-lcif-responded-to-hurricane-harvey/" target="_blank">22. Lions Clubs International issued a $100,000 grant to its local chapters to buy blankets, food, and other supplies.</a></h2><div id="4ffb6" class="rm-shortcode" data-rm-shortcode-id="MNKD7V1559350212"><blockquote class="twitter-tweet twitter-custom-tweet" data-twitter-tweet-id="901887349214375937" data-partner="rebelmouse"><div style="margin:1em 0">Lions &amp; LCIF respond to #HurricaneHarvey with US$100,000 emergency catastrophe grant https://t.co/rkj1bZL7Pc… https://t.co/rCaXYxO7RY</div> — Lions Clubs (@Lions Clubs)<a href="https://twitter.com/lionsclubs/statuses/901887349214375937">1503861674.0</a></blockquote></div><h2><a href="https://www.unitedwayhouston.org/flood/flood-donation" target="_blank">23. The United Way of Greater Houston allows people to target their donation by county (or just send it wherever it's needed most).</a></h2><p>To help those affected by the storm outside the Houston area, the <a href="https://www.uwtexas.org/hurricane-harvey" target="_blank">United Way also has a list of additional recovery funds</a>.</p><div id="df461" class="rm-shortcode" data-rm-shortcode-id="B63TJ71559350212"><blockquote class="twitter-tweet twitter-custom-tweet" data-twitter-tweet-id="901830930582704130" data-partner="rebelmouse"><div style="margin:1em 0">The devastation is tremendous &amp; getting worse. If you can help, give now. Text UWFLOOD to 41444 or go to… https://t.co/7yAOOmQSuV</div> — UnitedWayHouston (@UnitedWayHouston)<a href="https://twitter.com/HouUnitedWay/statuses/901830930582704130">1503848223.0</a></blockquote></div><h2><a href="https://secure3.convio.net/gbgm/site/SPageNavigator/umcor_donate.html?type=1002&amp;project=901670" target="_blank">24. The United Methodist Committee on Relief is providing shelter and support along evacuation routes.</a></h2><div id="3541d" class="rm-shortcode" data-rm-shortcode-id="NJABXA1559350212"><blockquote class="twitter-tweet twitter-custom-tweet" data-twitter-tweet-id="901148450162712576" data-partner="rebelmouse"><div style="margin:1em 0">As #UMCOR continues to prepare for #TropicalstormHarvey, please pray for those whose lives may be impacted.… https://t.co/mCK7yUHBVv</div> — UMCOR (@UMCOR)<a href="https://twitter.com/UMC_UMCOR/statuses/901148450162712576">1503685507.0</a></blockquote></div><h2><a href="https://www.youcaring.com/peopleimpactedbyhurricaneharvey-914409" target="_blank">25. The Houston chapter of the Democratic Socialists of America is trying to raise $50,000 for food, water, and tarps.</a></h2><div id="e11a2" class="rm-shortcode" data-rm-shortcode-id="DMZSY31559350212"><blockquote class="twitter-tweet twitter-custom-tweet" data-twitter-tweet-id="901607437668675589" data-partner="rebelmouse"><div style="margin:1em 0">We are working on providing aid to those affected by #Harvey. If you wish to donate, please go to… https://t.co/PgMgZELOZ7</div> — Houston DSA (@Houston DSA)<a href="https://twitter.com/HoustonDSA/statuses/901607437668675589">1503794938.0</a></blockquote></div><h2><a href="https://www.gofundme.com/hurricaneharvey" target="_blank">26. GoFundMe created a hub of its Harvey-specific campaigns for easy access.</a></h2><p>A wide range of causes are covered on that page, from individuals trying to raise money for home repairs to getting hot meals to evacuees.</p><div id="13dd9" class="rm-shortcode" data-rm-shortcode-id="PFS8L61559350212"><blockquote class="twitter-tweet twitter-custom-tweet" data-twitter-tweet-id="901930316570411009" data-partner="rebelmouse"><div style="margin:1em 0">In response to #HurricaneHarvey, we've created a home for the campaigns providing help. Donate here: https://t.co/W4EgkedA61</div> — GoFundMe (@GoFundMe)<a href="https://twitter.com/gofundme/statuses/901930316570411009">1503871919.0</a></blockquote></div><p><em>Note: As is always the case with charities, it's a good idea to do a quick search on </em><a href="https://www.charitynavigator.org/" target="_blank"><em>Charity Navigator</em></a><em> before making a donation to any organization.</em></p>