Family
"It's a simple finger-prick test and gives a nearly instant result."
On July 14, 2016, Prince Harry got tested for HIV — and broadcast the experience live on Facebook.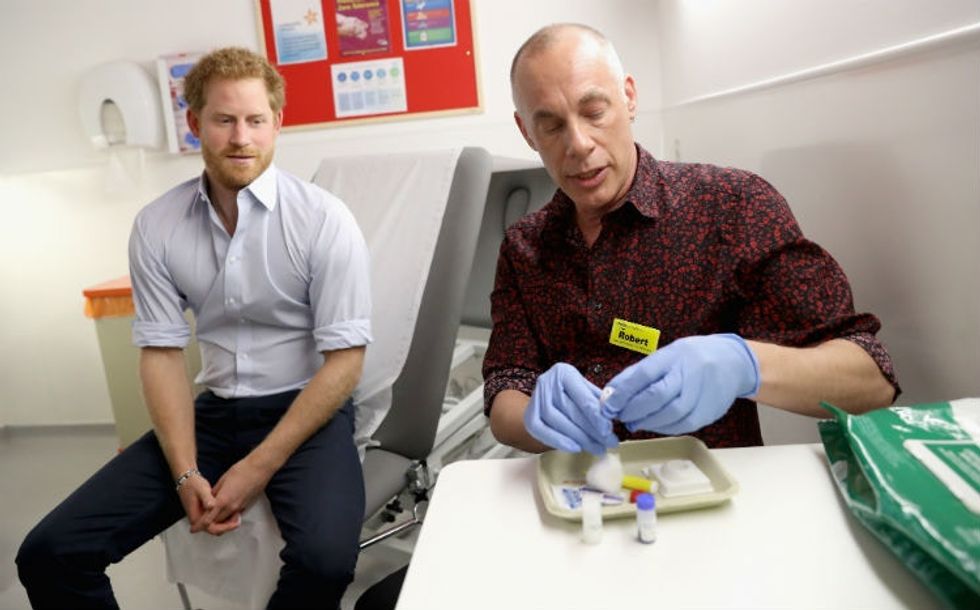 Prince Harry wanted to reduce the stigma surrounding the virus, while encouraging others — "whether [they're] a man, woman, gay, straight, black or white — even ginger," he noted with a grin — to know their status.
</div><h2>In some respects, his experience was a bit different than what regular people like you or me would expect out of trip to the clinic.</h2><div><p>For instance, we likely wouldn't shake hands with the whole staff.</p></div><div class="image-share push-wrapper--mobile"><img type="lazy-image" data-runner-src="https://assets.rebelmouse.io/eyJhbGciOiJIUzI1NiIsInR5cCI6IkpXVCJ9.eyJpbWFnZSI6Imh0dHBzOi8vYXNzZXRzLnJibC5tcy8xOTUyMzEyOS9vcmlnaW4uanBnIiwiZXhwaXJlc19hdCI6MTYzMTI4ODUzN30.MBoDqTytqenXPFtrJiKV1WCBohlriuKo8gCVEtqXAUA/img.jpg?width=980" id="6f67e" class="rm-shortcode" data-rm-shortcode-id="e36aff98d236b3adae9468ab8ca57ba9" data-rm-shortcode-name="rebelmouse-image"><p class="image-caption">Photo by Chris Jackson-Pool/Getty Images.</p></div><h2>But in many ways, the prince's experience was refreshingly relatable. He was, for instance, a bit "anxious" beforehand.</h2><div><p>That's understandable.</p></div><div class="image-share push-wrapper--mobile"><img type="lazy-image" data-runner-src="https://assets.rebelmouse.io/eyJhbGciOiJIUzI1NiIsInR5cCI6IkpXVCJ9.eyJpbWFnZSI6Imh0dHBzOi8vYXNzZXRzLnJibC5tcy8xOTUyMzEzMC9vcmlnaW4uanBnIiwiZXhwaXJlc19hdCI6MTYzMzE1NzgzN30.8UGfUnA6tQZN2vvuXtqkfNI1fFEbRUJrzypGbh3S-zs/img.jpg?width=980" id="94942" class="rm-shortcode" data-rm-shortcode-id="45a408c954107130c89b2f82a12aefbd" data-rm-shortcode-name="rebelmouse-image"><p class="image-caption">Photo by Chris Jackson-Pool/Getty Images.</p></div><div><p>Nerves are <a href="http://www.avert.org/hiv-transmission-prevention/worried-about-hiv">totally normal</a> before getting tested for HIV (and, let's be real, pretty much any test that involves a needle). <strong>But as advocates argue, you should <a href="http://www.avert.org/hiv-transmission-prevention/worried-about-hiv">never allow fear to affect your health</a>. </strong></p></div><h2>Harry learned quite a bit about sexual health while he was there, too.</h2><div class="image-share push-wrapper--mobile"><img type="lazy-image" data-runner-src="https://assets.rebelmouse.io/eyJhbGciOiJIUzI1NiIsInR5cCI6IkpXVCJ9.eyJpbWFnZSI6Imh0dHBzOi8vYXNzZXRzLnJibC5tcy8xOTUyMzEzMS9vcmlnaW4uanBnIiwiZXhwaXJlc19hdCI6MTYxNTk0NDYxMH0.wpErlfBsbsjBK1C8f9vTOYy_GRNRys14GXnIgTxOdug/img.jpg?width=980" id="e32e1" class="rm-shortcode" data-rm-shortcode-id="32e126082090902080ef651fe38b3a2d" data-rm-shortcode-name="rebelmouse-image"><p class="image-caption">Photo by Chris Jackson-Pool/Getty Images.</p></div><div><p>He's no expert on the topic — and you certainly don't have to be to get tested. That's one important reason why sexual health clinics exist in the first place — <strong>to help you get in-the-know on STI treatments and prevention</strong>, so you can live life to the fullest.</p></div><h2>The prince said he was surprised at how speedy the whole process was.</h2><div><p>"It's amazing how quick it is," he noted after learning he'd have answers within seconds of the small <em>prick</em> on his finger.</p></div><div class="image-share push-wrapper--mobile"><img type="lazy-image" data-runner-src="https://assets.rebelmouse.io/eyJhbGciOiJIUzI1NiIsInR5cCI6IkpXVCJ9.eyJpbWFnZSI6Imh0dHBzOi8vYXNzZXRzLnJibC5tcy8xOTUyMzEzMi9vcmlnaW4uanBnIiwiZXhwaXJlc19hdCI6MTU5OTcyMTI5OH0.4k1L2-daieb4ADU0UiZuLFj5kPptE59BoCSX3JhsWVs/img.jpg?width=980" id="a8dcf" class="rm-shortcode" data-rm-shortcode-id="e5b8244ab7882b3d83afc1e0e637d8c8" data-rm-shortcode-name="rebelmouse-image"><p class="image-caption">Photo by Chris Jackson-Pool/Getty Images.</p></div><div><p>The results would either be <strong>"non-reactive,"</strong> meaning a patient is HIV-negative, or <strong>"reactive," </strong>which suggests the patient is HIV-positive. A "reactive" result would need to be confirmed in the lab following the test.</p></div><h2>Prince Harry doesn't have HIV, but regardless of the outcome of the test, simply knowing your status can take a huge burden off many patients, according to Robert Palmer, who performed the test at the London clinic.</h2><div><p>"[Patients] can feel much better, straight away," he explained, agreeing with the prince's assessment that simply getting folks in the door is often half the battle.</p></div><div class="image-share push-wrapper--mobile"><img type="lazy-image" data-runner-src="https://assets.rebelmouse.io/eyJhbGciOiJIUzI1NiIsInR5cCI6IkpXVCJ9.eyJpbWFnZSI6Imh0dHBzOi8vYXNzZXRzLnJibC5tcy8xOTUyMzEzMy9vcmlnaW4uanBnIiwiZXhwaXJlc19hdCI6MTYzOTU2NTExN30.7_OonZBsIJAw2OgLNIkMBZ2Gh8-9IA4PRWmP1v1GNAo/img.jpg?width=980" id="21dd2" class="rm-shortcode" data-rm-shortcode-id="0a0909a782173240a41f402a8021b4bc" data-rm-shortcode-name="rebelmouse-image"><p class="image-caption">Photo by Chris Jackson-Pool/Getty Images.</p></div><div><p>And while no patient <em>wants</em> their results to come back positive, of course, it's vital to remember that getting an HIV-positive diagnosis no longer means what it did <a href="http://www.cnn.com/2015/11/30/health/cnnphotos-hiv-aids-portraits/">30 years ago</a>.</p><p>"People [who are HIV-positive] are living long and healthy lives," Robert said, noting that patients who seek treatment can have fulfilling sexual relationships, work full-time, and enjoy their retirements.</p><p><strong>As advocates point out, the <a href="http://www.avert.org/hiv-transmission-prevention/worried-about-hiv" target="true">worst thing</a> about HIV isn't having it — it's <em>not</em> <em>knowing </em>if you do or not.</strong><br></p></div><h2>Watch Prince Harry get an HIV test below:</h2><h2>Want to know your status and get tested for HIV? </h2><div><p><a href="https://www.aids.gov/hiv-aids-basics/prevention/hiv-testing/hiv-test-locations/" target="true">Find a testing center near you today</a>.</p></div></div>