Most Shared
"We still see the disability before we see the individual."
Allysa Seely made history at the 2016 Paralympic Games when she became the first gold medal winner in the PT2 women's triathlon, an event that debuted at the games this year.
Plans to bring the triathlon to the Paralympics have been in the works for 15 years. Finally, in 2016, there were enough athletes who qualified for the event.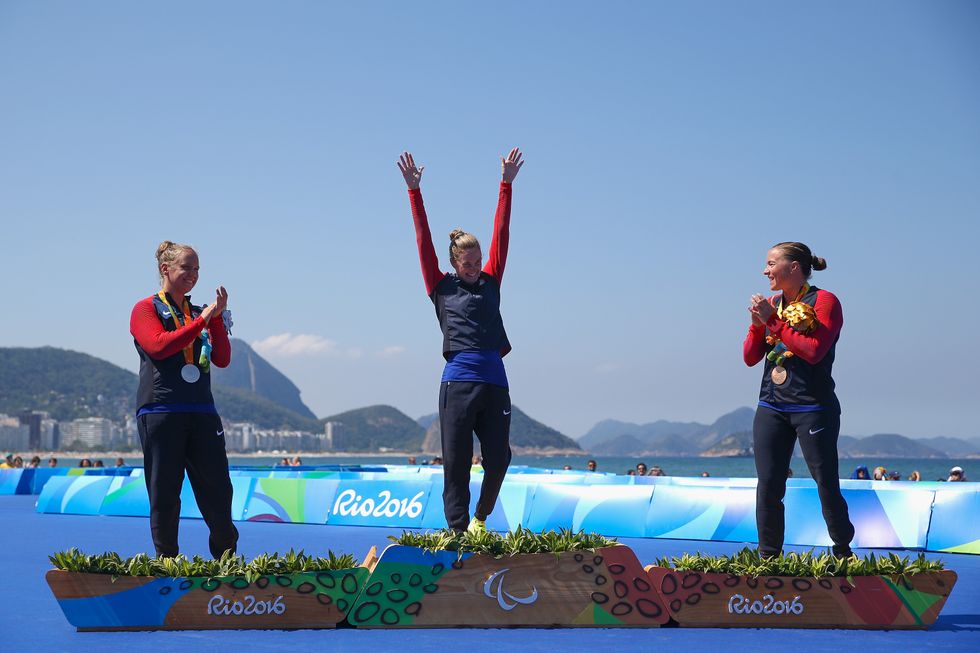 </div></div></div><p>On Sept. 11, 2016, Seely finished the triathlon — which consists of running, biking, and swimming — <a href="http://www.triathlon.org/results/result/2016_rio_de_janeiro_paralympic_games/306054?mc_cid=9db676cb6d&amp;mc_eid=5d73aa8243" target="_blank">with a time</a> of 1 hour, 22 minutes, and 25 seconds. Two of her fellow teammates, Hailey Danisewicz and Melissa Stockwell, came in close behind her to score second and third place.</p><p>It was a monumental moment in shattering the notion of what people with disabilities can or can't do. </p><h2>Seely knows firsthand how it feels to be treated differently because of a disability. </h2><p>"I was at the gas station and this lady behind me scoffed to her teenage children, 'See, that's what happens when you eat crap and don't take care of yourself,'" <a href="http://www.espn.com/espnw/sports/article/16745686/paratriathlete-allysa-seely-talks-prosthetics-prs-accomplishments-espn-body-issue" target="_blank">Seely told ESPN</a>. The woman apparently thought Seely's disability had been caused by diabetes. </p><div><div data-card="facebook" data-reactroot=""><div class="fb-post" data-href="https://www.facebook.com/allysaseelytriathlete/photos/a.591862050956270.1073741829.395372933938517/726287290847078/?type=3" data-width="552"><blockquote cite="https://www.facebook.com/allysaseelytriathlete/posts/726287290847078:0" class="fb-xfbml-parse-ignore"><p>"She was unstoppable not because she did not have failures or doubts but because she continued on despite of them." -Beau Taplin</p>Posted by <a href="https://www.facebook.com/allysaseelytriathlete/">Allysa Seely</a> on <a href="https://www.facebook.com/allysaseelytriathlete/posts/726287290847078:0">Friday, August 12, 2016</a></blockquote></div></div></div><p>"We still see the disability before we see the individual," said Seely.</p><h2>Seely was already a <a href="http://ability360.org/news/sports-news/meet-arizonas-fastest-paratriathlete-allysa-seely" target="_blank">nationally ranked triathlete</a> when she received three major diagnoses in 2010 that changed her life forever. </h2><p>The diagnoses were <a href="http://www.ninds.nih.gov/disorders/chiari/detail_chiari.htm" target="_blank">Chiari II malformation</a>, <a href="http://radiopaedia.org/articles/basilar-invagination" target="_blank">basilar invagination</a>, and <a href="https://ghr.nlm.nih.gov/condition/ehlers-danlos-syndrome" target="_blank">Ehlers-Danlos syndrome</a>. The surgeries she needed to treat them came with a grim side effect: she would likely have to give up running altogether. In fact, her doctors told her she may never walk unaided again.</p><p>Complications from the surgeries and subsequent surgeries to treat the complications <a href="http://www.espn.com/espnw/sports/article/16745686/paratriathlete-allysa-seely-talks-prosthetics-prs-accomplishments-espn-body-issue" target="_blank">led to the amputation</a> of her left leg below the knee. Seely started physical therapy almost immediately. The work was exhausting, as her body learned to use muscles in ways it never had before. Slowly but surely, however, she made progress toward her goal.</p><p>Doctors told her to think "realistically" about her recovery, but Seely would not be dissuaded. She was determined to run again. </p><div id="53816" class="rm-shortcode" data-rm-shortcode-id="0HCRBI1559349698"><blockquote class="twitter-tweet twitter-custom-tweet" data-twitter-tweet-id="217412800564297728" data-partner="rebelmouse"><div style="margin:1em 0">The first run is always the hardest! Thanks to the awesome orthotists and prosthetists at Hanger! #defyingtheodds http://t.co/GejHpKqc</div> — Allysa Seely (@Allysa Seely)<a href="https://twitter.com/AllysaSeely/statuses/217412800564297728">1340670227.0</a></blockquote></div><p>The double amputation isn't the only thing that affects Seely's mobility. Her brain condition causes her to lack <a href="http://cirrie.buffalo.edu/encyclopedia/en/article/337/" target="_blank">proprioception</a>, which tells you where your body is in space without looking. When Seely's running, she often has to look down to know what her legs are doing. </p><h2>In August 2010, Seely had her first brain surgery, and in April 2011, she finished a collegiate triathlon.</h2><p>"I can still remember how it felt to accomplish something that nobody thought I could," she told ESPN.</p><p>Even if she didn't have physical obstacles, Seely's athletic achievements are amazing. Her journey is a reminder that there's no one way to be a strong, impressive athlete — and that you can't tell how healthy or fit or capable someone is just by looking at them.</p><div><div class="push-wrapper--mobile" data-card="image" data-reactroot=""><img type="lazy-image" data-runner-src="https://assets.rebelmouse.io/eyJhbGciOiJIUzI1NiIsInR5cCI6IkpXVCJ9.eyJpbWFnZSI6Imh0dHBzOi8vYXNzZXRzLnJibC5tcy8xOTUyMzkxMC9vcmlnaW4uanBnIiwiZXhwaXJlc19hdCI6MTYwMzA0MTcxMn0.3MTWkd5bqyLqI0cDDpKCCkG8OqeXrWzTjBKPrkMI2yY/img.jpg?width=980" id="371d1" class="rm-shortcode" data-rm-shortcode-id="f359aaed8b27a480efc4a1539e27be17" data-rm-shortcode-name="rebelmouse-image"><div class="image-caption"><p>Allysa Seely at the Rio 2016 Paralympics. Photo by Buda Mendes/Getty Images.</p></div></div></div><p>"For a lot of people, all they see is my amputation; they don't see the challenges in and out of every day," Seely told ESPN. </p><h2><strong>Five years later, here she is, a gold medal triathlete: </strong></h2><div><div class="push-wrapper--mobile" data-card="image" data-reactroot=""><img type="lazy-image" data-runner-src="https://assets.rebelmouse.io/eyJhbGciOiJIUzI1NiIsInR5cCI6IkpXVCJ9.eyJpbWFnZSI6Imh0dHBzOi8vYXNzZXRzLnJibC5tcy8xOTUyMzkxMS9vcmlnaW4uanBnIiwiZXhwaXJlc19hdCI6MTY0Mjk0NDczNX0.S10ZF4uo--fuCISgnCzxW-Uv_WhmNeYPRefRcai8m0c/img.jpg?width=980" id="b8b0e" class="rm-shortcode" data-rm-shortcode-id="17903a4fdbdd8d1d6495314452338a25" data-rm-shortcode-name="rebelmouse-image"><div class="image-caption"><p>Danisewicz, Seely, and Stockwell with their medals. Photo by Buda Mendes/Getty Images.</p></div></div></div><p>Sure, not every disabled person can do what Seely and her teammates have done, just like not every able-bodied person can complete a triathlon. Her win and the fact that there were enough qualifying Paralympians to include the triathlon event this year show just how wrong the notion of people with disabilities being incapable — or as the woman at the gas station claimed, a consequence of "eating crap and not taking care of yourself" — truly is. </p><p>Hopefully, thanks to the awesome performances at the Paralympics this year and every year, it will soon be left in the dust where it belongs.</p>