Heroes
Chris Nikic is the first person with Down syndrome to complete an Ironman triathlon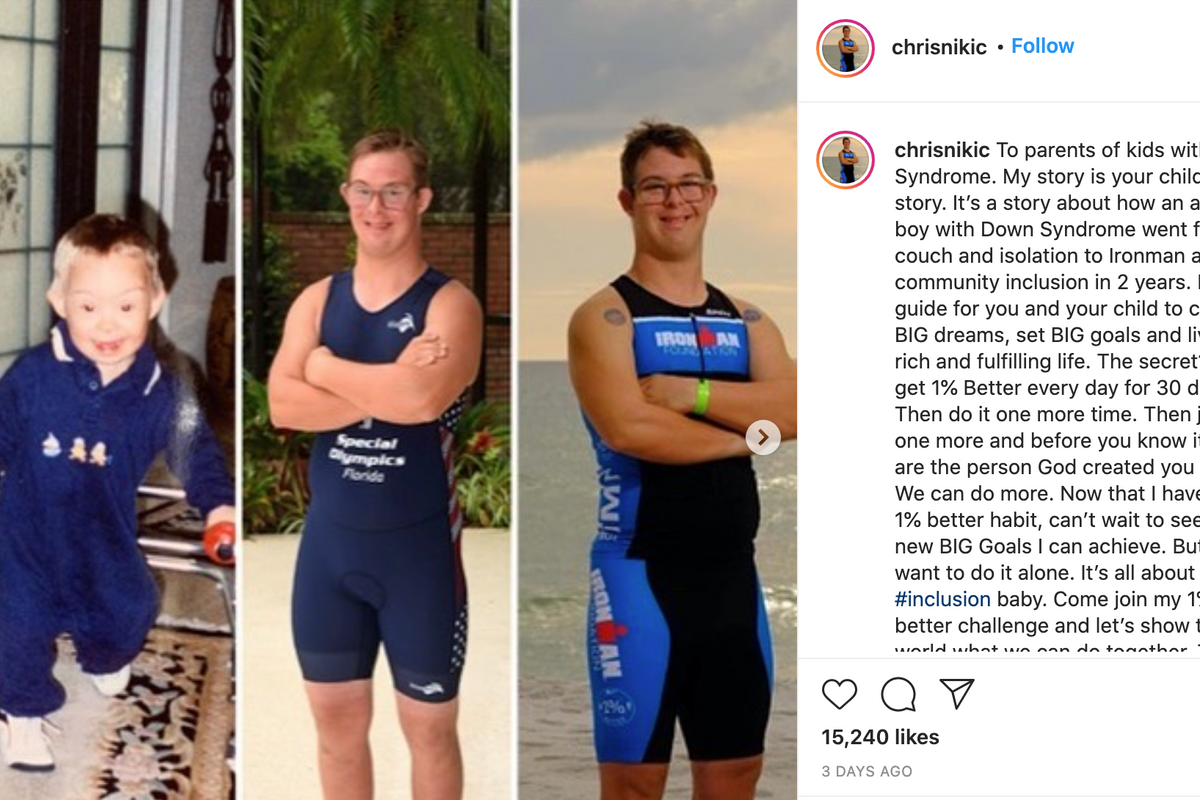 While many of us have understandably let the challenges of 2020 get under our skin and bring us down, a young man from Florida was securing his place in the Guinness Book of World Records. Chris Nikic became the first person with Down syndrome to complete a full triathlon.
For the majority of people, a 2.4 mile swim, a 112 mile bike ride or a 26.2 mile run would be difficult on its own. The Ironman competition requires participants to complete them all in one grueling race. In a statement, Special Olympics Florida President and CEO Sherry Wheelock called Chris "an inspiration to all of us." She continued, "We are incredibly proud of Chris and the work he has put in to achieve this monumental goal. He's become a hero to athletes, fans, and people across Florida and around the world."
Nikic's journey to become an Ironman started off as a challenge far less lofty. He and his father, Nik, created the "1 percent better challenge." The idea was to keep Chris motivated during the pandemic and beyond. According to The Washington Post, the idea was for Chris to improve his workouts by one percent each day because he "doesn't like pain" but loves "food, videos games and my couch." The plan was to keep building strength and stamina while keeping his eye on the grand prize of completing a triathlon. Nik told the Panama City News Herald, "I was concerned because after high school and after graduation a lot of kids with Down syndrome become isolated and just start living a life of isolation. I said, 'Look, let's go find him something to get him back into the world and get him involved,' so we started looking around and we were fortunate that at the same time Special Olympics Florida started this triathlon program, and I thought, 'What a great way to get him started, get him in shape and get him to make some friends.'"
---
The day before the race, Chris posted on social media, "Tomorrow I wake up and go from being a boy with Down syndrome to an Ironman." And that is exactly what he did. Chris was required by state race officials to be tethered to a guide during the running and swimming portions of the competition. Despite facing the adversity of falling off his bike and being attacked by ants at a nutrition stop as reported by CNN, he still crossed the finish line under the 17-hour cut off to make his time official.
Shane Facteau, the Ironman Group's COO says that Nikic played an important role in keeping spirits up and moral high during a time when it has been difficult to hold large scale competitions such as the Ironman race.
As Facteau told the Panama City News Herald, "I can say on an individual level that he has had a huge impact on our team. It's been a rough year in a lot of ways. We had to move a lot of races, and I think he may not understand this but the positive impact he has had on individuals in our organization has been tremendous. It's so good to see the team be around him and feel the positive energy. He's pushing the boundaries of what's possible. He's putting himself out there, and that's something people need to understand," Facteau continued. "He's taking the opportunity, and there's always risk in that there's the chance of success or failure. We love to see people of all shapes and sizes do that."
In an interview with Runners World last month, it appears that Nikic sees the Ironman competition as a stepping stone to greater heights. "My dream is to buy my own house, buy my own car, [and] get a smoking hot blond wife from Minnesota."
In the words of the great John Mellencamp, "Ain't that America."