The day Gabrielle Peters started using a wheelchair was the day she started learning how to fight.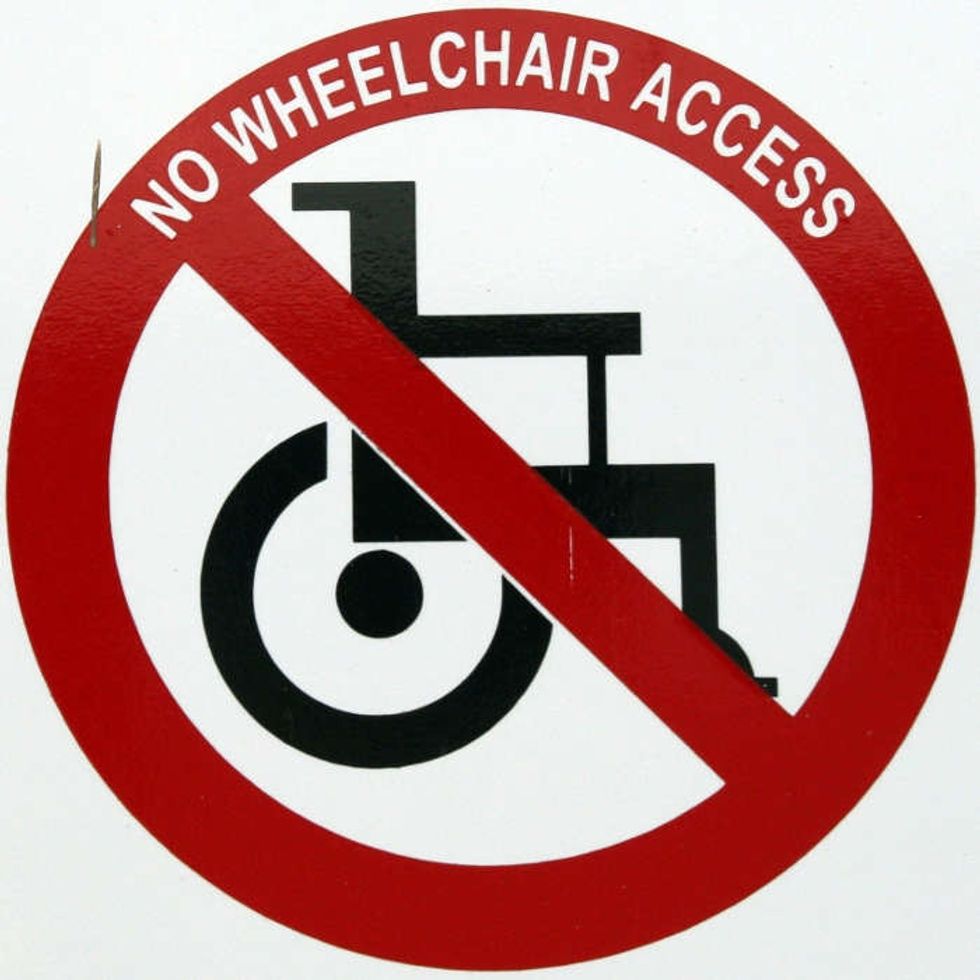 Photo by Leo Reynolds/Flickr.
Peters is prickly, and it's earned. For years, she clammed up in the face of condescending stares from strangers, platitudes from politicians, and second-class treatment from doctors. Now, when people try to "fix" her, she recommends they "take a good, long look in the damn mirror."
<p>When the housing complex where she lives in Vancouver was sold to a Mennonite group that forced residents to participate in prayers in the communal dining hall, she <a href="https://www.theglobeandmail.com/real-estate/vancouver/at-vancouvers-sunset-towers-social-housing-comes-with-a-religious-message/article34974594/?service=print" target="_blank">told Canada's largest newspaper</a>. </p><p>She doesn't want to be saved, humored, or, worst of all, anyone's "<a href="http://www.salon.com/2015/02/02/inspiration_porn_is_not_okay_disability_activists_are_not_impressed_with_feel_good_super_bowl_ads/" target="_blank">inspiration porn</a>," that flat, familiar treacle where a disabled person "overcomes" the odds to run cross-country, throw a javelin, or juggle a dozen chainsaws behind their back — stories told mostly to remind able-bodied people how "good" they have it.</p><h2>Peters wants equal health care, equal access, and equal rights. She also wants to go to the beach<em>.</em> </h2><p>Until Wednesday, Aug. 9, 2017, it had been more than 10 years since Peters had been on the sand. "The world I exist in was not designed for me, and the people I exist with have all sorts of messed up ideas about me," Peters says. </p><p>A self-proclaimed "city person," the water is her favorite place to be. The forest is a close second. When Peters was discharged from the hospital after rehabbing from the autoimmune disease that required her to begin using a wheelchair, she was determined not to let her new mobility arrangement reduce her quality of life. </p><p>But, without a flat surface, determination means squat.</p><p>She tried hiking the "<a href="http://vancouver.ca/parks-recreation-culture/stanley-park-trails.aspx" target="_blank">accessible" trail in the city's expansive Stanley Park</a> — to no avail. The surface was uneven, the paving was intermittent, and the grade was too steep. </p><p class="shortcode-media shortcode-media-rebelmouse-image"><img type="lazy-image" data-runner-src="https://assets.rebelmouse.io/eyJhbGciOiJIUzI1NiIsInR5cCI6IkpXVCJ9.eyJpbWFnZSI6Imh0dHBzOi8vYXNzZXRzLnJibC5tcy8xOTUzMTQ2OS9vcmlnaW4uanBnIiwiZXhwaXJlc19hdCI6MTYxNjY2NTM3OH0.bADEjnmRC7Pdik3RKoiaXcv1IRKskfyjW138VeI22II/img.jpg?width=980" id="b8f18" class="rm-shortcode" data-rm-shortcode-id="dac0e1d30ae561d564f96b47f4c8aad5" data-rm-shortcode-name="rebelmouse-image"><small class="image-media media-caption" placeholder="add caption...">A photo Peters took of the trail in October, showing pebbles and pine needles over uneven dirt. Photo by Gabrielle Peters.</small></p><p>Accessibility, it turns out, is subjective. </p><p>At the beach, she would sit as close to the water as she could — by a paved seawall far from the tideline — while her friends lounged on on a sandy section nearby. When she left, her friends would get up and move closer to the water. </p><h2>Unlike the United States, Canada does not have a major federal law mandating equal opportunity and access for people with disabilities.</h2><p>While many Americans, particularly those who lean left, tend to view the country as a sort of "America Plus" — what we could be if only our self-involved, short-sighted politicians rolled up their sleeves, delivered a killer Aaron Sorkin-style speech, and started working for the common good — on disability, Canada largely relies on a <a href="https://beta.theglobeandmail.com/globe-debate/its-well-past-time-for-a-canadians-with-disabilities-act/article25904732/" target="_blank">vague statement of principles</a> laid out in documents like the Canadian Charter of Rights and Freedom, which calls for "equal protection and equal benefit of the law without discrimination based on … mental or physical disability."</p><p>Efforts led by groups like <a href="http://barrierfreecanada.org/home/" target="_blank">Barrier Free Canada</a>, <a href="http://everycanadiancounts.com/" target="_blank">Every Canadian Counts</a>, and others to establish concrete, nationwide standards for accessibility, have thus far failed to produce legislation.</p><p>In the meantime, many disabled Canadians are forced to rely on the generosity of local governments — and the tenacity of their fed up, pissed off peers like Peters — to safeguard and expand their right to access public spaces.</p><h2>In summer 2016, Peters (<a href="https://twitter.com/mssinenomine?lang=en" target="_blank">@mssinenomine</a> on Twitter) began tweeting at the Vancouver Park Board, the agency responsible for the city's beaches, demanding access to the shore.</h2><p>The solution, she discovered, was 2,700 miles away, in Northern Bruce Peninsula, Ontario — where the town had installed a flexible mat on the sand, allowing wheelchair users to glide all the way up to the waters' edge. </p><div id="fe8bd" class="rm-shortcode" data-rm-shortcode-id="SL5Q2M1559350235"><blockquote class="twitter-tweet twitter-custom-tweet" data-twitter-tweet-id="744866931107209217" data-partner="rebelmouse"><div style="margin:1em 0">.@ParkBoard Beach shld be for every1 #accessibility #disability ht @EveryCdnCounts @rnsharen https://t.co/sbZSsR4sZW https://t.co/VZ4Yx4aNpN</div> — ♿️Dreading National Accessibility Week♿️ (@♿️Dreading National Accessibility Week♿️)<a href="https://twitter.com/mssinenomine/statuses/744866931107209217">1466425089.0</a></blockquote></div><p>If a tiny Lake Huron community of fewer than 4,000 people could get its disabled residents and visitors to the shoreline, Peters argued, her wealthy global city had no excuse.</p><p>The Park Board replied with a "survey of a plan of priorities for some time in the future."</p><p>It felt insulting. </p><h2>It turns out Vancouver city officials <em>were</em> indeed working on a solution — having spent the previous two years searching for a way to open up the shoreline.</h2><p>Park Board Chair Michael Weibe, who also sits on the <a href="http://vancouver.ca/your-government/persons-with-disabilities-advisory-committee.aspx" target="_blank">Vancouver's Persons with Disabilities Advisory Committee</a>, spends a lot of time on the road. </p><p>When he travels with his mother, who uses a wheelchair, he keeps a running note of "what works and what doesn't," based on her feedback — as well as the feedback from residents who write and call his office with suggestions.</p><p>"It's always great to have such a healthy user group that's willing to share the information with us," he says.</p><p>Part of the solution, it turned out, was in Vancouver's own backyard.</p><h2>The Park Board purchased a single MobiMat dirt cheap from an event company eager to sell it. </h2><p>The low cost turned out to be a warning sign. The mat didn't come with all the required parts, which required money the board hadn't budgeted for and then had to find.</p><p>There was another problem too. Unlike Northern Bruce Peninsula, Vancouver has 14-foot tides. If the MobiMat was rolled all the way out to the water's edge, parts of it would quickly be swallowed by the sea.</p><p>As a result, the mat sat in storage for the first few weeks of the summer. </p><h2>Peters didn't think she should have to wait for something able-bodied residents already had unlimited access to.</h2><p>On June 23, she emailed a representative from the Park Board who had contacted her after her earlier tweets. She explained the feeling of dependency that comes with having to call in and request a beach wheelchair — which are not self-powered — in order to get on the sand. She explained the fear of leaving one's wheelchair unsecured, and that many people have no desire to be pushed. She explained the longing she and others experience standing or sitting by the seawall, squinting at the waves meters away.</p><p>"I want on the beach now," she wrote. </p><p>A member of the board followed up with a phone call a few days later. The hold up, he explained, was the missing parts, which were awaiting delivery.</p><div id="4f6f7" class="rm-shortcode" data-rm-shortcode-id="BDR4S51559350235"><blockquote class="twitter-tweet twitter-custom-tweet" data-twitter-tweet-id="879833060828512257" data-partner="rebelmouse"><div style="margin:1em 0">@ParkBoard Stock up on sun screen/get ready to wheel to English Bay Beach soon🤞🏻Thanks @ParkBoard This is great new… https://t.co/WeGq45YQxK</div> — ♿️Dreading National Accessibility Week♿️ (@♿️Dreading National Accessibility Week♿️)<a href="https://twitter.com/mssinenomine/statuses/879833060828512257">1498603522.0</a></blockquote></div><p>For the first time, it was evident that someone was listening. </p><h2>On Aug. 9, the city finally rolled out the mat at English Bay Beach.</h2><p>Peters had been having health complications and had a doctor's appointment scheduled for that day, but was determined to "soak in this tiny little win in a sea of inequality."</p><p>And, of course, to "try it out and get close to my water." </p><p>This time, her determination was met with the right piece of equipment.</p><p>She was nervous wheeling to it. As her chair edged on, the artificial surface slowed her pace, but did not leave her feeling "tippy or off balance." She found that it wasn't difficult to maneuver. A small gap in one section turned out to be easy to navigate. </p><p>A few minutes later, she caught the sunset. </p><div id="52c72" class="rm-shortcode" data-rm-shortcode-id="XSI5U41559350235"><blockquote class="twitter-tweet twitter-custom-tweet" data-twitter-tweet-id="895505369635495936" data-partner="rebelmouse"><div style="margin:1em 0">@ParkBoard 6. There's a bit of a gap at 1 section which I prob should've got photo-but was too busy looking at this… https://t.co/AXAg54tJWS</div> — ♿️Dreading National Accessibility Week♿️ (@♿️Dreading National Accessibility Week♿️)<a href="https://twitter.com/mssinenomine/statuses/895505369635495936">1502340092.0</a></blockquote></div><p>"You're a trailblazer," an older woman told her. </p><p>Peters explained that she didn't work for the Park Board, and she left to go get a hot dog. Back near the seawall, her former high water mark, she saw a man in a motorized wheelchair and told him about the mat. She watched him power over and down the path, stopping at the edge. </p><p>As she was leaving an hour later, she noticed he was still there. </p><p>"I never spoke to him, but I think I know how he feels about it," she <a href="https://twitter.com/mssinenomine/status/895511330672623616" target="_blank">wrote on Twitter later that day</a>.</p><h2>Still, years of delayed promises have left Peters feeling anxious about the mat's prospects.</h2><p>"What if no one uses it?" she wonders. "What if it turns into an excuse to not make something else accessible because it wasn't popular enough?"</p><p>The current setup is not perfect. Right now, there's only one mat and the beach gets crowded. Also, it can't really get that close to the shoreline because of the extreme rise and fall of the bay.</p><p>But there are signs the tide is turning. One of the first things Peters noticed was that there was no sign alerting beachgoers to the presence of the mat. If you didn't already know about it, she realized, you would have no idea it was there.</p><p>Peters wrote the Park Board on Twitter. This time, they replied immediately.</p><div id="b6274" class="rm-shortcode" data-rm-shortcode-id="JJMYUE1559350235"><blockquote class="twitter-tweet twitter-custom-tweet" data-twitter-tweet-id="895793091331768320" data-partner="rebelmouse"><div style="margin:1em 0">@mssinenomine Hi! Thanks for raising your concerns, sharing your story and keeping us accountable. This sign was in… https://t.co/3MjzNBT2qm</div> — Vancouver Park Board (@Vancouver Park Board)<a href="https://twitter.com/ParkBoard/statuses/895793091331768320">1502408690.0</a></blockquote></div><p>Weibe notes that other residents have recommended creating more sitting areas adjacent to the mat to make it a social space. Recently, the Park Board purchased nine new wheelchairs with inflatable tires that can travel over sand to the water line, though they still require the aid of a friend or lifeguard. </p><p class="shortcode-media shortcode-media-rebelmouse-image"><img type="lazy-image" data-runner-src="https://assets.rebelmouse.io/eyJhbGciOiJIUzI1NiIsInR5cCI6IkpXVCJ9.eyJpbWFnZSI6Imh0dHBzOi8vYXNzZXRzLnJibC5tcy8xOTUzMTQ3MC9vcmlnaW4uanBnIiwiZXhwaXJlc19hdCI6MTYxMzkwOTgxNH0.iVS-QhmmAry2901iV6WplMOhtCAihMVhms16kKSt-eo/img.jpg?width=980" id="69b46" class="rm-shortcode" data-rm-shortcode-id="31f7b382aebc728e40d974df919dd8c9" data-rm-shortcode-name="rebelmouse-image"><small class="image-media media-caption" placeholder="add caption...">A beach wheelchair. Photo by the <a href="https://www.nps.gov/pais/planyourvisit/accessibility.htm">National Park Service</a>.</small></p><p>"Our goal is to have them at every beach because the call in [to get a beach wheelchair] is just another barrier," Weibe says. </p><h2>Peters agrees — and has a million more ideas for what the city can do next.</h2><p>She wants Vancouver's beaches to get <a href="http://www.post-gazette.com/news/science/2017/04/08/University-of-Pittsburgh-group-invents-wheelchair-powered-by-compressed-air/stories/201704070175" target="_blank">waterproof wheelchairs powered by compressed air</a> for use in the ocean. She wants the Park Board to install a ramp by an area of stairs near the water. She wants adapted versions of the dozens of adventure activities in the city.</p><p>"I don't get people who see this accessibility innovation as burdensome," she says. "It's fucking amazing and cool and requires the best kind of integrating of tech, design, ideas, and people."</p><p>Gabrielle Peters knows how to fight. She fought to go to the beach and won. She'll keep fighting until every space everywhere is accessible for everyone.</p><p>Until that happens, she'll celebrate the small victory the way she prefers. By soaking in the salt air.</p>