In a bit of brilliant, mild-mannered trolling, a group of refugees recently rented out Trump's childhood home.
To make a point about who exactly gets to call this country home, a small group of refugees recently took the opportunity to invite themselves into the house the president grew up in.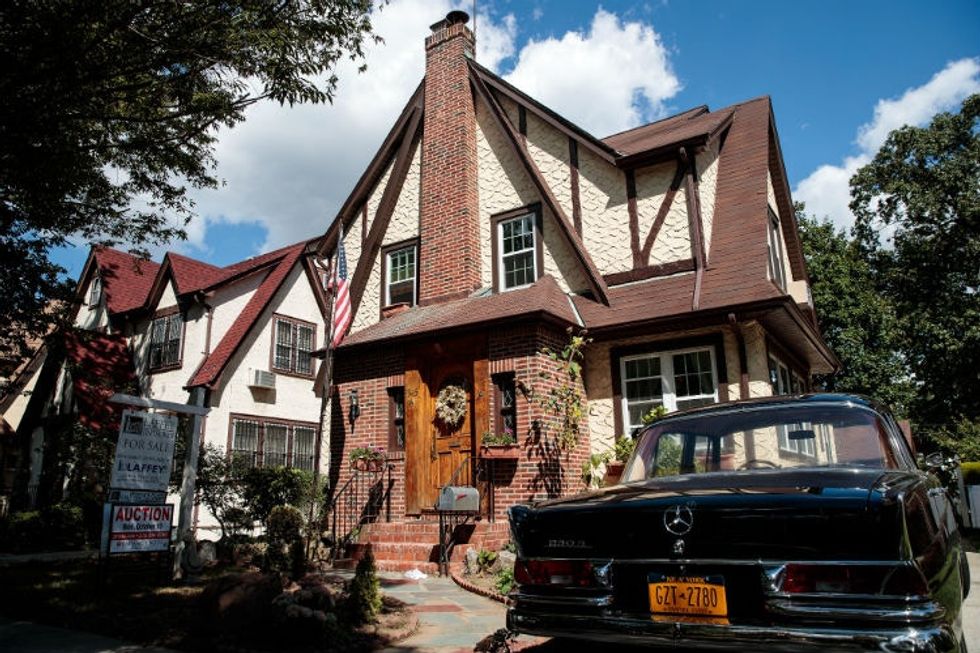 President Trump's childhood home, which is currently available to rent. Photo by Drew Angerer/Getty Images.
<p>As the <a href="https://www.nytimes.com/2017/09/19/world/americas/united-nations-general-assembly.html?mcubz=0" target="_blank">United Nation's General Assembly</a> convenes in Manhattan, Oxfam America released a video of refugees from Syria, Vietnam, and Somalia gathering in the president's old stomping grounds, just a few miles away in Queens. </p><p>Their bold, symbolic message was clear: Yes, refugees <em>are</em> welcome here.</p><p class="shortcode-media shortcode-media-rebelmouse-image"><img type="lazy-image" data-runner-src="https://assets.rebelmouse.io/eyJhbGciOiJIUzI1NiIsInR5cCI6IkpXVCJ9.eyJpbWFnZSI6Imh0dHBzOi8vYXNzZXRzLnJibC5tcy8xOTUzMTMxOC9vcmlnaW4uZ2lmIiwiZXhwaXJlc19hdCI6MTYxMjc5OTQ5Nn0.j0M-ctwLoc3SGDyjeKBWWA9LUJJJNcsGEx130ix7i5M/img.gif?width=980" id="7206a" class="rm-shortcode" data-rm-shortcode-id="4790e0e5b116f8de480c3984f6cceba8" data-rm-shortcode-name="rebelmouse-image"><small class="image-media media-caption" placeholder="add caption...">GIF via Oxfam America/YouTube.</small></p><h2>The group toured the house and opened up about their own experiences growing up.</h2><p>Sipping coffee in the family room and resting on the beds, refugees like Eiman, who arrived from Somalia and has been resettled in North Carolina, shared why they're certainly deserving of the American dream.</p><p class="shortcode-media shortcode-media-rebelmouse-image"><img type="lazy-image" data-runner-src="https://assets.rebelmouse.io/eyJhbGciOiJIUzI1NiIsInR5cCI6IkpXVCJ9.eyJpbWFnZSI6Imh0dHBzOi8vYXNzZXRzLnJibC5tcy8xOTUzMTMxOS9vcmlnaW4uZ2lmIiwiZXhwaXJlc19hdCI6MTYyNDQ0NjU2N30.a4osBhqaFYH1wuq5gUyec-H6ltuEy7Lw-RoOYlgreJM/img.gif?width=980" id="ca917" class="rm-shortcode" data-rm-shortcode-id="8cd69a2307ea14931b7a07a6f7b24382" data-rm-shortcode-name="rebelmouse-image"><small class="image-media media-caption" placeholder="add caption...">GIF via Oxfam America/YouTube.</small></p><p>"To me, the American dream is having a safe and stable home and being able to accomplish your goals and have those opportunities," Eiman explained. "And now it's starting to feel threatened."</p><div><div class="push-wrapper--mobile" data-card="image" data-reactroot=""><img class="lazyload" data-src="https://i.upworthy.com/nugget/59c11e85f2d26a001be2339f/attachments/refugeegif3-317cdf52888af18b29efeb5f9a1ca849.gif?cs=tinysrbg&amp;q=75&amp;colorquant=40&amp;auto=format&amp;ixlib=js-1.0.7"><div class="image-caption"><p>GIF via Oxfam America/YouTube.</p></div></div></div><p>"I am like every other person who has come here," said Ghassan, a refugee from Syria now resettled in Maryland. "I direct a message <a href="https://www.youtube.com/watch?time_continue=148&amp;v=rT5qr3ygI2k" target="_blank">to the leaders of the world</a>: Help all the countries facing conflict. Help them establish stability." </p><h2>Advocates at <a href="https://secure3.oxfamamerica.org/page/speakout/americans-welcome-refugees" target="_blank">Oxfam America</a>, the group that rented out Trump's old home, say we're at a critical moment. </h2><p>"It has never been more important for Americans to use their voice to let their government know that refugees are welcome here," the group's <a href="https://secure3.oxfamamerica.org/page/speakout/americans-welcome-refugees" target="_blank">website</a> reads, noting the president, Congress, and Supreme Court will all be making critical decisions affecting refugees in the weeks and months ahead. </p><p>As the organization pointed out, 2017 is on track to be the <a href="https://www.independent.co.uk/news/world/europe/refugee-crisis-migrants-asylum-seekers-mediterranean-see-libya-italy-ngos-smugglers-accusations-a7696976.html" target="_blank">deadliest year yet</a> for those desperately fleeing their war-torn homelands — most notably, <a href="https://www.mercycorps.org/articles/iraq-jordan-lebanon-syria-turkey/quick-facts-what-you-need-know-about-syria-crisis" target="_blank">Syria</a> — in search of safety. Thousands of lives have been lost <a href="https://www.nytimes.com/2017/06/22/world/africa/migrants-mediterranean-italy-libya-deaths.html?mcubz=0" target="_blank">crossing the Mediterranean Sea</a> in hopes of finding refuge in Europe. </p><p class="shortcode-media shortcode-media-rebelmouse-image"><img type="lazy-image" data-runner-src="https://assets.rebelmouse.io/eyJhbGciOiJIUzI1NiIsInR5cCI6IkpXVCJ9.eyJpbWFnZSI6Imh0dHBzOi8vYXNzZXRzLnJibC5tcy8xOTUzMTMyMC9vcmlnaW4uanBnIiwiZXhwaXJlc19hdCI6MTYyNzUxMjI5M30.80_hUnTDjvtL08ERmMUn52epdxFo6iCHMiLo1fp56C4/img.jpg?width=980" id="4588e" class="rm-shortcode" data-rm-shortcode-id="8318cd47f94d8f5f5c3cea18a17a688a" data-rm-shortcode-name="rebelmouse-image"><small class="image-media media-caption" placeholder="add caption...">Photo by Dan Kitwood/Getty Images.</small></p><p>Critics say world leaders aren't doing nearly enough to ease the crisis. In the U.S., an executive order by Trump has limited refugee intake to <a href="http://www.latimes.com/nation/la-na-pew-refugee-report-20170525-htmlstory.html" target="_blank">just 50,000 people</a>; in contrast, the Obama administration had hoped to increase that figure from 85,000 to 110,000 this fiscal year. Trump's order has contributed to a <a href="http://www.latimes.com/nation/la-na-pew-refugee-report-20170525-htmlstory.html" target="_blank">historic decline</a> in refugee resettlement in nearly every U.S. state.</p><p>"A cornerstone of the founding values of the U.S. was to offer oppressed people refuge from violence and persecution," Oxfam America noted. "Now as Americans we must open our minds, hearts, and communities to vulnerable refugees who are seeking a safe place to call home."</p><h2>Watch refugees take over Trump's childhood home below: </h2><div><div data-card="youtube" data-reactroot=""><div><span style="display:block;position:relative;padding-top:56.25%;" class="rm-shortcode" data-rm-shortcode-id="cfb8ed63650fbc20f5a12c50ffde41bb"><iframe type="lazy-iframe" data-runner-src="https://www.youtube.com/embed/rT5qr3ygI2k?rel=0" width="100%" height="auto" frameborder="0" scrolling="no" style="position:absolute;top:0;left:0;width:100%;height:100%;"></iframe></span></div></div></div><p><em>Oxfam America is encouraging supporters to sign its <a href="https://secure3.oxfamamerica.org/page/speakout/americans-welcome-refugees" target="_blank">petition</a> in support of refugees and to <a href="https://www.house.gov/representatives/find/" target="_blank">contact their representatives</a> to make sure their voice is heard.</em></p>