Family
They're making a tote bag that can carry your beach gear AND your solidarity!
Beach body season is upon us!
It's time to drink ice cold lemonade, decide what is really going to be the song of the summer, don some swimwear, get some sun, and try to avoid annoying ads like this!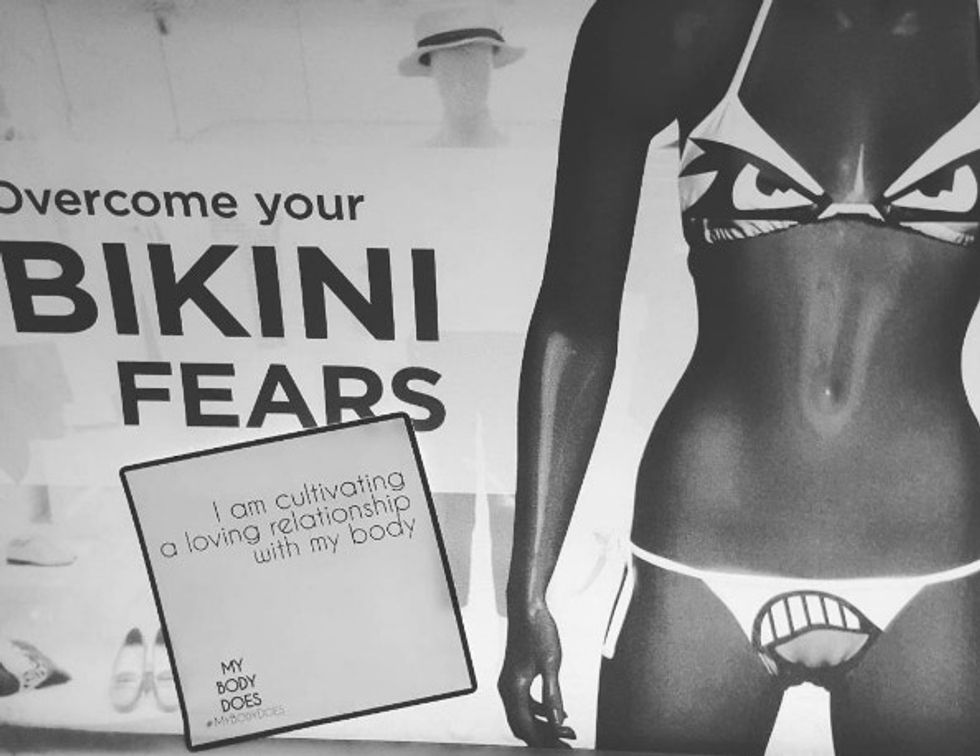 <p class="image-caption">Image via <a href="https://www.instagram.com/p/BB47t9jppVt/" target="_blank">My Body Does/Instagram</a>, used with permission</p><p>Not cool.</p><p>But see that sticker that says "I am cultivating a loving relationship with my body"?</p><p><strong>That sticker — fighting the idea that a "bikini fear" is even a thing — is made by an online body positivity platform called "My Body Does."</strong></p><h2>The founders of My Body Does have an incredible Instagram featuring <a href="https://www.instagram.com/p/6FagFzJpQO/" target="_blank">inspiring</a>, <a href="https://www.instagram.com/p/7VueIMppdJ/?tagged=mybodydoes" target="_blank">smart</a>, and <a href="https://www.instagram.com/p/BAPh0B6ppbj/" target="_blank">funny</a> images of all kinds of bodies.</h2><p>And they know that, too often, the signs of summertime are not the sun, the beach, and enjoying life ... but the objectification of human bodies, ads presenting a severely limited range of body types and races, and an assumption that everyone is straight and on a diet.</p><p><img type="lazy-image" data-runner-src="https://assets.rebelmouse.io/eyJhbGciOiJIUzI1NiIsInR5cCI6IkpXVCJ9.eyJpbWFnZSI6Imh0dHBzOi8vYXNzZXRzLnJibC5tcy8xOTUyNDA2My9vcmlnaW4uanBnIiwiZXhwaXJlc19hdCI6MTYxMTQxMjAzNH0.Qc9occ4xbCtP0M8MGu4hAtDMilkCdq4ufLgx0FKA0bU/img.jpg?width=980" id="0e283" class="rm-shortcode" data-rm-shortcode-id="5fe4eeac803d7bffa9e64c6322537db9" data-rm-shortcode-name="rebelmouse-image"></p><p class="image-caption">Image via <a href="https://www.instagram.com/p/7KvOy5JpfB/" target="_blank">My Body Does/Instagram</a>, used with permission.</p><p>The My Body Does people weren't all about this.</p><h2>They made an image that says something different about summer bodies, and they put it on a tote bag: "Don't Worry Beach Happy."</h2><p><img type="lazy-image" data-runner-src="https://assets.rebelmouse.io/eyJhbGciOiJIUzI1NiIsInR5cCI6IkpXVCJ9.eyJpbWFnZSI6Imh0dHBzOi8vYXNzZXRzLnJibC5tcy8xOTUyNDA2NC9vcmlnaW4uanBnIiwiZXhwaXJlc19hdCI6MTYyMzE5MTI0NX0.MW1FUlHRxnbqBAbXBoePfZG8Zn-lxhV3tFqShxj0CrI/img.jpg?width=980" id="4ca06" class="rm-shortcode" data-rm-shortcode-id="98a88c958dd9e518f8d08f29dcd78fc1" data-rm-shortcode-name="rebelmouse-image"></p><p class="image-caption">All images via My Body Does, used with permission.</p><p>One of the My Body Does founders, Ashley Simon, explained that, like the stickers above, they created the tote bag and illustration because they <strong>"wanted to create something that would serve as a counter-</strong><strong>message to the content we tend to see around beach season."</strong></p><p>The tote is available <a href="http://mybodydoes.storenvy.com/" target="_blank">on My Body Does' merchandise website</a>. Their goal is to sell enough to cover costs, and any extra funds will go toward more counter-messaging goodies.</p><p><img type="lazy-image" data-runner-src="https://assets.rebelmouse.io/eyJhbGciOiJIUzI1NiIsInR5cCI6IkpXVCJ9.eyJpbWFnZSI6Imh0dHBzOi8vYXNzZXRzLnJibC5tcy8xOTUyNDA2NS9vcmlnaW4uanBnIiwiZXhwaXJlc19hdCI6MTYyNTYzMzY5OH0.qlTlwkLGreSJEwLM7_9Hqyje-rcB9zJBVx4EZs4E_dA/img.jpg?width=980" id="eb95a" class="rm-shortcode" data-rm-shortcode-id="519bc23f9c63c64c9cabe15dedd68273" data-rm-shortcode-name="rebelmouse-image"></p><p class="image-caption">I love these folks!</p><p>They reached out to Maeve Norton, a Brooklyn illustrator, and together created the "Don't Worry Beach Happy" tote.</p><p><img type="lazy-image" data-runner-src="https://assets.rebelmouse.io/eyJhbGciOiJIUzI1NiIsInR5cCI6IkpXVCJ9.eyJpbWFnZSI6Imh0dHBzOi8vYXNzZXRzLnJibC5tcy8xOTUyNDA2Ni9vcmlnaW4uanBnIiwiZXhwaXJlc19hdCI6MTY0MTAwNTY1MH0.MCBTUP-Jj9X5RggMYG94vga0LlngWFHVSkqwxd1AZl4/img.jpg?width=980" id="94c56" class="rm-shortcode" data-rm-shortcode-id="d7d550f6029eaa6d20dd1b632a1ecdc1" data-rm-shortcode-name="rebelmouse-image"></p><p>While it might seem like body diversity and illustration go together, the reality is that animation and art training don't go hand in hand. Just a look at the Disney princesses.</p><p>But at the Pratt Institute, where Norton trained, all the amazing variations of the human form were front and center and celebrated.<br></p><p><img type="lazy-image" data-runner-src="https://assets.rebelmouse.io/eyJhbGciOiJIUzI1NiIsInR5cCI6IkpXVCJ9.eyJpbWFnZSI6Imh0dHBzOi8vYXNzZXRzLnJibC5tcy8xOTUyNDA2Ny9vcmlnaW4uanBnIiwiZXhwaXJlc19hdCI6MTY2MTU5NzUwMX0.SVEq_zVMl5DhAzuVNyZO1YJDiHzfTU7jAsFVUuL3tE0/img.jpg?width=980" id="3a675" class="rm-shortcode" data-rm-shortcode-id="22d7cfae08fe4b56c432c8dc885532e2" data-rm-shortcode-name="rebelmouse-image"></p><p> "At Pratt, we had a wide range of models with all different body types," Norton said. "There was definitely an emphasis on knowing how to draw the human body in any form."</p><p>Her passion and her training led her to other women who agreed that all bodies are beautiful bodies. "All too often we only have one body type represented, especially in fashion, and <strong>that's just not a realistic view of all the different and beautiful people there are in the world."</strong></p><p><img type="lazy-image" data-runner-src="https://assets.rebelmouse.io/eyJhbGciOiJIUzI1NiIsInR5cCI6IkpXVCJ9.eyJpbWFnZSI6Imh0dHBzOi8vYXNzZXRzLnJibC5tcy8xOTUyNDA2OC9vcmlnaW4uanBnIiwiZXhwaXJlc19hdCI6MTYzNjU3NDAyOH0.8RPkNQv0AycghoOo5PHYdfkAYabLfOQkT0G6CH2seV4/img.jpg?width=980" id="c6004" class="rm-shortcode" data-rm-shortcode-id="c7669feaf5837ad4441a02c2fbe5860e" data-rm-shortcode-name="rebelmouse-image"></p><h2>I am loving these beachgoers on this bag — because it's like being at an actual beach!</h2><p>Everyone is just living their life. They do seem pretty beach happy!</p><p>"The banner 'don't worry, beach happy' is not meant to be flippant," Simon said. "But rather, it's an invitation to celebrate the full diversity of body types, abilities, races, and gender expressions that you would actually see at a public beach."<img type="lazy-image" data-runner-src="https://assets.rebelmouse.io/eyJhbGciOiJIUzI1NiIsInR5cCI6IkpXVCJ9.eyJpbWFnZSI6Imh0dHBzOi8vYXNzZXRzLnJibC5tcy8xOTUyNDA2OS9vcmlnaW4uanBnIiwiZXhwaXJlc19hdCI6MTYwNTQ4ODY3NX0.FSczeekpEgAeayb0s_EXe5aoe8NbCwVio_tFf60jRWE/img.jpg?width=980" id="bd7cd" class="rm-shortcode" data-rm-shortcode-id="7f8e3a2f99cff2cf680d62e56c0ad0dd" data-rm-shortcode-name="rebelmouse-image"></p><p><img type="lazy-image" data-runner-src="https://assets.rebelmouse.io/eyJhbGciOiJIUzI1NiIsInR5cCI6IkpXVCJ9.eyJpbWFnZSI6Imh0dHBzOi8vYXNzZXRzLnJibC5tcy8xOTUyNDA3MC9vcmlnaW4uanBnIiwiZXhwaXJlc19hdCI6MTYwMjU1Mjg4N30.iQ4vGIQA_1auiplEAkEk42XzwnorPJaUC8v5IRa5rRo/img.jpg?width=980" id="b34ef" class="rm-shortcode" data-rm-shortcode-id="c9a148c808aa4db0c366ae5fca60d0e4" data-rm-shortcode-name="rebelmouse-image"></p><p>Norton says her art is fueled by a joy in finding others who want to fight for what they believe in, so this was an ideal project for her. She wants to make a difference, one drawing at a time.</p><p><img type="lazy-image" data-runner-src="https://assets.rebelmouse.io/eyJhbGciOiJIUzI1NiIsInR5cCI6IkpXVCJ9.eyJpbWFnZSI6Imh0dHBzOi8vYXNzZXRzLnJibC5tcy8xOTUyNDA3MS9vcmlnaW4uanBnIiwiZXhwaXJlc19hdCI6MTYzNzIwOTk0NH0.Uh3U7iCIiffJN_jtvMP0eny4YpIVZHg9YPpju8PzLqE/img.jpg?width=980" id="1e9da" class="rm-shortcode" data-rm-shortcode-id="94ecb1bd50b65171e9bbc393fdaaec13" data-rm-shortcode-name="rebelmouse-image"></p><p>"More representation of different body types in art and fashion can make a real difference," she says.</p><p>So here's to that: to happy people, diverse beach bodies, and creating more things to fight for and not against!</p><h2>My Body Does posted this goal list for 2016 too. </h2><p><img type="lazy-image" data-runner-src="https://assets.rebelmouse.io/eyJhbGciOiJIUzI1NiIsInR5cCI6IkpXVCJ9.eyJpbWFnZSI6Imh0dHBzOi8vYXNzZXRzLnJibC5tcy8xOTUyNDA3Mi9vcmlnaW4uanBnIiwiZXhwaXJlc19hdCI6MTY1MTY2NDU1Mn0.kErX2B8QMl83oTn2eCf8SbWpy8ow1fuKEyDKrWBaNW8/img.jpg?width=980" id="c5bd2" class="rm-shortcode" data-rm-shortcode-id="1844121fca0a7fb8c555a35cff13a6c3" data-rm-shortcode-name="rebelmouse-image"></p><p class="image-caption">Image via <a href="https://www.instagram.com/p/BAPh0B6ppbj/" target="_blank">My Body Does/Instagram</a>, used with permission.</p><p><strong>Check, check, check, and ... we'll get there.</strong></p>