More
'I wanted my Mexican father, with his thick Mexican accent, to experience what it was like to see a hero in a blockbuster film, speak the way he does.'
San Diego native and comic-book lover Perls finally got the chance to take her father to see "Rogue One: A Star Wars Story" the Monday after New Year's.
While going to the movies with your dad can be great for a lot of reasons, Perls was particularly excited to share "Rogue One" with her dad because he's Mexican, just like Diego Luna, one of the movie's lead actors.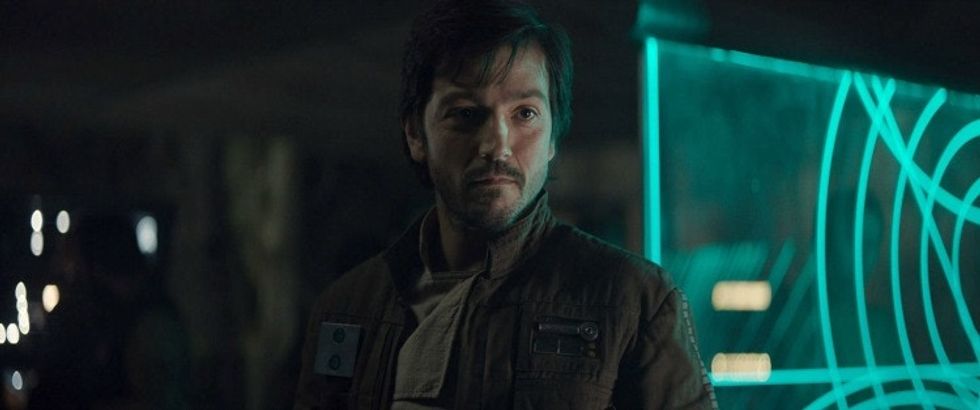 Diego Luna as Capt. Cassian Andor. Photo via Lucasfilm.
<p>Latino and Hispanic actors <a href="http://www.nbcnews.com/news/latino/latinos-hollywood-few-roles-frequent-stereotypes-new-study-finds-n523511" target="_blank">are the least represented in film and television</a> (only 5.8% had speaking roles according to a <a href="http://annenberg.usc.edu/pages/~/media/MDSCI/CARDReport%20FINAL%2022216.ashx" target="_blank">survey of more than 11,000 speaking characters in movies and TV</a>), so it's a big deal for Luna to be featured so prominently in a blockbuster film franchise like "Star Wars." </p><p>He even got to keep his strong, Mexican accent in the role of Cassian Andor, further representing his culture on screen. </p><p>And if you don't understand why the accent matters ... </p><h2>Perls wasn't sure if her dad was going to like "Rogue One," but when the movie was over, she <em>knew</em> Luna's presence in it had a significant effect on him. </h2><p>She <a href="http://riveralwaysknew.tumblr.com/post/155327892192/i-took-my-father-to-see-rogue-one-today-ive#notes?ref_url=https://www.buzzfeed.com/kimberleydadds/diego-luna-shared-an-emotional-star-wars-fan-story-and-its-g?utm_term=.vcEaa4go8#_=_" target="_blank">took to Tumblr</a> to share the unforgettable experience, writing (emphasis mine):</p><blockquote><em>"I took my father to see Rogue One today. I've wanted to take him for a while. </em><strong><em>I wanted my Mexican father, with his thick Mexican accent, to experience what it was like to see a</em></strong><em><strong><em> hero</em></strong></em><strong><em> in a blockbuster film, speak the way he does.</em></strong><em> And although I wasn't sure if it was going to resonate with him, I took him anyway. When Diego Luna's character came on screen and started speaking, my dad nudged me and said, 'he has a heavy accent.' I was like, 'Yup.' When the film was over and we were walking to the car, he turns to me and says, 'did you notice that he had an accent?' And I said, 'Yeah dad, just like yours.' Then my dad asked me if the film had made a lot of money. I told him it was the second highest grossing film of 2016 despite it only being out for 18 days in 2016 ... . He then asked me if people liked the film, I told him that it had a huge following online and great reviews. </em><strong><em>He then asked me why Diego Luna hadn't changed his accent and I told him that Diego has openly talked about keeping his accent and how proud he is of it.</em></strong><em> And my dad was silent for a while and then he said, 'And he was a main character.' And I said, 'He was.' </em><strong><em>And my dad was so happy</em></strong><em>. As we drove home he started telling me about other Mexican actors that he thinks should be in movies in America.</em><strong><em> Representation matters.</em></strong><em>"</em></blockquote><p><strong><em>Representation matters.</em></strong> Not just for the young, impressionable generations, but for the generations who saw very little of themselves reflected in media when they were growing up.</p><h2>The post quickly went viral, eventually reaching Luna himself, who proudly shared it on Twitter.</h2><div id="e2774" class="rm-shortcode" data-rm-shortcode-id="6EWL7B1559349774"><blockquote class="twitter-tweet twitter-custom-tweet" data-twitter-tweet-id="816479341588709377" data-partner="rebelmouse"><div style="margin:1em 0">I got emotional reading this! #RogueOneStarWars https://t.co/kfNXxYxWWI</div> — diego luna (@diego luna)<a href="https://twitter.com/diegoluna_/statuses/816479341588709377">1483498819.0</a></blockquote></div><p>Luna received hundreds of responses, many from Hispanics and Latinxs, thanking him for pushing representation forward in mainstream media. </p><p>Another Tumblr user was so inspired by Perls' story that he <a href="http://whateverchains.tumblr.com/post/155374117665/after-seeing-that-tumblr-post-of-someone-telling" target="_blank">shared his own story</a> about how seeing Riz Ahmed in "Rogue One" deeply moved him as an Indian man, writing: </p><blockquote><em>"[Riz Ahmed being in "Rogue One"] honestly brought tears to my eyes seeing it. seeing this diversity, in a star wars movie, one of the biggest franchises in the world, and one of my favorite things in the world all through out growing up. representation MATTERS. when I was growing up, if there was an indian superhero, or a pakistani main character in star wars like there is now, maybe I would've loved who I was a little bit more. I needed someone like me to look up to as an 8 year old. ive never loved being indian/pakistani more than I do now. over the past couple years, everyday I love my heritage more and more and want to know and learn more about it and be more present in my culture."</em></blockquote><p class="shortcode-media shortcode-media-rebelmouse-image"><img type="lazy-image" data-runner-src="https://assets.rebelmouse.io/eyJhbGciOiJIUzI1NiIsInR5cCI6IkpXVCJ9.eyJpbWFnZSI6Imh0dHBzOi8vYXNzZXRzLnJibC5tcy8xOTUyNTIwNy9vcmlnaW4uanBnIiwiZXhwaXJlc19hdCI6MTYxMDM3MzI4NX0.jiBiKq3v64JXiRDch_16JMZ_wPJ1EFOe-hvri-qGF-E/img.jpg?width=980" id="be23a" class="rm-shortcode" data-rm-shortcode-id="8a587b6a148f19b5ad14bac46f593771" data-rm-shortcode-name="rebelmouse-image"><small class="image-media media-caption" placeholder="add caption...">Riz Ahmed as Bohdi Rook. Photo via Lucasfilm.</small></p><h2>The "Rogue One" cast didn't just feature some token characters of color — the core team of heroes was almost entirely made up of people from minority groups. </h2><p>As my colleague Carlos Foglia <a href="http://www.upworthy.com/the-most-important-part-of-rogue-one-was-an-unexpected-and-subtle-one">wrote on Upworthy</a>: </p><blockquote>"Jyn Erso, played by Felicity Jones, leads the whole movement, with a team consisting of Cassian Andor (played by Mexican actor Diego Luna), Chirrut Imwe, the blind warrior (played by Chinese legend Donnie Yen), Bodhi Rook (played by Riz Ahmed, who is of Pakistani and Indian descent), and Baze Malbus (played by Chinese actor Jiang Wen) after leaving a meeting with another main character, Saw Gerrera (played by African-American Forest Whitaker)."</blockquote><h2>This is definitely a step in the right direction for representation in movies and TV, and it's good for Hollywood's bottom line, too.</h2><p class="shortcode-media shortcode-media-rebelmouse-image"><img type="lazy-image" data-runner-src="https://assets.rebelmouse.io/eyJhbGciOiJIUzI1NiIsInR5cCI6IkpXVCJ9.eyJpbWFnZSI6Imh0dHBzOi8vYXNzZXRzLnJibC5tcy8xOTUyNTIwOC9vcmlnaW4uanBnIiwiZXhwaXJlc19hdCI6MTYxNTEyMjkwMH0.KIIGDev96Tc3vWcHi6ND9Mz8ZEcaxGx5OpkmbrKacJw/img.jpg?width=980" id="f77a4" class="rm-shortcode" data-rm-shortcode-id="5fe90d80431f709e5144a113c544df31" data-rm-shortcode-name="rebelmouse-image"><small class="image-media media-caption" placeholder="add caption...">Donnie Yen as Chirrut Imwe. Photo via Lucasfilm.</small></p><p>Not only is diversity having a positive effect on audiences, it's increasing films' profit margins. According to a <a href="http://variety.com/2016/film/news/diverse-movies-global-box-office-study-1201736373/" target="_blank">recent study by UCLA</a>, films that have a 41-50% cast of color do better in the global marketplace. As the second-highest grossing film of 2016, "Rogue One" proves diversity isn't bad stateside either. </p><h2>Of course, representation goes beyond race. Slowly but surely, we're seeing progress made across the board.</h2><p>Women of <em>all</em> sizes (not just 0 and 2), the LGBTQ community, and people with disabilities all need lead characters they can look up to on a screen. There's a whole spectrum of stories out there that aren't being told. </p><p class="shortcode-media shortcode-media-rebelmouse-image"><img type="lazy-image" data-runner-src="https://assets.rebelmouse.io/eyJhbGciOiJIUzI1NiIsInR5cCI6IkpXVCJ9.eyJpbWFnZSI6Imh0dHBzOi8vYXNzZXRzLnJibC5tcy8xOTUyNTIwOS9vcmlnaW4uanBnIiwiZXhwaXJlc19hdCI6MTYzMjgwNjMzMX0.-CRG-eEtgODUHCJRUFB3UnG2HS1Tv8fKlmEbau41TCw/img.jpg?width=980" id="cf1bc" class="rm-shortcode" data-rm-shortcode-id="1f03f0a009dcb102e0493240a27a7890" data-rm-shortcode-name="rebelmouse-image"><small class="image-media media-caption" placeholder="add caption...">Melissa McCarthy. Photo by Mark Davis/Getty Images.</small></p><p>Actresses like Melissa McCarthy are snagging starring roles (<em>and</em> <a href="http://www.forbes.com/pictures/emjl45efgmh/2-melissa-mccarthy/#7ab8269c4894" target="_blank">making bank</a>). "Speechless," a primetime show, features a character with cerebral palsy played by an <a href="http://people.com/celebrity/speechless-micah-fowler-opens-up-thriving-cerebral-palsy/" target="_blank">actor with cerebral palsy</a>. More and more LGBTQ relationships are popping up on television, like <a href="http://www.upworthy.com/how-one-woman-and-supergirl-helped-a-teen-feel-comfortable-in-her-own-skin?c=apstream">Alex Danvers and Maggie Sawyer</a> on the CW's "Supergirl" and Darryl Whitefeather's <a href="http://www.upworthy.com/how-crazy-ex-girlfriend-is-changing-the-game-for-bisexuality-on-tv">bisexual revelation</a> on "Crazy Ex-Girlfriend."</p><p>It's important for <em>everyone</em> to see that the spectrum of representation is widening. We can only move forward by looking back and seeing how far we've come. </p>