You know Chrissy Teigen, right? Author, model, unofficial queen of the witty tweet?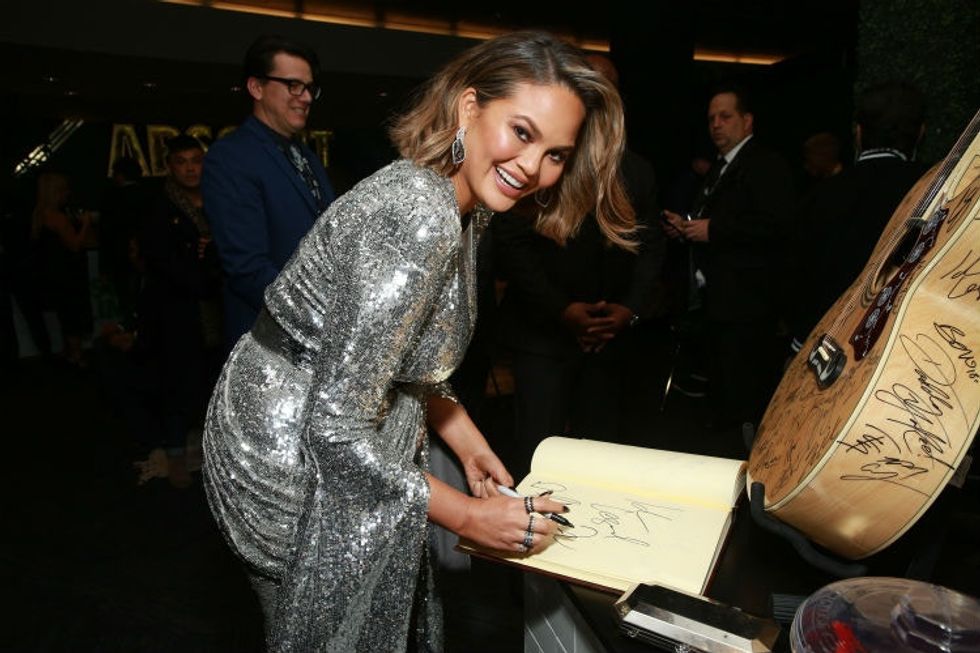 Photo by Robin Marchant/Getty Images for NARAS.
She's getting viral high-fives from fans again after responding to a question about keeping maiden names versus opting to take a partner's after marriage.
"I'd really like to hear the reasoning behind women who won't take their husband's last name," the Twitter user wrote.

To that, Teigen quipped, "My husband didn't even take his last name?"


<div id="6130f" class="rm-shortcode" data-rm-shortcode-id="VWC1FQ1559350505"><blockquote class="twitter-tweet twitter-custom-tweet" data-twitter-tweet-id="976732393477324800" data-partner="rebelmouse"><div style="margin:1em 0">my husband didn't even take his last name? https://t.co/BMo6OsgcVv</div> — christine teigen (@christine teigen)<a href="https://twitter.com/chrissyteigen/statuses/976732393477324800">1521706124.0</a></blockquote></div><h2>She is, of course, poking a bit of fun at her main squeeze, John Legend. His real last name is actually Stephens. </h2><p>(Surprised? You're <a href="https://twitter.com/x_saramaria_x/status/976751647333339136" target="_blank">not the only one</a>.)</p><p class="shortcode-media shortcode-media-rebelmouse-image"><img type="lazy-image" data-runner-src="https://assets.rebelmouse.io/eyJhbGciOiJIUzI1NiIsInR5cCI6IkpXVCJ9.eyJpbWFnZSI6Imh0dHBzOi8vYXNzZXRzLnJibC5tcy8xOTM0NTkzOC9vcmlnaW4uanBnIiwiZXhwaXJlc19hdCI6MTY0NzA0MzA5OX0.S272NxTmHgOkgrBSotVrh5ZkCbnSgM0dfrtnBh-SDvs/img.jpg?width=980" id="8a291" class="rm-shortcode" data-rm-shortcode-id="fbea9845a97e4c67a4769f6a2acee94b" data-rm-shortcode-name="rebelmouse-image"><small class="image-media media-caption" placeholder="add caption...">Photo by Kevork Djansezian/Getty Images.</small></p><p>But the lighthearted tweet sparked a great conversation in the replies. </p><h2>Teigen's remarks resonated with lots of women for various reasons: equality, tradition — even just wanting to avoid the hassle of signing papers.</h2><p><strong>Many hinted at the inherent sexism </strong>rooted in women feeling pressure to change their names: "I already have [a last name]," <a href="https://twitter.com/Christy122272/status/976746251290062848" target="_blank">one person wrote</a>. "I have my own money and career too. Imagine that."</p><p><strong>The reasoning was about practicality to others.</strong> Who needs unnecessary paperwork, after all? "Skip all that," <a href="https://twitter.com/monster_dnd/status/976743232183791616" target="_blank">someone else chimed in</a>. "Keep what you got." (Although, <a href="https://twitter.com/SillyBolivian/status/976830712962736128" target="_blank">others said</a> the time it took to change their name was next to nothing.) </p><p>For some who chose to keep their last name,<strong> the decision <a href="https://twitter.com/SupergoofNZ/status/976734238002135042" target="_blank">held special meaning</a></strong>: "My name is part of who I am, as well as a connection to my father, who died several years before I got married."</p><h2>Have women's perspectives on maiden names shifted over time? </h2><p>Research suggests yes — but not as much as you might think. </p><p>Recent trends in the U.S. indicate slightly more women are deciding to keep their maiden names now than in the 1980s and 1990s, according to analysis by <a href="https://www.nytimes.com/2015/06/28/upshot/maiden-names-on-the-rise-again.html" target="_blank">The New York Times</a> from 2015. Current estimates point to about one-fifth of women opting out of changing names after marriage nowadays — just slightly more than women in the bell-bottomed 1970s, which birthed the <a href="http://www.nytimes.com/2009/10/25/magazine/25FOB-onlanguage-t.html" target="_blank">"Ms." movement</a>. </p><p>But data shouldn't dictate personal decisions. Everyone choosing to tie the knot — including LGBTQ people in queer relationships — should be able to decide what name suits them best, free of judgement or stigma, right?</p><p>Live and let live (happily ever after).</p>