Most Shared
Moby's Little Pine restaurant is unique in the coolest of ways.
Splurging at the new Little Pine restaurant in L.A. can be a seriously guilt-free experience.
You're boosting local business, you're eating eco-friendly, organic foods, and — as was just announced on Jan. 5, 2016 — you're supporting a restaurant that's giving away every last cent of its profits to animal welfare groups.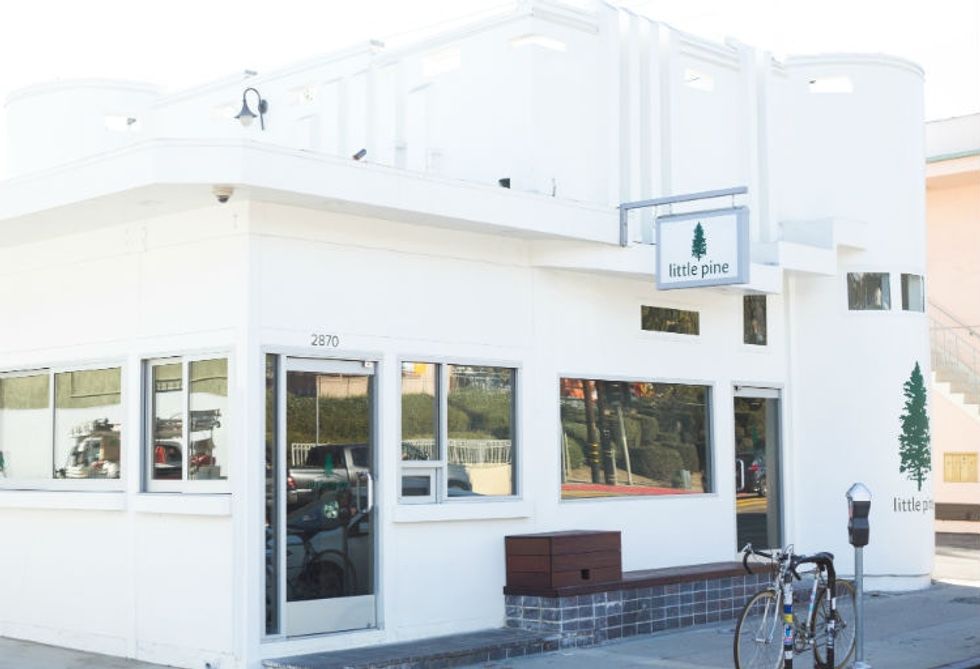 <p class="image-caption">Photo courtesy of Little Pine restaurant/Wagstaff Worldwide, used with permission.</p><h2>Who's the benevolent genius behind this do-good business model? Singer-songwriter Moby, of course.</h2><p>Moby's Little Pine restaurant has only been open about two months. But the Los Angeles bistro — already bucking the trend by being 100% organic <em>and</em> vegan — is breaking the mold even more by donating all of its profits (beyond revenue needed to keep the restaurant running) to organizations like the <a href="http://www.humanesociety.org/?credit=web_id93480558" target="_blank">Humane Society of the United States</a>, <a href="http://www.farmsanctuary.org/" target="_blank">Farm Sanctuary</a>, the <a href="http://aldf.org/" target="_blank">Animal Legal Defense Fund</a>, and many others, according to a statement provided to Upworthy.</p><p><strong>It's what Moby's had in mind for his restaurant all along.</strong></p><p><strong><img type="lazy-image" data-runner-src="https://assets.rebelmouse.io/eyJhbGciOiJIUzI1NiIsInR5cCI6IkpXVCJ9.eyJpbWFnZSI6Imh0dHBzOi8vYXNzZXRzLnJibC5tcy8xOTQ3Mjg1OS9vcmlnaW4uanBnIiwiZXhwaXJlc19hdCI6MTU5NzM2MzA2OH0.U3CBYCc2Iw-J53CLEU57t-QQEeh-cnVMVSg265qLDgU/img.jpg?width=980" id="614f6" class="rm-shortcode" data-rm-shortcode-id="a5667d918e38252ff70d5b12d6ff3e9c" data-rm-shortcode-name="rebelmouse-image"><span class="redactor-invisible-space"><br></span></strong></p><p class="image-caption"><span class="redactor-invisible-space">Photo by Araya Diaz/Getty Images for The Art of Elysium<span class="redactor-invisible-space">.</span></span></p><p>"Opening Little Pine was never meant to be a conventional entrepreneurial endeavor," the musician said. "I want it to present veganism in a really positive light, and also help to support the animal welfare organizations who do such remarkable work." </p><h2>A restaurant handing over its profits to charity is unconventional (to say the least), but it's probably not quite so surprising to those who've followed Moby's career. </h2><p>He has a long history of giving back to causes near and dear to his heart, <a href="http://front.moveon.org/what-do-jack-black-moby-and-marisa-tomei-have-in-common/#.Vo1YJpMrL-Y" target="_blank">supporting grassroots activism</a> in the political realm, <a href="http://www.mobygratis.com/" target="_blank">helping nonprofit filmmakers</a> succeed, and, yes — staying committed to <a href="http://blog.humanesociety.org/wayne/2015/01/moby-interview.html" target="_blank">protecting vulnerable animals</a>.</p><p><img type="lazy-image" data-runner-src="https://assets.rebelmouse.io/eyJhbGciOiJIUzI1NiIsInR5cCI6IkpXVCJ9.eyJpbWFnZSI6Imh0dHBzOi8vYXNzZXRzLnJibC5tcy8xOTQ3Mjg2MC9vcmlnaW4uanBnIiwiZXhwaXJlc19hdCI6MTYzMDQyMjA1MX0.DTaaY8TNRjf5ueU9XytTnwiNiXrefBPUNW6FFhZPV3E/img.jpg?width=980" id="12257" class="rm-shortcode" data-rm-shortcode-id="8787737be430128d1da86afffc95d75e" data-rm-shortcode-name="rebelmouse-image"></p><p class="image-caption">Moby attends a "Stand Up for Pits" charity event in Los Angeles in 2013. Photo by Frazer Harrison/Getty Images<span class="redactor-invisible-space">.</span></p><p><strong>The groups supported by Little Pine restaurant help animals in a number of ways.</strong></p><p>The Humane Society, for example, <a href="http://www.humanesociety.org/about/departments/animal-rescue-team/animal_rescue_team.html?credit=web_id93480558" target="_blank">rescues thousands of animals</a> every year who've been victimized by abusive owners or forced to live in puppy mills. </p><p>Farm Sanctuary not only works to house vulnerable creatures, but also <a href="http://www.farmsanctuary.org/learn/factory-farming/" target="_blank">actively fights factory farming</a> — a thriving industry that exploits and abuses animals to maximize profits within our food production system. </p><p>And the Animal Legal Defense Fund? It helps ensure our furry friends <a href="http://aldf.org/about-us/" target="_blank">have a voice in the justice system</a>, holding abusers accountable for their violations and working to expand legal protections for animals in the courtroom.<br></p><p><strong>Dining at Little Pine will help these groups — and so many others — protect animals for years to come.</strong></p><h2>So if you happen to be in L.A. and are in the mood for some guilt-free grub, now you know of a good place to go.</h2><p>The food <a href="http://www.littlepinerestaurant.com/menu-group/lunch/" target="_blank">sounds delicious</a>, your dining dollars are put toward a great cause, and I hear the owner's one helluva guy, too.</p>