Most Shared
You might not know these cool things about Kwanzaa, America's 'youngest' holiday.
I remember reading the "My First Kwanzaa Book" with my dad as a 7-year-old.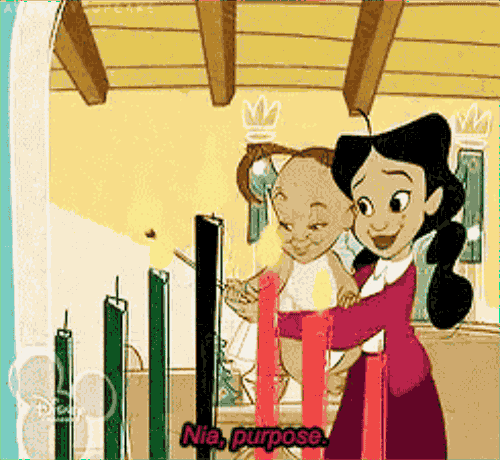 That year, I was completely occupied with making sure Santa knew that my Beanie Baby collection desperately needed an update, so my parents decided that I also desperately needed some cultural engagement outside of FAO Schwarz. That year, we read Kwanzaa books, went to West African fabric stores, and had deep cultural talks about the values of African-Americans.  
<p>It was the first and last time I did anything Kwanzaa-related for a few years, but the experience stuck with me. Clearly, my parents wanted me to take some important values from the holiday. <strong>Now, as an adult, I realize the importance of having holidays that reflect your cultural values and ideology.</strong> As an African-American, knowing that there's a holiday that's built to support my identity is something that I didn't know back in 1999 I'd be so grateful for in 2016. </p><h2><strong>Kwanzaa is celebrated by <a href="https://themilitantnegro.com/2014/12/05/kwanzaa-2014/" target="_blank">at least 12 million people</a> annually.</strong></h2><p>So why do we often ignore it or, worse, mock it? Probably because many folks didn't have a "My First Kwanzaa Book" in 1999 and also because it can be hard to ask about something you don't understand for fear of looking ignorant.</p><p>That's why, as a Kwanzaa celebrator, I wanted to break down what the holiday truly about. <strong>Here are seven things you might not know about Kwanzaa but might be too afraid to ask:</strong></p><h2>1. How long has this holiday been around? </h2><p>Kwanzaa will actually be 50 years old this year, so it's a pretty young holiday as far as holidays go. Created by African-American studies professor Maulana Karenga in 1966, the holiday came about during the black nationalist movement. It was symbolic way for African-Americans to reconnect with their African roots and a culture that was largely censored during the Atlantic slave trade. It is a human-made holiday along with many others like Easter, Hanukkah, and St. Patrick's Day. </p><h2>2. Where does the name come from? </h2><p>The name is derived from Swahili, an East African language. It comes from the Swahili phrase "matunda ya kwanza"<em> </em>meaning "first fruits of the harvest" or "fresh fruits."  </p><div><div class="push-wrapper--mobile" data-card="image" data-reactroot=""><img type="lazy-image" data-runner-src="https://assets.rebelmouse.io/eyJhbGciOiJIUzI1NiIsInR5cCI6IkpXVCJ9.eyJpbWFnZSI6Imh0dHBzOi8vYXNzZXRzLnJibC5tcy8xOTQ3NjI0MS9vcmlnaW4uanBnIiwiZXhwaXJlc19hdCI6MTYyNDc0MjkxMX0.lUFelFz_-JpB_FLIezvcXLFgZlp8EmOS0_D3Qn5WH98/img.jpg?width=980" id="f95cd" class="rm-shortcode" data-rm-shortcode-id="995e09498ac810c4b1c51af47450ff93" data-rm-shortcode-name="rebelmouse-image"><div class="image-caption"><p>Photo by Spencer Platt/Getty Images.</p></div></div></div><h2>3. Who celebrates the holiday? </h2><p>While the holiday honors African-American history and culture, the universal message behind it encourage folks from any racial or ethnic background to celebrate. According to Duke University professor Lee D. Baker, 12 million people celebrate the holiday each year, but the African-American Cultural Center puts that estimate at more like 30 million. Celebrities like Oprah Winfrey and Angelina Jolie <a href="http://www.pbs.org/black-culture/connect/talk-back/what-is-kwanzaa/" target="_blank">are known</a> to celebrate the holiday annually, too.       </p><h2>4. Why is seven such an important number in Kwanzaa? </h2><p>The number seven is key to Kwanzaa for several reasons. Aside from the name being seven letters, the holiday begins on Dec. 26 and lasts for seven days until Jan. 1. On those seven days, families focus on <a href="http://www.upworthy.com/a-lot-of-people-do-it-around-the-holidays-heres-why-you-shouldnt">seven principals</a> that are important to the people of the African diaspora:      </p><ul class="ee-ul"><li><strong>Umoja</strong> (Unity)</li><li><strong>Kujichagulia</strong> (Self-determination)</li><li><strong>Ujima</strong> (Collective work and responsibility)</li><li><strong>Ujamaa</strong> (Cooperative economics)</li><li><strong>Nia</strong> (Purpose)</li><li><strong>Kuumba</strong> (Creativity)</li><li><strong>Imani</strong> (Faith) </li></ul><p>Families light seven candles — three red, three green, and one black — on a candelabra as a dedication to those values. Some people wear "kente" cloth, a colorful African cloth, while lighting the candles.    </p><div><div class="push-wrapper--mobile" data-card="image" data-reactroot=""><img type="lazy-image" data-runner-src="https://assets.rebelmouse.io/eyJhbGciOiJIUzI1NiIsInR5cCI6IkpXVCJ9.eyJpbWFnZSI6Imh0dHBzOi8vYXNzZXRzLnJibC5tcy8xOTQ3NjI0Mi9vcmlnaW4uanBnIiwiZXhwaXJlc19hdCI6MTY1NjQ5ODE5MX0.kUXv2NsHwzUAQA9uOX_hdPh29Yw_WJh7JupM8DKS5EA/img.jpg?width=980" id="d1367" class="rm-shortcode" data-rm-shortcode-id="d0339a6ad71c5ced1e75fbd63040b382" data-rm-shortcode-name="rebelmouse-image"><div class="image-caption"><p>Photo by Mario Tama/Getty Images.</p></div></div></div><h2>5. Why those colors? </h2><p>The colors of Kwanzaa represent the Pan-African movement.</p><p>Pan-Africanism, an ideology that focuses on strengthening solidarity between all people of African descent, is the inspiration behind the principles of Kwanzaa. The colors black, red, and green represent "unity" amongst people from the African diaspora. Black represents the people, red represents the blood that unites everyone with African ancestry, and green represents the richness of African land.  <strong>     </strong></p><h2>6. What religion does the holiday represent? </h2><p>Kwanzaa is not a religious holiday. The holiday was modeled after the first harvest celebrations in Africa, and it was created to celebrate values like family, culture, and heritage. However, faith is central to it. "Imani," the word for "faith" in Swahili, is one of the seven principles of Kwanzaa.  </p><h2>7. Why do people give this holiday such a hard time? </h2><p>Kwanzaa was pretty popular when it first came onto the scene in the 1960s. It was created at a time when black pride was on the rise. But after the 1990s, popularity dwindled as the black civil rights struggle of the 1960s became something that younger Americans saw as a thing of the past. Because the creator is still alive, many saw Kwanzaa as an "invalid" holiday, thus making it the brunt of the holiday season.       </p><div><div class="push-wrapper--mobile" data-card="image" data-reactroot=""><img type="lazy-image" data-runner-src="https://assets.rebelmouse.io/eyJhbGciOiJIUzI1NiIsInR5cCI6IkpXVCJ9.eyJpbWFnZSI6Imh0dHBzOi8vYXNzZXRzLnJibC5tcy8xOTQ3NjI0My9vcmlnaW4uanBnIiwiZXhwaXJlc19hdCI6MTYwMTU2NDc2OH0.eNwe2mOR0qklCNo0uot1wXDckmGI9hUl_gy_dWd3YtM/img.jpg?width=980" id="17bf7" class="rm-shortcode" data-rm-shortcode-id="8e2ea13c040d40e246d52d269ce1fbf3" data-rm-shortcode-name="rebelmouse-image"><div class="image-caption"><p>Photo by Mario Tama/Getty Images.</p></div></div></div><h2>I believe that this year, more than ever, we need Kwanzaa.</h2><p>As time goes on, culture ebbs and flows. The Black Lives Matter movement has reawakened the desire for real liberation for African-Americans, and many millennials are using Kwanzaa again as another way to reclaim black identity.</p><p><strong>So whether you celebrate Kwanzaa this year or not, remember that the holidays, no matter what they are, give people a chance to celebrate our individual cultures and the magic and history within them. </strong></p>