More
The teams really stepped up to the plate on this one.
Back in 2015, then-5-year-old Hailey Dawson threw out the ceremonial first pitch at a Baltimore Orioles game.
Born with a rare congenital condition called Poland Syndrome, Hailey was born with just two fingers on her right hand. The engineering department at the University of Nevada Las Vegas helped craft a special 3D-printed hand for her, allowing her to grip and throw a baseball, something she might have otherwise not been able to do.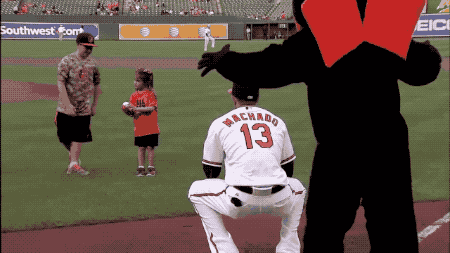 GIF from Fox Sports/YouTube.
<h2>Hailey had so much fun throwing out that first pitch she set a goal of doing it at every Major League Baseball park. </h2><p>Thanks to a viral video, it just might happen.</p><p>On Sept. 7, Bleacher Report published a video about Hailey's quest. The video highlighted her recent stop to visit the Washington Nationals, including a meet-and-greet with star outfielder Bryce Harper. The internet took notice, letting out a collective "<em>awwwww" </em>— as did more than a few big league teams.</p><iframe width="100%" height="150" scrolling="no" id="twitter-embed-905805297318596609" src="/res/community/twitter_embed/?iframe_id=twitter-embed-905805297318596609&amp;created_ts=1504795786.0&amp;screen_name=BleacherReport&amp;text=7-year-old+Hailey+Dawson+wants+to+throw+out+the+first+pitch+at+every+MLB+ballpark+with+her+3-D+printed+hand+https%3A%2F%2Ft.co%2FonStqhEzyB&amp;id=905805297318596609&amp;name=Bleacher+Report" frameborder="0" class="rm-shortcode" data-rm-shortcode-id="W2QNX11559347072"></iframe><h2>Within hours, teams from all over the league began offering Hailey invites, including one from my beloved (World Series champs) Chicago Cubs.</h2><p>If the video didn't melt your heart, the outpouring of support and encouragement might just do the trick.</p><iframe width="100%" height="150" scrolling="no" id="twitter-embed-905939998326665216" src="/res/community/twitter_embed/?iframe_id=twitter-embed-905939998326665216&amp;created_ts=1504827901.0&amp;screen_name=SFGiants&amp;text=%40BleacherReport+We+would+love+to+have+Hailey+at+AT%26amp%3BT+Park%21+Please+DM+us+her+info.&amp;id=905939998326665216&amp;name=San+Francisco+Giants" frameborder="0" class="rm-shortcode" data-rm-shortcode-id="396R5S1559347072"></iframe><iframe width="100%" height="150" scrolling="no" id="twitter-embed-905862727029190656" src="/res/community/twitter_embed/?iframe_id=twitter-embed-905862727029190656&amp;created_ts=1504809478.0&amp;screen_name=Cubs&amp;text=You%27re+going+to+look+amazing+in+a+Cubs+jersey%2C+Hailey%21+https%3A%2F%2Ft.co%2FXyxsvKiB60&amp;id=905862727029190656&amp;name=Chicago+Cubs" frameborder="0" class="rm-shortcode" data-rm-shortcode-id="272PZ41559347072"></iframe><iframe width="100%" height="150" scrolling="no" id="twitter-embed-905899095092539392" src="/res/community/twitter_embed/?iframe_id=twitter-embed-905899095092539392&amp;created_ts=1504818149.0&amp;screen_name=Braves&amp;text=%40BleacherReport+We+would+love+to+have+Hailey+visit+us%21+Please+DM+us+her+info%21&amp;id=905899095092539392&amp;name=Atlanta+Braves" frameborder="0" class="rm-shortcode" data-rm-shortcode-id="0CVYN51559347072"></iframe><iframe width="100%" height="150" scrolling="no" id="twitter-embed-905885919596732416" src="/res/community/twitter_embed/?iframe_id=twitter-embed-905885919596732416&amp;created_ts=1504815008.0&amp;screen_name=Phillies&amp;text=%40BleacherReport+We%27d+LOVE+to+have+Hailey+at+CBP%21%0A%0ACan+you+please+DM+us+her+information+so+we+can+reach+out%3F&amp;id=905885919596732416&amp;name=Philadelphia+Phillies" frameborder="0" class="rm-shortcode" data-rm-shortcode-id="SYL8UR1559347072"></iframe><iframe width="100%" height="150" scrolling="no" id="twitter-embed-905839577033822209" src="/res/community/twitter_embed/?iframe_id=twitter-embed-905839577033822209&amp;created_ts=1504803959.0&amp;screen_name=Twins&amp;text=%40BleacherReport+Can+you+make+it+up+to+Minnesota%2C+Hailey%3F+DM+us+your+info+and+we+will+make+it+happen%21&amp;id=905839577033822209&amp;name=Minnesota+Twins" frameborder="0" class="rm-shortcode" data-rm-shortcode-id="WSHKVR1559347072"></iframe><iframe width="100%" height="150" scrolling="no" id="twitter-embed-905832974196908036" src="/res/community/twitter_embed/?iframe_id=twitter-embed-905832974196908036&amp;created_ts=1504802385.0&amp;screen_name=tigers&amp;text=%40BleacherReport+Sounds+great%21+Can+you+DM+us+Hailey%27s+info%2C+so+we+can+reach+out%3F&amp;id=905832974196908036&amp;name=Detroit+Tigers" frameborder="0" class="rm-shortcode" data-rm-shortcode-id="TNY2JX1559347072"></iframe><iframe width="100%" height="150" scrolling="no" id="twitter-embed-905818863186702337" src="/res/community/twitter_embed/?iframe_id=twitter-embed-905818863186702337&amp;created_ts=1504799020.0&amp;screen_name=Mets&amp;text=%40BleacherReport+Absolutely%21+Please+DM+us+Hailey%27s+info.+so+we+can+get+in+touch+with+her.&amp;id=905818863186702337&amp;name=New+York+Mets" frameborder="0" class="rm-shortcode" data-rm-shortcode-id="31JOT81559347072"></iframe><iframe width="100%" height="150" scrolling="no" id="twitter-embed-905810040740831232" src="/res/community/twitter_embed/?iframe_id=twitter-embed-905810040740831232&amp;created_ts=1504796917.0&amp;screen_name=Brewers&amp;text=%40BleacherReport+We+are+on+board%21+Send+her+our+way%21&amp;id=905810040740831232&amp;name=Milwaukee+Brewers" frameborder="0" class="rm-shortcode" data-rm-shortcode-id="11Z9DJ1559347073"></iframe><iframe width="100%" height="150" scrolling="no" id="twitter-embed-905839547010891776" src="/res/community/twitter_embed/?iframe_id=twitter-embed-905839547010891776&amp;created_ts=1504803952.0&amp;screen_name=Athletics&amp;text=%40BleacherReport+We+love+this%21+Can+you+please+DM+us+Hailey%27s+info+so+that+we+can+set+something+up%3F+%F0%9F%91%8F%F0%9F%91%8F%F0%9F%91%8F&amp;id=905839547010891776&amp;name=Oakland+A%27s" frameborder="0" class="rm-shortcode" data-rm-shortcode-id="P2OSJ21559347073"></iframe><iframe width="100%" height="150" scrolling="no" id="twitter-embed-905917584666759169" src="/res/community/twitter_embed/?iframe_id=twitter-embed-905917584666759169&amp;created_ts=1504822557.0&amp;screen_name=Royals&amp;text=%40BleacherReport+We%27d+love+to+make+it+happen%21+Please+DM+us+her+info.&amp;id=905917584666759169&amp;name=Kansas+City+Royals" frameborder="0" class="rm-shortcode" data-rm-shortcode-id="E24ZIY1559347073"></iframe><iframe width="100%" height="150" scrolling="no" id="twitter-embed-905959920868175872" src="/res/community/twitter_embed/?iframe_id=twitter-embed-905959920868175872&amp;created_ts=1504832651.0&amp;screen_name=Marlins&amp;text=%40BleacherReport+We%27d+be+happy+to+have+Hailey+at+%40MarlinsPark%21+If+possible%2C+please+DM+us+her+info.+%F0%9F%98%83&amp;id=905959920868175872&amp;name=Miami+Marlins" frameborder="0" class="rm-shortcode" data-rm-shortcode-id="9JV3821559347073"></iframe><iframe width="100%" height="150" scrolling="no" id="twitter-embed-905982575868608512" src="/res/community/twitter_embed/?iframe_id=twitter-embed-905982575868608512&amp;created_ts=1504838053.0&amp;screen_name=RedSox&amp;text=%40BleacherReport+Looks+like+we+need+to+get+you+to+Fenway%2C+Hailey%21+%0A%0AJust+DM+us+with+your+info+and+we%27re+in%21+%E2%9A%BE%EF%B8%8F&amp;id=905982575868608512&amp;name=Boston+Red+Sox" frameborder="0" class="rm-shortcode" data-rm-shortcode-id="THQKC81559347073"></iframe><iframe width="100%" height="150" scrolling="no" id="twitter-embed-905912824555335680" src="/res/community/twitter_embed/?iframe_id=twitter-embed-905912824555335680&amp;created_ts=1504821423.0&amp;screen_name=Dbacks&amp;text=%40BleacherReport+Happy+to+help+Hailey+out%21+As+others+said%2C+please+DM+us+her+info+and+we%27ll+reach+out.&amp;id=905912824555335680&amp;name=Arizona+Diamondbacks" frameborder="0" class="rm-shortcode" data-rm-shortcode-id="Z25ZCI1559347073"></iframe><iframe width="100%" height="150" scrolling="no" id="twitter-embed-905900769483902978" src="/res/community/twitter_embed/?iframe_id=twitter-embed-905900769483902978&amp;created_ts=1504818548.0&amp;screen_name=whitesox&amp;text=%40BleacherReport+Hailey+-+come+out+and+see+us%21+%0A%0A%40BleacherReport+-+please+DM+her+info+and+we%27ll+reach+out%21&amp;id=905900769483902978&amp;name=Chicago+White+Sox" frameborder="0" class="rm-shortcode" data-rm-shortcode-id="SS06HC1559347073"></iframe><iframe width="100%" height="150" scrolling="no" id="twitter-embed-905946370657411072" src="/res/community/twitter_embed/?iframe_id=twitter-embed-905946370657411072&amp;created_ts=1504829421.0&amp;screen_name=Indians&amp;text=%40BleacherReport+We%27re+in%21+Help+us+get+in+touch+and+we%27ll+take+it+from+there.&amp;id=905946370657411072&amp;name=Cleveland+Indians" frameborder="0" class="rm-shortcode" data-rm-shortcode-id="MSZUAA1559347073"></iframe><iframe width="100%" height="150" scrolling="no" id="twitter-embed-905827078720892928" src="/res/community/twitter_embed/?iframe_id=twitter-embed-905827078720892928&amp;created_ts=1504800979.0&amp;screen_name=Reds&amp;text=Count+us+in%21+Give+us+a+buzz%2C+Hailey%21+%E2%9A%BE%EF%B8%8F+https%3A%2F%2Ft.co%2FZAbWSjjxvf&amp;id=905827078720892928&amp;name=Cincinnati+Reds" frameborder="0" class="rm-shortcode" data-rm-shortcode-id="JVH4DV1559347074"></iframe><iframe width="100%" height="150" scrolling="no" id="twitter-embed-905845473881112576" src="/res/community/twitter_embed/?iframe_id=twitter-embed-905845473881112576&amp;created_ts=1504805365.0&amp;screen_name=Mariners&amp;text=%40BleacherReport+Such+an+incredible+story.+Can+you+DM+us+her+info+so+we+can+reach+out%3F&amp;id=905845473881112576&amp;name=Seattle+Mariners" frameborder="0" class="rm-shortcode" data-rm-shortcode-id="4ULJ7Q1559347074"></iframe><iframe width="100%" height="150" scrolling="no" id="twitter-embed-905866982813306881" src="/res/community/twitter_embed/?iframe_id=twitter-embed-905866982813306881&amp;created_ts=1504810493.0&amp;screen_name=Pirates&amp;text=%40BleacherReport+For+sure.+We%27re+in%21+DM+us+her+info+and+we%27ll+take+it+from+there.&amp;id=905866982813306881&amp;name=Pirates" frameborder="0" class="rm-shortcode" data-rm-shortcode-id="LZ7PK01559347074"></iframe><iframe width="100%" height="150" scrolling="no" id="twitter-embed-905845588893118464" src="/res/community/twitter_embed/?iframe_id=twitter-embed-905845588893118464&amp;created_ts=1504805392.0&amp;screen_name=Padres&amp;text=%40BleacherReport+We%27ve+got+a+first+pitch+with+Hailey%27s+name+on+it%21+Please+DM+us+her+information+so+we+can+reach+out&amp;id=905845588893118464&amp;name=San+Diego+Padres" frameborder="0" class="rm-shortcode" data-rm-shortcode-id="OZPIFV1559347074"></iframe><iframe width="100%" height="150" scrolling="no" id="twitter-embed-906170278480371713" src="/res/community/twitter_embed/?iframe_id=twitter-embed-906170278480371713&amp;created_ts=1504882804.0&amp;screen_name=astros&amp;text=%40BleacherReport+We%27re+in%21+Can+you+please+DM+us+Hailey%27s+info+so+we+can+coordinate%3F+%40haileys_hand&amp;id=906170278480371713&amp;name=Houston+Astros" frameborder="0" class="rm-shortcode" data-rm-shortcode-id="4OA00G1559347074"></iframe><h2>She even got invited to stop by a few colleges, minor league stadiums, and should she ever find herself in Mexico, a stop or two down there, as well.</h2><iframe width="100%" height="150" scrolling="no" id="twitter-embed-905961158699622400" src="/res/community/twitter_embed/?iframe_id=twitter-embed-905961158699622400&amp;created_ts=1504832946.0&amp;screen_name=FloridaGators&amp;text=%40BleacherReport+What+about+a+college+ballpark%3F+We%27d+love+to+have+her+throw+the+first+pitch+for+%40GatorsBB%21&amp;id=905961158699622400&amp;name=Florida+Gators" frameborder="0" class="rm-shortcode" data-rm-shortcode-id="3VTB7I1559347074"></iframe><iframe width="100%" height="150" scrolling="no" id="twitter-embed-905950656003014656" src="/res/community/twitter_embed/?iframe_id=twitter-embed-905950656003014656&amp;created_ts=1504830442.0&amp;screen_name=MudHens&amp;text=%40BleacherReport+If+you%27re+not+too+tired+from+throwing+first+pitches+in+the+bigs+we%27d+love+to+have+you+in+Toledo%21+DM%E2%80%A6+https%3A%2F%2Ft.co%2Fl01TLHekRM&amp;id=905950656003014656&amp;name=Toledo+Mud+Hens" frameborder="0" class="rm-shortcode" data-rm-shortcode-id="PWOYHY1559347074"></iframe><iframe width="100%" height="150" scrolling="no" id="twitter-embed-905906749131157504" src="/res/community/twitter_embed/?iframe_id=twitter-embed-905906749131157504&amp;created_ts=1504819974.0&amp;screen_name=RiverCats&amp;text=%40BleacherReport+Hey+Hailey%21+How+about+throwing+out+a+first+pitch+at+Raley+Field%3F+You+can+start+here+and+cover+the+m%E2%80%A6+https%3A%2F%2Ft.co%2F9EBXRSSobP&amp;id=905906749131157504&amp;name=Sacramento+River+Cats" frameborder="0" class="rm-shortcode" data-rm-shortcode-id="T1938G1559347074"></iframe><iframe width="100%" height="150" scrolling="no" id="twitter-embed-905943535114997760" src="/res/community/twitter_embed/?iframe_id=twitter-embed-905943535114997760&amp;created_ts=1504828745.0&amp;screen_name=66ersBaseball&amp;text=%40BleacherReport+We+would+love+to+have+Hailey+throw+out+a+1st+pitch+at+our+7th+Annual+DisAbilities+Awareness+Night+i%E2%80%A6+https%3A%2F%2Ft.co%2FLkBQGqREaO&amp;id=905943535114997760&amp;name=Inland+Empire+66ers" frameborder="0" class="rm-shortcode" data-rm-shortcode-id="KPWVAE1559347075"></iframe><iframe width="100%" height="150" scrolling="no" id="twitter-embed-905925453625516032" src="/res/community/twitter_embed/?iframe_id=twitter-embed-905925453625516032&amp;created_ts=1504824434.0&amp;screen_name=Aces&amp;text=%40MzSpeed+%40Dodgers+%40BlueJays+She+is+welcome+whenever+she+wants+next+season.+DM+us%21&amp;id=905925453625516032&amp;name=Reno+Aces" frameborder="0" class="rm-shortcode" data-rm-shortcode-id="MGK32G1559347075"></iframe><iframe width="100%" height="150" scrolling="no" id="twitter-embed-905998670302236672" src="/res/community/twitter_embed/?iframe_id=twitter-embed-905998670302236672&amp;created_ts=1504841890.0&amp;screen_name=NacimosBravos&amp;text=%40BleacherReport+Just+MLB%3F+Hailey+can+also+do+it+in+the+%40LigaMexBeis+%F0%9F%98%89+We%27re+in+if+she+wants+too%21+Please+DM+us+her+i%E2%80%A6+https%3A%2F%2Ft.co%2FcntAvl64PU&amp;id=905998670302236672&amp;name=Bravos+de+Le%C3%B3n" frameborder="0" class="rm-shortcode" data-rm-shortcode-id="BWFNQP1559347075"></iframe><h2>Yes, science is very cool, and seeing 3D-printing being used to improve the lives of everyday people is a big win for humanity. But most of all, this is a story about a girl with a goal that others are coming together to help her achieve. </h2><p>If the video and the team responses bring a smile to your face, that's great. If they motivate you to help others achieve their dreams, that's even better.</p><p>Way to go, Hailey, and way to go, Major League Baseball.</p><p class="shortcode-media shortcode-media-rebelmouse-image"><img type="lazy-image" data-runner-src="https://assets.rebelmouse.io/eyJhbGciOiJIUzI1NiIsInR5cCI6IkpXVCJ9.eyJpbWFnZSI6Imh0dHBzOi8vYXNzZXRzLnJibC5tcy8xOTQ3NjgwMS9vcmlnaW4uZ2lmIiwiZXhwaXJlc19hdCI6MTY0MTQ3OTcyN30.bc_F-Am4945HDz0mgdu_Qg_0Fjsa-rbRlEriWjz6Aqo/img.gif?width=980" id="2cfc0" class="rm-shortcode" data-rm-shortcode-id="b9486bcf515e5abe38c20edc41db4605" data-rm-shortcode-name="rebelmouse-image"><small class="image-media media-caption" placeholder="add caption...">GIF from Nationals/<a href="https://twitter.com/Nationals/status/874351645232160768">Twitter</a>.</small></p>