Most Shared
Sometimes we just need moments of pure joy.
It had been 108 years since the Chicago Cubs won the World Series — the longest championship drought not just in baseball, but in all of U.S. pro sports.
On Wednesday night, the team defeated the Cleveland Indians in Game 7 of the World Series, becoming champions for the first time since Roosevelt was president (Teddy, not Franklin).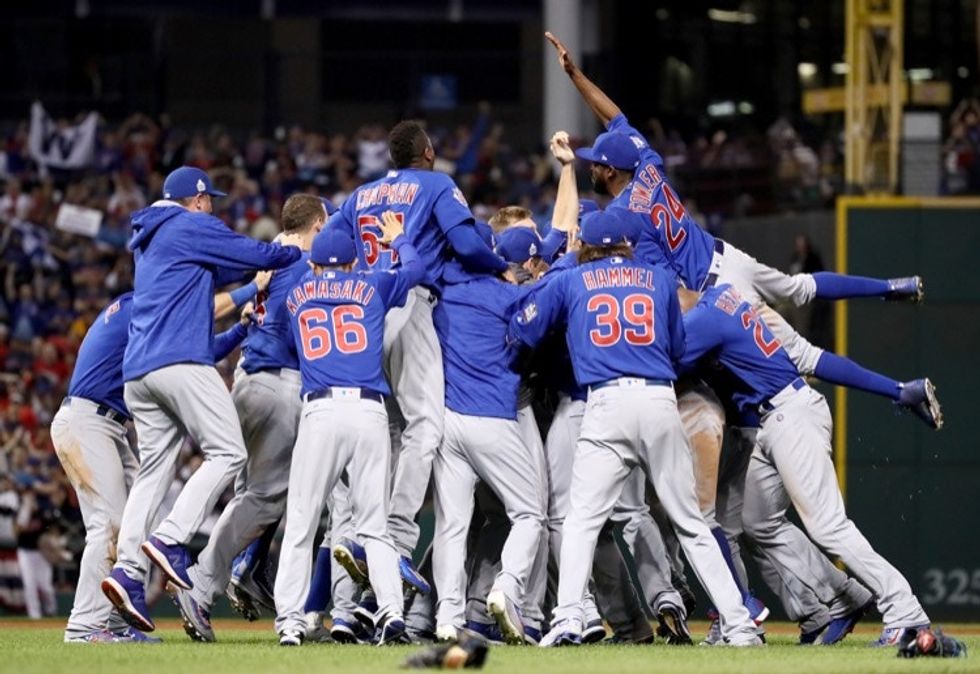 </div></div></div><p>As a whole, the series — which saw Cleveland jump ahead to a three-games-to-one advantage before Chicago came back to win three in a row — was an edge-of-your-seat thrill ride. </p><p><strong>It was also <em>exactly</em> what America needs right now.</strong></p><div><div class="push-wrapper--mobile" data-card="image" data-reactroot=""><img type="lazy-image" data-runner-src="https://assets.rebelmouse.io/eyJhbGciOiJIUzI1NiIsInR5cCI6IkpXVCJ9.eyJpbWFnZSI6Imh0dHBzOi8vYXNzZXRzLnJibC5tcy8xOTQ3NDYxMi9vcmlnaW4uanBnIiwiZXhwaXJlc19hdCI6MTYyNjg4ODg1NH0.1hHkvXt4gw2cvSsOAn4-eRlnufqL3CmIpxYc2VEIpYw/img.jpg?width=980" id="1a37f" class="rm-shortcode" data-rm-shortcode-id="a0a2f1ad5ca49bc916e0287800ae8e92" data-rm-shortcode-name="rebelmouse-image"><div class="image-caption"><p>Cubs fans celebrate outside Wrigley Field in Chicago. Photo by Scott Olson/Getty Images.</p></div></div></div><h2>This year's presidential election has been brutal, seemingly endless, and inescapable. The World Series was the perfect distraction from it all.</h2><p>Odds are that if you're planning on casting a ballot on Nov. 8, <a href="https://origin-nyi.thehill.com/blogs/pundits-blog/presidential-campaign/303468-fbi-email-probe-cant-hurt-clinton-voters-minds-are" target="_blank">you already know who you're going to vote for</a>. At this point, no amount of talk of which candidates sent what emails or who grabs women where is likely to persuade you. Still, the next several days will be full of these messages, perhaps even more intense than ever before.</p><div><div class="push-wrapper--mobile" data-card="image" data-reactroot=""><img type="lazy-image" data-runner-src="https://assets.rebelmouse.io/eyJhbGciOiJIUzI1NiIsInR5cCI6IkpXVCJ9.eyJpbWFnZSI6Imh0dHBzOi8vYXNzZXRzLnJibC5tcy8xOTQ3NDYxMy9vcmlnaW4uanBnIiwiZXhwaXJlc19hdCI6MTYyNDU1MTkyOX0.VfJ3tpvdyyQE4gRS0qlO1vn9SeQktODCWB3PxUBgNNM/img.jpg?width=980" id="1e6a8" class="rm-shortcode" data-rm-shortcode-id="72ac07a64b34a4548825d7e189f01768" data-rm-shortcode-name="rebelmouse-image"><div class="image-caption"><p>Photo by Ezra Shaw/Getty Images.</p></div></div></div><h2><strong>It's exhausting, it's <a href="http://www.vox.com/science-and-health/2016/10/13/13259938/election-stress-aniexty-ahhh-poll" target="_blank">anxiety-inducing</a>, and it's <a href="http://www.huffingtonpost.com/entry/donald-trump-women-sick_us_5804d6ece4b0e8c198a8fb66" target="_blank">stressful</a>.</strong></h2><p>Short of turning off your TV, unplugging your computer, avoiding newspapers, and logging out of your social media accounts, there's not much you can do to escape it. That's why life's little joys — even something as simple as a baseball game — are so needed right now. Sure, it's temporary relief, but it's meaningful.</p><div><div class="push-wrapper--mobile" data-card="image" data-reactroot=""><img type="lazy-image" data-runner-src="https://assets.rebelmouse.io/eyJhbGciOiJIUzI1NiIsInR5cCI6IkpXVCJ9.eyJpbWFnZSI6Imh0dHBzOi8vYXNzZXRzLnJibC5tcy8xOTQ3NDYxNC9vcmlnaW4uanBnIiwiZXhwaXJlc19hdCI6MTYwMjAyMTIzOH0.Ktp2BhS2sU23ORV6cRBRCwUjLyYHRAoRvVVMISI7FsE/img.jpg?width=980" id="84c2a" class="rm-shortcode" data-rm-shortcode-id="b4409c3fdc5aee0f40c5f24401fdbb09" data-rm-shortcode-name="rebelmouse-image"><div class="image-caption"><p>Cubs first baseman Anthony Rizzo celebrates a run in the fourth inning. Photo by Elsa/Getty Images.</p></div></div></div><h2>Joy helps us navigate the world in trying times. It doesn't erase the bad, but it provides needed balance.</h2><p>"At its best, sports provides a glimpse of us at our best — fair competition among companions for glory of something larger than ourselves," <a href="https://twitter.com/anamariecox/status/794175490638516224" target="_blank">tweeted Ana Marie Cox</a>, a journalist who has been covering the presidential campaign for MTV. "But even the greatest moments in sports don't undo or cancel out or counter us at our worst. And there's a lot of worst going around [right now]."</p><div><div data-card="html" data-reactroot=""><iframe src="https://vine.co/v/5De6TgV2BAv/embed/simple" width="100%" height="480" frameborder="0" scrolling="no" class="rm-shortcode" data-rm-shortcode-id="68b9ba34a96fdd3a6945182ea2299c5e"></iframe><script src="https://platform.vine.co/static/scripts/embed.js"></script></div></div><p>Just a day earlier, Cox published <a href="http://www.mtv.com/news/2949846/trump-presidency-religious-faith/" target="_blank">a heartfelt message</a> about how this year's campaign — and more specifically, the prospect of a Donald Trump presidency — led her to question her religious faith. In trying times, there's nothing wrong with escaping into a world of temporary joy. <strong>Joy gives us relief. Joy gives us perspective.</strong></p><div><div class="push-wrapper--mobile" data-card="image" data-reactroot=""><img type="lazy-image" data-runner-src="https://assets.rebelmouse.io/eyJhbGciOiJIUzI1NiIsInR5cCI6IkpXVCJ9.eyJpbWFnZSI6Imh0dHBzOi8vYXNzZXRzLnJibC5tcy8xOTQ3NDYxNS9vcmlnaW4uanBnIiwiZXhwaXJlc19hdCI6MTY1MTk0MTE0NX0.xVVQjsU297sC27xAmY3A3ISLEnwWOMrg39zawWs_DcY/img.jpg?width=980" id="caddc" class="rm-shortcode" data-rm-shortcode-id="d94581c2a15648a3fb8c5193701fe834" data-rm-shortcode-name="rebelmouse-image"><div class="image-caption"><p>Actor and Cubs fan Bill Murray reacts on the field after the Chicago Cubs won Game 7. Photo by Ezra Shaw/Getty Images.</p></div></div></div><h2>Even if you're not a Cubs fan, a baseball fan, or even a sports fan — this joy is for you, too.</h2><p>We've earned it. We've <em>all</em> earned it. We shouldn't need to be made to feel perpetually anxious, and if reveling in a baseball game helps break that cycle, that's wonderful. </p><p>Maybe your joy comes from something else, like a favorite movie, a book, or a song. If that's the case, try to take a moment sometime in these next few days to let yourself experience what it is that brings you joy. You've earned it.</p><p><strong>Find your joy, whatever it may be.</strong></p><div><div data-card="facebook" data-reactroot=""><div class="fb-video" data-href="https://www.facebook.com/Cubs/videos/10154448783280659/" id="10154448783280659"><blockquote cite="https://www.facebook.com/Cubs/videos/10154448783280659/" class="fb-xfbml-parse-ignore"><a href="https://www.facebook.com/Cubs/videos/10154448783280659/">All the Way</a><p>Today is our day. #FlyTheW</p>Posted by <a href="https://www.facebook.com/Cubs/">Chicago Cubs</a> on Thursday, November 3, 2016</blockquote></div></div></div>