Look, we get it. That suspiciously stuffy nose is giving you anxiety. Have you really lost your sense of smell? Maybe it's just congestion? You start kicking yourself. Was the grocery store trip to get Haagen Dazs really worth it?
To ease the worry, you do the next responsible thing: you get tested. Hooray! It's negative! Your instinct to announce the good news to the world is both urgent and insistent.
However, that negative test result you post to social media might have some less-than-positive outcomes.
A warning has been issued that negative test results posted online are being used to supply fake COVID-19 passes. And doctoring them is quite easy.
One man reported to a local British newspaper (the Lancashire Telegraph) that he was given a negative test by a friend, and then it was only a matter of changing the name and birthdate before that COVID-19 test passed as his own. Even the date can be edited to better reflect the required time limit.
"People are doing this as you can't get a Covid test if you have to travel to Pakistan in case of an emergency. It is difficult to get one unless you are a key worker," he told the Telegraph.
For some, this is an attempt to avoid the exorbitant prices being charged for legitimate tests through private clinics.
Shabaz Ilyas, who paid to have an authentic PCR test, told the Telegraph:
"This is in addition to the extortionate prices the airlines are already charging…As usual, a mini industry has been created to exploit people. This is just another example of discriminating against the poor, who are already facing financial problems."
These counterfeit tests have become the new fake IDs — sold for somewhere around £50 (about $68) in the U.K. — and can be used to enter venues and, as mentioned, travel. Which, of course, defeats the purpose of getting tested in the first place and risks the safety of those in close proximity to the person using the black market results.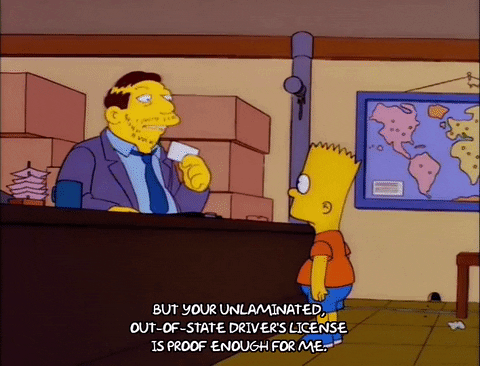 bart simpson episode 20 GIF
Giphy
Shahzad Ali, CEO of security training platform Get Licensed, marked the use of fake COVID-19 passes as "inevitable" according to Wales Online, saying that "there is obviously going to be a market…because there will be people who want to go about their life like normal and not have to take Covid tests for things they didn't have to before."
And it's not like similar situations haven't been happening already. Stories of fake vaccination cards made from social media posts have been making headlines since early 2021. Though it's a disappointing aspect of humanity, this is certainly nothing new.
"Whilst grossly unethical and potentially very dangerous, it is also illegal to use/supply/distribute fake Covid passes and could see you rack up a fine of £10,000 should you be caught," he added.
In order to avoid this "new complication," Ali's advice is, of course, to avoid posting on social media. Not as cathartic, perhaps. But infinitely safer.
Forbes also shared that another travel solution in the near future might be using an app called CommonPass, which gives users a secure digital health pass, including a private COVID-19 test status.
Forbes writes:
"After downloading the app, a traveler can get a Covid-19 test at a participating lab and pull the results right into the app. The traveler can also complete any additional screening questionnaires required by the destination country. Finally, CommonPass confirms that the traveler is compliant with all entry requirements and generates a QR code which can be scanned by airline staff and border officials."
As always, social media can be a force for good and for ill. As this pandemic continues, so too does the motto, "stay safe." That includes online.