Are men really not being hired because of the #MeToo movement?
Here's how the tale goes: Now that women have started publicly outing men who have sexually harassed them in the workplace and are drawing attention to unequal representation in their fields, companies feel pressured to hire women. So women are now taking mens' jobs and it's not fair. Or something like that.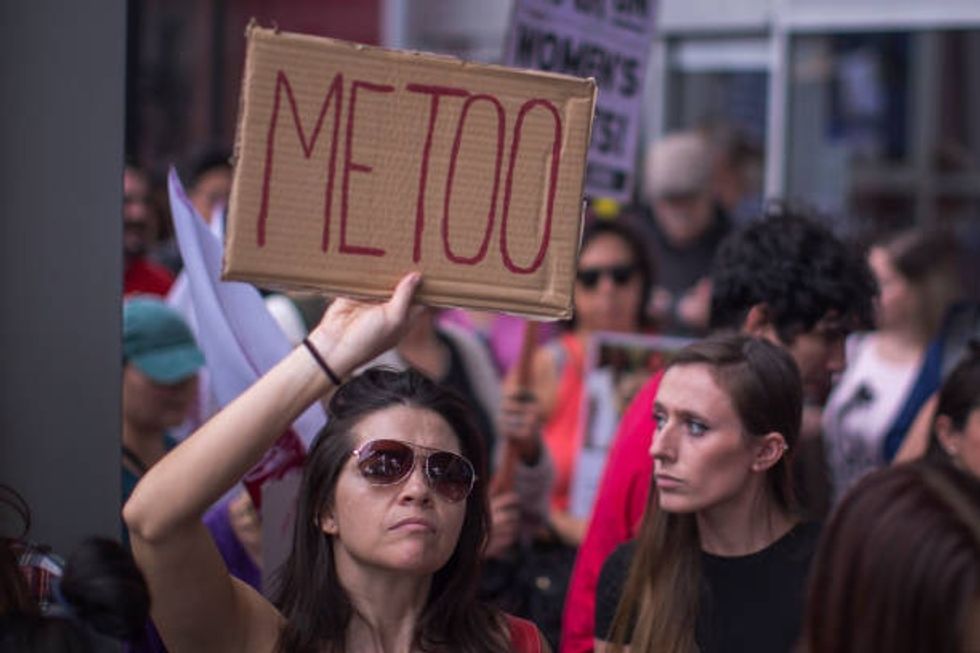 The #MeToo movement has shed light on how frequent sexual harassment happens. Photo via David McNew/Getty.
<p>Apparently, some agents in the entertainment industry are telling this tale to their male clients. Rather than men having to face the fact that maybe their work wasn't good enough — and rather than agents taking heat for not being able to get their client hired — women are being scapegoated and #MeToo is being blamed for crushing mens' professional dreams. </p><h2><strong>Hollywood writer and producer David Slack explained why that's bullshit.</strong></h2><p>Slack has helped write and produce numerous <a href="https://www.imdb.com/name/nm0805133/mediaindex?refine=publicity&amp;ref_=nm_ov_resph" target="_blank">shows</a>, such as "Law &amp; Order, "Person of Interest," "Lie to Me," and the "MacGyver" reboot. He's smack-dab in the middle of the television world and knows it well — and he had some words for men in Hollywood who are being fed this tale. </p><p>Addressing male TV writers, he sympathized with how much it sucks to not get hired for a job. Second, he called out their agents' BS.</p><p class="shortcode-media shortcode-media-rebelmouse-image"><img type="lazy-image" data-runner-src="https://assets.rebelmouse.io/eyJhbGciOiJIUzI1NiIsInR5cCI6IkpXVCJ9.eyJpbWFnZSI6Imh0dHBzOi8vYXNzZXRzLnJibC5tcy8xOTM0NzAyNi9vcmlnaW4uanBnIiwiZXhwaXJlc19hdCI6MTYzMzIyMzI0OX0.lj7d5ErHvXrE2qI8jUT3zjLHTGsaQtsVmAaUs2_F9bY/img.jpg?width=980" id="9cc99" class="rm-shortcode" data-rm-shortcode-id="c312b8ace1d4940999a962127443950f" data-rm-shortcode-name="rebelmouse-image"><small class="image-media media-caption" placeholder="add caption...">Screenshot via <a href="https://twitter.com/slack2thefuture/status/1002262514430689281?s=12">David Slack/Twitter.</a></small></p><p>He went on to point out that women are not swarming Hollywood staff writing jobs and that "the overwhelming majority of employed TV writers are still male." </p><p class="shortcode-media shortcode-media-rebelmouse-image"><img type="lazy-image" data-runner-src="https://assets.rebelmouse.io/eyJhbGciOiJIUzI1NiIsInR5cCI6IkpXVCJ9.eyJpbWFnZSI6Imh0dHBzOi8vYXNzZXRzLnJibC5tcy8xOTM0NzAyNy9vcmlnaW4uanBnIiwiZXhwaXJlc19hdCI6MTYyNDM2MjgxNH0.ULlhgdU07esBLQh-wvy3zleO8jcJRiM4YnZZY2PdggA/img.jpg?width=980" id="63da8" class="rm-shortcode" data-rm-shortcode-id="89f7808583129206125d3e091e4a8889" data-rm-shortcode-name="rebelmouse-image"><small class="image-media media-caption" placeholder="add caption...">Screenshot via <a href="https://twitter.com/slack2thefuture/status/1002262514430689281?s=12">David Slack/Twitter</a>.</small></p><p>Then he laid into the agents who are adding to the sexism and misogyny that already plagues the entertainment industry with this #MeToo tale of woe. "By scapegoating women &amp; #MeToo," he wrote, "your agents are trying to cover up for their own failure to get you a job."</p><p class="shortcode-media shortcode-media-rebelmouse-image"><img type="lazy-image" data-runner-src="https://assets.rebelmouse.io/eyJhbGciOiJIUzI1NiIsInR5cCI6IkpXVCJ9.eyJpbWFnZSI6Imh0dHBzOi8vYXNzZXRzLnJibC5tcy8xOTM0NzAyOC9vcmlnaW4uanBnIiwiZXhwaXJlc19hdCI6MTY2MDgxMjYyM30.MUJ8GN4I8gOyvlQtn0RxJMRmxlw5W8MUacmdIddXRrs/img.jpg?width=980" id="8634f" class="rm-shortcode" data-rm-shortcode-id="14f5f6cb0b2ef3406b59474787153ff4" data-rm-shortcode-name="rebelmouse-image"><small class="image-media media-caption" placeholder="add caption...">Screenshot via <a href="https://twitter.com/slack2thefuture/status/1002262514430689281?s=12">David Slack/Twitter.</a></small></p><h2>He laid down a hard truth: You probably didn't get the job because you weren't good enough. </h2><p>When we come <em>this</em> close to something we really want only to see it go to someone else, it's easy to start looking for someone to blame. But the truth is, sometimes we just get outcompeted. </p><p>Slack challenged writers to up their game, write better samples, make better presentations, and demand more of their agents.</p><p class="shortcode-media shortcode-media-rebelmouse-image"><img type="lazy-image" data-runner-src="https://assets.rebelmouse.io/eyJhbGciOiJIUzI1NiIsInR5cCI6IkpXVCJ9.eyJpbWFnZSI6Imh0dHBzOi8vYXNzZXRzLnJibC5tcy8xOTM0NzAyOS9vcmlnaW4uanBnIiwiZXhwaXJlc19hdCI6MTY1OTE5MTg0MH0.ZHniao7BIdbm1k8iCyNXvUhqd0fY4u1IyBd-eCTpEZU/img.jpg?width=980" id="caa32" class="rm-shortcode" data-rm-shortcode-id="6e1450cca9b5bb9ad183a964ab9f4292" data-rm-shortcode-name="rebelmouse-image"><small class="image-media media-caption" placeholder="add caption...">Screenshot via <a href="https://twitter.com/slack2thefuture/status/1002262514430689281?s=12">David Slack/Twitter.</a></small></p><p>"If you focus on raising your game instead of buying into the bullshit that the system is rigged (it's not), that next job will come your way," he wrote. "Trust me."</p><p>To back up his point, Slack brought in a link to <a href="https://socialsciences.ucla.edu/wp-content/uploads/2018/02/UCLA-Hollywood-Diversity-Report-2018-2-27-18.pdf#page40" target="_blank">UCLA's Hollywood Diversity Report</a>, which found that of 109 scripted network shows, only 13% achieve parity for women.</p><p class="shortcode-media shortcode-media-rebelmouse-image"><img type="lazy-image" data-runner-src="https://assets.rebelmouse.io/eyJhbGciOiJIUzI1NiIsInR5cCI6IkpXVCJ9.eyJpbWFnZSI6Imh0dHBzOi8vYXNzZXRzLnJibC5tcy8xOTM0NzAzMC9vcmlnaW4uanBnIiwiZXhwaXJlc19hdCI6MTY2MDQxODYxMn0.XiffrmKFO5AbkTslQV-CIgNpTtiNsYzVKJ9Q2-zT5v8/img.jpg?width=980" id="40cba" class="rm-shortcode" data-rm-shortcode-id="895d9a454171f81f6f0b440947e327d7" data-rm-shortcode-name="rebelmouse-image"><small class="image-media media-caption" placeholder="add caption...">Screenshot via <a href="https://twitter.com/slack2thefuture/status/1002262514430689281?s=12">David Slack/Twitter.</a></small></p><h2>Some questioned if this was really happening in Hollywood. It is — and in other industries as well. </h2><p>Slack responded to an incredulous "Are men really being told this?" question, and others chimed in to point out that it happens in other fields, too, from medicine to engineering.</p><p class="shortcode-media shortcode-media-rebelmouse-image"><img type="lazy-image" data-runner-src="https://assets.rebelmouse.io/eyJhbGciOiJIUzI1NiIsInR5cCI6IkpXVCJ9.eyJpbWFnZSI6Imh0dHBzOi8vYXNzZXRzLnJibC5tcy8xOTM0NzAzMS9vcmlnaW4uanBnIiwiZXhwaXJlc19hdCI6MTY1NzQxOTA5OX0.-wAE1syw2nT0RpnybknNVZ5q1RSKk3tbubsoX0Tc2QA/img.jpg?width=980" id="de6a8" class="rm-shortcode" data-rm-shortcode-id="78ec98a6f7ac5fdb2115975bfa169cd4" data-rm-shortcode-name="rebelmouse-image"><small class="image-media media-caption" placeholder="add caption...">Screenshot via <a href="https://twitter.com/slack2thefuture/status/1002262514430689281?s=12">David Slack/Twitter.</a></small></p><p>What's that saying? When you're accustomed to privilege, equality feels like oppression? Yeah, that. </p><p><strong>Finally, Slack pointed out the hypocrisy in him getting a lot of attention for saying things women have been saying all along. </strong></p><p class="shortcode-media shortcode-media-rebelmouse-image"><img type="lazy-image" data-runner-src="https://assets.rebelmouse.io/eyJhbGciOiJIUzI1NiIsInR5cCI6IkpXVCJ9.eyJpbWFnZSI6Imh0dHBzOi8vYXNzZXRzLnJibC5tcy8xOTM0NzAzMi9vcmlnaW4uanBnIiwiZXhwaXJlc19hdCI6MTYzNTc3NDYzNX0.Z8YcuiZy8e47gXN4Bc7vhEb6Q_WetOUSLQkNK7QwQ1c/img.jpg?width=980" id="482df" class="rm-shortcode" data-rm-shortcode-id="3e6b6ef42baa511b50c8de812ba46f18" data-rm-shortcode-name="rebelmouse-image"><small class="image-media media-caption" placeholder="add caption...">Screenshot via <a href="https://twitter.com/slack2thefuture/status/1002262514430689281?s=12">David Slack/Twitter.</a></small></p><p>"The fact that I'm getting credit for saying things plenty of women have been saying for years is only further evidence of the problem," he wrote. "Listen to women when they say things the first time." </p><p>It bears repeating: <strong>Listen to women when they say things the first time.</strong> </p><p>Good for David Slack for using his position of privilege to draw attention to an issue that affects women and then directing the attention back to the women who've been unheard. This is how it's done. </p>