More
Politics, leadership, and Hollywood were on the menu at this star-studded women's brunch.
Some of Hollywood's brightest stars joined forces not for awards, premieres, or accolades, but for a bigger cause —empowering women.
On Tuesday, Feb. 27, comedian and TV host Chelsea Handler partnered with Emily's List, a nationwide resource for Democratic women running for office, to host the Resist, Run, Win pre-Oscars Brunch and panel in Beverly Hills. The lively discussion among panelists former U.S. senator Barbara Boxer, Amber Tamblyn, Padma Lakshmi, Elaine Welteroth, and Constance Wu focused on women speaking up — and speaking out — about politics, leadership, and running for office.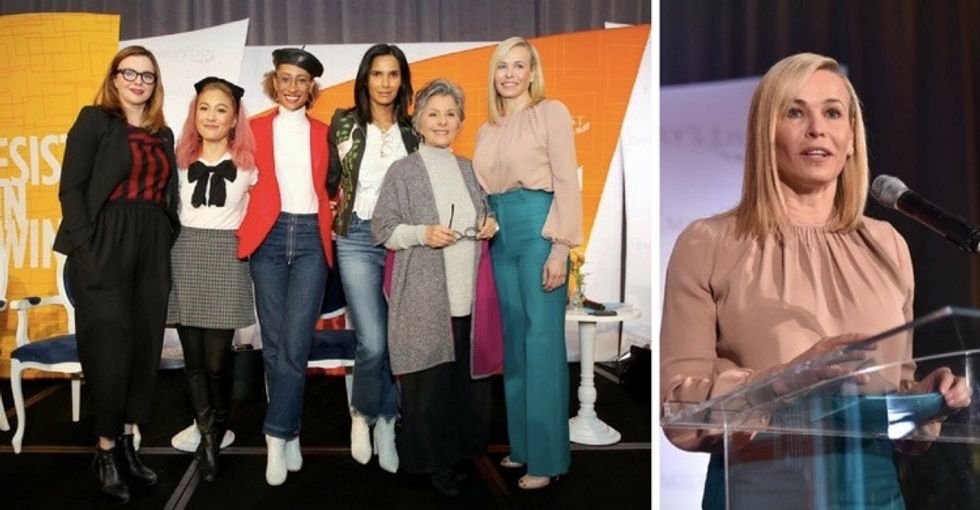 Left: Photo by Rachel Murray/Getty Images for Emily's List. Right: Photo by Alberto E. Rodriguez/Getty Images.
<p>"We are in a moment for women's leadership and empowerment at every level of leadership and especially in positions of political power," <a href="https://www.hollywoodreporter.com/news/chelsea-handler-host-pre-oscar-brunch-resist-run-win-panel-1083803" target="_blank">Handler said in a statement. </a>"Emily's List has been leading this charge for over 30 years, and this event marks an important opportunity for women in Hollywood to help shift the momentum of this important cultural moment into direct electoral power." </p><h2>The panel definitely wasn't politics as usual. Actress Constance Wu discussed the importance of visibility and representation in Hollywood. </h2><p>Wu stars in the hit sitcom "Fresh Off The Boat," the first show in <a href="https://www.imdb.com/title/tt0108693/" target="_blank">more than 20 years </a>to feature an Asian-American family. This summer, she'll appear in <a href="https://www.youtube.com/watch?v=WbWYjff8rRc" target="_blank">"Crazy Rich Asians," </a>a film based on the Kevin Kwan book of the same name. According to Wu, it will be the "first studio Hollywood movie ever, <strong><em>ever,</em></strong> to star an Asian-American in a contemporary context." </p><p>Think about that. Asian-Americans are often cast in historical films or in supporting roles as best friends or sidekicks, but we almost never see them save the day or fall in love. That's why Wu has intentionally shifted her career in another direction, pursuing opportunities that center and value her experience as an Asian-American. </p><p class="shortcode-media shortcode-media-rebelmouse-image"><img type="lazy-image" data-runner-src="https://assets.rebelmouse.io/eyJhbGciOiJIUzI1NiIsInR5cCI6IkpXVCJ9.eyJpbWFnZSI6Imh0dHBzOi8vYXNzZXRzLnJibC5tcy8xOTUzMDM4Ny9vcmlnaW4uanBnIiwiZXhwaXJlc19hdCI6MTY0NzcyNDk2NH0.Gcg1LeMf67hZbgTcFFqe2Rke1H9Bd8cO-iYq12vq6HE/img.jpg?width=980" id="3ee90" class="rm-shortcode" data-rm-shortcode-id="cbb172781e1bd17f93a80ba0fa0d01ea" data-rm-shortcode-name="rebelmouse-image"><small class="image-media media-caption" placeholder="add caption...">Photo by Rachel Murray/Getty Images for Emily's List.</small></p><blockquote>"I think .... understanding the thing that makes you different is nothing to be ashamed of. Actually, it's the thing that makes you great. And I think stories [should] celebrate that ... center that experience rather than having us be like the side characters who support a white person's story."</blockquote><h2>Former Teen Vogue Editor-in-Chief Elaine Welteroth also highlighted the need for diverse stories, and shared how pursuing them changed her for the better. </h2><p>Welteroth, who <a href="https://www.hollywoodreporter.com/news/departing-teen-vogue-editor-elaine-welteroth-signs-caa-1074179" target="_blank">recently stepped down </a>to pursue opportunities in TV and film, was the youngest person to lead the magazine, taking on the role at just 29. She was also <a href="https://rollingout.com/2016/05/22/teen-vogue-names-second-black-eic-century-business/" target="_blank">only the second black woman</a> to lead a magazine in the history of publishing giant Condé Nast. Though an intimidating position for many, Welteroth rose to the challenge. </p><p>During her time at Teen Vogue, Welteroth made a point to highlight the stories and issues of young people who don't usually see themselves in mainstream publications because of their faith, gender identity, or ethnicity. The decision proved wise when the brand quickly soared under leadership. Teen Vogue's website had nearly <a href="http://www.newsweek.com/teen-vogue-print-edition-closing-699535" target="_blank">8 million viewers in January of 2017, and just under 3 million </a>the previous year. </p><p class="shortcode-media shortcode-media-rebelmouse-image"><img type="lazy-image" data-runner-src="https://assets.rebelmouse.io/eyJhbGciOiJIUzI1NiIsInR5cCI6IkpXVCJ9.eyJpbWFnZSI6Imh0dHBzOi8vYXNzZXRzLnJibC5tcy8xOTUzMDM4OC9vcmlnaW4uanBnIiwiZXhwaXJlc19hdCI6MTY0NDAxNDU0OX0.7QPJpjPVG9Gf6KFmDIe9a2M-3xUVvNiPaUgsEklu2HI/img.jpg?width=980" id="63cd3" class="rm-shortcode" data-rm-shortcode-id="fcad84895c0a5e194ff4b29e497f6343" data-rm-shortcode-name="rebelmouse-image"><small class="image-media media-caption" placeholder="add caption...">Elaine Welteroth (L) and Amber Tamblyn speak onstage at Emily's List's 'Resist, Run, Win' Pre-Oscars Brunch on February 27, 2018 in Los Angeles, California. Photo by Rachel Murray/Getty Images for Emily's List.</small></p><p>"What we found is the specificity of those stories pierced the zeitgeist of more people than we had reached prior," she said. "There is something universal about speaking of the experience of 'the other.' It is critical in a moment like this because it triggers empathy." </p><p><strong>That's why even away from magazine publishing, Welteroth will continue to tell those authentic stories, starting with herself. </strong></p><p>"Me being authentic, being exactly who I am is so important and so radical. Wearing my hair in an afro is important ... because a young girl is looking at me and I'm giving her an example of what's beautiful and what is centered and what is valuable in society. It's countering everything else that she's seeing. So that's important work." </p><p class="shortcode-media shortcode-media-rebelmouse-image"><img type="lazy-image" data-runner-src="https://assets.rebelmouse.io/eyJhbGciOiJIUzI1NiIsInR5cCI6IkpXVCJ9.eyJpbWFnZSI6Imh0dHBzOi8vYXNzZXRzLnJibC5tcy8xOTUzMDM4OS9vcmlnaW4uanBnIiwiZXhwaXJlc19hdCI6MTU5ODI5MDg3NH0.PGIbxYJ4g6BfkCimiRghvvYFr3UesveT8OW68lEwNJw/img.jpg?width=980" id="43601" class="rm-shortcode" data-rm-shortcode-id="d074d09a8cab05369ef2f425ebe55715" data-rm-shortcode-name="rebelmouse-image"><small class="image-media media-caption" placeholder="add caption...">Photo by Alberto E. Rodriguez/Getty Images.</small></p><h2>As more women find inspiration and courage to run for office in their community or state, the importance of inclusivity can't be overstated. </h2><p>Politics and government should be places where we uplift and celebrate the voices that too often go unheard. We should look to our leaders to role model community-building, acceptance, and the power of unity. Because only together can we mobilize to make change happen. </p>