More
An animal rights activist spent over a year fighting for the biggest transcontinental lion rescue ever.
The circus can be a really cruel place for animals.
You might think the lions and tigers (hopefully not bears — oh my!) performing in circus acts are tough, wild beasts doing just fine, but we're starting to understand that these magnificent creatures are actually treated really poorly.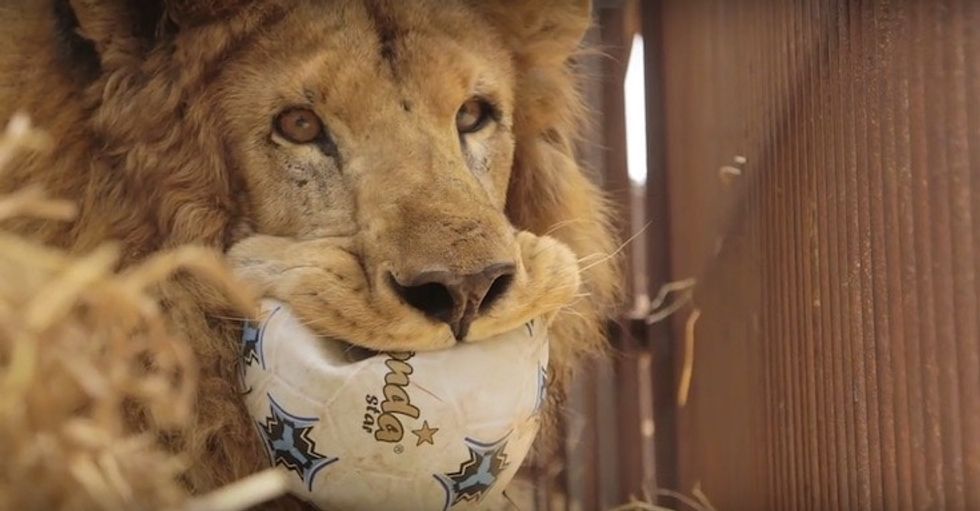 <p class="image-caption">All photos courtesy of Animal Defenders International, used with permission.</p><p><a href="https://www.paws.org/get-involved/take-action/explore-the-issues/circus-cruelty/" target="_blank">Paws.org</a> describes life as a circus animal as "a monotonous and brutal routine of boredom, stress, and pain." The animals spend virtually 100% of their lives in chains or caged and are subjected to extreme forms of discipline, such as whipping, choking, and electrical shocks.</p><p><div id="upworthyFreeStarVideoAdContainer"><div id="freestar-video-parent"><div id="freestar-video-child"></div></div></div></p><p><strong>No living thing deserves to be treated like that.</strong></p><h2>But recently, an organization called <a href="http://www.ad-international.org/adi_home/" target="_blank">Animal Defenders International</a> launched the biggest rescue operation of its kind to save some of these animals.</h2><p>Their small team, led by founder Jan Creamer, has been saving wild animals from cruel captivity all over the world since 1990.</p><p><img type="lazy-image" data-runner-src="https://assets.rebelmouse.io/eyJhbGciOiJIUzI1NiIsInR5cCI6IkpXVCJ9.eyJpbWFnZSI6Imh0dHBzOi8vYXNzZXRzLnJibC5tcy8xOTUxOTg3Ny9vcmlnaW4uZ2lmIiwiZXhwaXJlc19hdCI6MTY0NzUyNjU3M30.m8LyUE6Bpe-gkgUNL0F1kpeDQUtrcFfjlbm97CaVE1U/img.gif?width=980" id="2e04a" class="rm-shortcode" data-rm-shortcode-id="428ea0bc2fa91fccab6d1bd0965c1e1d" data-rm-shortcode-name="rebelmouse-image"></p><p class="image-caption">All GIFs via <a href="https://www.youtube.com/watch?v=cNFICfbyHCw" target="_blank">Animal Defenders International/YouTube</a>.</p><p><strong>Creamer gets things done. </strong></p><h2>Over the past year, Creamer and ADI have rescued 33 lions from circuses in Peru and Colombia and slowly nursed them back to health.</h2><p>Working with local governments, Creamer and her team investigated the biggest offenders of the countries' wild animal trafficking laws.</p><p><strong>They discovered 33 lions (and hundreds of other animals) being kept in conditions of extreme abuse and neglect. </strong>Nine of the lions were voluntarily surrendered by a circus in Colombia, but the rest had to be forcibly removed by armed government agents.</p><p><strong>Many of the big cats were starving, with the tips of their toes cut off as a primitive de-clawing method, and some were even missing their teeth, so they couldn't survive in the wild. </strong>The ADI immediately provided the lions with the medical care they needed.</p><p><img type="lazy-image" data-runner-src="https://assets.rebelmouse.io/eyJhbGciOiJIUzI1NiIsInR5cCI6IkpXVCJ9.eyJpbWFnZSI6Imh0dHBzOi8vYXNzZXRzLnJibC5tcy8xOTUxOTg3OC9vcmlnaW4uanBnIiwiZXhwaXJlc19hdCI6MTYyODUzOTkwNX0.zcJWDf16ZW8iWjL-2OlEht49AjofGBKfpF7CSr6zVLc/img.jpg?width=980" id="cce48" class="rm-shortcode" data-rm-shortcode-id="31ba751abd6b800961d92fb82b3d3220" data-rm-shortcode-name="rebelmouse-image"></p><p>But in addition to medical care, love and TLC were part of the lions' recovery plan too, and that included making sure the lions were all given proper names.<br></p><p><strong>Meet some of these incredible animals:</strong></p><h2>Joseph</h2><p><img type="lazy-image" data-runner-src="https://assets.rebelmouse.io/eyJhbGciOiJIUzI1NiIsInR5cCI6IkpXVCJ9.eyJpbWFnZSI6Imh0dHBzOi8vYXNzZXRzLnJibC5tcy8xOTUxOTg3OS9vcmlnaW4uanBnIiwiZXhwaXJlc19hdCI6MTY3NDAyNzg4Nn0.C8Nwkd7wC2ps-lJWtxcOKHhtmn3nm9TLixmVp7H9m7U/img.jpg?width=980" id="88c03" class="rm-shortcode" data-rm-shortcode-id="4bc9582d015c788986bca8fbfb9199fe" data-rm-shortcode-name="rebelmouse-image"></p><h2>Rapunzel<br></h2><p><img type="lazy-image" data-runner-src="https://assets.rebelmouse.io/eyJhbGciOiJIUzI1NiIsInR5cCI6IkpXVCJ9.eyJpbWFnZSI6Imh0dHBzOi8vYXNzZXRzLnJibC5tcy8xOTUxOTg4MC9vcmlnaW4uanBnIiwiZXhwaXJlc19hdCI6MTYyMjExNzMyMn0.s6Y8kObI_DxGv_Foy0AS3XfiFsGPaE5xFga8HiDt58s/img.jpg?width=980" id="1333d" class="rm-shortcode" data-rm-shortcode-id="d685a66ad2be58f0dbc305c8779fbe50" data-rm-shortcode-name="rebelmouse-image"></p><h2>Liso<br></h2><p><img type="lazy-image" data-runner-src="https://assets.rebelmouse.io/eyJhbGciOiJIUzI1NiIsInR5cCI6IkpXVCJ9.eyJpbWFnZSI6Imh0dHBzOi8vYXNzZXRzLnJibC5tcy8xOTUxOTg4MS9vcmlnaW4uanBnIiwiZXhwaXJlc19hdCI6MTYzMDM4MDcwOX0.vlDbbUbqxvpz26AATUfCnUTdU8bsnWiI-mk9ja3jw2k/img.jpg?width=980" id="3e67e" class="rm-shortcode" data-rm-shortcode-id="ed9486fb11f8d666e5a5145373121ef3" data-rm-shortcode-name="rebelmouse-image"></p><p><strong><a href="http://33lions.org/meet-the-33/" target="_blank">You can meet all 33 of the beautiful cats here.</a></strong><br></p><h2>The lions needed a home, so ADI teamed up with Emoya Big Cat Sanctuary in South Africa to create one.</h2><p><strong>After they fully recuperated, in late-April 2016, all 33 rescued felines were flown across the Atlantic Ocean toward freedom.</strong></p><p>With fundraising partner GreaterGood.org, ADI successfully raised the more than $330,000 needed for the flight to transport the 33 lions back to Africa on a gigantic MD11F cargo plane (the flight was appropriately named Spirit of Freedom).</p><h2>On the morning of April 29, the nine cats in Colombia were treated to a nice preflight meal.</h2><p>You can see their whole journey <a href="https://www.youtube.com/watch?v=UuohsIhkO5Q&amp;feature=youtu.be" target="_blank">in this video</a>. The lions were loaded onto the Spirit of Freedom aircraft in Bogota.</p><p><img type="lazy-image" data-runner-src="https://assets.rebelmouse.io/eyJhbGciOiJIUzI1NiIsInR5cCI6IkpXVCJ9.eyJpbWFnZSI6Imh0dHBzOi8vYXNzZXRzLnJibC5tcy8xOTUxOTg4Mi9vcmlnaW4uZ2lmIiwiZXhwaXJlc19hdCI6MTYzMjU3NzkyOH0.QYmluK1ANAGaD1oEvUVPMkFW36QXNANy835o_yHYX5g/img.gif?width=980" id="65aaf" class="rm-shortcode" data-rm-shortcode-id="4049c55f7d457579d889a673a91c9502" data-rm-shortcode-name="rebelmouse-image"></p><h2>Later that morning, the MD11F landed in Lima, Peru, to pick up its 24 remaining passengers. </h2><p><img type="lazy-image" data-runner-src="https://assets.rebelmouse.io/eyJhbGciOiJIUzI1NiIsInR5cCI6IkpXVCJ9.eyJpbWFnZSI6Imh0dHBzOi8vYXNzZXRzLnJibC5tcy8xOTUxOTg4My9vcmlnaW4uanBnIiwiZXhwaXJlc19hdCI6MTY1ODk5ODg0Mn0.dm48wPDG5OXhl6M6yx8VKp7QZp4MpgTG8_WCsfhzP0Q/img.jpg?width=980" id="3e7c2" class="rm-shortcode" data-rm-shortcode-id="88467ec56d280ebee76dd92c69dee37a" data-rm-shortcode-name="rebelmouse-image"></p><h2>By the time the plane landed in Johannesberg on the afternoon of April 30, the lions were (understandably) eager to see their new home.</h2><p>As they were unloaded from the plane, Creamer held a press conference reminding reporters what these lions have been through.</p><p><img type="lazy-image" data-runner-src="https://assets.rebelmouse.io/eyJhbGciOiJIUzI1NiIsInR5cCI6IkpXVCJ9.eyJpbWFnZSI6Imh0dHBzOi8vYXNzZXRzLnJibC5tcy8xOTUxOTg4NC9vcmlnaW4uZ2lmIiwiZXhwaXJlc19hdCI6MTY2Nzc5Mjc0NH0.kmUeNilTaEsCJi7-vkgtamMKHQmZt1VMup1wReDu92A/img.gif?width=980" id="aa911" class="rm-shortcode" data-rm-shortcode-id="d2f1c31f325bc833479e80a265e09d94" data-rm-shortcode-name="rebelmouse-image"></p><p>She also explained what this entire rescue operation is for:</p><p><img type="lazy-image" data-runner-src="https://assets.rebelmouse.io/eyJhbGciOiJIUzI1NiIsInR5cCI6IkpXVCJ9.eyJpbWFnZSI6Imh0dHBzOi8vYXNzZXRzLnJibC5tcy8xOTUxOTg4NS9vcmlnaW4uZ2lmIiwiZXhwaXJlc19hdCI6MTYzOTczODM3NX0.Yst4f68I7y-RRU3xZKoiMJecAB1krhZsyQ0Uf2sI0RU/img.gif?width=980" id="15ce1" class="rm-shortcode" data-rm-shortcode-id="42967c2043755f0e58e9cd863fcb2b12" data-rm-shortcode-name="rebelmouse-image"></p><h2>After that, it was just a day's journey by car from the airport to the Emoya Big Cat Sanctuary.</h2><p><img type="lazy-image" data-runner-src="https://assets.rebelmouse.io/eyJhbGciOiJIUzI1NiIsInR5cCI6IkpXVCJ9.eyJpbWFnZSI6Imh0dHBzOi8vYXNzZXRzLnJibC5tcy8xOTUxOTg4Ni9vcmlnaW4uanBnIiwiZXhwaXJlc19hdCI6MTY2OTg3MjkzOH0.XtfePEjogD4jcA3jGnVeJ8_mD1_nt7LdYVv1lcq8oeA/img.jpg?width=980" id="3e482" class="rm-shortcode" data-rm-shortcode-id="6367450b8434b410b24733aed13f23b7" data-rm-shortcode-name="rebelmouse-image"></p><h2>Once they reached their destination, the animals were unloaded from the truck one by one…</h2><p><img type="lazy-image" data-runner-src="https://assets.rebelmouse.io/eyJhbGciOiJIUzI1NiIsInR5cCI6IkpXVCJ9.eyJpbWFnZSI6Imh0dHBzOi8vYXNzZXRzLnJibC5tcy8xOTUxOTg4Ny9vcmlnaW4uZ2lmIiwiZXhwaXJlc19hdCI6MTY2MjA0OTY4OH0.43MUnL3Jk0rNh7LInchRSr1OwjzQuxcqeYZ1zeSF2OM/img.gif?width=980" id="ff3fc" class="rm-shortcode" data-rm-shortcode-id="f76f8188a3bfb40e41b5c17690ecb26c" data-rm-shortcode-name="rebelmouse-image"></p><p>... and released joyously into their new habitat!</p><p><img type="lazy-image" data-runner-src="https://assets.rebelmouse.io/eyJhbGciOiJIUzI1NiIsInR5cCI6IkpXVCJ9.eyJpbWFnZSI6Imh0dHBzOi8vYXNzZXRzLnJibC5tcy8xOTUxOTg4OC9vcmlnaW4uZ2lmIiwiZXhwaXJlc19hdCI6MTYxNzg2Nzc1M30.kuNdqYwZyhs3tj6imcZhXdvABWC8YHHu5dTm7QGh4Bc/img.gif?width=980" id="1c366" class="rm-shortcode" data-rm-shortcode-id="bf4c15972761591b8c5546c4ff3e766d" data-rm-shortcode-name="rebelmouse-image"></p><h2>Our (big) feline friends are now feeling right at home in their sanctuary.</h2><p><img type="lazy-image" data-runner-src="https://assets.rebelmouse.io/eyJhbGciOiJIUzI1NiIsInR5cCI6IkpXVCJ9.eyJpbWFnZSI6Imh0dHBzOi8vYXNzZXRzLnJibC5tcy8xOTUxOTg4OS9vcmlnaW4uanBnIiwiZXhwaXJlc19hdCI6MTY2NzE1ODYxOX0.Rnb0-8uyBkKgeoBQXan7wCWQUxCz7pjZc8SHNO2udE0/img.jpg?width=980" id="5ba81" class="rm-shortcode" data-rm-shortcode-id="85e76bd021dfc290b156b82efddc1c65" data-rm-shortcode-name="rebelmouse-image"></p><p class="image-caption">Photo by Emoya Big Cat Sanctuary, used with permission.</p><p>Jan says, "[At Emoya] these animals will live in safety, in their natural environment and freedom from fear, pain and distress caused by humans. They will be cared for in a loving environment where they are respected and protected."</p><p><img type="lazy-image" data-runner-src="https://assets.rebelmouse.io/eyJhbGciOiJIUzI1NiIsInR5cCI6IkpXVCJ9.eyJpbWFnZSI6Imh0dHBzOi8vYXNzZXRzLnJibC5tcy8xOTUxOTg5MC9vcmlnaW4uanBnIiwiZXhwaXJlc19hdCI6MTY2NzMzNTc1OX0.W8JyU_CRubcAX-dsFZ5sNHgck9Ywk5NtyRcw1_Vu3X8/img.jpg?width=980" id="c878a" class="rm-shortcode" data-rm-shortcode-id="d093ed2e4b5b571e91408ebec30b468c" data-rm-shortcode-name="rebelmouse-image"><br></p><p><strong>Compared to what they've been through, this sanctuary is like a five star resort for the lions.</strong> Even better, the lion habitats will be steadily expanded as the lions become familiar with all their new free-space, and with each other.<br></p><p>Fingers crossed this leads to a new reality show called "The Real World: Big Cat Sanctuary on Animal Planet" ... but hopefully without any drama. These cats have had enough of that.</p><p><strong>Hakuna matata!</strong></p><span style="display:block;position:relative;padding-top:56.25%;" class="rm-shortcode" data-rm-shortcode-id="fabd14f19d6ab2412cf7263d570b63a2"><iframe type="lazy-iframe" data-runner-src="https://www.youtube.com/embed/UuohsIhkO5Q?rel=0" width="100%" height="auto" frameborder="0" scrolling="no" style="position:absolute;top:0;left:0;width:100%;height:100%;"></iframe></span>