More
For the first time in the pageant's history, a contestant wore a burkini during the swimsuit segment.
She was born in a Kenyan refugee camp. Then, at 6 years old, Halima Aden and her family moved to Minnesota.
Minnesota is home to one of the largest Somali communities in the U.S. As such, Aden grew up surrounded by lots of other Muslim women and girls. What she saw in the media, however, didn't match her own experience growing up in America.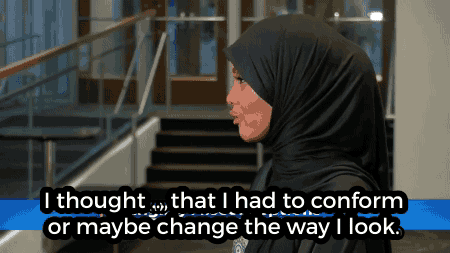 </div></div></div><p>"As long as I could remember, the media portrays Muslim women as oppressed and in a very negative light," <a href="http://www.huffingtonpost.com/entry/halima-aden-somali-american-minnesota-pageant_us_5824c83be4b0c56101d5e541" target="_blank">she told Huffington Post</a> in an interview this November. "But you never see the beauty and the good things that come from Muslim women." </p><h2>Now 19 years old, Aden entered the Miss Minnesota USA pageant, making a bit of history in the process.</h2><p>Like many pageants, Miss Minnesota USA has a swimsuit competition. Rather than wearing a one-piece suit or bikini like the other contestants, Aden did something completely different: <strong>She wore a burkini</strong>.</p><div><div class="push-wrapper--mobile" data-card="image" data-reactroot=""><img type="lazy-image" data-runner-src="https://assets.rebelmouse.io/eyJhbGciOiJIUzI1NiIsInR5cCI6IkpXVCJ9.eyJpbWFnZSI6Imh0dHBzOi8vYXNzZXRzLnJibC5tcy8xOTUyMzg3MC9vcmlnaW4uanBnIiwiZXhwaXJlc19hdCI6MTY0ODEwNTQ5OX0.kOOeON0XpxNlNI38Ww6gSPXZYwi8VZy0s06HIompKpg/img.jpg?width=980" id="19fdd" class="rm-shortcode" data-rm-shortcode-id="583b1457560cde42c3025e51989214f7" data-rm-shortcode-name="rebelmouse-image"><div class="image-caption"><p>Photo by Leila Navidi/Minneapolis Star Tribune/ TNS via ZUMA Wire.</p></div></div></div><p>The word "burkini" is a portmanteau of the words "burqa" and "bikini," and it is essentially a full-coverage wetsuit worn by some Muslim women for personal or religious reasons.</p><div id="aaf40" class="rm-shortcode" data-rm-shortcode-id="QXJOUG1559349696"><blockquote class="twitter-tweet twitter-custom-tweet" data-twitter-tweet-id="802706552696274944" data-partner="rebelmouse"><div style="margin:1em 0">Halima Aden starts off Miss Minnesota USA's swimsuit segment to big cheers from the crowd. Announcer: "She's making… https://t.co/jflphtT0L5</div> — Liz Sawyer (@Liz Sawyer)<a href="https://twitter.com/ByLizSawyer/statuses/802706552696274944">1480215130.0</a></blockquote></div><p>"This is a great platform to show the world who I am," <a href="http://www.mprnews.org/story/2016/11/23/muslim-teen-hopes-to-win-miss-minnesota-pageant-in-hijab-burkini" target="_blank">she told Minnesota Public Radio</a> before the competition. "Just because I've never seen a woman wearing a burkini (in a pageant) it doesn't mean that I don't have to be the first."</p><h2>Burkinis, which were invented a little over a decade ago, were designed to ensure that Muslim children wouldn't miss out on swimming and other activities.</h2><p>What began as little more than a sensible solution that allowed children to observe their religion while taking part in activities with their peers soon turned into a controversy.</p><p>Some towns in France have <a href="http://www.upworthy.com/frances-ban-on-the-burkini-might-not-last-much-longer">banned burkinis</a>, citing a number of concerns about safety, secularism, and an argument against the patriarchy, claiming that the suits are oppressing women. The truth is, however, that someone in a burkini does not present a threat to anyone else's safety, it's not an act of evangelism, and many women <em>choose</em> to wear it — just as many women choose to wear bikinis.</p><div><div class="push-wrapper--mobile" data-card="image" data-reactroot=""><img type="lazy-image" data-runner-src="https://assets.rebelmouse.io/eyJhbGciOiJIUzI1NiIsInR5cCI6IkpXVCJ9.eyJpbWFnZSI6Imh0dHBzOi8vYXNzZXRzLnJibC5tcy8xOTUyMzg3MS9vcmlnaW4uanBnIiwiZXhwaXJlc19hdCI6MTU5NzQ3MTg2MH0.PUmioyL2PFlBEHWSJRsLuO58mljTj3PE_Mdd88Ix89o/img.jpg?width=980" id="f4a2f" class="rm-shortcode" data-rm-shortcode-id="20758236e96813c62a6dbaa93c612c54" data-rm-shortcode-name="rebelmouse-image"><div class="image-caption"><p>Australian-Lebanese designer Aheda Zanetti created the burkini. Photo by Saeed Khan/AFP/Getty Images.</p></div></div></div><h2>Aden's decision to wear a burkini on stage matters, especially since anti-Muslim sentiment is on the rise in the U.S., with the <a href="https://ucr.fbi.gov/hate-crime/2015/topic-pages/incidentsandoffenses_final.pdf" target="_blank">FBI finding a 67% increase</a> in hate crimes against Muslims in 2015.</h2><p>In the lead up to — and aftermath of — the 2016 election, U.S. Muslims are facing an increasingly hostile environment. A University of Michigan student claims that a man <a href="http://www.upworthy.com/allies-took-a-stand-for-praying-muslim-students-at-the-university-of-michigan?c=apstream">threatened to set her on fire</a> unless she removed her hijab, there have been multiple instances of women having <a href="http://www.nbcnewyork.com/news/local/Woman-Attacks-2-Muslim-Women-Tries-to-Rip-Their-Hijabs-off-393012361.html" target="_blank">hijabs pulled off their heads</a>, and a <a href="https://www.washingtonpost.com/news/post-nation/wp/2016/11/21/trump-is-president-theyll-deport-you-soon-man-unloads-on-muslim-uber-driver/?utm_term=.09c22442efa9" target="_blank">Muslim Uber driver reported being verbally accosted</a> by a complete stranger.</p><div><div class="push-wrapper--mobile" data-card="image" data-reactroot=""><img type="lazy-image" data-runner-src="https://assets.rebelmouse.io/eyJhbGciOiJIUzI1NiIsInR5cCI6IkpXVCJ9.eyJpbWFnZSI6Imh0dHBzOi8vYXNzZXRzLnJibC5tcy8xOTUyMzg3Mi9vcmlnaW4uZ2lmIiwiZXhwaXJlc19hdCI6MTYyOTMyMTgxN30.ZFOaI5MeFeBQC6iIlMVauzGoKcAoaqmb2AUSgwTAp4U/img.gif?width=980" id="d1d47" class="rm-shortcode" data-rm-shortcode-id="3f245d4833c2f97ea6fa4adeaca3c6bc" data-rm-shortcode-name="rebelmouse-image"><div class="image-caption"><p>GIF from <a href="https://www.youtube.com/watch?v=iaw1Zn1wTzk">WCCO, CBS Minnesota/YouTube</a>.</p></div></div></div><p>Two days before the election, <a href="https://www.theguardian.com/us-news/2016/nov/06/donald-trump-minnesota-somali-migrants-isis" target="_blank">President-elect Donald Trump told a Minnesota crowd</a>, "You've seen first-hand the problems caused with faulty refugee vetting, with very large numbers of Somali refugees coming into your state without your knowledge, without your support or approval." He then went on to claim that Somali refugees — like Aden — are joining ISIS. This sort of baseless claim is dangerous, and only furthers the growing anti-Muslim feeling.</p><h2>While Aden didn't win the Miss Minnesota USA competition, her decision to wear her hijab and burkini on stage is a bold display of bravery.</h2><p>"What I wanted to do was to just give people a different perspective," <a href="http://www.mprnews.org/story/2016/11/23/muslim-teen-hopes-to-win-miss-minnesota-pageant-in-hijab-burkini" target="_blank">she told MPR</a>. "We just needed one more thing to unify us. This is a small act, but I feel like having the title of Miss Minnesota USA when you are a Somali-American, when you are a Muslim woman, I think that would open up people's eyes."</p><div><div class="push-wrapper--mobile" data-card="image" data-reactroot=""><img type="lazy-image" data-runner-src="https://assets.rebelmouse.io/eyJhbGciOiJIUzI1NiIsInR5cCI6IkpXVCJ9.eyJpbWFnZSI6Imh0dHBzOi8vYXNzZXRzLnJibC5tcy8xOTUyMzg3My9vcmlnaW4uanBnIiwiZXhwaXJlc19hdCI6MTY0NTA4ODc0N30.tx7L8sMeTRlkrqWo2ryfiEHIRUBOlq0MIwmTnsYLPRQ/img.jpg?width=980" id="258a7" class="rm-shortcode" data-rm-shortcode-id="0db9906cc2956a3676fee664a2abd0fb" data-rm-shortcode-name="rebelmouse-image"><div class="image-caption"><p>Leila Navidi/Minneapolis Star Tribune/ TNS via ZUMA Wire</p></div></div></div><p>Maybe seeing Aden on stage meant challenging any preconceived notions people in the audience may have had about Somali-Americans and Muslims. Maybe Aden's act gave courage to other Muslim girls and women who've felt as though they cannot (or should not) be themselves in public.</p><p>Personal acts of bravery — even as simple as saying, "I exist" — are crucial in questionable and trying times. By simply existing and participating in the pageant, Aden pushed back against powerful expectations. She may not have won, but she still made a difference. </p>