More
A 17-year-old transgender boy got an unexpected shoutout during the Grammys.
Tasked with introducing Lady Gaga and Metallica's performance at the 2017 Grammy Awards, actress Laverne Cox used the opportunity to draw attention to a boy named Gavin Grimm.
"Everyone, please Google 'Gavin Grimm,'" the "Orange Is the New Black" star said on stage. "He's going to the Supreme Court in March. #StandWithGavin."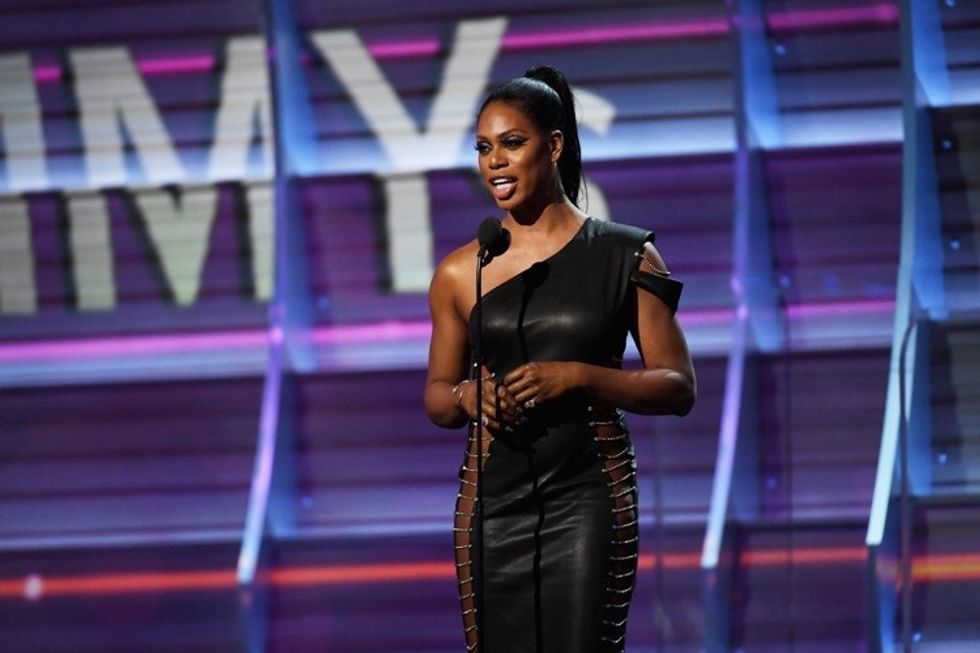 </div></div></div><h2>Who is Gavin Grimm?</h2><p>He's a 17-year-old boy who sued a Virginia school board in 2015 after the school board barred him from using the boys' bathroom because he is transgender.</p><p>Just months away from his graduation, Grimm's case is scheduled to be heard by the Supreme Court next month. While the outcome is unlikely to affect him in his current situation at school, his battle represents a larger fight for the rights of transgender students.</p><div><div class="push-wrapper--mobile" data-card="image" data-reactroot=""><img type="lazy-image" data-runner-src="https://assets.rebelmouse.io/eyJhbGciOiJIUzI1NiIsInR5cCI6IkpXVCJ9.eyJpbWFnZSI6Imh0dHBzOi8vYXNzZXRzLnJibC5tcy8xOTUyNTk2OC9vcmlnaW4uanBnIiwiZXhwaXJlc19hdCI6MTYyMDEwNDQyMH0.cozZXrZ4J0FnzlxOgCYQEIoEccsT3OkIIR7CU8AYjUE/img.jpg?width=980" id="162dd" class="rm-shortcode" data-rm-shortcode-id="50e9c32739b2ce6707b2d84cd561d6b9" data-rm-shortcode-name="rebelmouse-image"><div class="image-caption"><p>Journalist Katie Couric (L) and Gavin Grimm attend National Geographic's world premiere screening of "Gender Revolution: A Journey With Katie Couric." Photo by Brad Barket/Getty Images for National Geographic.</p></div></div></div><h2>Grimm's argument hinges on whether Title IX's sex discrimination provision includes gender identity.</h2><p>The Obama administration argued that <a href="http://www.upworthy.com/president-obama-stood-up-for-trans-students-in-a-huge-way-heres-what-you-need-to-know">yes, it does</a>. The Trump administration seems much less likely to go to bat for LGBTQ students, which means Grimm's case takes on another level of importance. In just his second day on the job, Trump's new <a href="https://www.buzzfeed.com/chrisgeidner/justice-department-takes-a-step-back-from-effort-to-protect?utm_term=.yy7n2L64nQ#.gkKd8xE3dl" target="_blank">Attorney General Jeff Sessions signaled</a> that the administration would not be continuing the Obama-era defense of trans students.</p><p>A Supreme Court decision could provide some much-needed clarity on whether gender identity is protected under existing law. Without Sessions' Justice Department on working on behalf of LGBTQ people, a favorable ruling on Grimm's case from the Supreme Court would provide a little breathing room under an administration and Congress that are unlikely to take explicit efforts to create new laws or protections anytime soon.</p><div><div class="push-wrapper--mobile" data-card="image" data-reactroot=""><img type="lazy-image" data-runner-src="https://assets.rebelmouse.io/eyJhbGciOiJIUzI1NiIsInR5cCI6IkpXVCJ9.eyJpbWFnZSI6Imh0dHBzOi8vYXNzZXRzLnJibC5tcy8xOTUyNTk3MC9vcmlnaW4uanBnIiwiZXhwaXJlc19hdCI6MTYzMDYzNDkxMX0.U3s9Op-U_77HOW5V-KhioQEAxVoUML_Sa3dHrf8GF6s/img.jpg?width=980" id="72518" class="rm-shortcode" data-rm-shortcode-id="0e53e19147c27c0da1a2720a9ae9eb6f" data-rm-shortcode-name="rebelmouse-image"><div class="image-caption"><p>Gavin Grimm and his mom Deidre. Photo from ACLU/YouTube.</p></div></div></div><h2>LGBTQ people, allies, and organizations are following Cox's advice and using #StandWithGavin to show support on social media.</h2><p>Let's face it, being a teenager is hard enough without having to go to the <em>actual </em>Supreme Court for the right just to use the bathroom. Yes, trans people should be allowed to use the bathroom that matches their gender identity. (<a href="http://www.upworthy.com/heres-what-itll-look-like-if-trans-people-arent-allowed-to-use-the-right-bathroom">We've covered this</a>.) No, letting trans people use the bathroom that matches their gender identity won't lead to an increase in bathroom-related sexual assaults. (This has been <a href="http://mediamatters.org/research/2016/05/05/comprehensive-guide-debunked-bathroom-predator-myth/210200" target="_blank">thoroughly debunked</a>.)</p><p>For two months, <a href="https://www.washingtonpost.com/opinions/im-transgender-and-cant-use-the-student-bathroom-the-supreme-court-could-change-that/2016/10/27/19d1a3ae-9bc1-11e6-a0ed-ab0774c1eaa5_story.html?utm_term=.b99fc7b3c6cc" target="_blank">Grimm used his school's boys' bathroom without incident</a> and with his principal's permission. Then the school board swooped in to single him out. That's not right, and these aren't the types of things students should have to worry about. Trans people just want to be able to exist in the world free from violence and stigma. Is that really so much to ask?</p><div id="61f20" class="rm-shortcode" data-rm-shortcode-id="0GX8DJ1559349830"><blockquote class="twitter-tweet twitter-custom-tweet" data-twitter-tweet-id="830980262095908865" data-partner="rebelmouse"><div style="margin:1em 0">.@Lavernecox gives a #Grammys shoutout to "all my non-binary peeps watching tonight" as well as SCOTUS plaintiff Gavin Grimm #StandWithGavin</div> — Human Rights Campaign (@Human Rights Campaign)<a href="https://twitter.com/HRC/statuses/830980262095908865">1486956108.0</a></blockquote></div><div id="a6542" class="rm-shortcode" data-rm-shortcode-id="CZ2FKF1559349830"><blockquote class="twitter-tweet twitter-custom-tweet" data-twitter-tweet-id="827670802183102465" data-partner="rebelmouse"><div style="margin:1em 0">Gavin Grimm is suiting up for the Supreme Court and we're ready to #StandWithGavin in the struggle for transgender… https://t.co/yGR6Q5UgBg</div> — ACLU (@ACLU)<a href="https://twitter.com/ACLU/statuses/827670802183102465">1486167071.0</a></blockquote></div><div id="6dcb9" class="rm-shortcode" data-rm-shortcode-id="6G6C591559349830"><blockquote class="twitter-tweet twitter-custom-tweet" data-twitter-tweet-id="830976686699196418" data-partner="rebelmouse"><div style="margin:1em 0">yes @Lavernecox shouting out #StandWithGavin #GRAMMYs</div> — Franchesca Ramsey (@Franchesca Ramsey)<a href="https://twitter.com/chescaleigh/statuses/830976686699196418">1486955255.0</a></blockquote></div><div id="48980" class="rm-shortcode" data-rm-shortcode-id="6NSMPL1559349830"><blockquote class="twitter-tweet twitter-custom-tweet" data-twitter-tweet-id="830982150186991616" data-partner="rebelmouse"><div style="margin:1em 0">The case @lavernecox mentioned at the #Grammys will affect our rights for generations. #StandWithGavin https://t.co/ilfMWghs5A</div> — Chase Strangio (@Chase Strangio)<a href="https://twitter.com/chasestrangio/statuses/830982150186991616">1486956558.0</a></blockquote></div><h2>To learn more about Grimm's case, check out this video from the American Civil Liberties Union, the group that will be representing him in court.</h2><div><div data-card="youtube" data-reactroot=""><div><span style="display:block;position:relative;padding-top:56.25%;" class="rm-shortcode" data-rm-shortcode-id="8727d6a42ef61fa2a2152a076c486e2d"><iframe type="lazy-iframe" data-runner-src="https://www.youtube.com/embed/_eny6enTdQ0?rel=0" width="100%" height="auto" frameborder="0" scrolling="no" style="position:absolute;top:0;left:0;width:100%;height:100%;"></iframe></span></div></div></div>