Most Shared
Art affects each of our lives, but so does government.
Alec Baldwin is getting a lot of press following the jabs he took at President Donald Trump in his acceptance speech for Best Supporting Actor in a Comedy Series at this year's Emmys.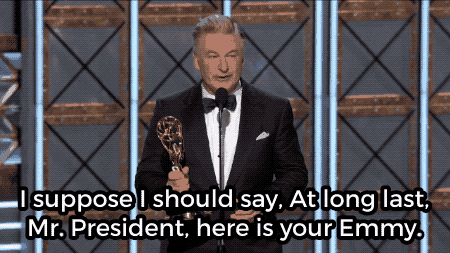 GIF via CBS/YouTube.
During Trump's time hosting "The Apprentice," he was nominated for two Emmys but never won. Trump has often detailed his grievances with the award show, saying, "The Emmys have no credibility"; arguing that he didn't win because of politics; and, in 2012, even blaming the show's "bad ratings" on the fact that he wasn't nominated that year. But Trump's inability to lose graciously is not what we need to talk about right now.
<h2>In the closing moments of Baldwin's speech, he kinda missed the mark on something vitally important.</h2><p>Baldwin wrapped his speech with a message of hope about the power of art, but in doing so, downplayed something else (emphasis added):</p><blockquote>"I always remember what someone told me — that is <strong>when you die you don't remember a bill that Congress passed or a decision the Supreme Court made or an address made by the president. You remember a song. You remember a line from a movie. You remember a play. You remember a book. A painting. A poem.</strong> What we do is important. And for all of you out there in motion pictures and television, don't stop doing what you are doing. The audience is counting on you."</blockquote><p class="shortcode-media shortcode-media-rebelmouse-image"><img type="lazy-image" data-runner-src="https://assets.rebelmouse.io/eyJhbGciOiJIUzI1NiIsInR5cCI6IkpXVCJ9.eyJpbWFnZSI6Imh0dHBzOi8vYXNzZXRzLnJibC5tcy8xOTQ3NzQyOS9vcmlnaW4uanBnIiwiZXhwaXJlc19hdCI6MTYzMzc1MzczMH0.KvSNMV5HjqTrUntpO2HCdw6udlsMoWBkQ4VRu18nEOM/img.jpg?width=980" id="bfbce" class="rm-shortcode" data-rm-shortcode-id="9cdf3b5ad33b1ebcbae97f8dbbee15b0" data-rm-shortcode-name="rebelmouse-image"><small class="image-media media-caption" placeholder="add caption...">Baldwin accepts the award for his portrayal of Trump. Photo by Kevin Winter/Getty Images.</small></p><h2>The power of art is a nice sentiment, especially at an award show celebrating just that, but downplaying the significance of legislation and court decisions is a luxury many cannot afford.</h2><p>While Baldwin may be right — a poem or TV show may stick in our brains more than a piece of legislation — it's pieces of legislation that truly have an effect on our lives and can alter everything from our quality of living to how long we live. A Supreme Court decision may one day determine once and for all whether or not it's <a href="https://www.aclu.org/blog/lgbt-rights/lgbt-nondiscrimination-protections/can-businesses-turn-lgbt-people-away-because-who?redirect=blog/speak-freely/can-businesses-turn-lgbt-people-away-because-who-they-are-thats-supreme-court-now" target="_blank">legal to deny me housing, employment, health care, or access to public accommodations protections simply because I'm transgender</a>. Legislation being proposed in Congress could <a href="http://www.upworthy.com/a-woman-dragged-from-her-wheelchair-for-protesting-the-health-care-bill-speaks-out">gut access to health care for low-income individuals who rely on Medicaid</a> or any number of other social programs. </p><p>Recipients of <a href="http://www.upworthy.com/obamas-heartfelt-post-on-daca-is-going-viral">Deferred Action for Childhood Arrivals</a> protections may be pulled away from the only home they've known if legislation doesn't soon grant them a more permanent status in America. Some members of Congress are moving to turn the Americans with Disabilities Act (ADA) into a shell of what it once was, making the world a lot less accessible to millions of people. As <a href="https://rewire.news/article/2017/05/30/americans-disabilities-act-attack-congress/" target="_blank">Robyn Powell of Rewire</a> wrote of the proposed ADA changes, "Never in my life as a disabled woman have I been so terrified of losing my civil rights as I am now."</p><p>Even the songs, movies, plays, books, paintings, and poems Baldwin championed in his speech <a href="http://deadline.com/2017/05/donald-trump-budget-2018-national-endowment-for-the-arts-cpb-cuts-1202100752/" target="_blank">are at risk of losing funding</a>, depending on what moves the government makes when it comes to budgeting.</p><h2>Government legislation matters, and good legislation affects our lives in ways that aren't always apparent.</h2><p>For instance, during a July debate between conservative commentator Tomi Lahren and comedian Chelsea Handler, Lahren unwittingly admitted that she benefits from the Affordable Care Act.</p><p>Asked whether or not she had health insurance, <a href="https://www.washingtonpost.com/news/morning-mix/wp/2017/07/31/tomi-lahren-conservative-firebrand-bashes-obamacare-while-benefiting-from-it/?utm_term=.589856851b56" target="_blank">Lahren replied</a>, "Luckily, I am 24, so I am still on my parents'." That's thanks to a provision in the ACA that allows people to stay on their parents' plans until they're 26. Millions of people benefit from that change, and it's such a commonsense, helpful bit of legislation that it's easy to forget things haven't always been this way. It's not something we should take for granted.</p><p class="shortcode-media shortcode-media-rebelmouse-image"><img type="lazy-image" data-runner-src="https://assets.rebelmouse.io/eyJhbGciOiJIUzI1NiIsInR5cCI6IkpXVCJ9.eyJpbWFnZSI6Imh0dHBzOi8vYXNzZXRzLnJibC5tcy8xOTQ3NzQzMC9vcmlnaW4uanBnIiwiZXhwaXJlc19hdCI6MTYyODM5MzYyMn0.HA9YBCTN7hzqKQjd-y2Gak0YHHH7VfYBLJgOEYwibbA/img.jpg?width=980" id="857ac" class="rm-shortcode" data-rm-shortcode-id="5d820a5034093b1b92f0cd3f673415f9" data-rm-shortcode-name="rebelmouse-image"><small class="image-media media-caption" placeholder="add caption...">Baldwin speaks at January's "We Stand United" rally outside Trump International Hotel and Tower in New York. Photo by Bryan R. Smith/AFP/Getty Images.</small></p><p>It's not as though Baldwin is aloof here, and he would almost certainly agree that things like court rulings and pieces of legislation can affect us in both positive and negative ways — even some that we might not be immediately aware of. Baldwin, famously, is open about his personal politics. He's been an outspoken proponent of <a href="http://thehill.com/policy/energy-environment/282223-celebrities-to-obama-fight-climate-crisis-on-every-front" target="_blank">addressing climate change</a> and <a href="http://www.rollingstone.com/politics/news/watch-alec-baldwin-do-donald-trump-impression-during-nyc-protest-w461996" target="_blank">even protested Trump's inauguration</a>. There is no doubt that he understands the power of government — for good and for bad. It's safe to say that his speech was not meant to downplay those effects.</p><p>The truth is, however, that there <em>are</em> people who wonder why <em>everything</em> has to be about politics lately. The answer is simple: Millions of lives hang in the balance. Art <em>is</em> important, but we can't forget the lives that can be drastically affected by various court decisions and legislation.</p><h2>Watch Baldwin's acceptance speech below.</h2><div><div data-card="youtube" data-reactroot=""><div><span style="display:block;position:relative;padding-top:56.25%;" class="rm-shortcode" data-rm-shortcode-id="2f4b1b4fe5e34bb20e5ba9b23393feba"><iframe type="lazy-iframe" data-runner-src="https://www.youtube.com/embed/ZQm6jxRrksM?rel=0" width="100%" height="auto" frameborder="0" scrolling="no" style="position:absolute;top:0;left:0;width:100%;height:100%;"></iframe></span></div></div></div>