Yes, he's hot — but it's his spirit that's lit.
Tonga's oiled-up, shirtless flag bearer once again captured the world's adoring gaze during the Olympics opening ceremonies — this time, in frigid winter weather.
"I won't freeze. I am from Tonga. We sailed across the Pacific. This is nothing," Pita Taufatofua told the Olympics' news service. "It's a little bit warmer being in Rio than in here ... but anytime you get to represent your country is a good time."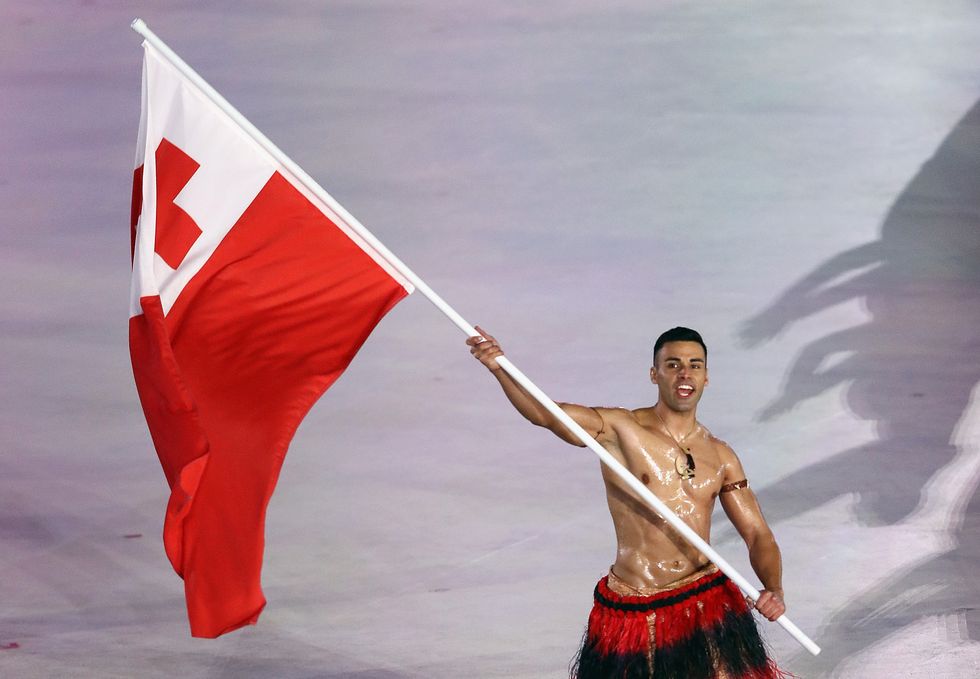 Photo by Jamie Squire/Getty Images.
<p>Taufatofua, 34, became a viral sensation during the 2016 Summer Olympics, and he's doing it all over again. This time, audiences are in awe of his commitment to bearing the 32-degree weather in Pyeongchang — without the benefit of a shirt or pants.</p><h2>Fans from all over the world took to Twitter to root for Taufatofua and the country he represents.</h2><div id="88c96" class="rm-shortcode" data-rm-shortcode-id="0C8CRM1582923968"><blockquote class="twitter-tweet twitter-custom-tweet" data-twitter-tweet-id="961935473387204608" data-partner="rebelmouse"><div style="margin:1em 0">Tonga we love you! This is BRAVE.... #bbcolympics https://t.co/rltfVbsLTS</div> — Clare Balding (@Clare Balding)<a href="https://twitter.com/clarebalding/statuses/961935473387204608">1518178263.0</a></blockquote></div><div id="e711d" class="rm-shortcode" data-rm-shortcode-id="K61ZTS1582923968"><blockquote class="twitter-tweet twitter-custom-tweet" data-twitter-tweet-id="961934699756163073" data-partner="rebelmouse"><div style="margin:1em 0">CHANGED MY MIND IM SUPPORTING TONGA</div> — Haz ap Robert🐉🌻 (@Haz ap Robert🐉🌻)<a href="https://twitter.com/velocityvenom/statuses/961934699756163073">1518178078.0</a></blockquote></div><div id="c66b7" class="rm-shortcode" data-rm-shortcode-id="1ZQRJ31582923969"><blockquote class="twitter-tweet twitter-custom-tweet" data-twitter-tweet-id="961936820023054336" data-partner="rebelmouse"><div style="margin:1em 0">God bless Tonga. https://t.co/t90FnHZpLN</div> — slattern (@slattern)<a href="https://twitter.com/slatt3rn/statuses/961936820023054336">1518178584.0</a></blockquote></div><div id="078b9" class="rm-shortcode" data-rm-shortcode-id="0LZ9EF1582923969"><blockquote class="twitter-tweet twitter-custom-tweet" data-twitter-tweet-id="962006036428161024" data-partner="rebelmouse"><div style="margin:1em 0">Surround yourself with people who are going to take you higher! Opening ceremonies @pyeongchang2018 #Olympics… https://t.co/WBxEkQvVF2</div> — Kaillie Humphries OLY (@Kaillie Humphries OLY)<a href="https://twitter.com/BobsledKaillie/statuses/962006036428161024">1518195086.0</a></blockquote></div><h2><strong>Taufatofua is, in fact, the ONLY representative for Tonga — and he had to learn a completely new sport just to compete.</strong></h2><p>Since Tonga is an island country, its Winter Olympic representation has been understandably sparse. But Taufatofua, who competed in taekwondo during the Rio Olympics, had his heart set on competing in 2018. To qualify for the Pyeongchang Games, <a href="https://www.cbsnews.com/news/tonga-olympics-flag-bearer-pita-taufatofua-topless-pyeongchang-winter-olympics/" target="_blank">he learned cross-country skiing</a> in just a year, all while living in a nation where it actually doesn't snow. He said he'd never even seen snow until two years ago.</p><p>"It's the hardest thing I've ever done," he said about the sport. </p><p>But, inspiringly, all his training paid off — Taufatofua has become just the second athlete from Tonga to ever qualify for the Winter Olympics.</p><h2><strong>While U.S. athletes debate who should have carried their country's flag, Taufatofua is just happy to be here.</strong></h2><p>Tonga's inspiring story contrasts with a controversy surrounding the U.S. flag bearer. Gold-winning speed skater<a href="http://time.com/5141291/shani-davis-team-usa-flag-bearer-winter-olympics/" target="_blank"> Shani Davis skipped the ceremony after saying he was unfairly passed over</a> in favor of luge competitor Erin Hamlin during a tie-breaking coin toss.</p><p>Meanwhile, Taufatofua is continuing to promote the message of life-changing inspiration that has made him more than just a pretty face to millions of fans around the globe.</p><div id="bb456" class="rm-shortcode" data-rm-shortcode-id="FWS1641582923969"><blockquote class="twitter-tweet twitter-custom-tweet" data-twitter-tweet-id="962019449334259712" data-partner="rebelmouse"><div style="margin:1em 0">This is for anyone that ever had a dream.... #andWasTold "you can't" #YouCan https://t.co/U7O5HBL3cE</div> — Pita Taufatofua (@Pita Taufatofua)<a href="https://twitter.com/pitaTofua/statuses/962019449334259712">1518198284.0</a></blockquote></div><h2><strong>The Olympics are about global unity. And nothing fosters harmony like an inspiring story of overcoming adversity ... and perfectly shined pecs.  </strong></h2><p>In the rush to collect gold medals, it's easy to forget the games were created to foster peace and unity amongst the world's nations. Even as we marvel at his impressive physique, it's good to be reminded of Taufatofua's bigger message: "It's just an honour. I mean, how many countries in the Pacific get to go to a Winter Games?"</p>