Top Splash
In February, he played in the Super Bowl. In April, he joined the front lines to fight COVID-19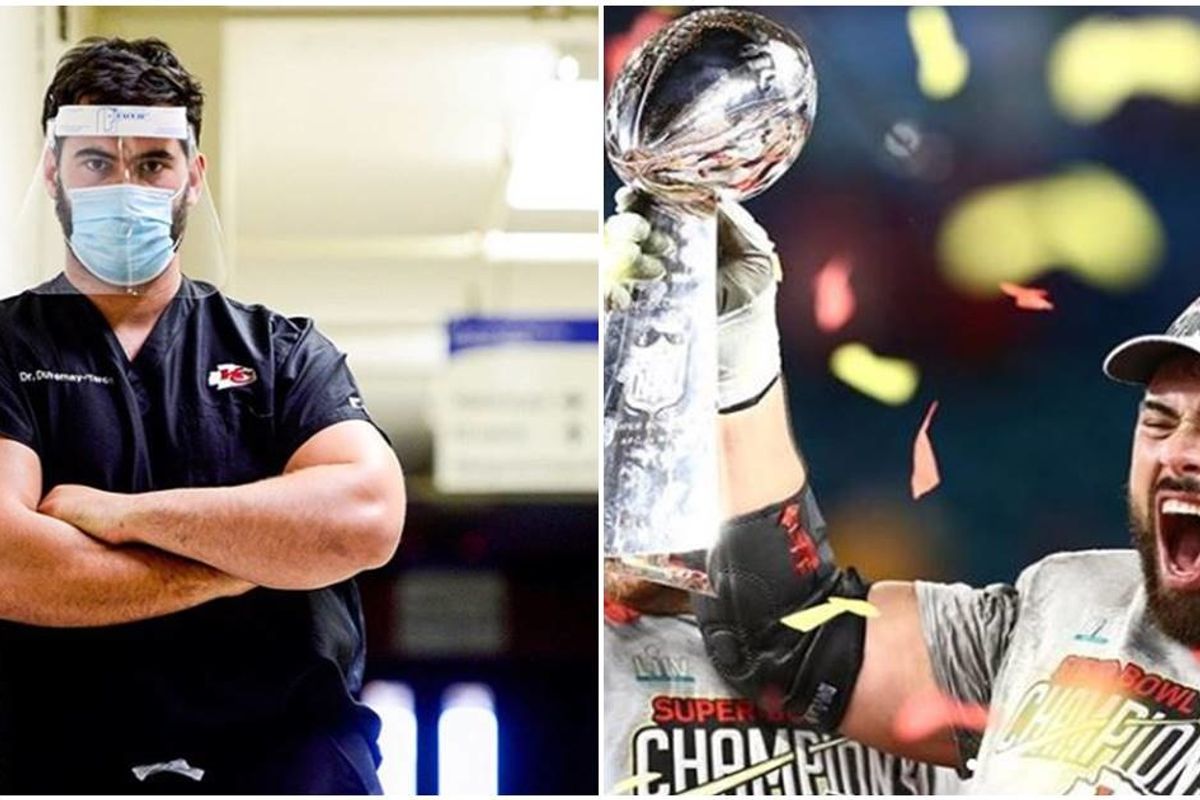 via Laurent Duvernay-Tardif / Instagram
To say that Kansas City Chiefs offensive guard Laurent Duvernay-Tardif has a wide range of talents would be an understatement. Drafted by the Chiefs in 2014, he's been a starting offensive lineman for most of his NFL career with one of the league's most consistently competitive teams.

In May 2018, he graduated from McGill University Faculty of Medicine in Montreal, Canada with a Doctor of Medicine and Master of Surgery. After receiving his degree, he formally asked the league to add the title "M.D." to the back of his jersey, but the league refused.
On February 2, 2020, the Chiefs bested the San Francisco 49ers in the Super Bowl, giving Kansas City its second Vince Lombardi trophy.
---
As the COVID-19 virus began to hit Canada, the 29-year-old doctor knew he had to help. "I have friends who are working in emergency rooms," he wrote in Sports Illustrated. "One does triage and tests patients for COVID-19. Those people are on the front line, and they're giving everything to protect us."
Duvernay-Tardif wasn't sure if he could to join the fight against the virus because he didn't have a license to practice.
"A few days ago, health ministry officials started a campaign to recruit health care professionals, especially students in medicine and nursing," Duvernay-Tardif writes. "It's now possible for me to go back and help. I had already wanted to, but when it's real, it hits you, the gravity involved."
On April 24, after going through a crash course to learn how to protect himself and others from COVID-19, he put on his scrubs and got to work at a long-term care facility near his home outside of Montreal.
"It's wild to think that just 10 weeks earlier I played in the biggest game in sports," he wrote.
"Playing in the Super Bowl vs. heading back to the medical system during a pandemic is totally different. Back in February, I knew that 100 million-plus people were going to be watching, and I wanted to win," Duvernay-Tardif wrote.
"When you're going in to help it's more about your duty as a doctor and a citizen," he added. "It's not the time to be the hero and be impulsive. You've gotta do it the right way. You've gotta really take this seriously when it comes to washing your hands, not touching anything."
He's also putting his expertise to use to help the NFL's Players Association Task Force decide the best way to bring the sport back in the fall. But, as someone whose seen the dangers of COVID-19 first-hand, his properties are in the right place.
"It's too soon to say when sports might come back. Or what that might look like. What I can say is if we're not playing in September, knowing all the implications of what sport means for a nation and the money behind this huge industry, there are going to be bigger issues than not playing football," he wrote.
Who knows when the NFL will be back, but when Duvernay-Tardif puts his Chiefs jersey i=on his back it should definitely have "M.D." printed on the back.