Joy
It's a problem a lot of couples face.
Joy
Trusted Housesitters: Vacation pet sitting with love.
Take some time away, meet new furry friends, and experience a place different from your home. Trusted Housesitters is on a mission to help connect animal-lovers who love to travel with other animal-lovers who love to travel. It seems like a match made in heaven, doesn't it? Well, if you're looking to visit some place new and need a pet-sitter or want to visit some place new and pet-sit, then Trusted Housesitters is the site for you. Here's how it works: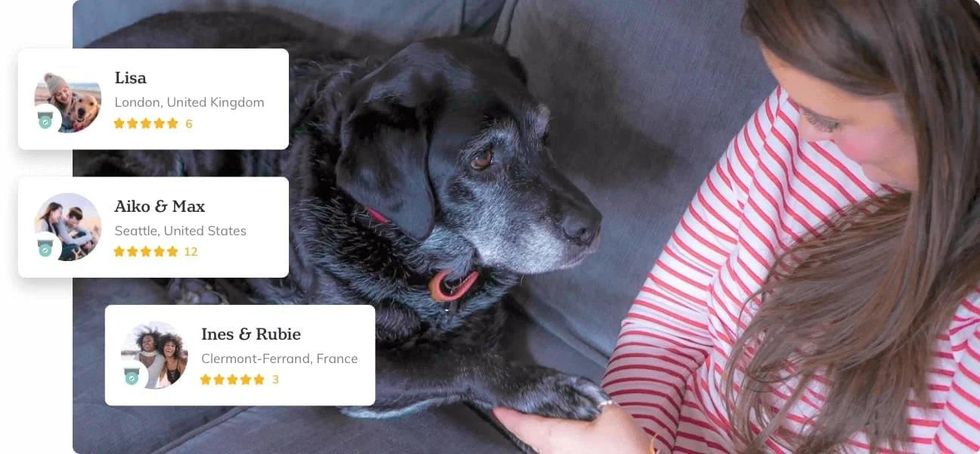 Let's first say that you're someone looking to travel someplace different and stay for FREE (which let's be honest, who isn't looking for this?). Visit the Trusted Housesitters site and create a profile. Upload tons of pictures, sitter qualifications and little insights into your personality. Then, start applying for sits! It's that easy! People from around the world looking to leave their furry companions for a few days or weeks will browse your application and if they think you're a fit they'll reach out and set up a video call.
Next you travel, arrive at your new home, hang with furry friends and spend some time in a new place! Stays range from homes with a pool in Scottsdale, Arizona, to farmhouses in Austin, Texas and even cabins in Big Sky, Montana. It's a great way to get in touch with local life and perhaps even find that pet-shaped hole in your heart.
But what if you're a paw-rent who's looking to get away for a few days? Well, the process is the same, but reversed. After you create your account you list your home along with your tentative travel dates. Sitters from around the world then apply to watch your fur-babies. After reviewing their accounts and qualifications, you set up a video call to make sure you're a good fit. And the best part is you know your leaving your home and your fur-baby in good-hands while you're away.
Each of the sitters is vetted through the site and undergoes background checks, ID verification and a call to ensure that they meet the guidelines set by the site. Owners and sitters are both reviewed at the end of each vacation so the community of Trusted Housesitters maintains transparency and quality standards. It's a safe, modern, cool way to travel and takes the anxiety out of leaving your fur-babies behind.
So what are you waiting for? Your next vacation could be right around the corner! Sign up today and start looking.
Upworthy has earned revenue through a partnership and/or may earn a portion of sales revenue from purchases made through links on our site.
Education
"I'm leaving in hopes that I can regain the ability to do the job that I love."
For all of our disagreements in modern American life, there are at least a few things most of us can agree on. One of those is the need for reform in public education. We don't all agree on the solutions but many of the challenges are undeniable: retaining great teachers, reducing classroom size and updating the focus of student curriculums to reflect the ever-changing needs of a globalized workforce.
And while parents, politicians and activists debate those remedies, one voice is all-too-often ignored: that of teachers themselves.
This is why a short video testimony from a teacher in the Atlanta suburb of Gwinnett County went viral recently. After all, it's hard to deny the points made by someone who was just named teacher of the year and used the occasion to announce why he will be leaving the very school district that just honored him with that distinction.
In a video carried by Fox5 Atlanta, 2022 Gwinnett County Public Schools Teacher of the Year Lee Allen breaks down what he sees as the overriding problems in the county's school system. While his comments are specific to that of Gwinnett County, it's virtually impossible to not see the overlap across all of America and how the problems have become exponentially more challenging as students have migrated back to in-person learning.
"At the end of this year, I will be leaving Gwinnett County Schools, leaving behind the opportunity to submit for state teacher of the year, roughly $10,000 in salary, and most importantly, the students and colleagues I've built strong relationships with," Allen, a math teacher at Lawrenceville's Archer High School, says at the beginning of his remarks. "I'm leaving in hopes that I can regain the ability to do the job that I love."
Normally, one might assume teacher pay is the overriding issue for educators like Allen. But he makes it clear that he is, in fact, leaving money on the table to avoid what he deems as unacceptable changes to the student body and how the district manages its teachers and the learning environment. Here are his main grievances, in order:
"First issue at hand is student apathy and disrespect for school rules and norms. … We have an alarming number of students that simply do not care about learning and refuse to even try."
"We are also experiencing incredible disrespect and refusal to follow basic school rules. There is little to no accountability or expectation for grades or behavior placed on students or parents. Rather than being asked what the student can do to improve their understanding, teachers are expected to somehow do more with less student effort."
Cell phone use. Teachers simply cannot compete with the billions of dollars tech companies pour into addicting people to their devices. Phones allow constant communication, often being the spark that fuels fights, drug use and other inappropriate meetups throughout the day. We need a comprehensive district plan with support behind it in order to combat this epidemic and protect the learning environment."
"Lastly, there is a huge disconnect between administrators and teachers. The classroom in 2022 is drastically different from just three years ago. Most administrators have not been in a classroom full-time in years or even decades. Many teachers do not feel understood, valued or trusted as professionals from administrators and the decisions that they make."
While Allen points fingers at administrators and student behavior, he also says that the pressures put on both students and teachers alike by COVID-19 had a catastrophic impact on learning. "The pandemic has acted as a catalyst and turned a slow negative trend into an exponential crisis," he says.
But he also offers some solutions, stating, "I won't list complaints without offering ideas for improvement."
All administrators should spend at least one week in a high needs classroom, "without a suit, without people knowing your title and in the same room, all day, for an entire week."
Prioritizing smaller class sizes.
Greater transparency from the district in terms of needs and expectations and goals.
"We all want the same thing and we cannot accomplish this without supporting one another," he says near the end of his remarks.
With more than 400,000 views already, it's clear his remarks resonated with people not just inside his school district.
There's almost nothing more important than how we educate our children. And while the national political debate centers on areas of far less importance generated to gin up controversy and campaign fundraising, it's families and local leaders who will need to do the heavy lifting of reprioritizing the fundamental principles of learning and leadership if we want an American educational system that can compete on the global stage in 2022 and beyond. After all, when literal award-winning educators like Allen are walking away, it's clear something more needs to be done.
Get stories worth sharing delivered to your inbox
Get stories worth sharing delivered to your inbox