Most Shared
Spud-loving couples can spend $200 a night to stay in this potato-shaped Airbnb.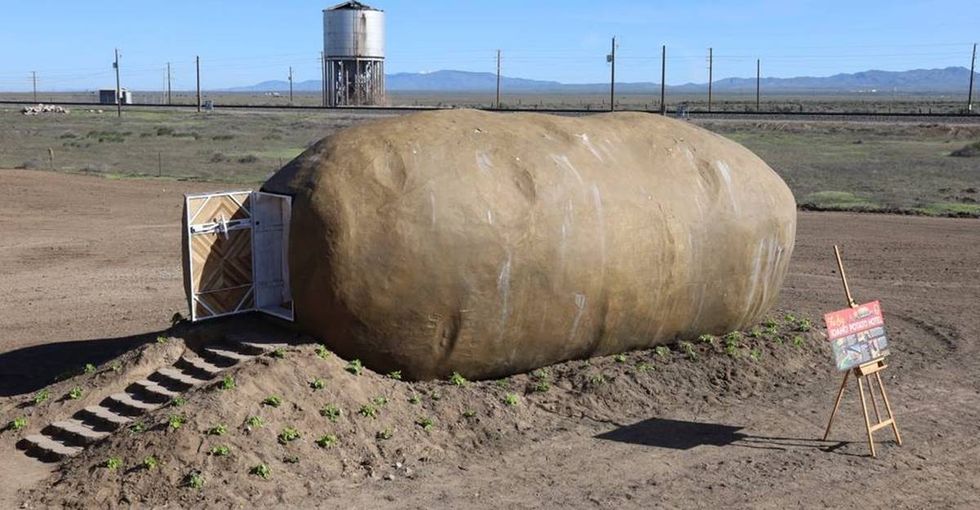 Romance means something different to every couple. For some, it's strawberries, champagne, and a romantic comedy. For others it's a night of dancing cheek to cheek.
An entrepreneur in Idaho hopes spud-loving couples out there will die to spend a night in a giant potato.
For years, the 12-foot wide, 11-foot-high Big Idaho Potato toured the country as a curiosity to promote the Idaho Potato Commission.
---
Recently, the commission took the potato off the road and handed it over to Kristie Wolfe, a former Big Idaho Potato Tour spokesperson, who has given the spud a second life as a tastefully-decorated Airbnb for couples.
"I had a tiny house at the time and I was like 'this is the same square footage of my house,'" Wolfe told the Idaho Statesman. "I could totally make this into a place."
When Wolfe took control of the potato, its interior was a storage area for those who toured it across the country. So she covered the inside with spray-on insulation to cover the metal support beams and then cut up a "million pieces" of wood to create its patterned floor.
The Airbnb rents for $200 a night and features air conditioning, a queen-sized bed, an indoor fireplace, hot water, and a bathroom.
However, couch potatoes beware, the Potato Hotel doesn't have a TV and you'll have to eat take-out because there's no kitchen.
Here's what it looks like on the inside.
[rebelmouse-image 19534947 dam="1" original_size="956x683" caption="via AirBNB" expand=1]via AirBNB
[rebelmouse-image 19534948 dam="1" original_size="1024x683" caption="via AirBNB" expand=1]via AirBNB