Democracy
Reporter reveals she's a school shooting survivor on air and offers advice to Covenant parents
Even while struggling through her own grief, she was able to provide guidance to parents.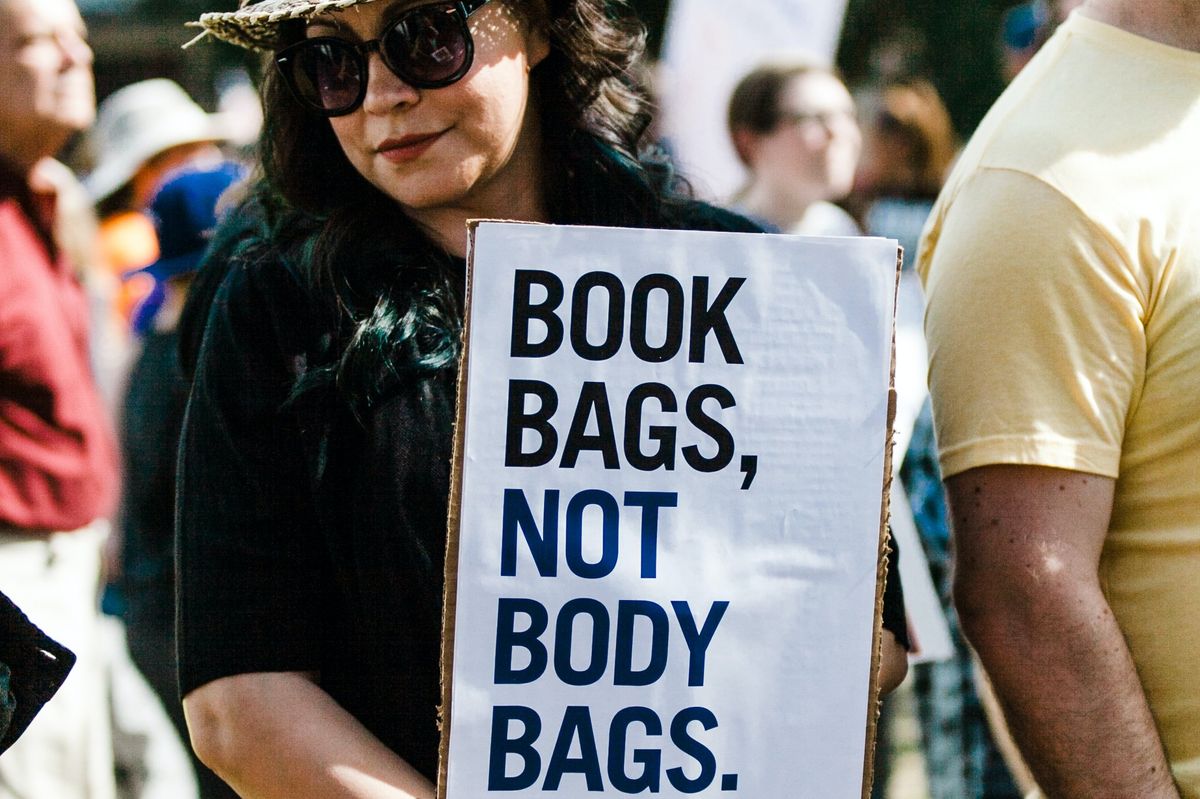 On March 27, the Covenant School, a private elementary school in Nashville, Tennessee, experienced a school shooting where three 9-year-old children and three staff members lost their lives. The news of the event took over the airwaves as more details were released.
But for one reporter covering the shooting live, the event hit close to home in more than one way. Joylyn Bukovac, a local reporter for WSMV 4, was reporting live from the scene at the Covenant School when she revealed that she was a survivor of a school shooting herself. Bukovac explained that when she was in the eighth grade, someone opened fire at her school.
"About 380 school shootings have happened since Columbine, my middle school being one of them, this school being one of them," she said. "Some people have been reaching out to me saying, 'Enough's enough. When is all of this gun violence going to change?'"
---
Getting the phone call that there's an active shooter at your child's school is a parent's worst nightmare, and it seems that nightmare is becoming all too real for more parents. Sadly, gun violence has surpassed all other causes of death for children in America, even beating out car crashes.
With this reporter's personal account, it's clear that mass shootings have been a problem for a long time. In recalling her experience, Bukovac offered some advice to parents who were receiving the phone call that their child's school was the newest target.
"A lot of this is really bringing up a lot of tough memories for me that I'm going through," Bukovac revealed. "And my biggest advice for all the families here, if your student witnessed the unthinkable today, just be very gentle with them and let them talk when they're ready because the shock that they're going to be feeling coming home is going to be unfathomable."
Bukovac went on to describe her own experience of being in the hallway at her middle school when a gunman opened fire, which took her two years to feel comfortable enough to open up and talk with others about. She reminded parents that everyone copes with the trauma in their own way and not to try to force their children to discuss the events.
\u201cIn a remarkable live hit, this local reporter covering the horrific school shooting in Nashville shared her own experience of surviving a school shooting when she was in middle school. I didn't catch her name.\u201d

— Reem Akkad (@Reem Akkad) 1679941457
During her time on the scene, Bukovac voiced the concerns she was hearing from parents about the number of school shootings and the desire for something to be done. Bukovac said she was able to put herself in the shoes of the students from her experience and the parents because she has a small child.
It's amazing that Bukovac was able to not only report on a school shooting but that she was cognizant enough to offer words of support and advice to parents. The reporter ended her segment by telling parents that she would be available through email if anyone needed a listening ear.