Pop Culture
Wordle freaks, welcome to the soul-crushing awesomeness of Quordle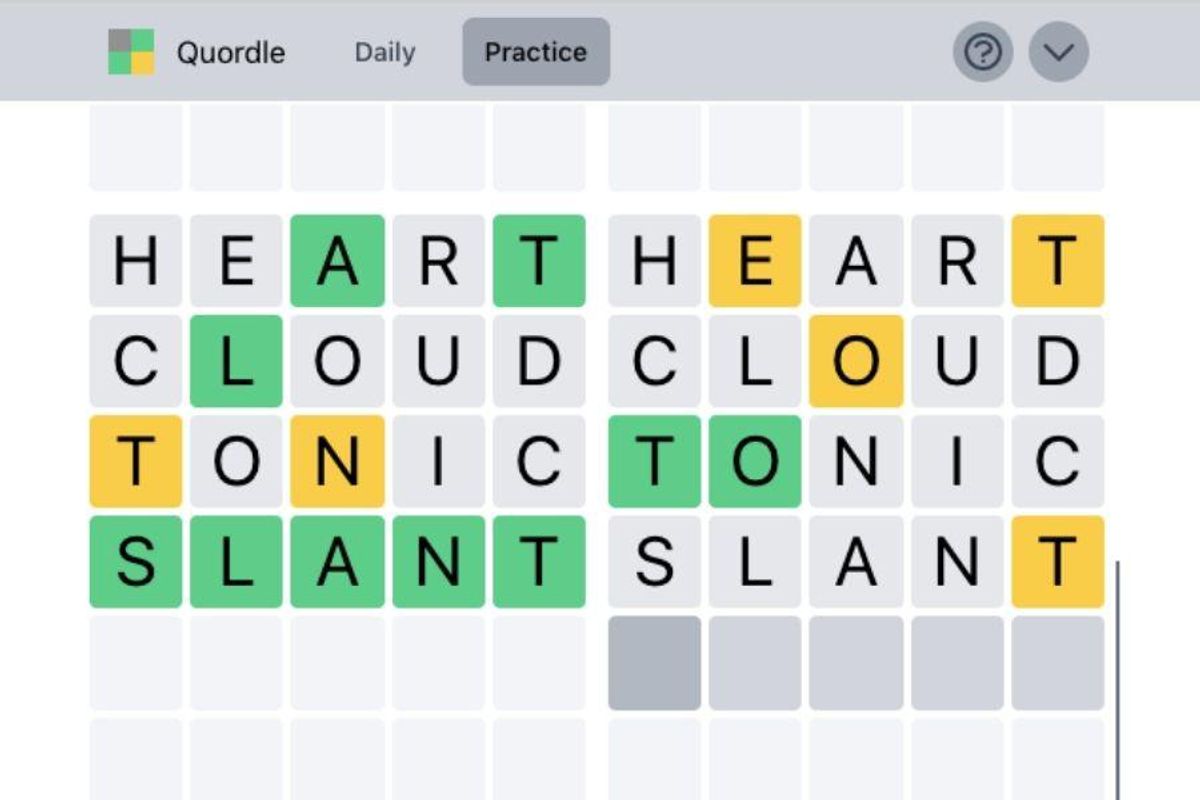 Yes, yes, I know. Wordle, Wordle, Wordle.
The world has been thoroughly Wordle-ized for the past couple of months. By now you're either a dedicated daily player or are trying your best to ignore the yellow and green boxes that flood your social media feed each day. As a self-professed word nerd, I'm a fan. Word games are my jam, and Wordle is just challenging enough to be fun without being too taxing. It's a light little exercise to get my brain moving over coffee in the morning and a fun little collective endeavor to share with my fellow humans.
But we couldn't just remain satisfied with our sweet little Wordle game, right? Of course not. Why let a good thing be when we can drive ourselves batty with something else?
Friends, allow me to introduce you to Quordle. You're either going to love me or hate me for this—I'm still not even sure how I feel about myself for being sucked into it. It's awesome and terrible and I can't stop playing.
---
Quordle, you might guess from the name, means four Wordles. But you're guessing at all of them at the same time with a single word. You get nine tries total to correctly guess all four words.
It's both glorious and torturous. You're welcome. And I'm sorry.
Let me show you what it looks like.
First of all, there are two modes of playing. There's the Daily Quordle, which is the same four words for everyone, one game per day, just like Wordle.
But there's also Practice Quordle, which basically just means you can play as many times as you want. Dangerous.
I'll show you a practice one so I don't spoil anything. Here's what it looks like when you start a practice round: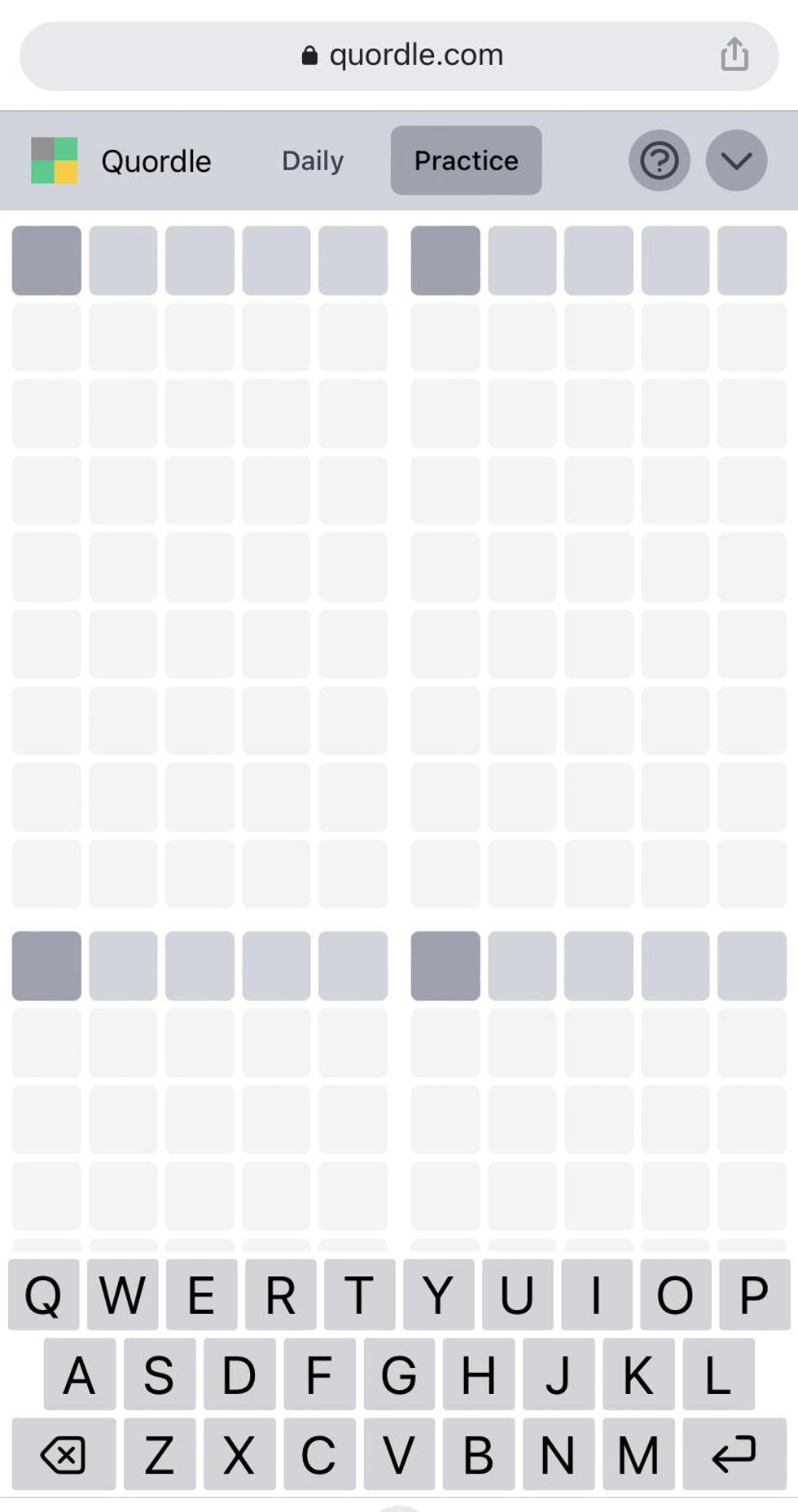 Screenshot via Quordle
As you can see, there are four "quadrants" where words get entered. The only thing that stinks is that you really can't see all of the rows at once. There are more blank rows for the bottom two words that you have to scroll to see, but it really isn't that big of a deal while you're playing.
Whatever word you enter on each round gets put into all four quadrants. Then, just like in Wordle, the right letters in the wrong places turn yellow and the right letters in the right place turn green. Letters that aren't used remain gray.
Here I am four guesses in (in two different images, since I had to scroll down to see the bottom two quadrants). As you can see, I guessed TONIC correctly for the top right word on the third guess and SLANT for the bottom left word on the fourth guess.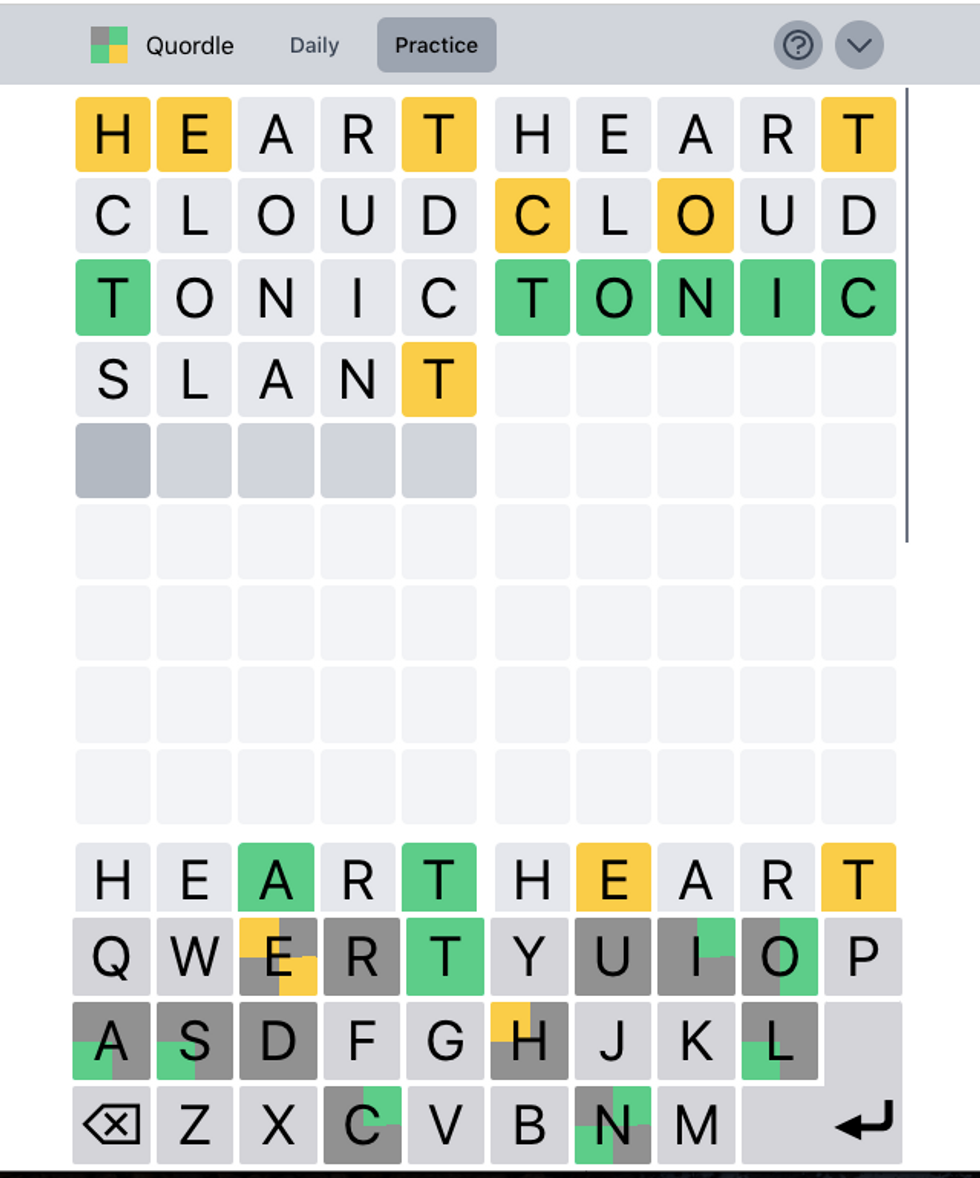 Screenshot via Quordle
And as you can see, the keyboard shows which quadrants contain the letters you've guessed, either in the wrong place (yellow) or the right place (green).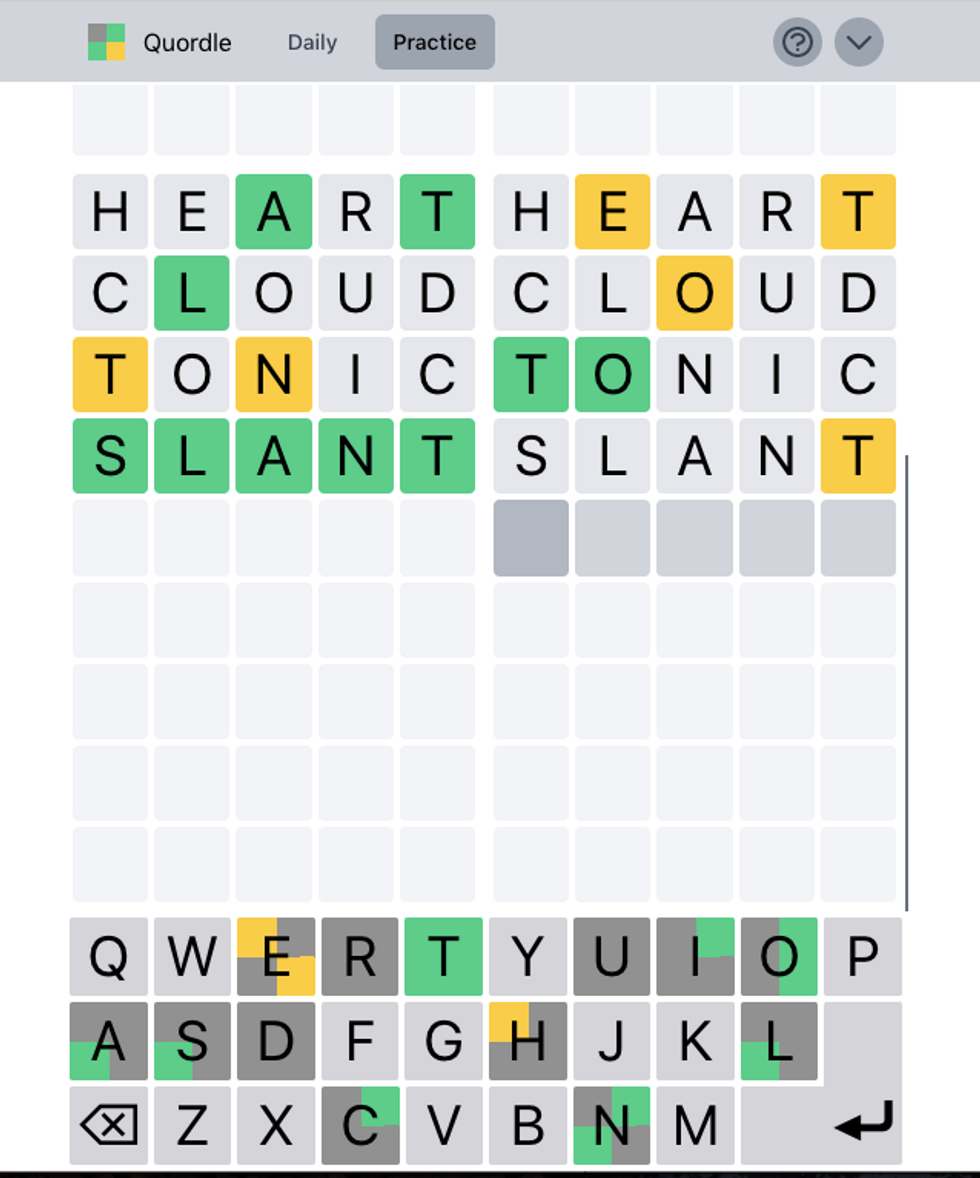 Screenshot via Quordle
The main goal is to get all four words in nine tries or less, but the lower any of the numbers, the better. I did quite well in this particular practice round, getting all four words in six total guesses.
(In fact, this practice round was a bit of redemption after only getting three of the four words in the Daily Quordle today. I had two possible choices for my ninth guess and picked the wrong one. Argh.)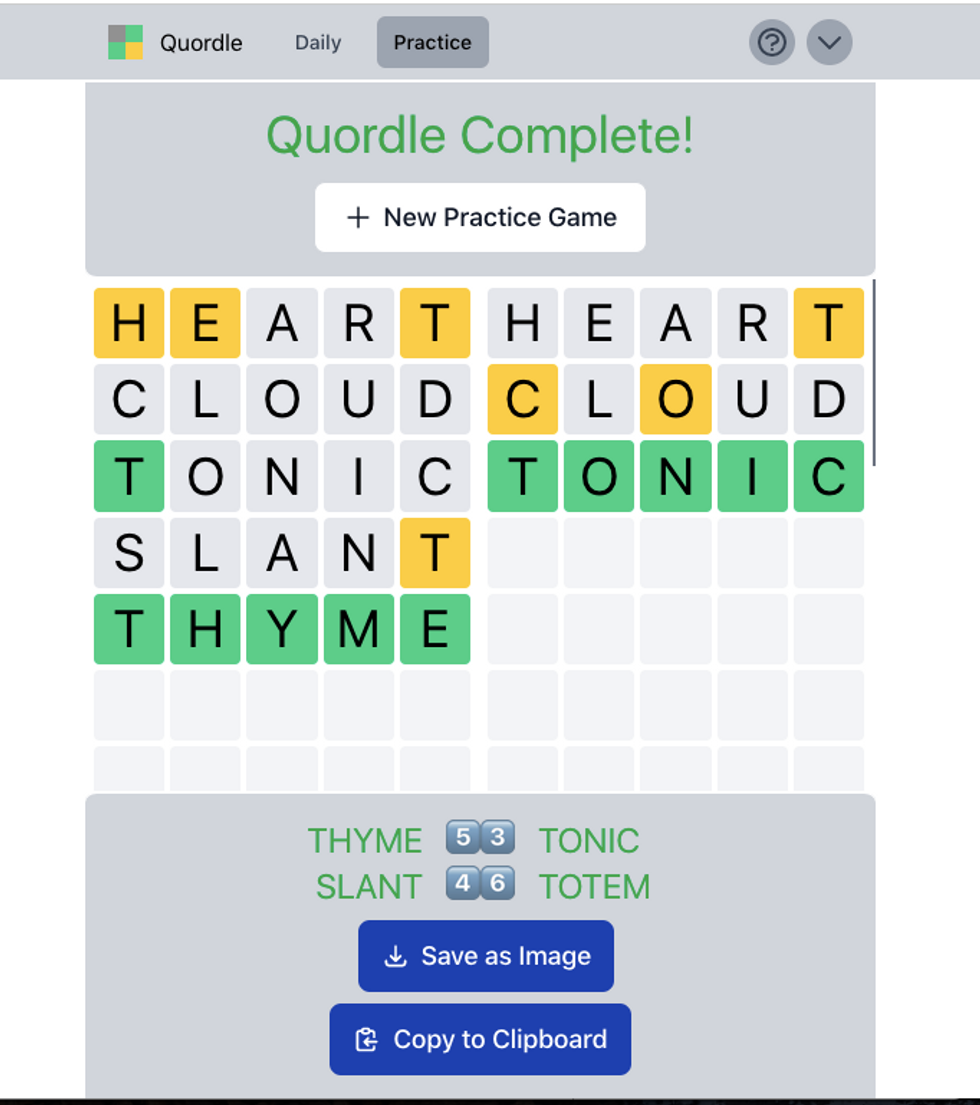 Screenshot via Quordle
Like Wordle, the Quordle interface is super simple; there are no ads or anything extraneous. Also like Wordle, Quordle was created by some guy (his name is Freddie Meyer) who had been playing Dordle (a two-word Wordle challenge) with some friends in January. Another guy in their group, David Mah, came up with Quordle and Meyer perfected it. Now it's got a million players. (Meyer says on the website that he has no plans to monetize Quordle. Maybe he'll end up selling it to The New York Times for seven figures like the Wordle guy did, and if he does? Hey, more power to him.)

This is what humans do, right? Create cool things? Improve and innovate on what came before? Make our brains hurt and drive one another nuts in the best way? Yay, humanity.
So, fellow word nerds, give Quordle a try and see what you think. Again, you're welcome and I'm sorry.