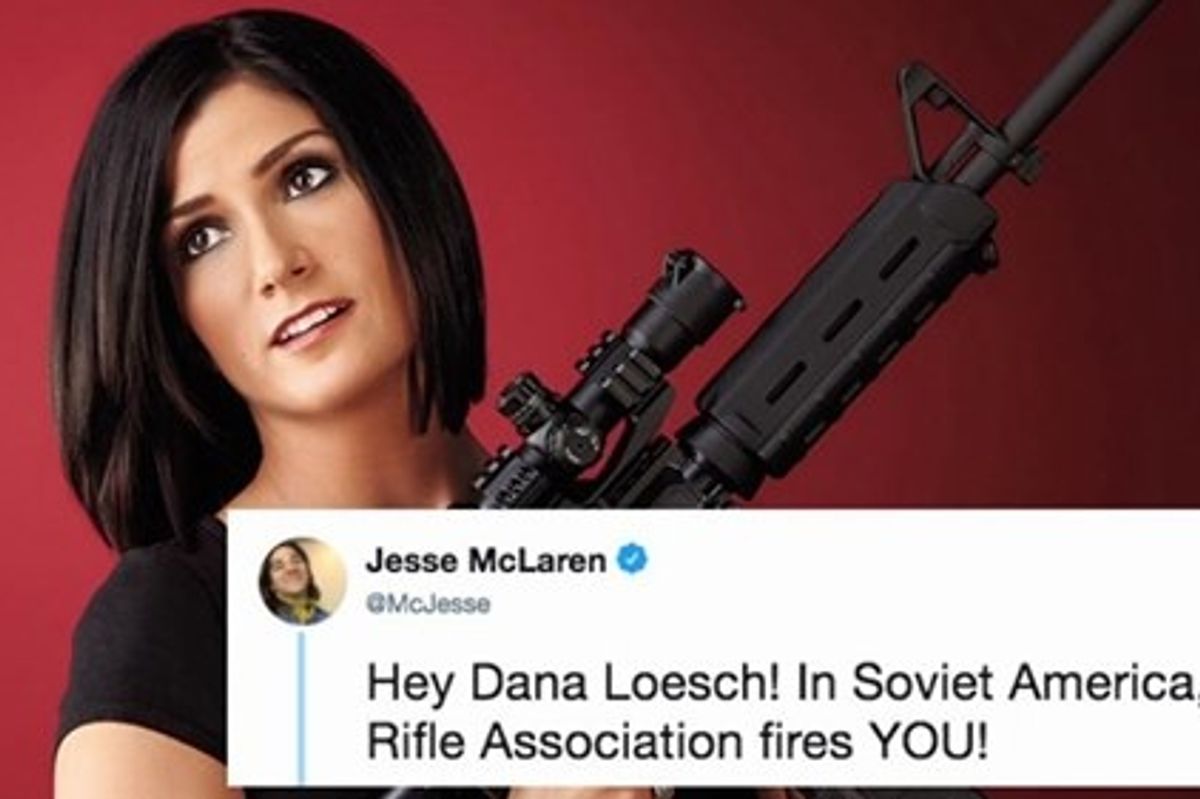 While to most people, the public faces of the National Rifle Association are those of the children hiding under their desks while a shooter runs through their school with a semi-automatic weapon, Dana Loesch was technically the organization's spokesperson, until this week.
The National Rifle Association is shutting down one of its propaganda arms, NRA TV, and with it, Loesch herself.
The New York Times reports that after severing ties with their marketing firm, NRATV will stop producing new content and its hosts "will no longer be the public faces of the N.R.A."
Oh no, who's going to tell us that kids getting murdered in school is just the cost of freedom now?
---
Loesch is most famous for getting owned by Parkland survivor Emma Gonzalez and then continuing to whine about the teens on Twitter.
Shooting survivor confronts NRA spokesperson Dana Loesch www.youtube.com
Highlights from her NRATV tenure include putting KKK hoods on Thomas the Tank Engine and saying that she hopes the Mueller report is burnt in an "AIDS fire."
While Dana Loesch is trending because she was fired by the @NRA from NRATV, a reminder that she put KKK hoods on Th… https://t.co/DIrpB0DcAR

— Shannon Watts (@Shannon Watts)1561523370.0
The "tragedy dry humping whores" now have the last laugh.
We won't miss you Dana Loesch. Or Colion Noir. Or Grant Stinchfield. We've thrown your hate and propaganda and misi… https://t.co/2hPKXlqe3Y

— Shannon Watts (@Shannon Watts)1561516687.0
Twitter is sending Loesch their "thoughts and prayers," even though now is NOT the time to be talking about her loss of employment.
Hey Dana Loesch! In Soviet America, Rifle Association fires YOU!

— Jesse McLaren (@Jesse McLaren)1561528359.0
Death merchant @DLoesch Dana Loesch was so angry when the #NRA & #NRATV fired her that she left her car behind in t… https://t.co/y76L1oE9xd

— Truth Doesn't Care About Your Lies (@Truth Doesn't Care About Your Lies)1561549031.0
Dana Loesch was fired by The NRA today, and when asked what she was going to do with all her free time she replied,… https://t.co/CF4yDoEuRp

— Justice Wainwright (@Justice Wainwright)1561528274.0
"NRA to shut down production of NRATV" https://t.co/aV4VXwVgNc

— Andrew Otis Weiss (@Andrew Otis Weiss)1561553794.0
Dana Loesch is a literal crisis actor and made money bullying shooting survivors and family members of victims.

— Matt Deitsch (@Matt Deitsch)1561524439.0
Eric Trump got spit on and Dana Loesch got fired in the same night? https://t.co/xz9PeBg5HW

— mike mulloy (@mike mulloy)1561529227.0
[Dana Loesch becomes a cloud of bats and flies away] https://t.co/YRdlkTxkNK

— Jay (@Jay)1561516740.0
Dana Loesch sadly shrieking into a cardboard box she's painted to look like a TV camera. https://t.co/DNXCAXJCBO

— Gary Legum (@Gary Legum)1561515791.0
I love that Dana Loesch started her day by defending companies that supply the Trump concentration camps, and ended… https://t.co/wCekPXqx0C

— Wendy Molyneux (@Wendy Molyneux)1561519281.0
The gun lobby should now take a good, hard look at itself...and cease to exist.
This article originally appeared on SomeeCards. You can read it here.