True
When Molly Reeser was a student at Michigan State University, she took a job mucking horse stalls to help pay for classes. While she was there, she met a 10-year-old girl named Casey, who was being treated for cancer, and — because both were animal lovers — they became fast friends.
Two years later, Casey died of cancer.
"Everyone at the barn wanted to do something to honor her memory," Molly remembers. A lot of suggestions were thrown out, but Molly knew that there was a bigger, more enduring way to do it.
"I saw firsthand how horses helped Casey and her family escape from the difficult and terrifying times they were enduring. I knew that there must be other families who could benefit from horses in the way she and her family had."
Molly approached the barn owners and asked if they would be open to letting her hold a one-day event. She wanted to bring pediatric cancer patients to the farm, where they could enjoy the horses and peaceful setting. They agreed, and with the help of her closest friends and the "emergency" credit card her parents had given her, Molly created her first Camp Casey. She worked with the local hospital where Casey had been a patient and invited 20 patients, their siblings and their parents.
The event was a huge success — and it was originally meant to be just that: a one-day thing. But, Molly says, "I believe Casey had other plans."
One week after the event, Molly received a letter from a five-year-old boy who had brain cancer. He had been at Camp Casey and said it was "the best day of his life."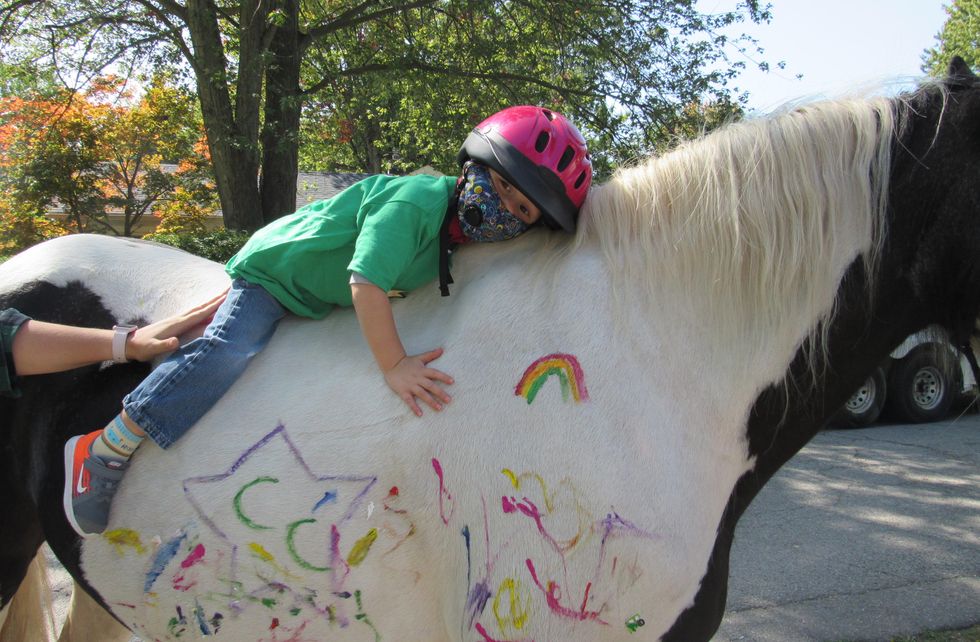 "[After that], I knew that we had to pull it off again," Molly says. And they did. Every month for the next few years, they threw a Camp Casey. And when Molly graduated, she did the most terrifying thing she had ever done and told her parents that she would be waitressing for a year to see if it might be possible to turn Camp Casey into an actual nonprofit organization. That year of waitressing turned into six, but in the end she was able to pull it off: by 2010, Camp Casey became a non-profit with a paid staff.

"I am grateful for all the ways I've experienced good luck in my life and, therefore, I believe I have a responsibility to give back. It brings me tremendous joy to see people, animals, or things coming together to create goodness in a world that can often be filled with hardships."
Camp Casey serves 1500 children under the age of 18 each year in Michigan. "The organization looks different than when it started," Molly says. "We now operate four cost-free programs that bring accessible horseback riding and recreational services to children with cancer, sickle cell disease, and other life-threatening illnesses."
In addition to the day camp, they have also found ways to make horses accessible to immunocompromised, homebound patients through their Horsey House Call program. "[It] deploys 30 times a summer to knock on the doors of vulnerable children and surprise them with a horse for the afternoon," she explains. "Our all-volunteer team and therapy horse stays for about 3 hours to provide rides, grooming lessons, games, crafts, pizza, music, and more."
Other programs offered include Cowboy Camp Outs, an all-inclusive weekend getaway for families, and Lone Star Getaways, which provides a cost-free stay at a privately-owned rental property.
Camp Casey is also collaborating with other nonprofits to increase their impact in the community. They're currently partnering with the Buffalo Soldiers Heritage Association, which spreads awareness of the first all-Black cavalry in the United States. Together, they're deploying some of the Buffalo Soldiers' horses to Horsey House Calls and inviting families to the Buffalo Soldiers stables.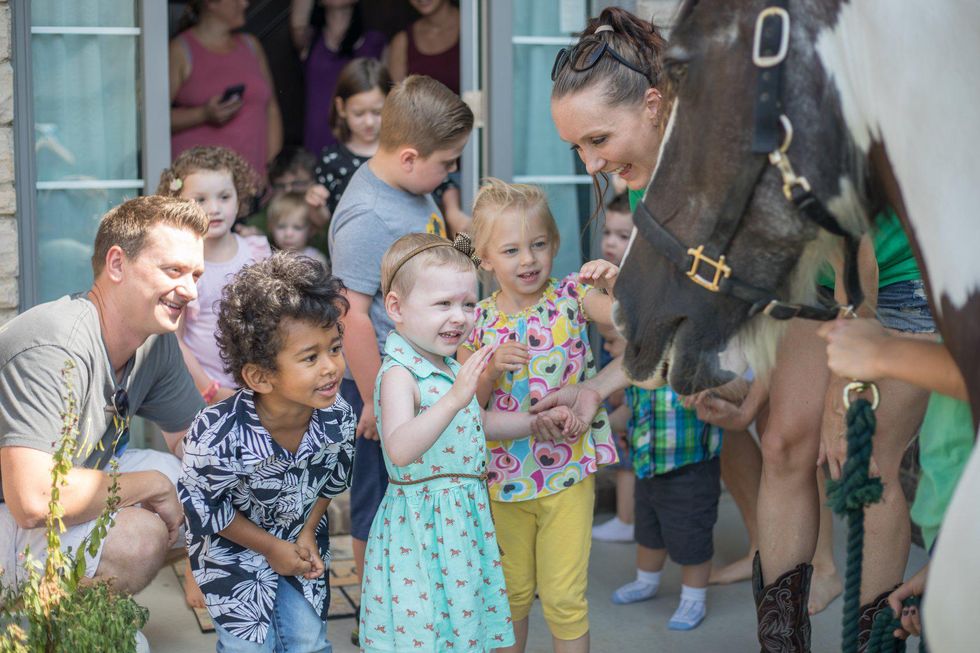 Molly is being named one of Tory Burch's Empowered Women of the year for her work with Camp Casey. The donation she receives as a nominee is being awarded to Camp Casey's programs run at the Buffalo Soldiers Heritage Association.

"The ultimate goal for Camp Casey is to be able to offer year-round programs," Molly says. "Michigan's harsh winters make it difficult to conduct our outdoor programs but, sadly, many of the children who need our services pass away before the weather permits us to serve them."
"We are actively working with the Buffalo Soldiers Heritage Association and the city of Detroit to eventually erect an indoor horseback riding arena that would allow for year-round programs for both nonprofit organizations."
via Mandy Patinkin / TikTok
There was an emotional exchange on TikTok between two people who lost their fathers to cancer. One was actor Mandy Patinkin, the other was TikTok user Amanda Webb.

Patinkin currently stars on "The Good Fight" but one of his most famous roles is Inigo Montoya in the 1987 classic "The Princess Bride." In the film, Montoya is a swordsman who is obsessed with confronting a six-fingered man who killed his father.
Webb recently lost her father Dan to mantle cell lymphoma. She had heard a rumor that Patinkin used his father's death from cancer as motivation in a pivotal scene where he confronts the six-fingered Count Rugen (Christopher Guest) in a duel.
Rugen tells Montoya he will give him anything he wants after being bested by Montoya who passionately replies, "I want my father back, you son of a bitch."
Webb's father was a big fan of Montoya's performance in the film so she reached out to TikTok to learn if the rumor was true.

"I saw on the internet the rumor that when Mandy Patinkin said that line, he was thinking of his own father who had passed away from cancer," Webb said while crying. "And it was a very raw emotion. Ever since then, it's kind of really stuck with me."
Patinkin, who is a TikTok user, heard that the woman had reached out to him and he gave a heartfelt response.
@mandypatinktok

@alaska_webb thank you for finding us and sharing this! ✨ Sending big love and light to you and yours. More in comments. #grieving #cancer #dads
"First of all, your dad is taking care of you," he said. "Secondly, it is true, 100% true. I went outside in this castle and walked around and I kept talking to my dad."
"The minute I read the script, I knew, I said to [his wife], I said, 'I'm going to do this part because in my mind, if I get the six-fingered guy, that means I killed the cancer that killed my dad and I'll get to visit my dad," he said.
"That moment was coming, and I went and I played that scene with Chris [Guest], and then I went back out there and talked to my dad," Patinkin said.
He then told Webb that she has the power to talk to her father, too.
"And so, you can talk to your dad anytime you want, anywhere you want," he said. "If you could somehow let me know your dad's name because I say prayers for anyone I've ever known. Now I feel like I know you, and therefore I know your dad, and I will list his name in my prayers every day, and they make me feel like they're with me, wherever I go, and I'd like your dad to hang out with me."

Webb responded with a video where she's so emotional she can hardly speak.
@alaska_webb

Is this real life?! #mandypatinktok #princessbride #lgbtq #grief #millenial #imissmydad
Is this real life?! #mandypatinktok #princessbride #lgbtq #grief #millenial #imissmydad
Get stories worth sharing delivered to your inbox