Celebrity
Lizzo took giving someone the clothes off your back literally and brought a woman to tears
'Words don't suffice, and thank you isn't enough. But THANK YOU! I'm speechless.'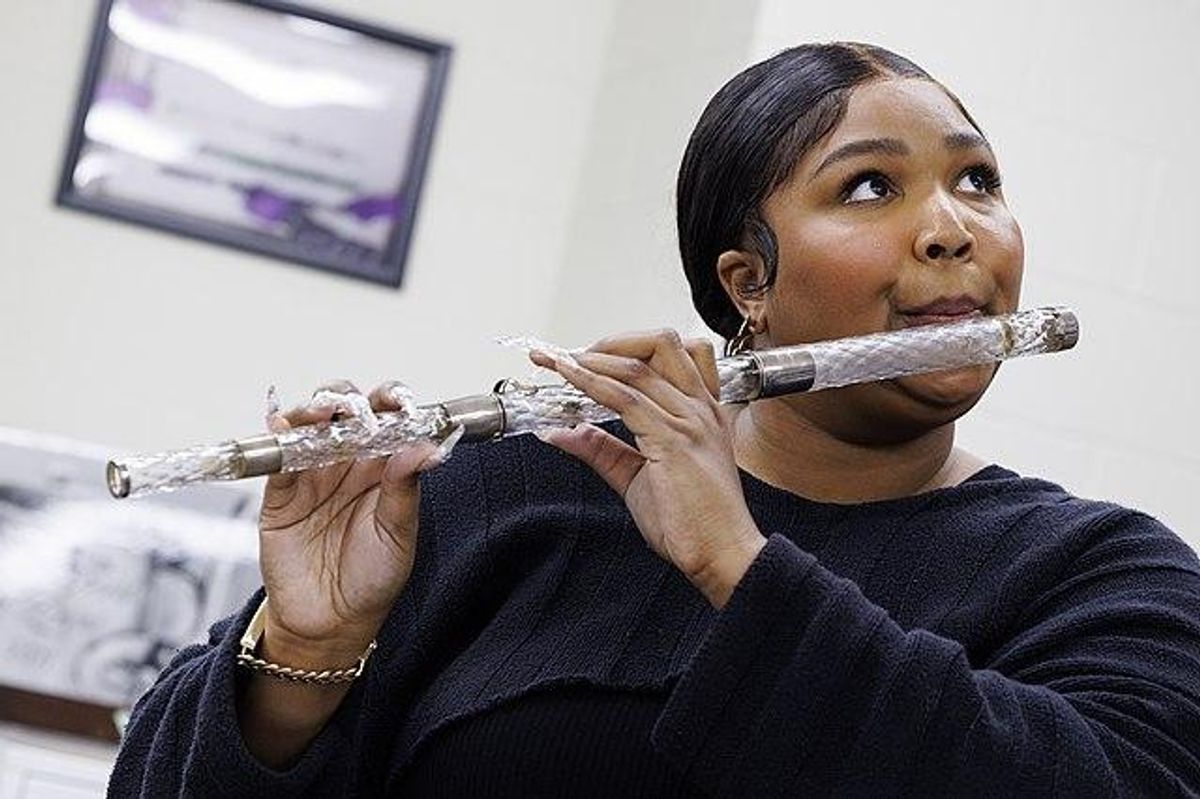 Lizzo is probably one of the most nonproblematic celebrities in the world today. She spreads positivity and kindness and encourages others with her openness about her mental health struggles. It's pretty safe to be a Lizzo super fan and for Aurielle Marie, an Atlanta author, being a huge fan of Lizzo's paid off in the most unexpected way.
Marie posted a video to TikTok pleading with Lizzo to wear her dress from the 2022 Emmys. But it turned out the dress was destroyed, according to Lizzo's response, but her dress from the 2019 American Music Awards was intact. The dress was a beautiful muted fuchsia color with a fitted bodice and full tulle skirt complete with a thigh-high slit. Lizzo looked amazing in the dress so obviously fans would love to get their hands on it.
One of the most exciting things about social media is that you get the chance to interact with your favorite celebrities and, as luck would have it, Lizzo saw Marie's video. The flute-playing megastar responded like an absolute queen.
---
Oh, you thought Queen Lizzo just sent this stranger a cute little video shout-out? Nope. Lizzo responded in the most down-to-earth way possible to help this author out. She sent her the dress. Yup. Just shipped her this gorgeous red-carpet-ready gown because Marie asked super nicely. Well, it probably had something to do with the fact that Marie was selected as one of Out Magazine's Out 100. The author explains in her video, "It's basically like the Time 100 but for LGBTQIA queerness. Like me!"
@lizzo

Replying to @badie_aukievah Love you @Aurielle Marie have an amazing time! 💋 @yitty
The event is taking place in New York and Marie has been struggling to find something to wear that fits her body shape and is appropriate for a red carpet event. There wasn't a video explaining how Lizzo got the dress to Marie outside of an unsuspecting FedEx driver, but one would assume that someone as famous as Lizzo has people that find people.
Either way, the dress arrived just in the nick of time according to Marie. Much to her screaming and crying delight, the delivery person dropped the dress off only a few hours before the author's flight was due to leave for the event. The joy that exuded from Marie as she opened the box was contagious. After she finished running around crying tears of joy, she tried on the dress. Perfect fit.
The exchange crossed platforms when Lizzo posted the video of Marie trying on the dress to Twitter and captioned it with, "It's easy to be kind, and my absolute pleasure." She closed out the post by telling Marie, "You look beautiful."
I mean, obviously she was beautiful. How could she not be the epitome of beauty wearing that dress?
@auriellebewritin

Replying to @noirediamonds i might've gotten a few tears on your dress @lizzo, my bad babe! Words dont suffice, and thank you isnt enough. But THANK YOU! I'm speechless. Y'all! A bitch is certified LIZZO SIZED!!!!!! And LOOK AT THIS GOWN! @Out Magazine here i come! #fyp #foryou #lizzo
Who would've thought a random shot in the dark on TikTok would land you in contact with Lizzo and end in you borrowing her dress? The amount of screaming and pinch-me moments that must've happened between when the pop star responded and the night of the awards ceremony had to feel infinite.
It looks like Marie had a blast getting her award and thanks to Lizzo, she looked fabulous doing it. Here's a reminder that a little kindness can go a long way.