Pop Culture
Family-run business crafts gorgeous heirloom-quality leather bags for the modern world
Kodiak Leather is the perfect blend of style, functionality, and timeless appeal.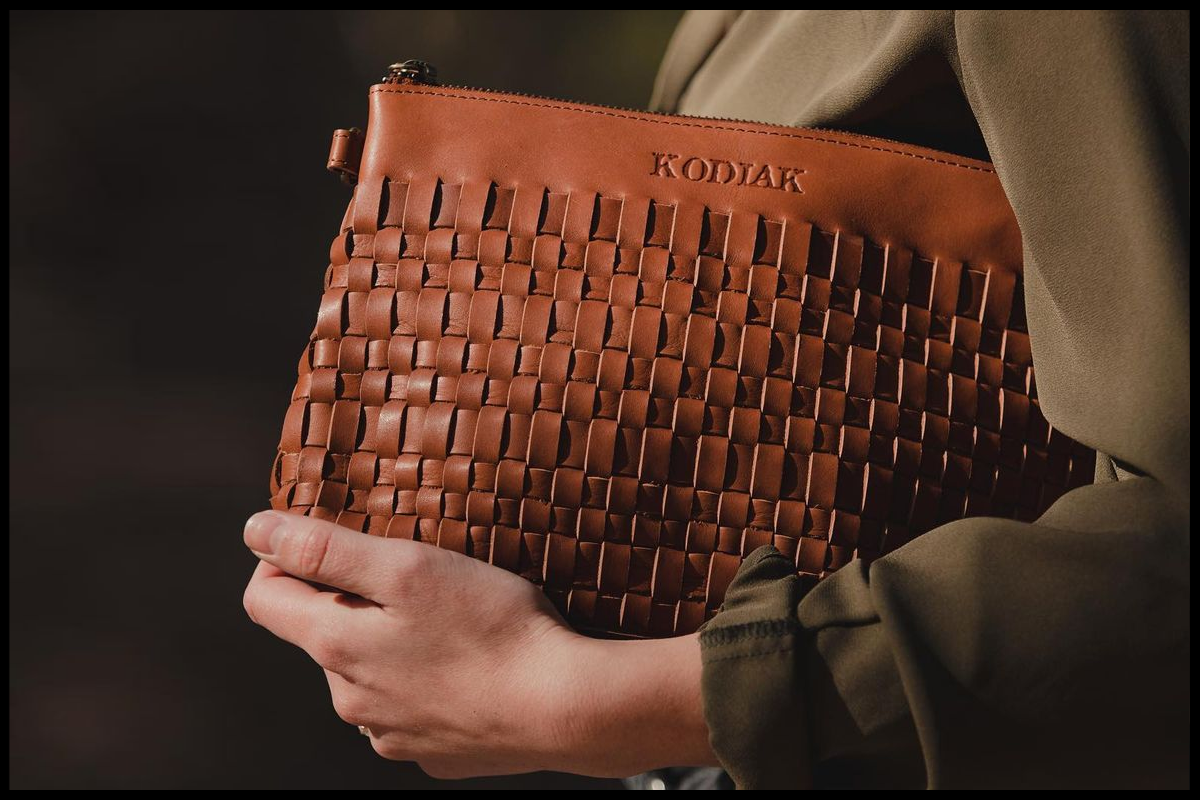 Editor's Note: Upworthy earns a percentage of proceeds from sales of items listed in this article

We live in a disposable culture where products are cheap and abundant but not built to last. And in the short term, that's great. But over the long haul, this wasteful mindset takes its toll, especially on the environment. However, a company called Kodiak Leather is trying to change that. As a family-run business, Kodiak Leather remains dedicated to crafting heirloom-quality bags for the modern world. Driven by a passion for people and leather, the brand offers products that embody the perfect blend of style, functionality, and timeless appeal. Each piece is handcrafted by skilled artisans from around the world, ensuring that you receive a treasure designed to last a lifetime and worthy of being passed down through generations.
Heirloom-quality leather goods provide a sense of luxury and durability and hold sentimental value as they become an essential part of your life's story. These timeless accessories only improve with age as they witness your experiences and adventures while maintaining elegance and character. Investing in heirloom-quality leather products is not just about owning a fashionable piece; it's about preserving a legacy for future generations.


At the heart of Kodiak Leather's success is its collaboration with skilled artisans from the US and India, who share the brand's passion for quality and ethics. This global partnership ensures that each product is expertly crafted and adheres to the highest standards of ethical production and material sourcing. By choosing Kodiak Leather, you're investing in a brand that values craftsmanship, sustainability, and the art of leatherworking.
Kodiak Leather's rigorous quality control process sets them apart from the competition. Each product undergoes multiple inspections before it's shipped, guaranteeing that you receive a piece that is both flawless and worthy of being passed down through generations. This dedication to heirloom-quality craftsmanship ensures that your Kodiak Leather products will stand the test of time and become cherished family treasures.
When you purchase a Kodiak Leather product, you're not just buying an accessory – you're joining the Kodiak Family. The personal touch and care that goes into crafting each piece is a testament to the company's passion for people and leather. From the artisans who create the products to the customers who use them, the Kodiak Leather family is bound by a shared love for timeless, heirloom-quality goods that enrich lives and tell stories.
Kodiak Leather has carefully curated a collection that features products designed to cater to the needs of today's discerning consumers. Among their most popular offerings are the versatile Katmai Leather Backpack, the stylish and functional Juneau Leather Tote, and the charming Drifter Leather Journal. Each piece is thoughtfully crafted with attention to detail, ensuring that they look good and serve their purpose efficiently, making them the ideal companions for the modern individual.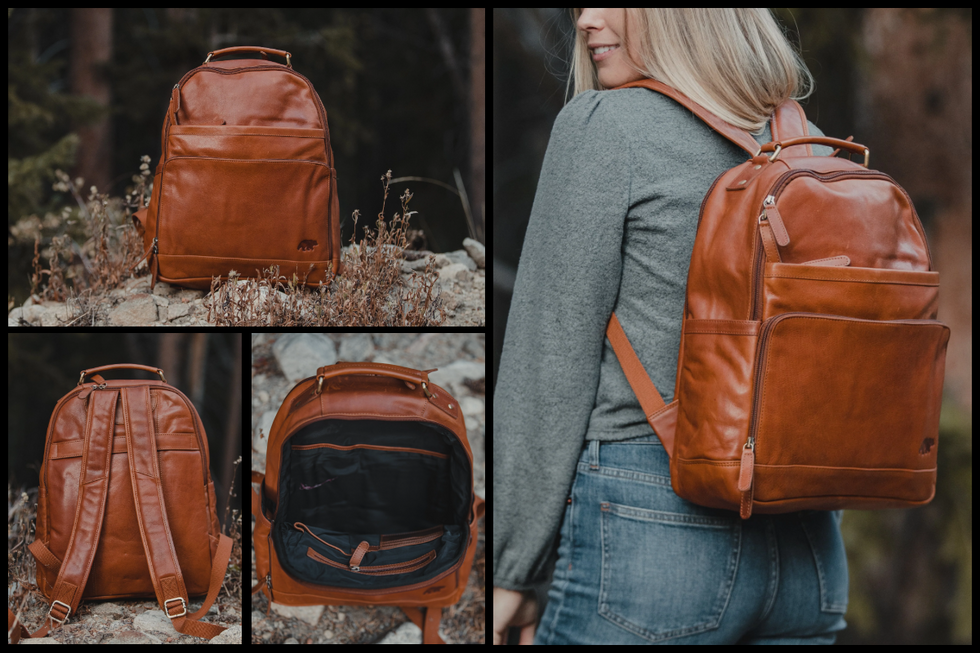 The Katmai Leather Backpack is a standout piece in the Kodiak Leather collection, boasting top-grain cowhide that looks stunning and promises durability. Designed with multiple compartments and pockets, this backpack has ample space for all your essentials. The adjustable straps and carrying handle offer convenience and comfort, making it easy to take your backpack wherever you go.
Perfect for both work and leisure, the Katmai Leather Backpack is designed with versatility in mind. Its unisex aesthetic makes it suitable for everyone, while the padded laptop compartment and organized storage options cater to your busy lifestyle. Whether you're heading to the office or embarking on an adventure, this backpack is your ideal companion.
One of the most appealing aspects of the Katmai Leather Backpack is the leather's aging process. Over time, the top-grain cowhide develops a beautiful patina, which adds character and depth to the backpack. This natural aging process enhances the bag's visual appeal and serves as a testament to its timeless elegance, ensuring that your Katmai Leather Backpack remains a stylish accessory for years to come.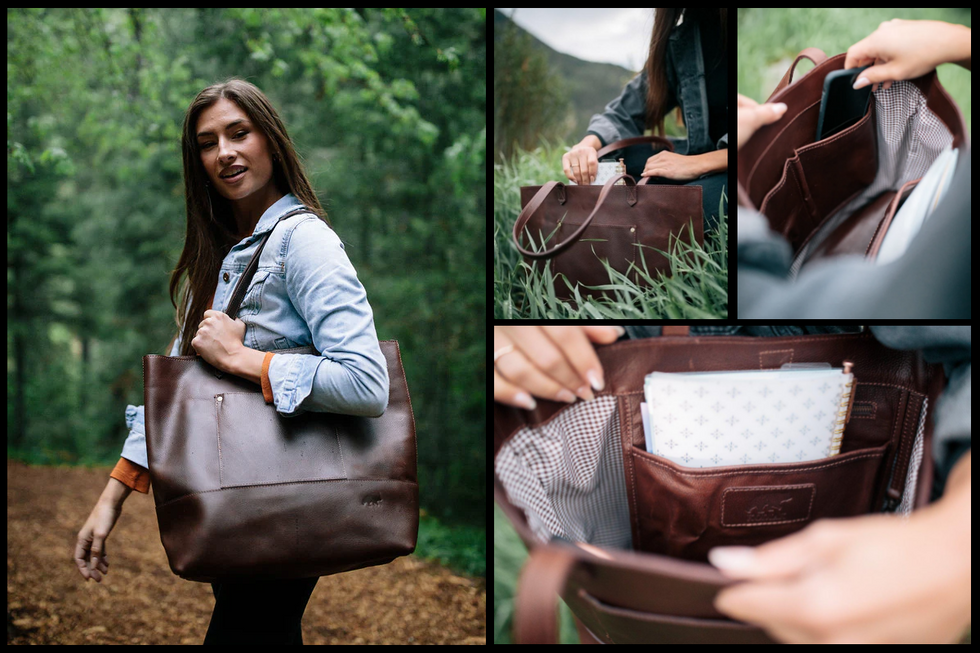 Crafted from top grain water buffalo leather, the Juneau Leather Tote is both a stylish and practical addition to your accessory collection. This tote features an exterior easy-access pocket, perfect for stashing items you need on hand and large carry handles that comfortably fit over your shoulder. The rich texture and natural variations in the leather make each tote unique.
When it comes to style and functionality, the Juneau Leather Tote has it all. The spacious interior, complete with pockets for organization, ensures you can easily carry everything you need. The interior zippered pocket and hidden magnetic closure offer added security for your belongings, making this tote perfect for everyday use. Whether you're heading to work, running errands, or enjoying a day out, the Juneau Leather Tote is ready to help you take on the world.
Kodiak Leather is committed to using only the highest quality materials, and the Juneau Leather Tote is no exception. The water buffalo leather is visually stunning and incredibly durable, making this tote a long-lasting investment. With proper care, your Juneau Leather Tote will age gracefully and continue to impress for years to come, proving that it's more than just a fashion statement - it's a testament to the Kodiak Leather legacy.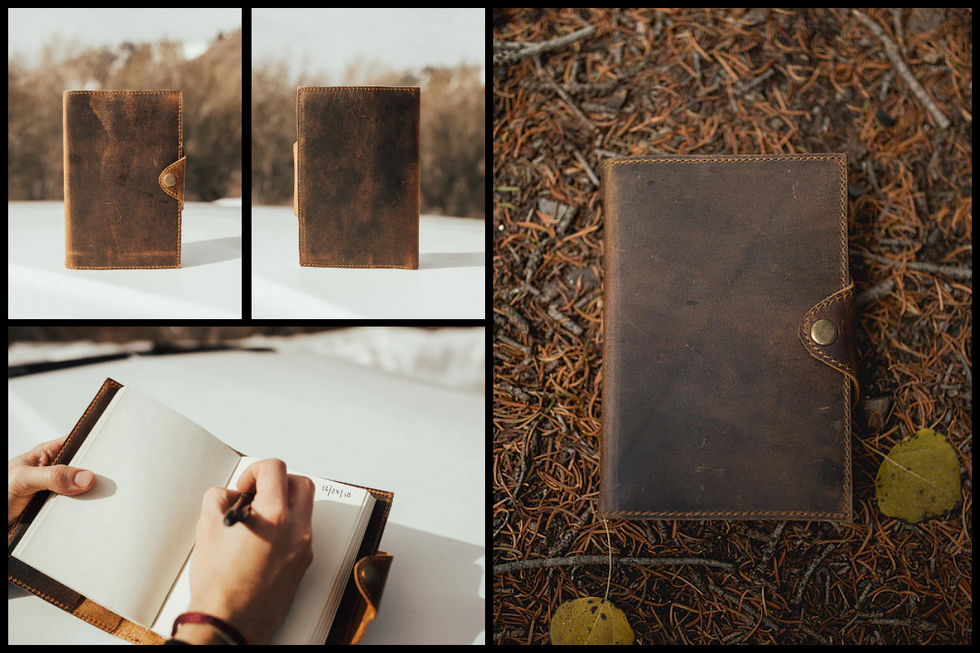 The Drifter Leather Journal is a true reflection of Kodiak Leather's dedication to craftsmanship and quality. Made from top-grain leather and featuring a snap button closure, this journal is both elegant and secure. Inside, you'll find handmade artisan paper, giving it a unique and personal touch. The refillable design ensures that you can continue using this beautiful journal for years, making it a cherished keepsake.
Compact and beautifully designed, the Drifter Leather Journal is the perfect travel companion. Its convenient size makes it easy to slip into your bag or backpack, so you can capture memories and jot down ideas wherever you go. Choose between Antique Brown or Dark Walnut color options to suit your style, and let this journal accompany you on all your adventures.
Owning a timeless artifact like the Drifter Leather Journal goes beyond simply having a stylish accessory. It represents an opportunity for personal reflection, growth, and connection to your experiences. As you fill its pages with your thoughts, dreams, and memories, it becomes a treasured part of your life story – one that can be passed down through generations, enriching the lives of those who come after you.
Kodiak Leather offers a stunning range of products that blend style, functionality, and timeless appeal. The Katmai Leather Backpack, Juneau Leather Tote w/ Pocket, and Drifter Leather Journal each possess unique features and benefits, catering to the diverse needs of the modern world. These versatile and stylish accessories are designed to support your busy lifestyle while making a lasting impression.
Investing in heirloom-quality leather goods from Kodiak Leather means more than just owning a beautiful accessory. It's about embracing the lasting impact of these products as they become an integral part of your life story and, eventually, the stories of future generations. By choosing Kodiak Leather, you're investing in a legacy of craftsmanship, durability, and timeless elegance.
So, why not explore the exceptional Kodiak Leather collection and discover the perfect piece that resonates with your personal style? Become part of the Kodiak Family today and experience the difference that heirloom-quality leather goods can make in your life.