popular
Jon Stewart returns to late-night TV to explain why the Wuhan lab-leak theory isn't so crazy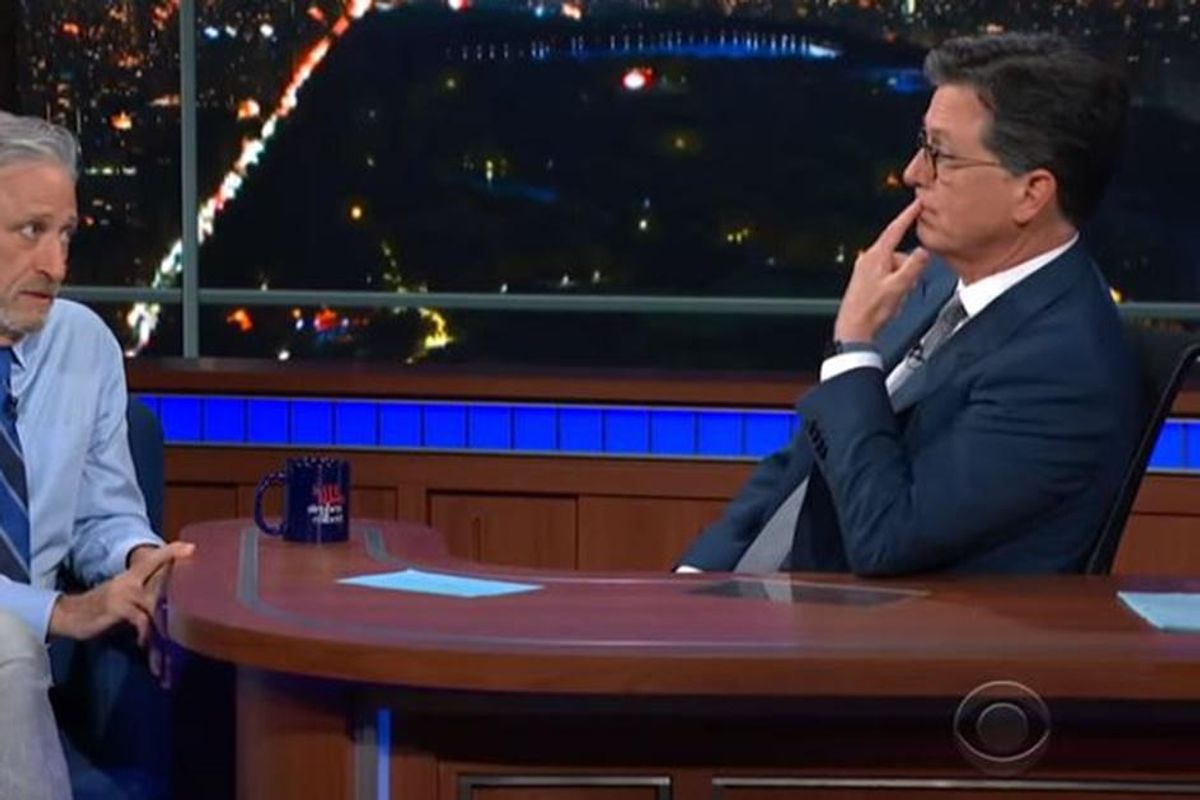 via The Late Show with Stephen Colbert
Former "Daily Show" host Jon Stewart made Stephen Colbert and his audience uncomfortable on the "Late Show" Monday night when he went on a rant about the origins of the COVID-19 pandemic.

Stewart believes the virus probably came from the Wuhan Institute of Virology, instead of the once near universally accepted belief that it emerged from wet markets in the area.
"Science has, in many ways, helped ease the suffering of this pandemic … which was more than likely caused by science," he said to nervous laughter.
---
Jon Stewart On Vaccine Science And The Wuhan Lab Theoryyoutu.be
Colbert believes that there's "a chance" that the virus leaked out of the lab.
"A chance? Oh my god!" Stewart replied. "There's a novel respiratory coronavirus overtaking Wuhan, China, what do we do? Oh, you know who we could ask? The Wuhan novel respiratory coronavirus lab.
"The disease is the same name as the lab! That's just a little too weird, don't you think?" he continued.
Stewart then dealt a series of hilarious metaphors to put his theory in perspective.
"There's been an outbreak of chocolatey goodness near Hershey, Pennsylvania — what do you think happened?" he said of another scenario.
"Oh, I don't know, maybe a steam shovel mated with a cocoa bean … or it's the f—ing chocolate factory. Maybe that's it!" he said.
"'I have been alone so long, and when I realized that the laboratory was having the same name — first name and last name — of the evil that had been plaguing us, I thought to myself, 'That's f–ed up,'" he said.
Colbert countered Stewart's opinion with a pretty strong argument.
"It could be possible that they have the lab … because in Wuhan there are a lot of coronavirus diseases because of the bat population there," he suggested.
Stewart's comments have been controversial because as a prominent liberal, they appear to confirm some of Donald Trump's thoughts on the virus's origin.

In late April and early May of 2020, Trump claimed he had a "high degree of confidence" that the virus came from a lab.

At the time, many of Trump's critics pushed back against the claim, calling it a conspiracy theory or an attempt to blame China for the virus. Which makes sense because Trump routinely peddled conspiracy theories and tried to scapegoat China for COVID-19 calling it the "China virus."
However, Trump backed off the theory after the spring of 2020 and never released any information that would have confirmed the idea.
Stewart's thoughts also rightly make many uncomfortable because Americans have a historical desire for retaliation and promoting the lab-leak theory could lead to an overreaction like we had after 9/11. It could also exacerbate the growing number of racist incidents against Asians.
The truth is nobody knows the virus's origin. But there is growing circumstantial evidence that the lab-leak theory should be considered. A Wall Street Journal report revealed that three researchers at the lab were hospitalized in November 2019. The new information has caused the Biden administration to order a new intelligence investigation into the virus's origins.
Last month, Dr. Anthony Fauci admitted that it may be a possibility.
"That possibility certainly exists, and I am totally in favor of a full investigation of whether that could have happened," Fauci said.
Colbert's reaction to Stewart's opinion highlights a major problem in political discourse in the United States: if the other side believes something, it must be wrong. Democrats have leaned into being the party of science over the past generation by embracing environmental science and evolution.
Liberals have also been better at fighting back against the COVID-19 virus by wearing masks and getting vaccinated.
At a time when we don't know the origins of COVID-19, liberal thought leaders like Colbert should put science before party and keep an open mind, even if it means having to possibly say that Donald Trump was right about one thing.
As the old saying goes there are "those who want to get it right" and "those who want to be right." Regardless of party, we should all be on team-get-it-right so that we can prevent the next pandemic.