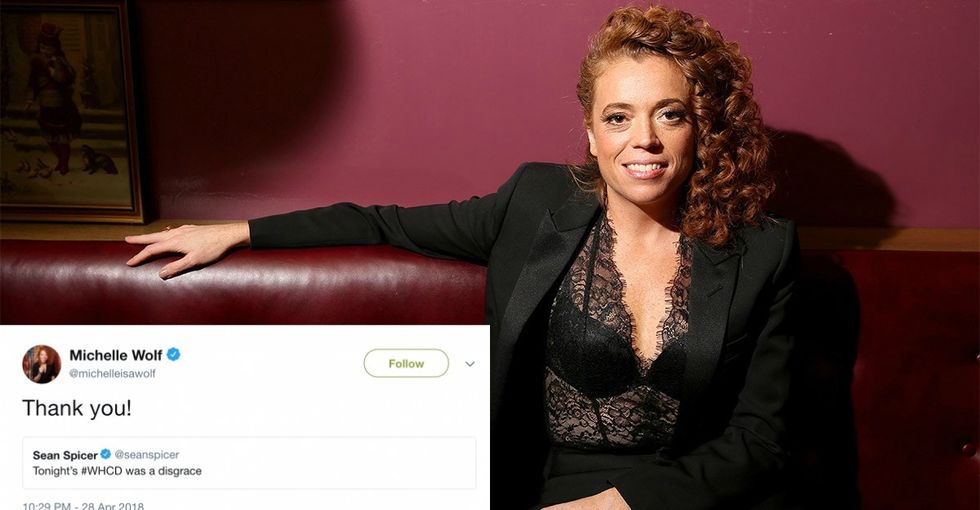 Comedian, screenwriter, and activist Michelle Wolf hosted the 2018 White House Correspondents' Association dinner. And, well, she didn't hold back.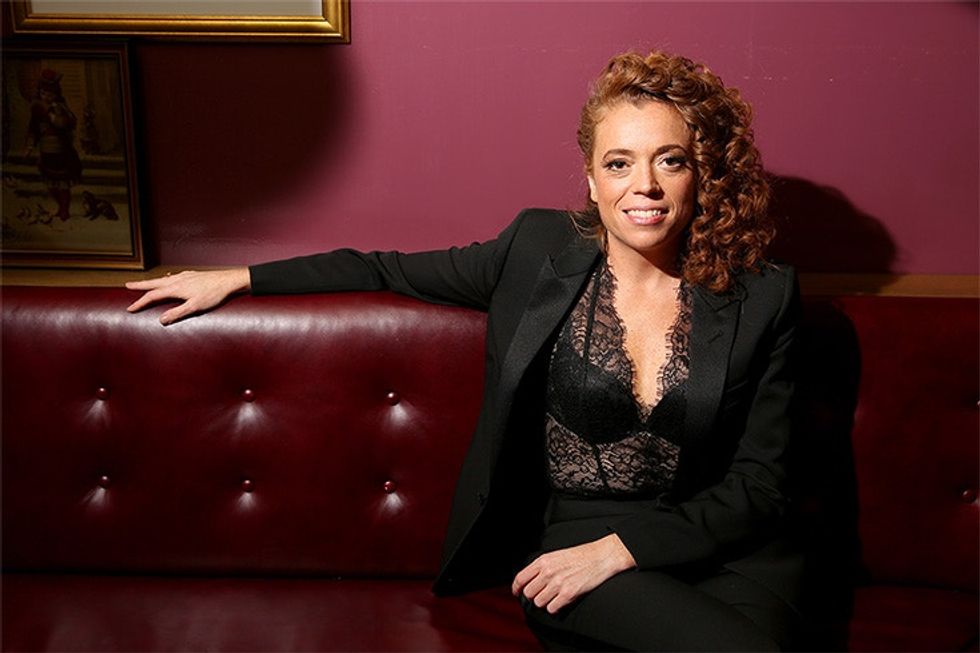 Photo by Tasos Katopodis/Getty Images for Netflix.
The dinner hosts journalists, comedians, and politicians from around the nation. The president is usually in the audience, but Donald Trump opted not to attend for the second year in a row.
---
The impressive, raunchy, and downright unapologetic Wolf used the momentous opportunity to mesh comedy and reality to shed a light on the serious, problematic situations happening in America right now. Many pundits have referred to her performance as "controversial," and it's become the talk of American media.
Some people were genuinely amused.
I thought Michelle Wolf was great. https://t.co/NctjIvaj1v

— Shaun King (@Shaun King) 1525015209.0
There are some jokes that I hear a comedian tell that are so good I get mad/jealous bc I didn't get to it first. Se… https://t.co/g9P9QcnGgS

— Rafat Thee Carousel Horse (@Rafat Thee Carousel Horse) 1525024576.0
I appreciate Michelle Wolf saying this in a room full of political journalist. Sweet Potato Saddam's political asce… https://t.co/1vii4TqOqc

— Michael Arceneaux (@Michael Arceneaux) 1525003919.0
Others — not so much.
What a horrid human being Michelle Wolf is. I'm going to read up on her over the next couple of days and I will hav… https://t.co/9iNCcQyJRS

— Dennis Miller (@Dennis Miller) 1524989817.0
Apology is owed to @PressSec and others grossly insulted ny Michelle Wolf at White House Correspondents Assoc dinne… https://t.co/0tedkwPc72

— Andrea Mitchell (@Andrea Mitchell) 1525014194.0
Congratulations Michelle Wolf ..You've followed the footsteps of your contemporaries Kathy Griffin, & Rosy O'Donnel… https://t.co/ilcpk290jF

— 𝐋𝐞𝐚𝐡 ⏰🇺🇸🎸🌴 (@𝐋𝐞𝐚𝐡 ⏰🇺🇸🎸🌴) 1525024568.0
Many pointed out the hypocrisy of the controversy.
All the folks, especially media personalities and journalists, who are so utterly outraged by Michelle Wolf's jokes… https://t.co/JkU3PvYpVF

— Wajahat Ali (@Wajahat Ali) 1524986858.0
Sarah Huckabee Sanders lies to the American people almost every day and defends the lies, incompetence and cruel be… https://t.co/M8Os3eoV5j

— billy eichner (@billy eichner) 1525031470.0
*whispers* The real reason so many are big mad at Michelle Wolf is that she accurately called out complicity in opp… https://t.co/JY2txkwt7l

— ❄Mikki Kendall❄ (@❄Mikki Kendall❄) 1525024519.0
And Wolf? Well, she took it all in stride.
Thank you! https://t.co/0Nsx5ZBj8c

— Michelle Wolf (@Michelle Wolf) 1524972584.0
Whether your liked Wolf's jokes or not, there's no doubt that she spoke a lot of truth and sparked some deep thoughts about very real things taking place right now. Here were some of the most poignant issues she pointed out:
1. Congress can take forever to accomplish things.
"Just a reminder to everyone. I'm here to make jokes. I have no agenda. I'm not trying to get anything accomplished, so everyone that's here from Congress, you should feel right at home."
American government, particularly Congress, has long been criticized for failure to pass commonsense laws, move away from corruption and greed in the system, and foster a bipartisan government that functions successfully. In the past few months, those struggles have largely been amplified as Americans continue to grow weary with their congresspeople.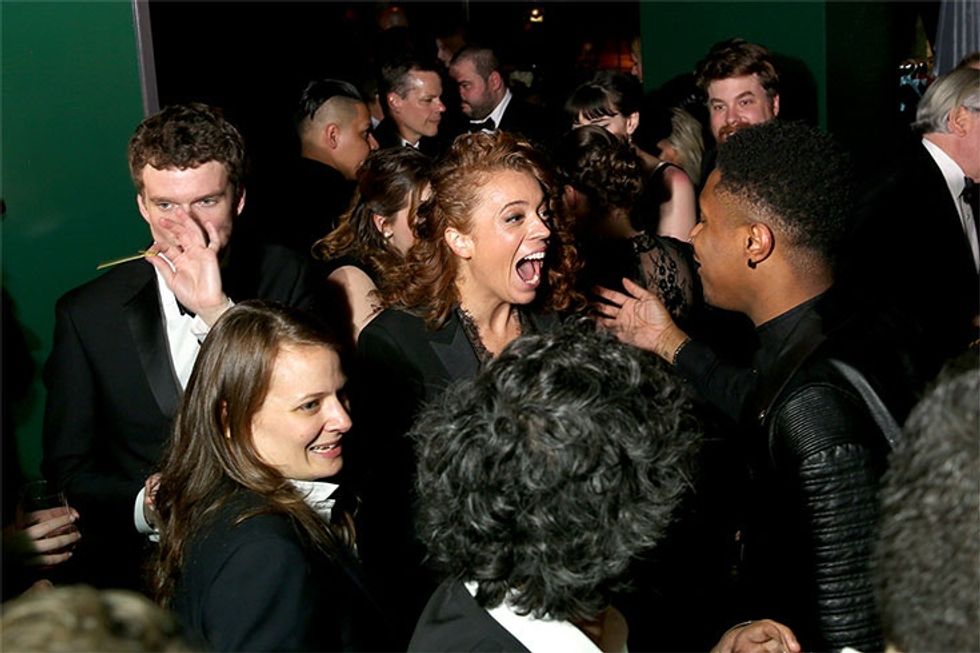 Photo by Tasos Katopodis/Getty Images for Netflix.
2. White male privilege is a real thing when it comes to sexual assault.
"I would drag him here myself, but it turns out the president of the United States is the one pussy you're not allowed to grab."
When a recording of Trump boasting about grabbing women by their vaginas went viral, most assumed he was no longer a viable candidate.
But, alas, "locker room talk" seemed to not matter to a large number of voters. Even as disturbing allegations continue to emerge about Trump's sexual misconduct, he has remained relatively unscathed. He still sits in the most powerful office with no signs of being removed for his actions.
3. The media's role in putting Trump where he is — and keeping him there.
"He has helped you sell your papers and your books and your TV. You helped create this monster, and now you are profiting from him."
The media — from both sides of the political spectrum — played a huge role in letting Trump and his accompanying racist, misogynistic behavior get this far. Though complicated, media and the organizations that help circulate media directly and indirectly played large roles in the outcome of the 2016 election and the current state of affairs. Journalists have a responsibility to deliver credible, valuable information, and Wolf's dig was a poignant reminder of that.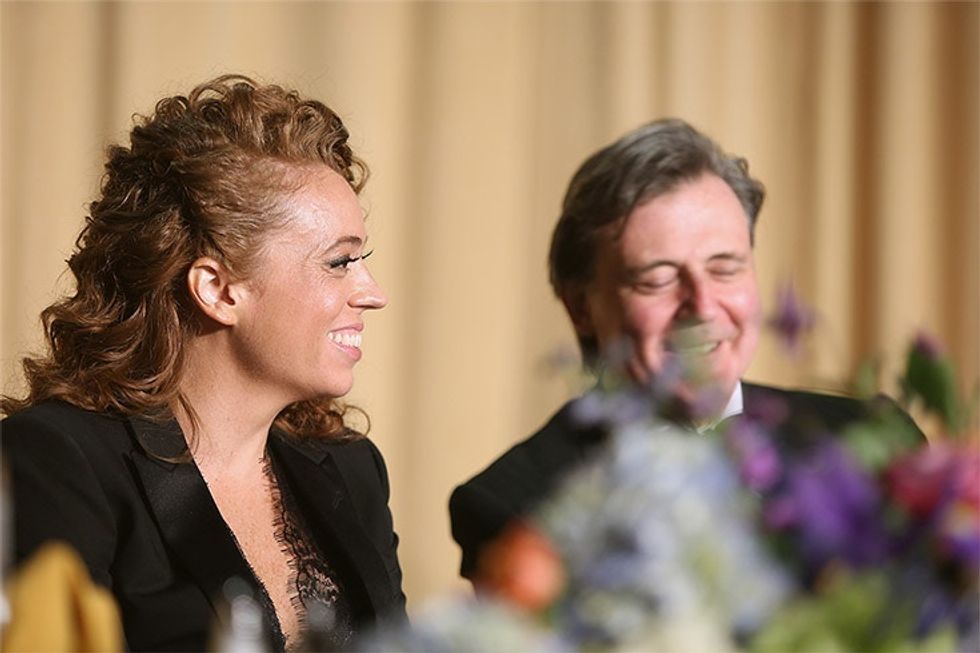 Photo by Tasos Katopodis/Getty Images for Netflix.
4. Roy Moore's underage (and non-criminalized) sexual crimes exist.
"I'm 32, which is a weird age — 10 years too young to host this event and 20 years too old for Roy Moore."
Roy Moore served as a chief justice of the Supreme Court of Alabama. He was also the Republican nominee in the 2017 special election in Alabama to fill Jeff Sessions' vacated seat, a race he lost to candidate Doug Jones after allegations surfaced of sexual assault against underage women. Still supported by a vast majority of the GOP, Moore managed to be a contending candidate and only lost by a small margin — a confusing fact considering some of his constituents' avowed dedication to "family values."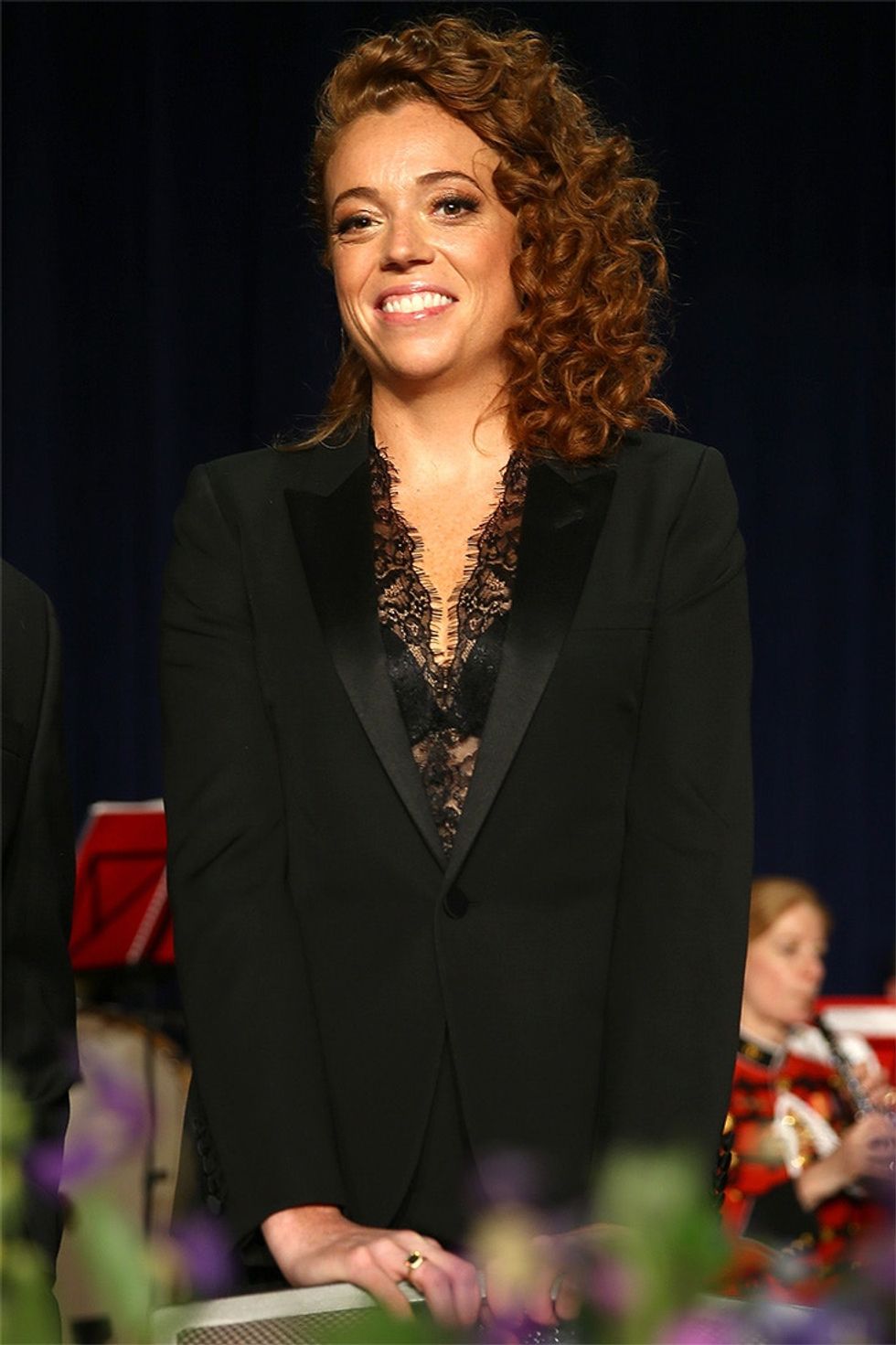 Photo by Tasos Katopodis/Getty Images for Netflix.
5. The absurd argument to arm teachers instead of giving them the actual teaching tools they need.
"He wants to give teachers guns, and I support that because then they can sell them for things they need like supplies."
Teachers have been protesting for weeks all across the United States. Decades-old books, desks that are falling apart, and the inability to afford school supplies for hundreds of students are just some of the issues that underpaid teachers face across the country. Instead of working to create additional funding to address these issues, the Trump administration used the Parkland school shooting as a call for arming teachers with guns. It's ludicrous, it's frustrating, and it flies in the face of the legitimate concerns teachers have been voicing for years.
6. The water crisis in Flint, Michigan, is still happening.
"Flint still doesn't have clean water."
In a mic-dropping moment, Wolf wrapped up her remarks declaring that Flint still doesn't have clean water. A city filled predominantly with people of color, Flint continues to struggle with a water crisis. Lead contamination in the water there began four years ago, but the corroded pipes won't be fully replaced until at least 2020 — and the government has ceased the bottled water program that many people there were relying on.
Wolf's remarks were bold, wild, and shockingly on-point. Regardless of what you think of her delivery, she spoke candidly about things we should all think a bit more about.