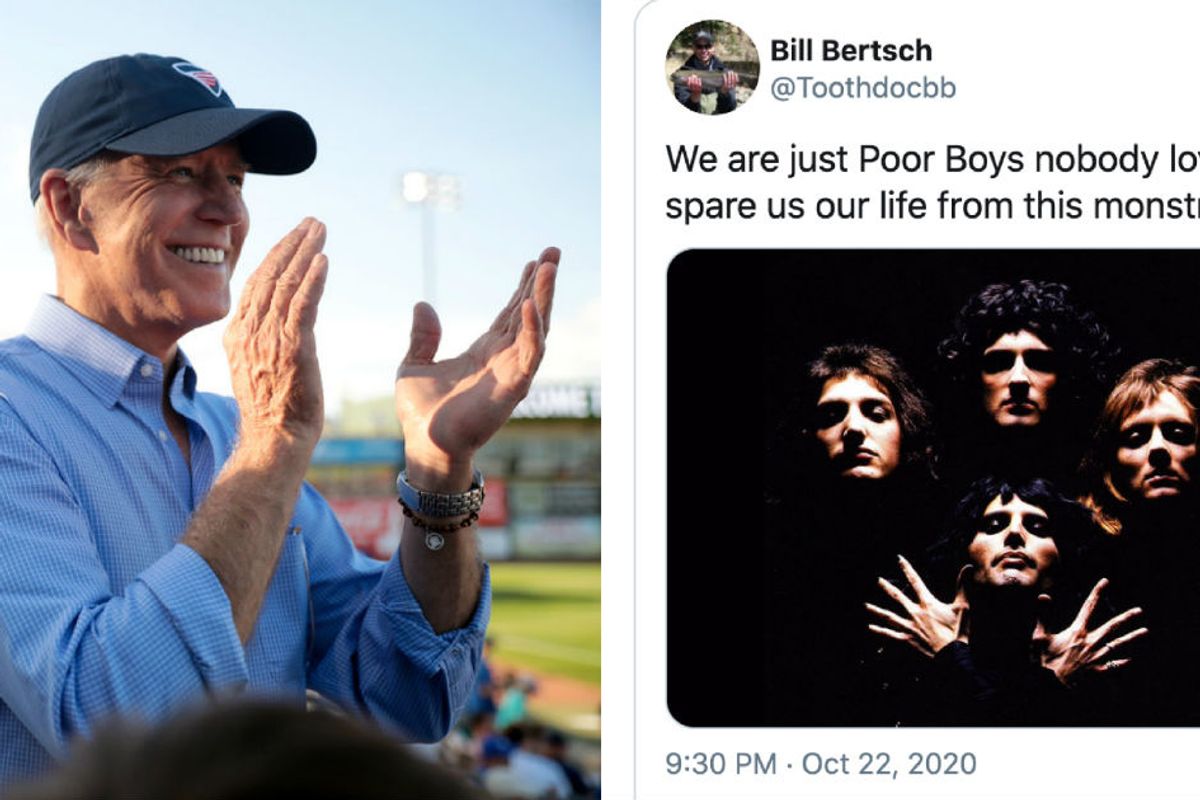 This election might be giving a lot of people stress, but it's also giving us memes. While Thursday's debate didn't have anything nearly as spectacular as the fly - which will now get a whole chapter in future history books just so there's enough room to cover even a fraction of the jokes – people were still able to have fun with it.
During the debate, Joe Biden accidentally misspoke and referred the Proud Boys as "poor boys." "He has made everything worse across the board. He said about the poor boys, the last time we were on stage here, he said 'I tell them to stand down and stand ready,'" Biden said during Thursday night's debate. "Come on. This guy is a dog whistle about as big as a foghorn," Biden said.
While the internet didn't pick up on that whole vintagey-sounding dog whistle/foghorn analogy, Twitter did go wild with Biden's "poor boy" moniker.
---
Somewhere in Minnesota, a level D beer league hockey team named Poor Boys are going to wake up and wonder why their… https://t.co/H36ho0nVpU

— Stephen L. Miller (@Stephen L. Miller) 1603425944.0
I'm naming my new band Abe Lincoln and the Poor Boys.

— Noam Blum (@Noam Blum) 1603419716.0
Biden calling the Proud Boys the Poor Boys reminded me of when during the primary he referred to the "Bernie Brothe… https://t.co/L0y6OZm1PD

— Parker Molloy (@Parker Molloy) 1603464096.0
Biden just accidentally called the white supremacist group "proud boys" the "poor boys" and I've never been so happy about a verbal typo

— Crystal Leigh🤍 (@Crystal Leigh🤍) 1603419703.0
Some people just had fun with it and made it their own.

proud boys ---> poor boys ---> broke bois

— Steadman™ (@Steadman™) 1603419600.0
We are just Poor Boys nobody loves us, spare us our life from this monstrosity!! https://t.co/lrUBHp8w6U

— Bill Bertsch (@Bill Bertsch) 1603427454.0
While others brought up the food. A poor boy is a sandwich, Joe!
Stand back and stand by #poorboys https://t.co/K5p8zuSP5z

— Tabby💋 (@Tabby💋) 1603427136.0
@ScottAdamsSays @JCinQC If I ran a Cajun restaurant, I'd be running a special on #PoorBoys this weekend. 😂

— WitCoHE (@WitCoHE) 1603460745.0
The only real winner tonight. #poorboys https://t.co/NoNqe1Is7Q

— VOTE hard. (@VOTE hard.) 1603426168.0
And some people wanted to officially make "poor boys" a thing.

"Poor Boys" is great I vote we keep it.

— jess mcintosh (@jess mcintosh) 1603419510.0
Biden slipped up there, but fuck it, let's go with it - we'll call them the Poor Boys from now on.

— Avi Bueno (@Avi Bueno) 1603419566.0
That man said The Poor Boys, and just like that, theyre The Poor Boys now and forever.

— Kiese Makeba Laymon (@Kiese Makeba Laymon) 1603425641.0
Verbal gaffs from politicians are the gift that keeps on giving. And while this whole election cycle might be exhausting, at least we're able to still have even a little bit of fun.