True
The experiences we have at school tend to stay with us throughout our lives. It's an impactful time where small acts of kindness, encouragement, and inspiration go a long way.
Schools, classrooms, and teachers that are welcoming and inclusive support students' development and help set them up for a positive and engaging path in life.
Here are three of our favorite everyday actions that are spreading kindness on campus in a big way: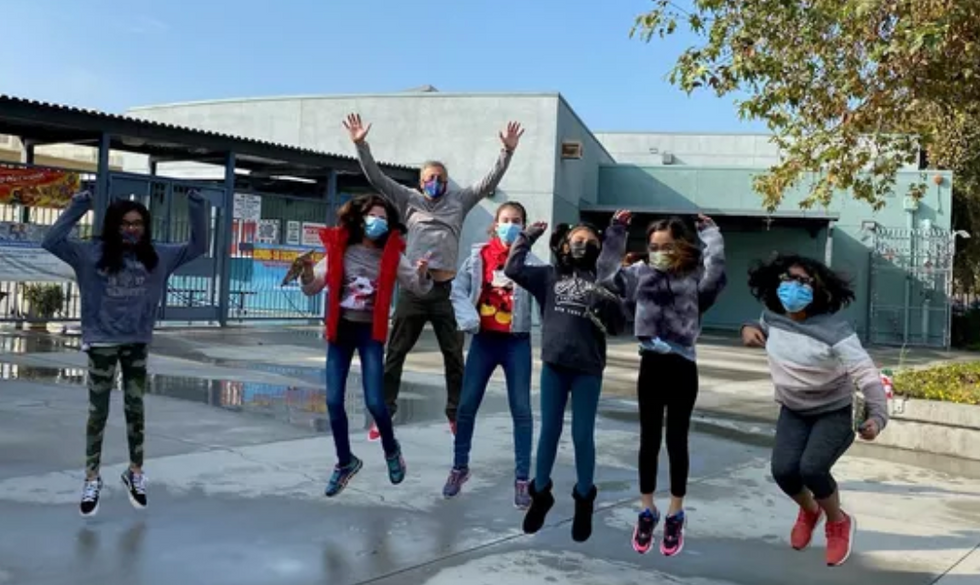 Image courtesy of Mark Storhaug
1. Pickleball to Get Fifth Graders Moving
Mark Storhaug is a 5th grade teacher at Kingsley Elementary in Los Angeles, who wants to use pickleball to get his students "moving on the playground again after 15 months of being Zombies learning at home."

Pickleball is a paddle ball sport that mixes elements of badminton, table tennis, and tennis, where two or four players use solid paddles to hit a perforated plastic ball over a net. It's as simple as that.
Kingsley Elementary is in a low-income neighborhood where outdoor spaces where kids can move around are minimal. Mark's goal is to get two or three pickleball courts set up in the schoolyard and have kids join in on what's quickly becoming a national craze. Mark hopes that pickleball will promote movement and teamwork for all his students. He aims to take advantage of the 20-minute physical education time allotted each day to introduce the game to his students.
Help Mark get his students outside, exercising, learning to cooperate, and having fun by
donating to his GoFundMe
.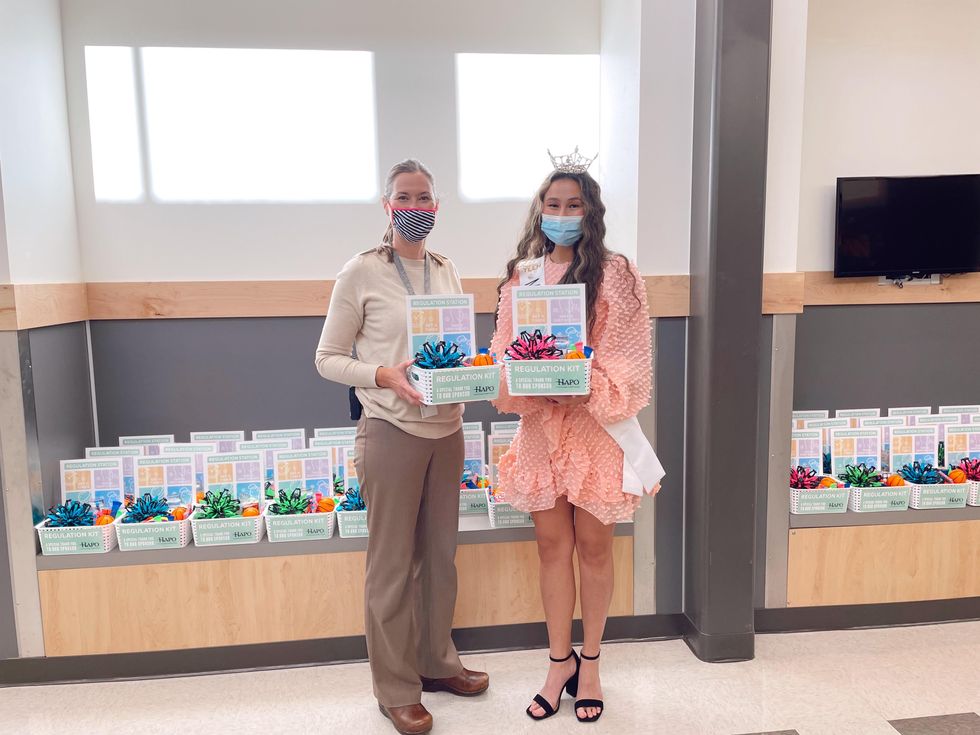 Image courtesy of Kaiya Bates
2. Staying C.A.L.M: Regulation Kits for Kids
According to the WHO around 280 million people worldwide suffer from depression. In the US, 1 in 5 adults experience mental illness and 1 in 20 experience severe mental illness, according to the National Alliance on Mental Illness.
Kaiya Bates, who was recently crowned Miss Tri-Cities Outstanding Teen for 2022, is one of those people, and has endured severe anxiety, depression, and selective mutism for most of her life.
Through her GoFundMe, Kaiya aims to use her "knowledge to inspire and help others through their mental health journey and to spread positive and factual awareness."
She's put together regulation kits (that she's used herself) for teachers to use with students who are experiencing stress and anxiety. Each "CALM-ing" kit includes a two-minute timer, fidget toolboxes, storage crates, breathing spheres, art supplies and more.
Kaiya's GoFundMe goal is to send a kit to every teacher in every school in the Pasco School District in Washington where she lives.
To help Kaiya achieve her goal, visit Staying C.A.L.M: Regulation Kits for Kids.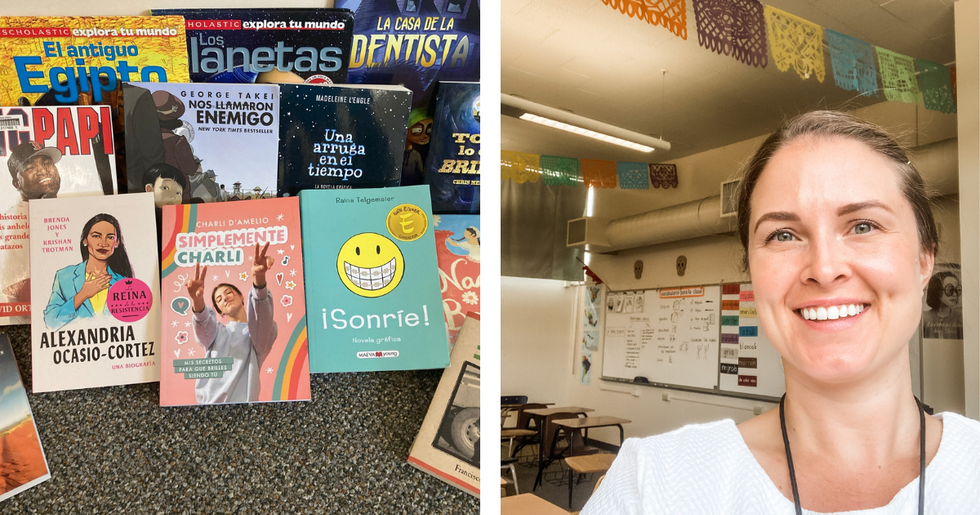 Image courtesy of Julie Tarman
3. Library for a high school heritage Spanish class
Julie Tarman is a high school Spanish teacher in Sacramento, California, who hopes to raise enough money to create a Spanish language class library.
The school is in a low-income area, and although her students come from Spanish-speaking homes, they need help building their fluency, confidence, and vocabulary through reading Spanish language books that will actually interest them.
Julie believes that creating a library that affirms her students' cultural heritage will allow them to discover the joy of reading, learn new things about the world, and be supported in their academic futures.
To support Julie's GoFundMe, visit Library for a high school heritage Spanish class.
Do YOU have an idea for a fundraiser that could make a difference? Upworthy and GoFundMe are celebrating ideas that make the world a better, kinder place. Visit upworthy.com/kindness to join the largest collaboration for human kindness in history and start your own GoFundMe.

From Your Site Articles
Related Articles Around the Web
via Gage Skidmore/Flickr and Terry Morgan/Flickr
Conservative media in the United States has painted Australia as a state on the brink of authoritarianism due to strict COVID-19 protections in some parts of the country. These news outlets appear to be using the country as an example of what can happen in America if liberal politicians go unchecked.

Fox News' Tucker Carlson ran a story on Australia earlier this month claiming the country "looks a lot like China did at the beginning of the pandemic." He ended it by saying that "what's happening in Australia might be instructive to us in the United States" and that things can "change very quickly" and become "dystopian and autocratic."
Carlson provides zero reasons why Americans should be fearful of becoming an autocratic country due to COVID-19, beyond the idea that "things can change very quickly" so his appeals sound a lot more like fear-mongering than genuine concern.
Florida governor Ron De Santis–whose state's COVID-19 death rate is some 50 times Australia's–suggested that the U.S. should reconsider its diplomatic relations with Australia, asking whether it was freer than China.
While conservative media in the U.S. bemoans the state of Australia, people living Down Under don't care much for their concerns. Polls show that the vast majority of Australians support vaccine mandates, presumably because they don't want their fellow countrymen to die.
Texas Republican Senator Ted Cruz got in on the Australia bashing last week when he posted a tweet featuring a video of Australia's Northern Territory Chief Minister Michael Gunner announcing the country's latest vaccine mandates.
Gunner had announced that anyone who serves the public in hospitality, gyms, retail or any other customer-facing industries must get their first coronavirus vaccine within a month or face a $3,750 (5000 Australian dollars) fine.
"I love the Aussies. Their history of rugged independence is legendary; I've always said Australia is the Texas of the Pacific," Cruz wrote before adding, "The Covid tyranny of their current government is disgraceful and sad. Individual liberty matters. I stand with the people of Australia."
Gunner responded to Cruz on Twitter, educating him on the effectiveness of vaccines and how compared to Australia, Texas is a complete disaster when it comes to protecting people from the virus.
G'day from Down Under @tedcruz. Thanks for your interest in the Territory. I'm the Chief Minister. Below are a few… https://t.co/kOI3wRqTtb

— Michael Gunner (@Michael Gunner) 1634528825.0
"Hey Ted Cruz, g'day from the Northern Territory in Australia. Here are some facts. Nearly 70,000 Texans have tragically died from COVID. There have been zero deaths in the Territory. Did you know that?" he wrote before adding, "Vaccination is so important here because we have vulnerable communities and the oldest continuous living culture on the planet to protect. Did you know that?"
He then added, "We don't need your lectures, thanks mate. You know nothing about us. And if you stand against a life-saving vaccine, then you sure as hell don't stand with Australia. I love Texas (go Longhorns), but when it comes to COVID, I'm glad we are nothing like you."
The difference between Texas and Australia is staggering when it comes to the number of people who've died due to COVID-19. Australia has a population of 25.7 million and has had 147,275 total cases and 1,558 total deaths due to COVID-19.
Texas, on the other hand, has a similar population of 29 million but has 3,474,092 cases and 68,043 fatalities. That's more than 45 times the death rate.
Cruz can bash Australia all he wants, but if he actually loved the people of Texas, he'd care a bit more about their health. Few people have much use for liberty when they're dead or stuck on a ventilator.
From Your Site Articles
Related Articles Around the Web
True
When a pet is admitted to a shelter it can be a traumatizing experience. Many are afraid of their new surroundings and are far from comfortable showing off their unique personalities. The problem is that's when many of them have their photos taken to appear in online searches.
Chewy, the pet retailer who has dedicated themselves to supporting shelters and rescues throughout the country, recognized the important work of a couple in Tampa, FL who have been taking professional photos of shelter pets to help get them adopted.

"If it's a photo of a scared animal, most people, subconsciously or even consciously, are going to skip over it," pet photographer Adam Goldberg says. "They can't visualize that dog in their home."
Adam realized the importance of quality shelter photos while working as a social media specialist for the Humane Society of Broward County in Fort Lauderdale, Florida.
"The photos were taken top-down so you couldn't see the size of the pet, and the flash would create these red eyes," he recalls. "Sometimes [volunteers] would shoot the photos through the chain-link fences."

That's why Adam and his wife, Mary, have spent much of their free time over the past five years photographing over 1,200 shelter animals to show off their unique personalities to potential adoptive families. The Goldbergs' wonderful work was recently profiled by Chewy in the video above entitled, "A Day in the Life of a Shelter Pet Photographer."
Get stories worth sharing delivered to your inbox