Photo courtesy of Justin Sather
True
Upworthy and GoFundMe are celebrating ideas that make the world a better, kinder place. Visit upworthy.com/kindness to join the largest collaboration for human kindness in history and start your own GoFundMe.
While most 10-year-olds are playing Minecraft, riding bikes, or watching YouTube videos, Justin Sather is intent on saving the planet. And it all started with a frog blanket when he was a baby.
"He carried it everywhere," Justin's mom tells us. "He had frog everything, even a frog-themed birthday party."
In kindergarten, Justin learned that frogs are an indicator species – animals, plants, or microorganisms used to monitor drastic changes in our environment. With nearly one-third of frog species on the verge of extinction due to pollution, pesticides, contaminated water, and habitat destruction, Justin realized that his little amphibian friends had something important to say.
"The frogs are telling us the planet needs our help," says Justin.
While it was his love of frogs that led him to understand how important the species are to our ecosystem, it wasn't until he read the children's book What Do You Do With An Idea by Kobi Yamada that Justin-the-activist was born.
Inspired by the book and with his mother's help, he set out on a mission to raise funds for frog habitats by selling toy frogs in his Los Angeles neighborhood. But it was his frog art which incorporated scientific facts that caught people's attention. Justin's message spread from neighbor to neighbor and through social media; so much so that he was able to raise $2,000 for the non-profit Save The Frogs.
And while many kids might have their 8th birthday party at a laser tag center or a waterslide park, Justin invited his friends to the Ballona wetlands ecological preserve to pick invasive weeds and discuss the harms of plastic pollution.
Justin's determination to save the frogs and help the planet got a massive boost when he met legendary conservationist Dr. Jane Goodall.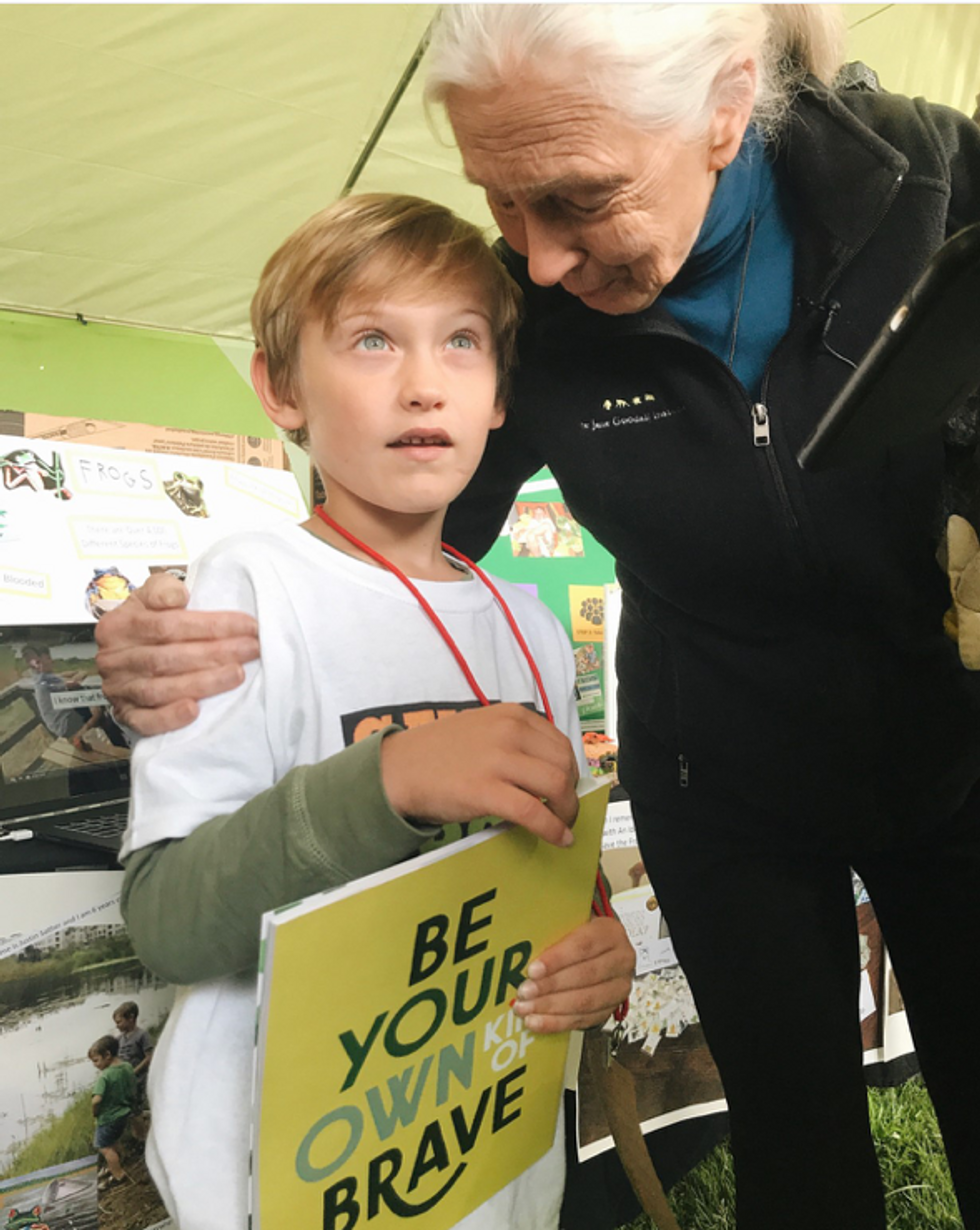 Photo courtesy of Justin Sather
At one of her Roots and Shoots youth initiative events, Dr. Goodall was so impressed with Justin's enthusiasm for helping frogs, she challenged the young activist to take it one step further and focus on plastic pollution as well. Justin accepted her challenge and soon after was featured in an issue of Bravery Magazine dedicated to Jane Goodall.
In the following months, Justin learned how to turn fishing line into bracelets, transform plastic bags into doormats, recycle crayons, and shred plastic to make bowls. For him, turning trash into treasure became a thing of magic. He even collected 200 pounds of plastic caps, and transformed this trash into a buddy bench for his school.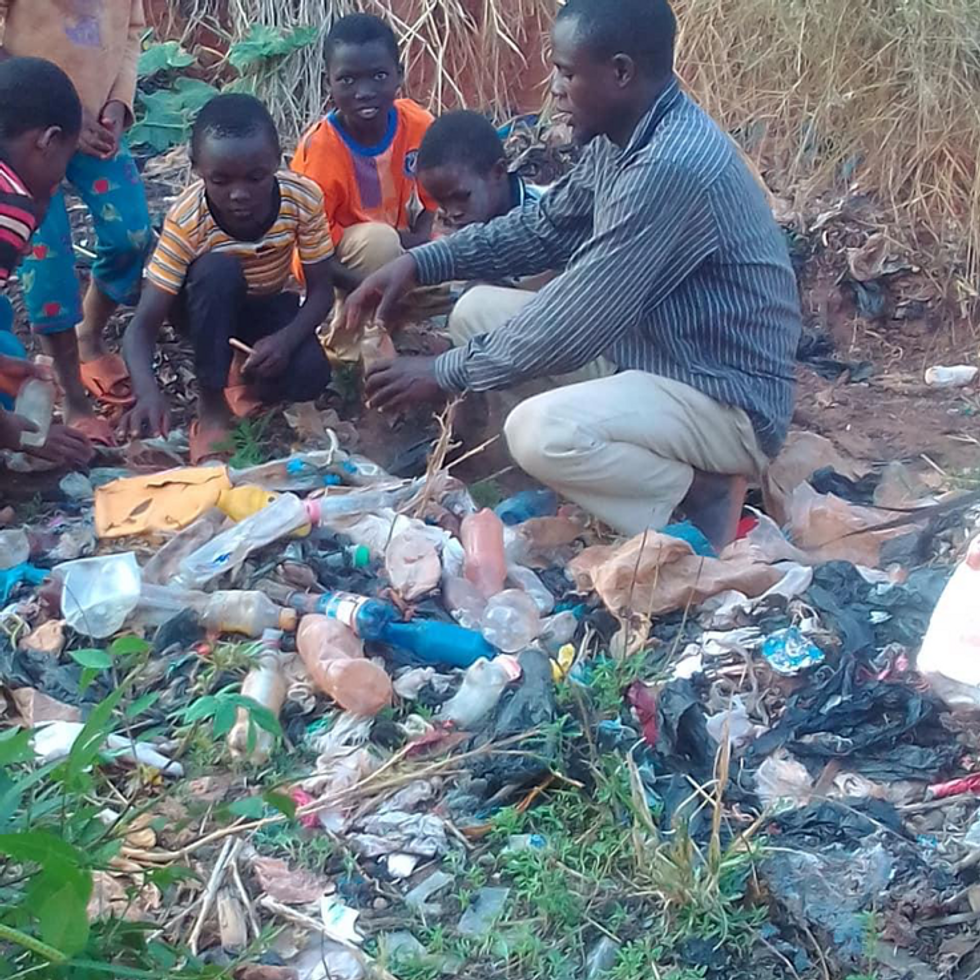 Photo courtesy of Justin Sather
On Earth Day 2019, Perise Foran, an environmental science student from Cameroon reached out to Justin asking for help. Justin saw that the streams where Perise lived were overflowing with plastic garbage, and quickly agreed to help his new friend. The two of them started off with a plan to transform the 8,000 plastic bottles Perise collected on a World Litter Run and had been sitting in his yard for over 6 months.
According to Reuters, every minute, a million plastic bottles are bought around the world. And according to PlasticOceans.org, every minute, a full garbage truck's worth of plastic is dumped into our oceans. Upon learning those facts, Justin further strengthened his resolve.
He started asking everyone he was connected to for suggestions on what could be done with Perise's stockpile of bottles. Soon, creative upcycling ideas began pouring in from all around the world. Justin completed the projects with family and friends in the United States, and encouraged Perise to do the same in "parallel" in Cameroon. That's when Justin's Parallel Projects GoFundMe was created. Its aim is to raise awareness about water quality, find creative solutions to the plastic pollution issue, educate people to move away from single-use plastics, and inspire youth to become eco-heroes.
Soon, the Parallel Projects ideas spread to other countries like Kenya, Canada, Tanzania, and Nigeria, resulting in trash transforming into toys, bottle cap art, flower planters, jewelry, and more.
One might think that Justin had his hands full with all these projects… but he didn't stop there.
This summer, Justin's dream of visiting the rare and exotic frogs of Ecuador's Choco Cloud Forest came true with the Reserva Youth Council. Through his land conservation GoFundMe, and with generous donations from the Rainforest Trust, Old Navy, and the public, Justin purchased 30 acres of land which protected habitat for critically endangered species that were at risk from logging and ranching.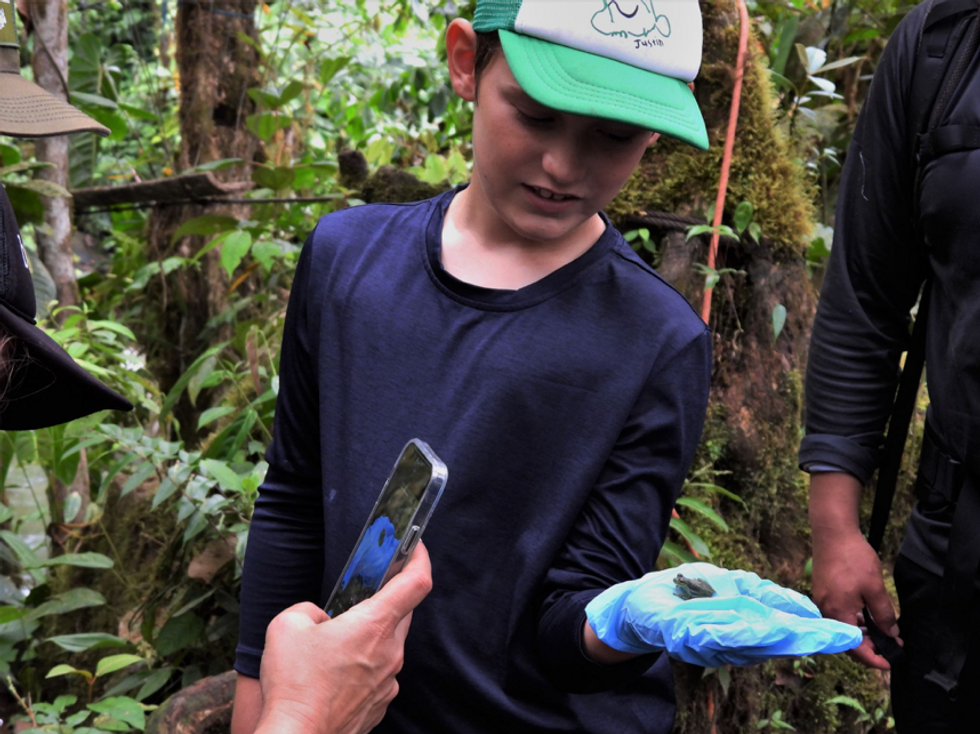 Photo courtesy of Justin Sather
Through a separate Reserva Youth Council initiative, Justin's goal now is to collect a million letters from young people like himself to send to world leaders with the aim of protecting 30% of the planet by 2030.
For anyone looking to help the planet Justin suggests to "start off small, take chances, and be brave."
To learn more about Justin Sather and his initiatives visit his website. Or donate directly to his GoFundMe's For the Love of Frogs, the Parallel Projects, and habitat protection in Ecuador.
Photo by Sterling Pics
Last year, in the middle of what we thought were the darkest times of the COVID-19 pandemic, after endless months of cooking at home, my husband and I decided to venture out of our cocoon and get "slutified." That's what people are called after a visit to one of Atlanta's hottest burger joints, provocatively named, Slutty Vegan.
Owned by 33-year-old fuchsia-loc'd maven and philanthropist Aisha "Pinky" Cole, Slutty Vegan has three locations in the ATL, with more in the works. Her menu reads more like a list of offerings at a bordello than a restaurant, with the "Ménage à Trois," "One Night Stand," and the "Super Slut," and the atmosphere is more like a night club. But, it's not just the cheeky burger names or the concept of plant-based fast food that has customers literally wrapped around the block at all of her locations, it's the vibe she's created. Slutty Vegan is more than a restaurant. It's a culture. And Cole is at the center of it, building a community based on supporting Black entrepreneurs, getting involved in politics, giving back, and being thoughtful about what you put into your body.
Upworthy spoke with Cole as she was hanging out at home with her one-month-old daughter, D. Ella. Now worth seven figures, the restauranteur talked about her recent honor by PETA, growing up the daughter of a Jamaican Rastafarian mother, owning a jerk chicken restaurant in Harlem that tragically burned down, the many brands vying to partner with her, and how vitally important it is for her business to be ethically aligned with her beliefs.
Upworthy: Where did the name come from?
Cole: I was a TV producer for 10+ years. The one thing I know how to do well is to make people pay attention. I know that sex sells and the two most pleasurable experiences in life are sex and food. If I could merge those two experiences, and not make it mucky, but sexy and educational, I knew it would be big, especially in the heart of the South. I'm infusing this concept into culture, music and entertainment. I'm showing you how to eat better, even if it starts with burgers, fries, and pies. I needed the name to be so racy, that you'd pay attention. Then I can start dropping the gems on you. And we have been able to bring people together in the name of food. And to help people reimagine food, especially "flexitarians," -- meaning people who are meat-eaters.
Upworthy: How did you feel being honored by PETA as one of their "Most Beautiful Vegans?"
C: I love what PETA represents. They've supported and rallied for me since the beginning. To be alongside so many other amazing vegans shows me that I'm in the room. Meaning that I'm alongside people who stand for something. People who are making changes in their communities and it feels good to be connected in that way.
Upworthy: Let's talk about The Pinky Cole Foundation.
C: I officially started the foundation in 2019. But, it was just a way of formalizing what I'd been doing for years. I was always a steward of people. I saw my mom do it. She helped everybody anytime she could. She'd take the clothes off her back to help people. The foundation is at the crux of who we are. Slutty Vegan is nothing without the philanthropic aspect. I want to bridge the generational wealth gap. I want people to see that a young woman can start a company and it can be beyond money, but help the community and provide group economics and give back. Money doesn't move me. It's the ability to utilize my resources to help people.

* Cole has supported 30 Clark Atlanta University students in clearing their balances. When Rayshard Brooks was shot and killed by Atlanta police in a Wendy's parking lot, Cole provided life insurance for Brooks' family, a new car, and $600K in scholarships for them to go college. She partnered with TV host Steve Harvey and his wife, Marjorie's foundation to pay the electric bills for 100 Atlanta residents. She's donated thousands of pounds of produce and winter coats to local families in need. Cole along with Derrick "D" Hayes, CEO of Big Dave Cheesesteaks, provided life insurance to all Black men in Atlanta who make $30k annually or less, and she partnered with the Department of Juvenile Justice to employ ex-juvenile offenders at Slutty Vegan, and so much more.
Upworthy: How do you encourage and inspire all of your thousands of customers to do something in their own communities?
C: Leading by example. I speak to so many audiences. I speak to women; minorities; children of immigrants; mothers; small business owners; people who come from middle-class families; I speak to so many different people. So, when people come and support Slutty Vegan, they feel like they're represented. People see the representation through me. As long as I continue to be an example that you can do it. You can come from East Baltimore, or like we say, "around the way," and be everything you dreamed of. Pinky Cole did it and I can too. That's the empowerment they see.
Upworthy: What's your philosophy on being vegan as it relates to health, the environment, the Black community, and neighborhoods with obvious food deserts.
C: I don't try to push my agenda on anyone. My audience is people who aren't necessarily vegan. It's like Christianity and Islam. Believe in what you want to believe in. I can show you the way, but I won't make you drink the way. My emphasis is on the experience. I want people to feel good. And feeling good is eating good and thinking good. Emotionally, spiritually, and mentally. Food can do that for you. Am I walking around with a sign that says 'Eat Vegan or Die!' No. But, what I will say is, let me show you another way.
Upworthy: Did you feel like you had to recreate traditional fast food, but vegan-style to assure you had customers? Particularly in the South?
C: My father has a saying, 'Success is like mud. You throw something on the wall, something's gonna stick.' And this is what stuck. Obviously, I knew that I had to appeal to my audience. I did that by fusing food and culture. Slutty Vegan has grown so fast because so many celebrities have endorsed the brand. We've been able to utilize other people's platforms, especially celebrities, to expand the brand. So, if you see your favorite celebrity eating something or doing something that you love to do, nine times out of ten, you're going to want to do it. This is me meeting people where they are. Focusing on the entertainment and secondarily the food. We're in the South, so Southern comfort food is at the center of living here. So, how can I get people to eat vegan food in the heart of the South? Put it in the music. Put it in the entertainment. The things people pay attention to. You've got Megan Thee Stallion eating Slutty Vegan, so of course, people who love her want to eat it too. People want to see what all the hype is about.
Upworthy: Have you seen a difference in her customers' tastes and acceptance of veganism as a concept since opening in 2018?
C: When we started, none of the big chains had options, now all of them do. And I like to say that we have been the inspiration for that -- humbly. We were the guinea pigs. We tested the market so they didn't have to. And that's the goal, to get more people to eat plant-based. And that's a win for the plant-based community and for people who want to change their lives and be better.
Upworthy: What do you say when people say being vegan is too pricey for me?
C: It's pricier. But, you pay for your health. If you choose to eat badly all of your life, you're going to be paying for medicine. Either pay for your health now or later. Society doesn't make you think about it that way. I think COVID started to make us think more about our health. This is why Slutty Vegan became even more successful during the pandemic. People wanted to start living better.
Upworthy: What are your tips for becoming a successful entrepreneur?

C: Mess up all the time. I make a lot of conscious mistakes. I make decisions that make sense to me, but sometimes those decisions aren't the best, but that helps me learn. In my first restaurant, when it caught on fire, I was sick. But, that taught me to make sure my paperwork was right and make sure I had fire insurance. Also, alignment is a big thing in business. I believe you have to ask yourself some questions. Why am I starting this business? Who is it going to support? Who is going to help outside of me? If you have pure intentions you will win. Anything I've done, I've done it with pure intentions. Which is why I always win. I'm confident about that because I go to sleep at night knowing that I haven't done anybody wrong and I've moved with good intentions and I've helped people along the way.
Get stories worth sharing delivered to your inbox