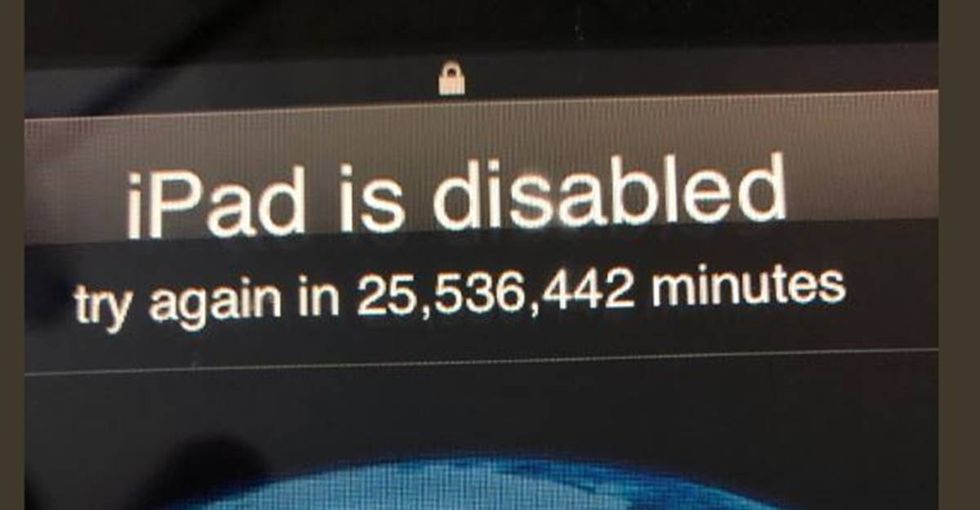 It's scary how quickly small children figure out how to use digital technology. For some parents, by the time their kid hits seven, they've become the most tech-savvy person in the house.
But all techy tykes have to start somewhere. So when the three-year-old child of New Yorker writer Even Osnos couldn't figure out the password to his iPad, they wouldn't stop trying.
Look, when you wanna watch see Curious George, it can't wait.
---
Unfortunately, the repeated failed attempts locked Osnos out of his iPad for over 25,000,000 minutes, that's 48 years. By the time he could unlock it, the iPad wouldn't probably be obsolete.
Uh, this looks fake but, alas, it's our iPad today after 3-year-old tried (repeatedly) to unlock. Ideas? https://t.co/5i7ZBxx9rW

— Evan Osnos (@Evan Osnos) 1554588641.0
Osnos was locked out of his iPad for so long because Apple has a security feature on the device that kicks in whenever an incorrect password is entered. After each failed attempt, the lock-out time gets longer.
That kid must have been banging on that iPad for hours.
After Osnos' appeal for advice, the folks of Twitter delivered, although not all of it was sensible and some chimed in with unsolicited parenting advice.
@eosnos @__apf__ Reboot your 3 y.o.

— Grady Booch (@Grady Booch) 1554602183.0
Three days later, Osnos bit the bullet and performed a system restore on his iPad, deleting all of the information stored on the device. Hopefully, he was backed up to the cloud.
Update on toddler-iPad-lock-out: Got it into DFU mode (don't hold down the sleep/power button too long or you end u… https://t.co/nc4zFJqB0s

— Evan Osnos (@Evan Osnos) 1554818778.0