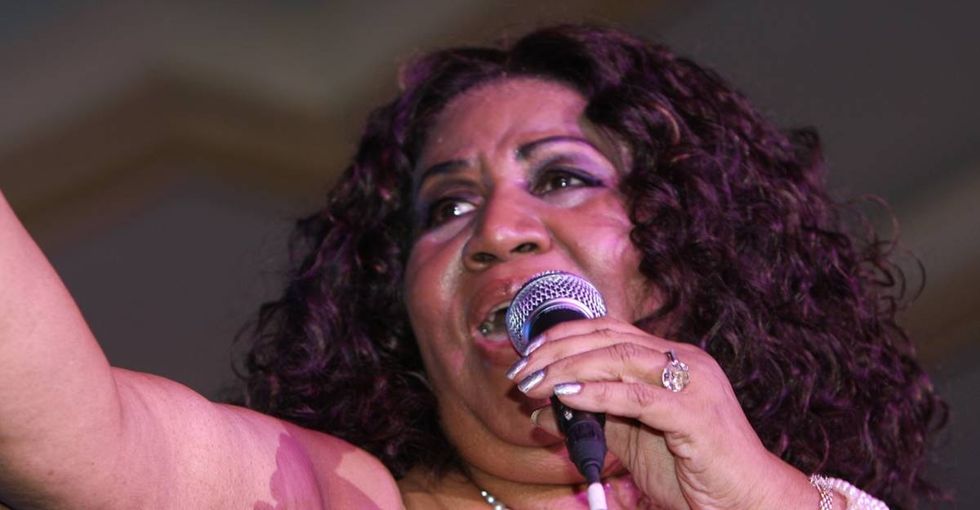 With the passing of Aretha Franklin, the world lost a voice synonymous with the word soul.
The deep place inside every human that gives us the power to overcome obstacles, care for those in need, and assert ourselves when our minds tell us we don't have the energy or heart.
Aretha Franklin was known as the Queen of Soul.
---
On the day of her passing, Barack Obama perfectly encapsulated what she meant to the American experience.
Aretha helped define the American experience. In her voice, we could feel our history, all of it and in every shade… https://t.co/hUcQpbdydq

— Barack Obama (@Barack Obama)1534437078.0
Franklin gave a poignant performance of "America (My Country 'Tis of Thee)" at Obama's first inauguration in 2009. There was no better voice to sing America's praises as it took a historical step by electing its first black president.
Franklin will be forever known for her 1967 cover version of Otis Redding's "Respect."
Redding's version, released in 1965, was a modest success that rose to number 33 on the Billboard charts. The song was a product of its time that upheld traditional gender roles. Redding's "Respect" is about a frustrated man who demands his wife treat him respectfully when he gets home from work.
Two years later, Franklin's version of "Respect" reversed its gender roles an expanded its meaning and power. Franklin turned the song into an unapologetic demand to respect her as a woman and African-American.
Franklin also added an important change to Redding's original by spelling out the word respect.
R-E-S-P-E-C-T
Find out what it means to me
R-E-S-P-E-C-T
Take care, TCB
Aretha's sisters, Erma and Carol Ann Franklin, sang backing vocals and added the popular catchphrase of the day, "sock it to me" to its finale, giving the song some extra punch.
Oh (sock it to me, sock it to me, sock it to me, sock it to me)
A little respect (sock it to me, sock it to me, sock it to me, sock it to me)
Whoa, babe (just a little bit)
A little respect (just a little bit)
I get tired (just a little bit)
Keep on tryin' (just a little bit)
You're runnin' out of fools (just a little bit)
And I ain't lyin' (just a little bit)
The song perfectly captured the sentiment of the times.
In 1967, the civil rights movement was in full swing and the second-wave of American feminism was becoming mainstream.
Millions of Americans were crying out to be seen as equals and the song told them to be fearless in their demands. They weren't just worthy of respect, but it was long overdue.
Franklin's version of "Respect" was named the fifth greatest song of all time by Rolling Stone.
"Franklin wasn't asking for anything," Rolling Stone said. "She sang from higher ground: a woman calling an end to the exhaustion and sacrifice of a raw deal with scorching sexual authority. In short, if you want some, you will earn it."